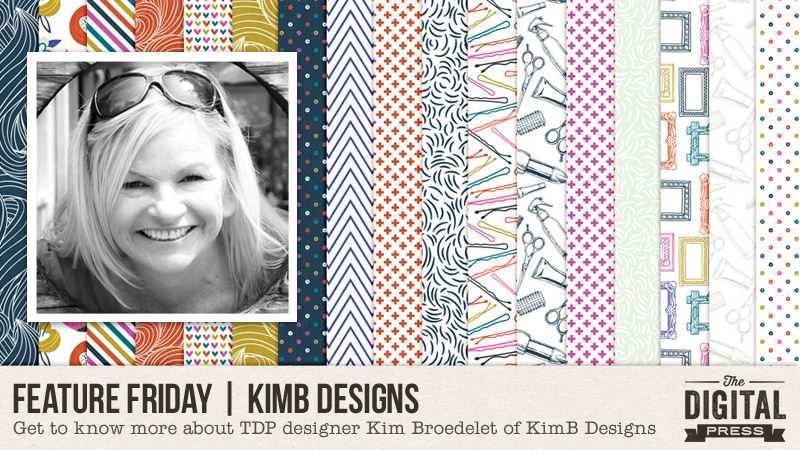 Hello, Happy Friday, and welcome to another edition of our Feature Friday series here on The Digital Press blog! This week, I am thrilled to highlight Kim Broedelet of KimB Designs. Kim and I go way back… to my very first creative team spot (and we both live in sunny South Africa!). This is actually Kim's fourth feature here on The Digital Press blog (you can find her feature from June 2016 HERE… from February 2017 HERE… and her more recent Foodie Friday post from January 2018 HERE).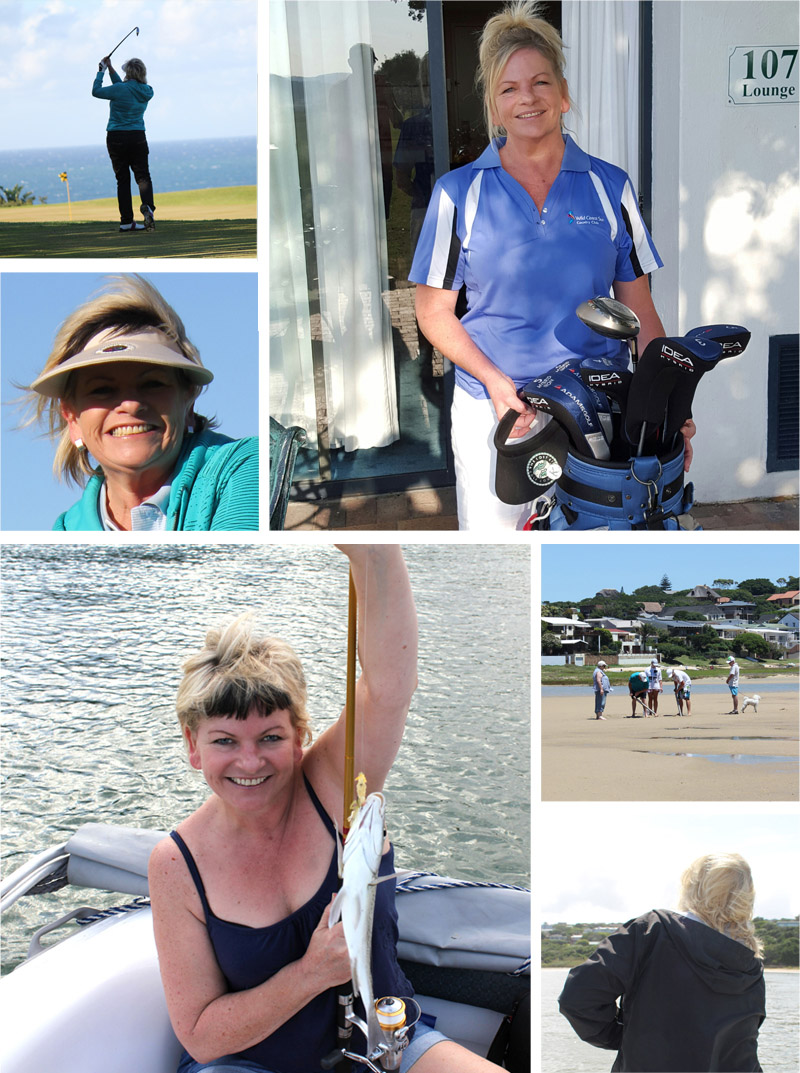 In order to give you even more information about Kim, this time around I asked her to share with us 5 Things We Might Not Already Know About Her…
I'm the eldest of 3 sisters. I have been very lucky to have worked with my younger sister, Gaye (GS Creations), throughout most of my adult life. Starting from beginner layout artists, graphic designers, and studio managers at an advertising agency (Y & R Hedley Byrne)… right up to now as digital designers. It's been an amazing privilege to have someone so close — a sister, at that — to share in my career and in something we are both so passionate about.
I love music and have an eclectic collection… from Opera to Deep House. I can even play the old fashioned organ… you know, the type with the pedals and double keyboards? Yup — my Gran had one, and sent Gaye and I for lessons — which we hated at the time, but it did give us a good grounding for reading and playing music.
I can't go to sleep at night (even after a good party) if I haven't at least read a page of my latest book (although I might have to re-read it later, LOL). I have to read before bedtime, though! It's my way of relaxing. I'm a total bookworm — another thing I share with my whole family — and we have a 'swop and meet' every time we get together. My bookcase — filled with everything from horror to romance — gets swapped out every time we get together. So there is always something new for someone to read.
I did acrobatics when younger, and loved it! I can still (at my age) put my feet on my head while sitting, and it freaks everyone out when I put my toes in my mouth… or run around doing cartwheels. It's usually a party trick that comes out after a few glasses too many — LOL.
I love to compete with the men in my life. I play golf, and love to fish against them. It's great to have that competition in our family, which always brings a special banter and teasing each time we get together to do both. Right now my son Nathan — who has his South African colours for fishing — takes the 'day' most times, but I can still give him a go on the golf course thanks to the wonderful handicap system, LOL.
As for Kim's designs …you'll definitely want to check out her shop here at TDP. If you love pretty florals, fabulous tone-on-tone patterned papers, and gorgeous dimensional elements with simply the best word art stamps and stickers… then Kim is the designer for you! She has a great assortment of products; from her solo products, to collabs with other designers, to fabulous minis that will have that perfect special something to add the finishing touch to all of your layouts.
Here is a sampling of just some of the gorgeous things you'll find in Kim's shop at The Digital Press, just so you can see what I mean…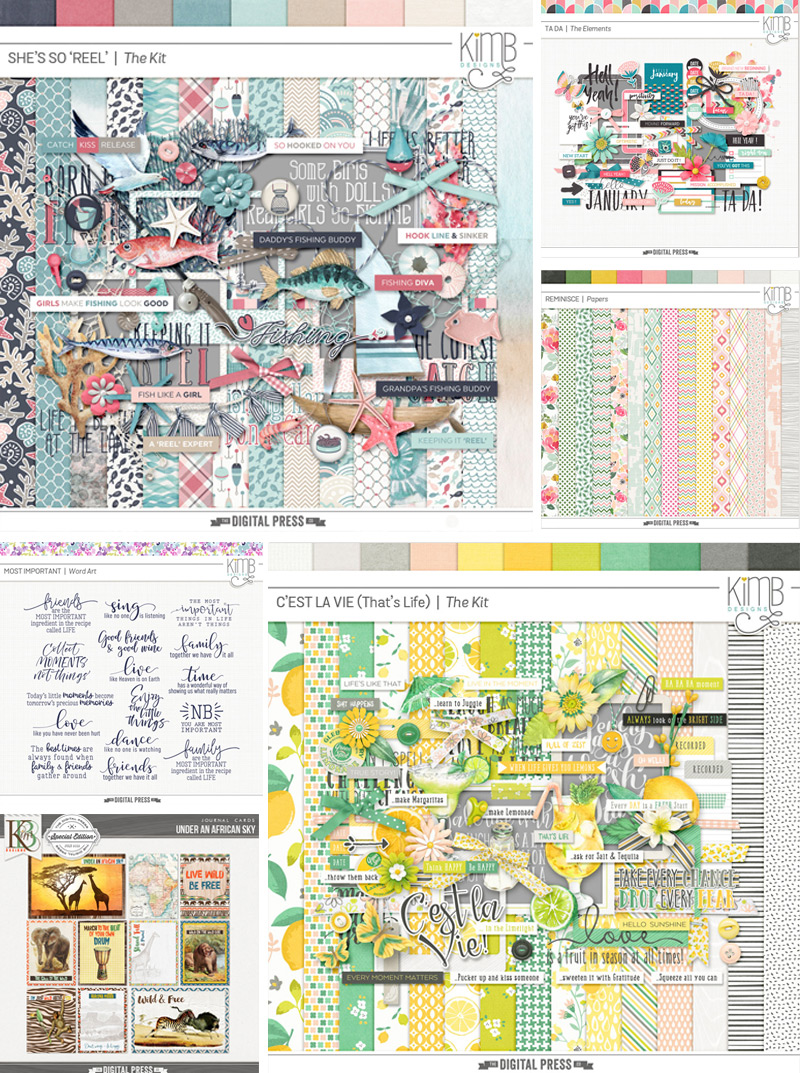 Additionally, here are some fantastic examples of projects that have been made with her designs, so you can see the versatility of Kim's kits in action…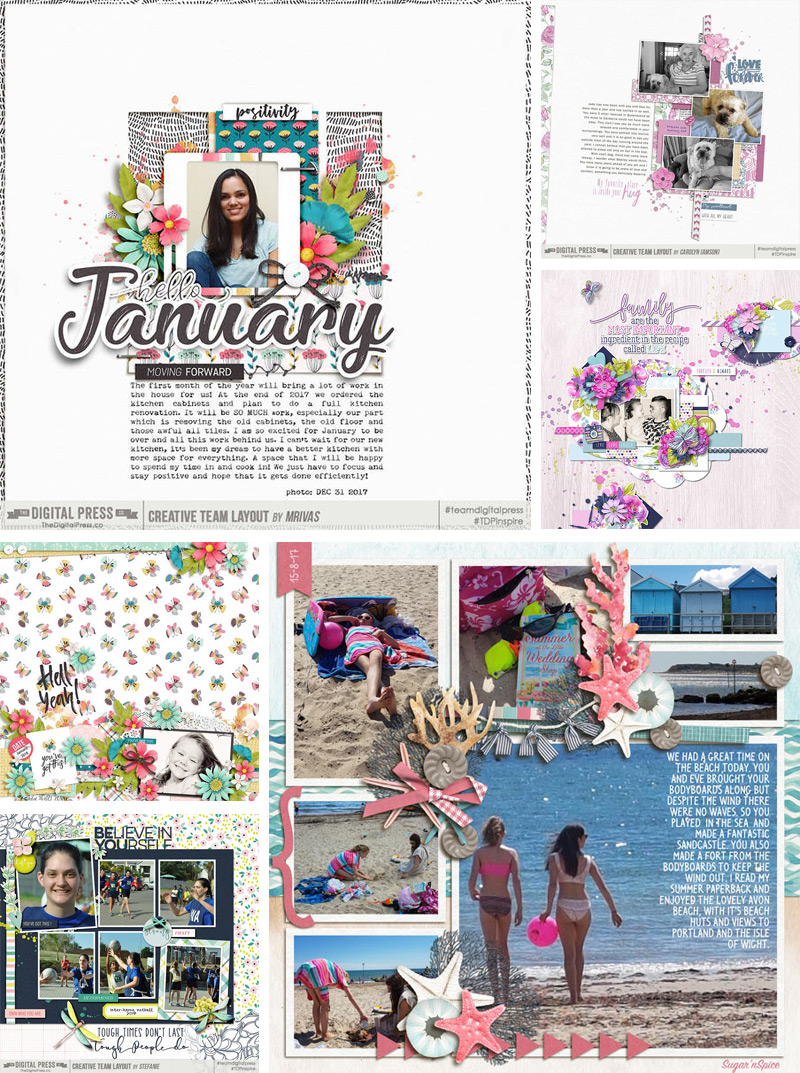 Aren't her designs so much fun to see in action? I hope that you've enjoyed learning a little more about Kim today! 🙂
While we celebrate her week as our Featured Designer at The Digital Press, her entire shop will be discounted 30% OFF all week long (the sale will end at 11:59pm ET on Thursday 6/7)
Additionally, Kim has a special Free-With-Purchase offer for everyone this week! Don't miss this opportunity to stock up on your favorite products from KimB Designs… and you can also snag this brand-new (just released today!) full kit — Styling — for FREE with any $10+ purchase in her shop! (again, the offer is valid through 11:59pm ET on Thurs 6/7).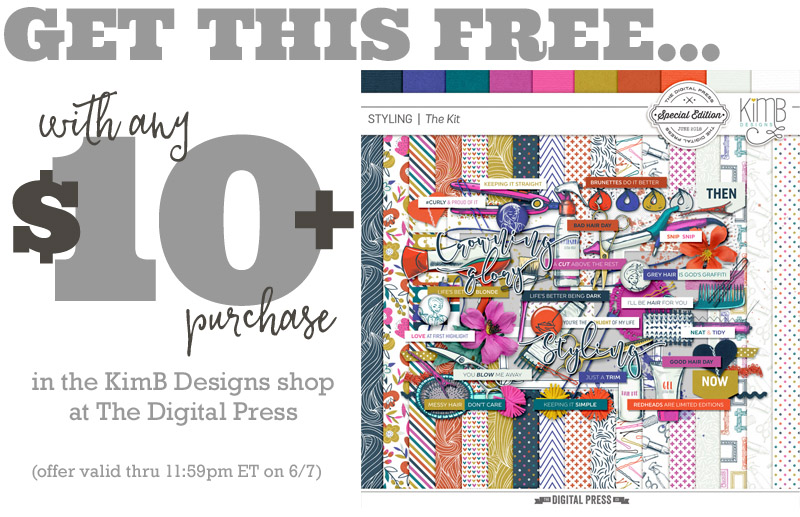 ---

About the author Stefanie is a member of The Digital Press creative team and a stay at home mother of three older children living in Cape Town, South Africa with her hubby of 30 years, two of their three children, and 3 Siamese cats. She loves photography, traveling, and digital scrapbooking — documenting the good and the ordinary everyday.