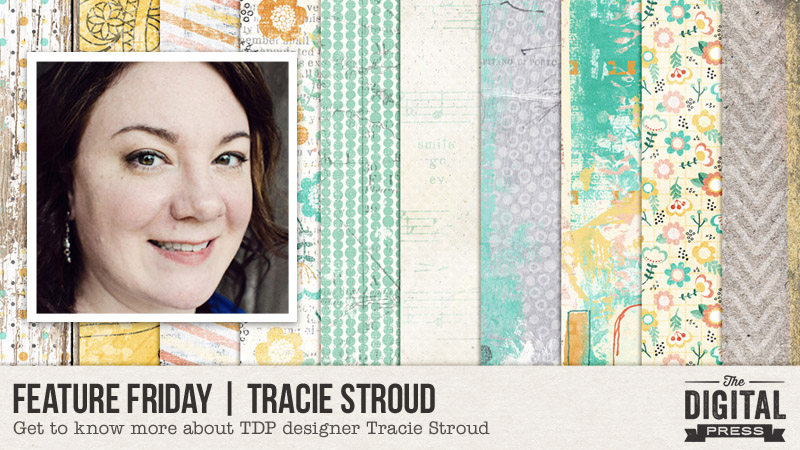 It's time for another edition of our Feature Friday series here at The Digital Press… and this week, we are excited to feature Tracie Stroud here on The Digital Press blog! This is Tracie's second feature here on the blog (you can find her first feature from August  2016 HERE)… and whereas last year we used our feature series to help you get to know some fun trivia about your favorite designers, this year we're going to use our designer feature series to give you a little peek into our designers' creative spaces and more insight into their creative processes.
With that in mind, we asked Tracie to show us her creative space — where she works to come up with all of her fantastic digital designs. This is such a great work space, eclectic and bright, busy and cluttered, but she loves it! Tracie says that she does all her mixed media and watercolor artwork here, as well as her scrapbook design work. When she is doing mixed media work, she just moves her laptop and tablet out of the way, and all her art supplies are within arm's reach.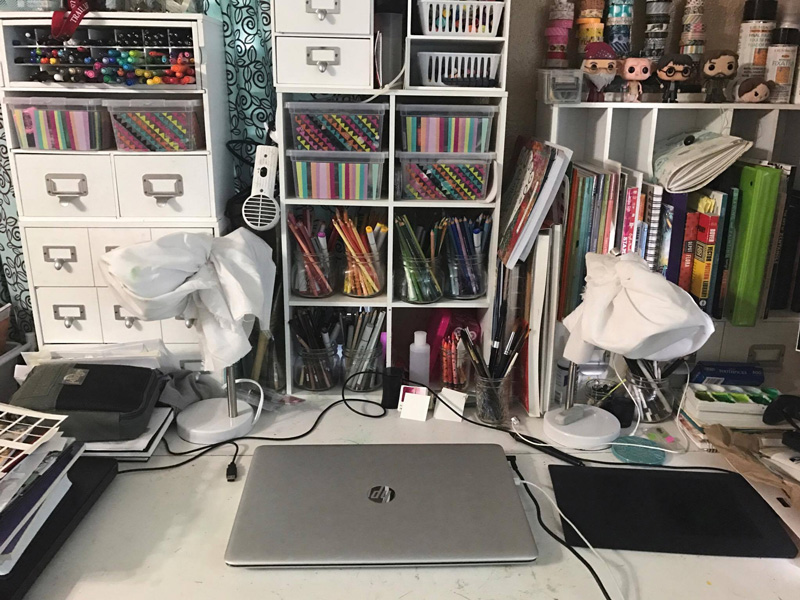 We also asked Tracie to give us a "Top 5" list that is representative of herself at this point in life, and she gave us a list of her Top 5 Essential Oils She Can't Live Without…

According to Tracie, "we try to avoid medications and chemicals as much as possible, so we use essential oils a lot. It was hard to narrow it down, but these are the 5 I absolutely couldn't live without…"
Lavender — we use this for any skin issues: rashes, insect bites, minor burns, eczema, etc. I also put it in an essential oil diffuser every night in our boys' room to help them settle down to sleep.
Peppermint — This is a must-have for me when I feel a headache coming on, or when I need a mid-afternoon boost without breaking out the coffee maker.
Eucalyptus — This one is fantastic for colds and congestion. Be careful, though… it shouldn't be used for small kiddos.
Lemon — Lemon oil is a great stain remover, air freshener, and cleaning agent. I make a general cleaning mix with lemon oil, peppermint oil, a little white vinegar, and water and keep it in a spray bottle. I use it for everything, and I haven't bought a chemical cleaning spray in years.
Frankincense — This one can be a little pricey, but it's worth it to us. I'm never without it. It's a vital immune support oil. Anytime we feel a cold coming on, we put this oil on the bottoms of our feet, where the skin is thinnest, and it almost always keeps the worst of the symptoms away and shortens the lifespan of the cold. I also use it in place of Neosporin on open cuts and wounds.
As for her digital design style…Tracie creates fun products that look like real-world papers and elements from an art journal. She's been designing for over eight years, and she loves the flexibility that the digital medium offers — letting her incorporate her art into her designs. The best part is that Tracie's artsy designs let customers play around and express themselves, too! Personally, I love her "Rock the Shadows" layer styles, which can be found in her shop… and I use them on every single layout I create!
Here are just a few of my favorite items from Tracie's shop at The Digital Press…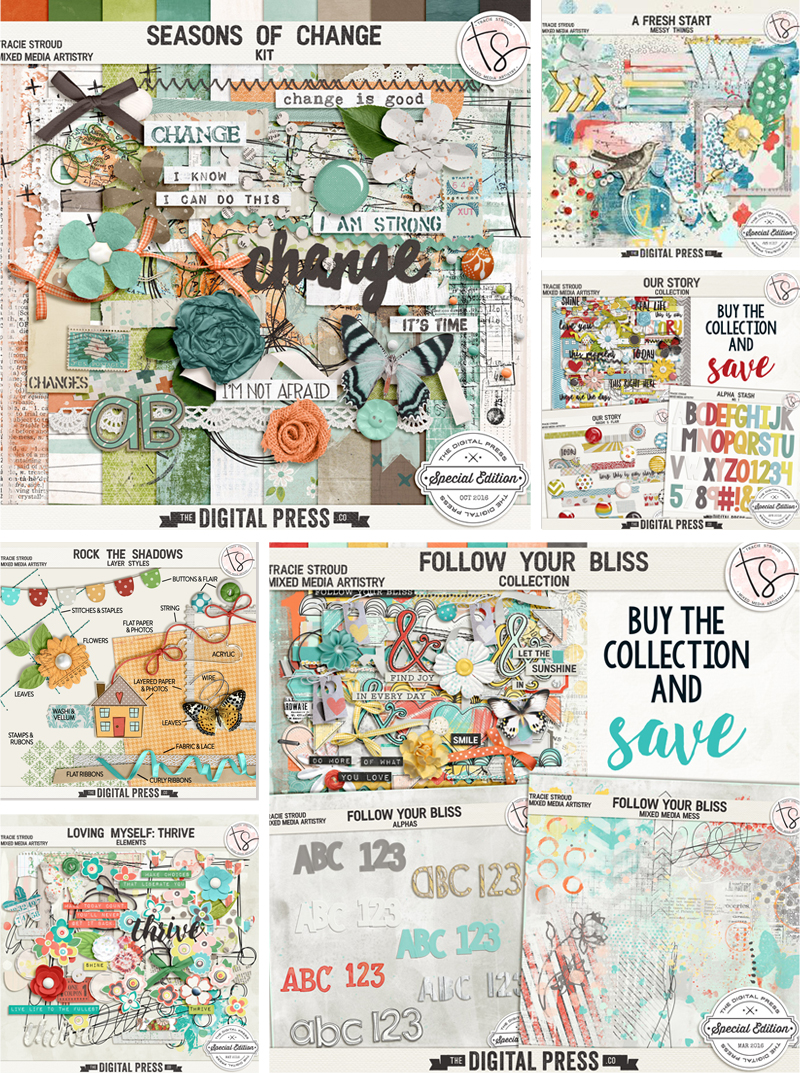 Tracie's products are super versatile and easy to use for all kinds of projects. Here's a look at a few of our favorite projects that use Tracie's designs…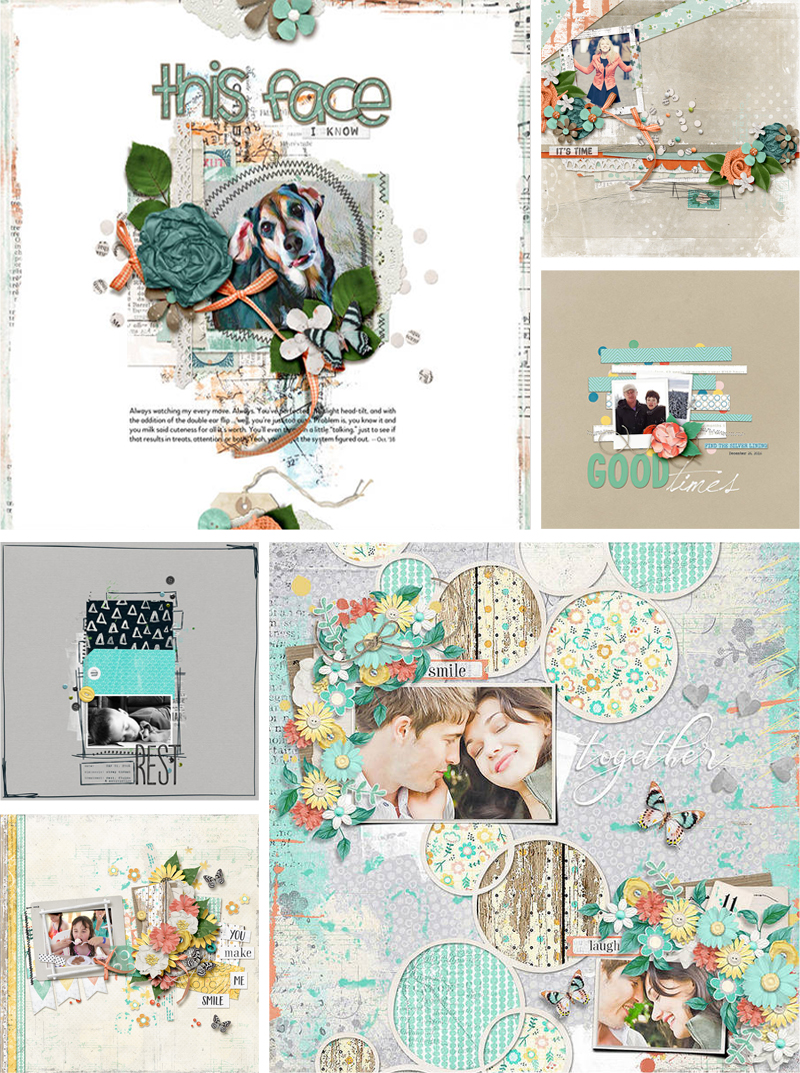 I hope you enjoyed getting to know a little bit more about Tracie today, as well as getting a look at her work space and at some of her amazing products! And as if that wasn't enough fun… Tracie Stroud's entire shop will be 30% OFF throughout this coming week during her Feature week (the sale will end at 11:59pm ET on Thursday 4/27). It's a great time to clear out your wish list of any items from her shop, at a discount!
Additionally, this week only — you can snag Tracie's "Dance In the Rain" kit for FREE with any $10+ purchase in the Tracie Stroud shop at The Digital Press (this offer also ends at 11:59pm ET on Thurs 4/27)…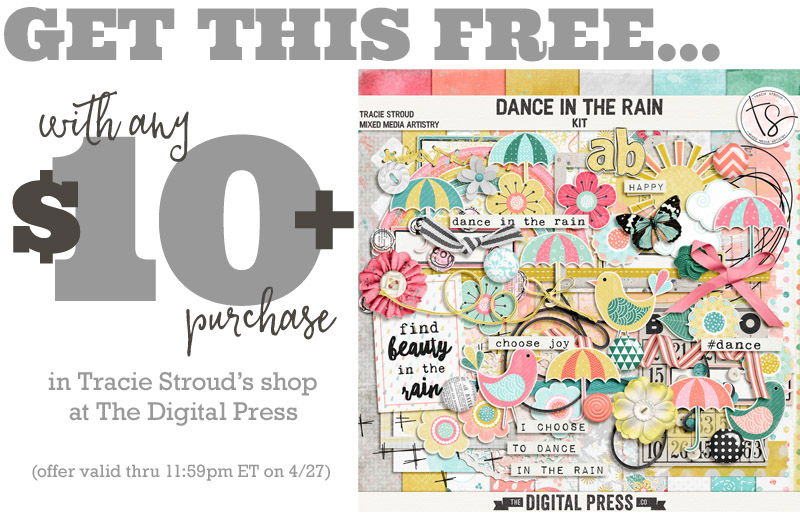 ---

Jennifer Hignite is a mom of three boys and new homeowner with her fiance in the mitten state of Michigan. When she is not scrapbooking, she enjoys photography, decorating, and shopping at Target.
Save
Save