Does anyone remember the days when you would get that awful warning to delete photos from your device to make space before you could take anything new? How about when we would PLUG IN our phone & connect it to our computer or laptop & open the folders to drag/drop photos!? SOOO tedious! I literally remember the moment I set up my lightroom app to sync DIRECTLY to my EHD and how LIFE CHANGING it was for my workflow!!! Let's face it- MOST people these days are only using their phones to take photos- the cameras on these things are just amazing! If you're like me and take A LOT of pictures- there's no amount of device storage than can handle my addiction! 😉 I'm hoping to share some (maybe life changing?) tips to EASILY get those photos off your mobile phones!
Most of us digi-scrappers who use Photoshop CC have the "Photography Plan" for $9.99 a month. It also INCLUDES Lightroom- both the cloud-based app & the Lightroom Classic desktop focused app. The wonderful thing with Lightroom is not only is it an AMAZING editing software- it's also an organizational work horse! I know many scrappers who use it as their primary photo organization source. I don't have the time, nor the need really at this point to delve into that aspect of the software- however, when I discovered the mobile app syncs with the desktop software- my mind was BLOWN! Not only does it sync with the software- but EXACTLY where ever you tell it to send the files- in my case- directly to my EHD! And the crazy thing is it's SO easy to set up!
First thing- you'll want to open up your Lightroom Classic (the desktop app logo that is light blue) on your computer.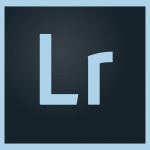 Next you'll click on the EDIT tab, then Preferences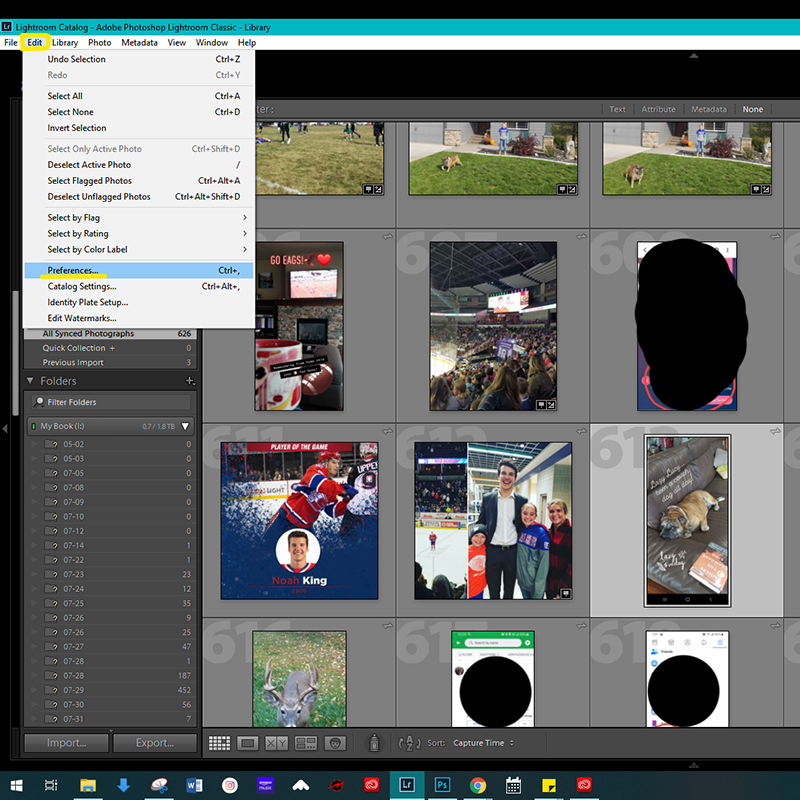 A window with all kinds of information will come up. Select the Lightroom Sync tab. You'll want to check the box that says "Specify location for Lightroom's Synced Images:" Then open the Choose button to select the folder you want your synced images to go into. I also recommend you check the box to use subfolders- which will separate your photos by date (You can choose how your date folders are formatted with the dropdown as well!)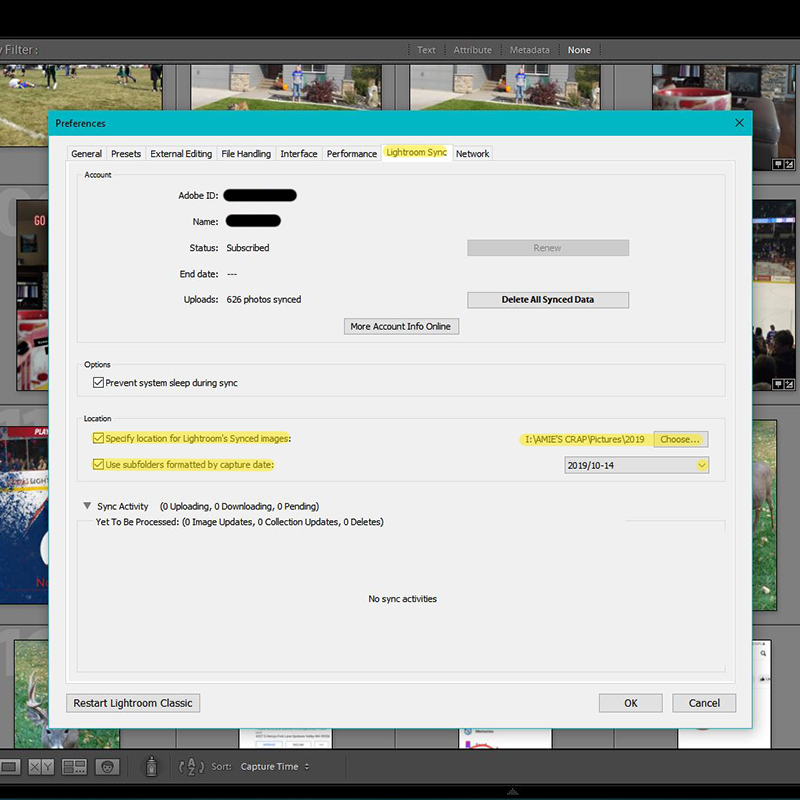 For my photos- I have them synced to a folder for the current year in my PICTURES folder on my EHD. Occasionally, I'll go in & delete duplicates or random screenshots that I do not need to keep & organize by month.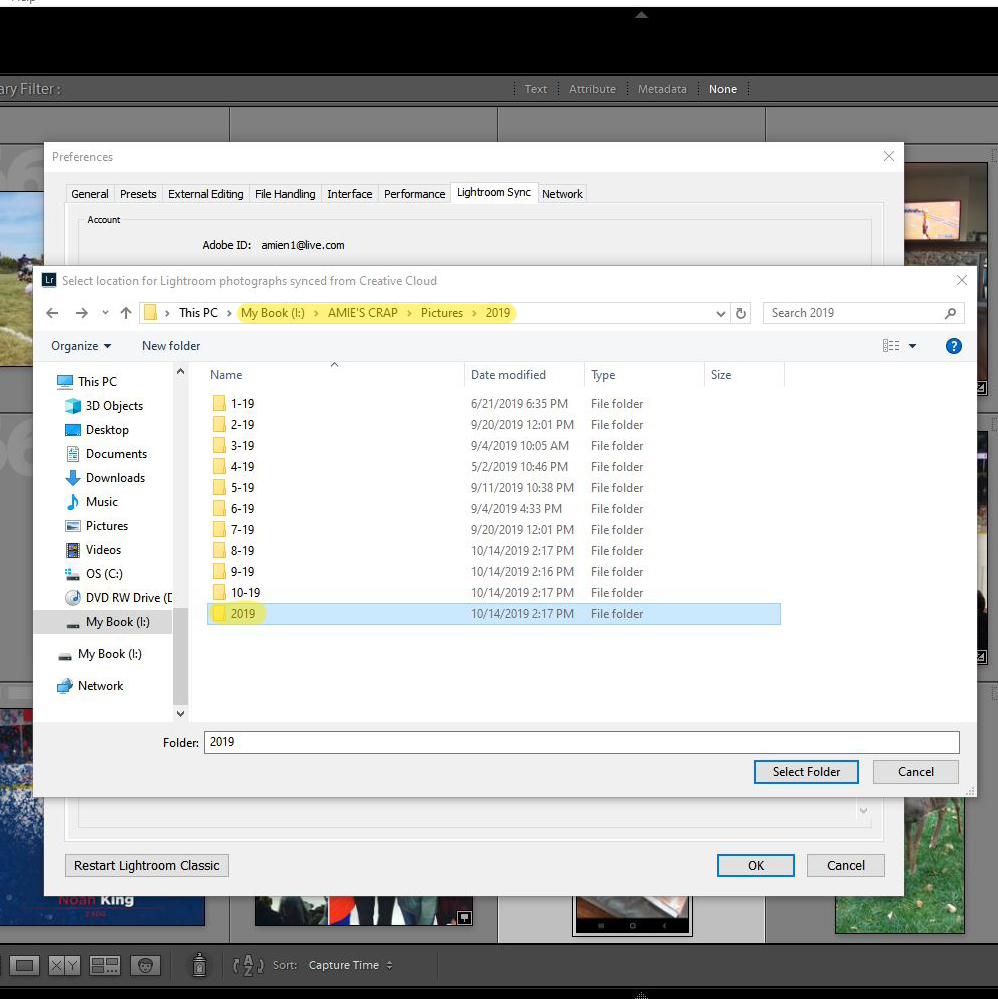 And you're done with the Lightroom desktop app. From your mobile phone, you need to download the Lightroom app that has rounded corners & is bright cyan.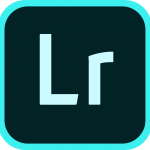 After you've logged in, at the home screen, you'll want to click on the 3 horizontal lines (hamburger) on the UL side. Select Preferences. From this menu you can choose how you want your photos added & which albums to sync. I have my AUTO ADD turned on, then through that menu you can select which types of photos you want Lightroom to auto add to the app. I have everything except RAW photos added.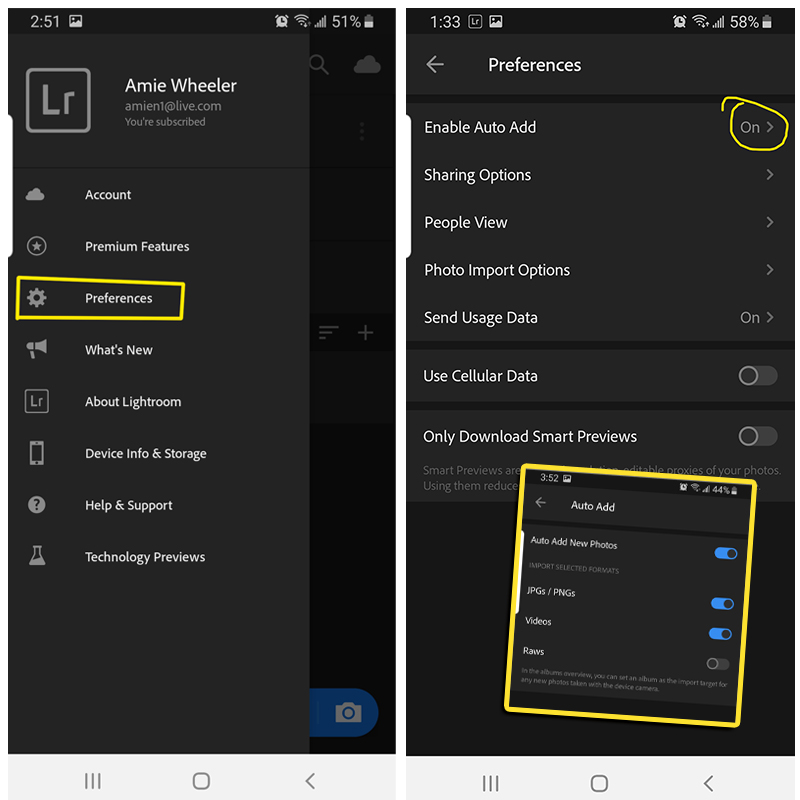 You DO NOT have to have auto-add turned on. You can manually add photos to your lightroom by selecting the picture +  and then selecting which folders/albums to add.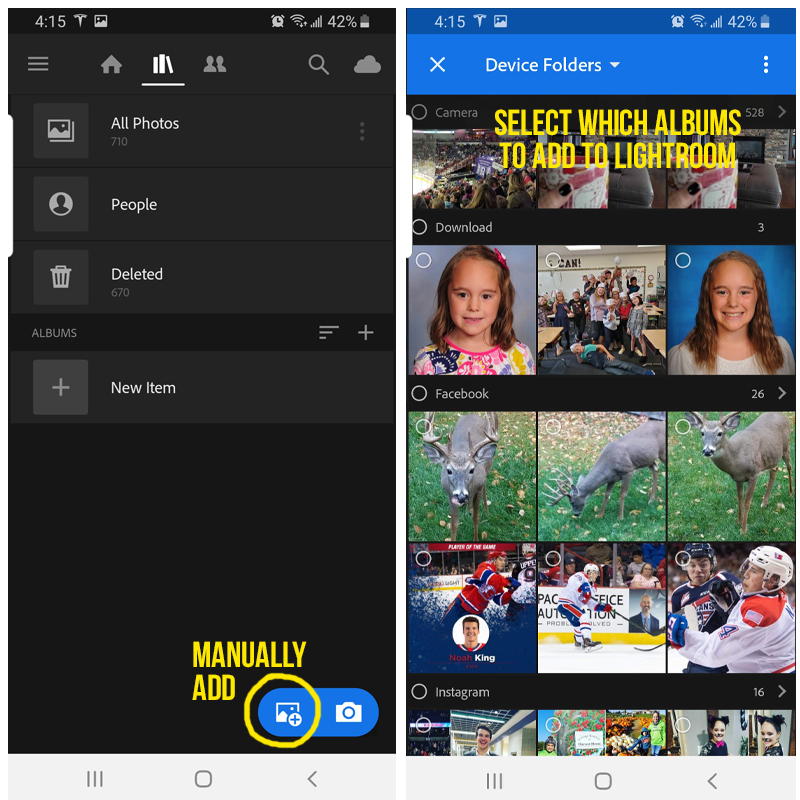 Once your photos are added to the Lightroom mobile app- as soon as you open your desktop Lightroom classic app- your photos will sync! HOW cool is that? I typically open my Lightroom & Photoshop CC app on my desktop together at least every few days. All my photos seamlessly go where I've told them to go! 😉 Lightroom listens better than my kids! 😀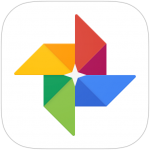 The 2nd app that is pretty crucial to my workflow is Google Photos. At the beginning of the month, our resident App Scrapper- Sean- dove deep into Google Photos & shared some great tips/tricks here. I use Google Photos similarly as Sean- the searching function & tagging people are my favorite!  The one thing that I also love which he didn't touch on was Sharing photos. I have my Google Photos account set up so that not only do MY mobile phone photos sync to my Google Photos, but also my husband & daughter's phones/gmail accounts too! I love that a) I get my hubby's pics too- which are sometimes taken by me when his phone is handier than mine and b) ALL my daughter's photos sync to me- so it's another level of monitoring what she's taking pics of… all 42 billion pics of our dog… I digress. Within the app, under the main menu– select settings– then Shared Libraries. There you can add gmail addresses for those who also use Google Photos. I also have my account set up to automatically sync (again taking one less step out of my to-do list!) On my desktop- it's super easy to download directly from the website. Also-when making QR codes for my layouts of either videos or albums where there are just TOO many photos to scrap, I always link to my Google Photos- much easier than uploading to youtube, etc etc.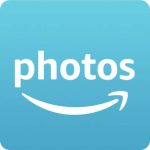 Last but not least, if you are an Amazon Prime customer, you are also eligible for Amazon Photos. Amazon Photos as a great way to backup and share your personal photos with your friends and family. The company offers free, unlimited photo storage, at full resolution, to its Amazon Prime customers. Members get an additional 5GB of storage for videos and other documents or files. I use this app not only as a back up, but also for the Family Vault.  Amazon Prime subscribers in the US can invite up to five family members and friends to access & contribute their entire catalog of pictures and videos with Amazon's Family Vault. Clicking on your name with the drop down menu– then select the Family Vault. From that menu you can send invites to your friends/family. Right now, I just have my Mom & Sister contribute their mobile pictures and it's so nice to have instant access to them for scrapping! From the Amazon Photos website, you can download any mobile photos directly to your computer.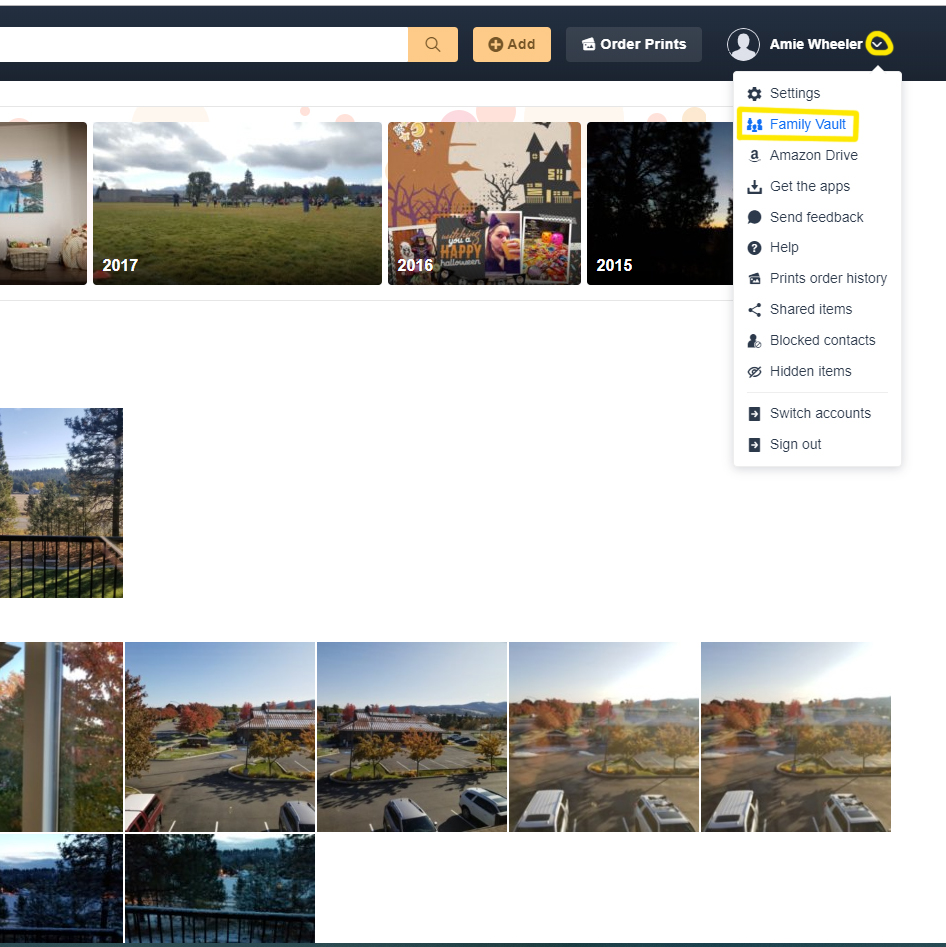 AFTER these three apps have synced my photos- I DELETE THEM OFF MY PHONE!  With apps- I have access to them online if I need to redownload &/or I'm not at my desktop where they reside on my EHD. It's SUCH a timesaver to have all this happen in the background. I also have piece of mind that my photos are backed up in multiple locations just in case something happens to my phone. These are just a few of my favorites- I imagine there many more out there that do awesome stuff too! I encourage you to try to get those thousands of pics off your phone & free up some storage!!
---

About the Author  Amie is a craft-loving dental hygienist who lives in Washington state. She loves her husband, her two crazy kids, and her English Bulldog… as well as coffee, baking cupcakes, daffodils, glitter & sprinkles, reading a good book, and lip gloss — not necessarily in that order.