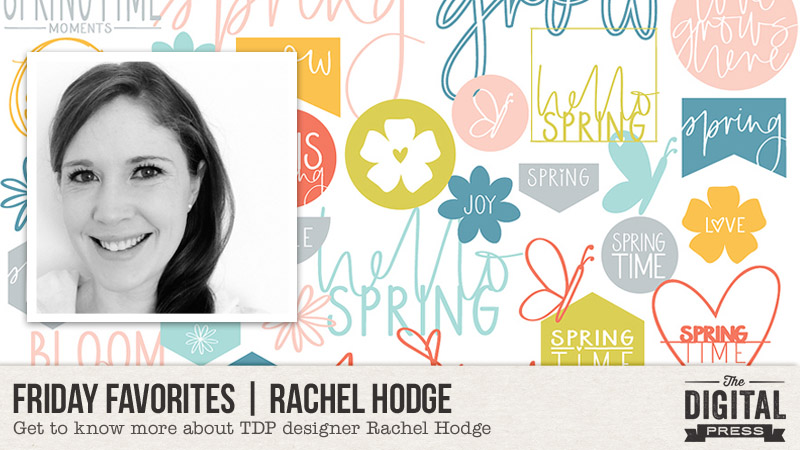 Hello everyone, and welcome to another edition of our designer feature series on The Digital Press blog in 2019 — Friday Favorites! This year, as you know, we've been learning a bit more about each of our amazingly-talented designers by having them share some of their favorite things with us each week.
This week, the spotlight is on the creative designer Rachel Hodge. This is actually Rachel's fifth feature here on the blog (you can find her first feature from August 2016 HERE, another from March 2017 HERE (including a peek at her creative work space!), her Foodie Friday post from January 2018 HERE (with a few of her favorite yummy recipes!), and her most recent feature from June 2018 HERE).
This time around, in order to learn even more about Rachel, we asked her to share some of her favorite things with us, and here's what she had to say…
---
"OK, this was actually generally hard for me to decide. You see on one hand there's coffee… coffee and myself have this unspeakable, unbreakable bond which I will always be grateful for. But then there's also Netflix… Netflix has become a very important member of the family. It's just come along and fit right in with our way of life, it doesn't need to be put in a naughty corner, doesn't leave washing lying around, and is there anytime we need it. So it's fair to say that yep, it's a total favorite at the moment.
Here's a peek into my nightly routine…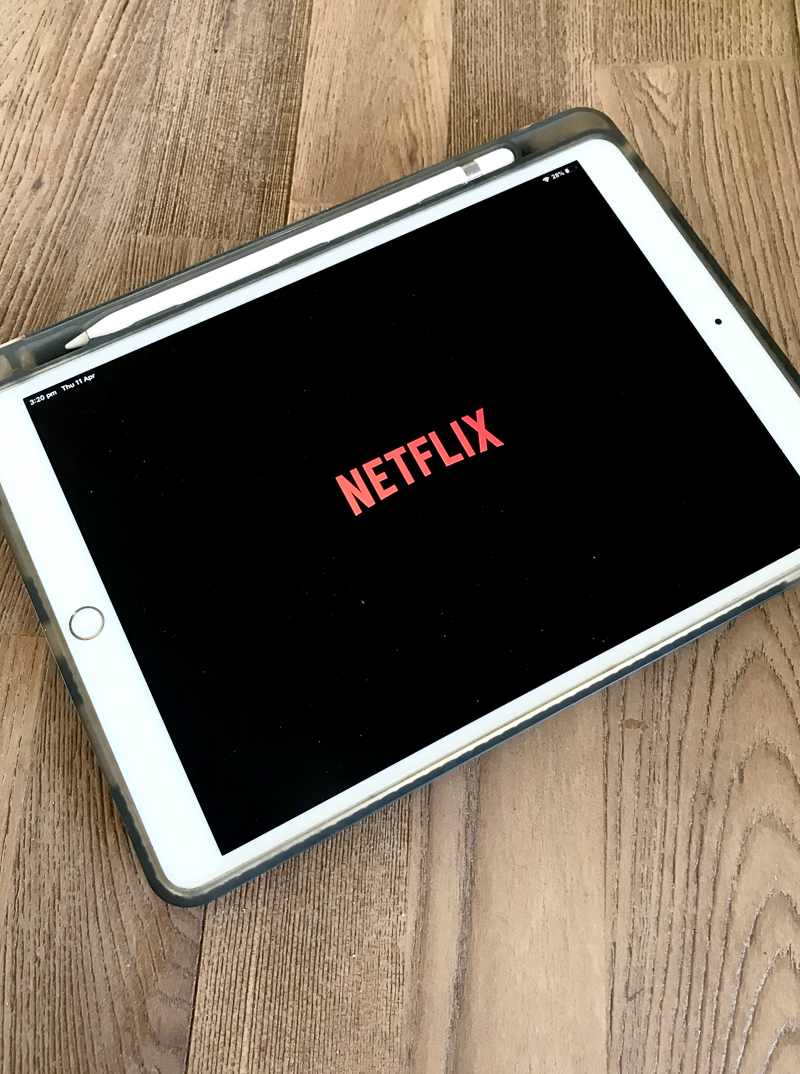 Yup, for me Netflix is my time to unwind from the business of the day. When tea is done, the kids are in bed, and all is quiet… I sit on the couch, put my feet up, grab the ipad and enter into my little undisturbed world of Netflix. I'm telling you, the hubby knows it's my downtime! If I get the sense he's about to start a conversation mid-show, he get's that look… that fierce, "think long and hard before you open your mouth and consider… is it worth it?" look.
But OK, down to the important stuff…THE SHOWS! At the moment, I'm totally loving the following…
Real Detective
Bodyguard
it's a tie between Broadchurch and Obessesion – Dark Desires.
Not your light hearted, romantic, comedy type shows! Just give me ALL the crime ones!
So that pretty much rounds up my favorite thing at the moment. The only way it gets any better is if it's accompanied by a sweet little drink called Midori (or coffee)… 🙂
---
Doesn't she have a great sense of humor?!  Well, her fun personality shines through in her designs, as well. Have you seen her cut files and cards in the shop at TDP? If you're not yet familiar with her work… they are gorgeous and so easy to use! Due to their versatility, you can easily use her designs on both digital or hybrid projects… as titles, word art, stamps, or stickers. So many options!
Here's a peek at some of the fabulous products you'll find in her shop at TDP…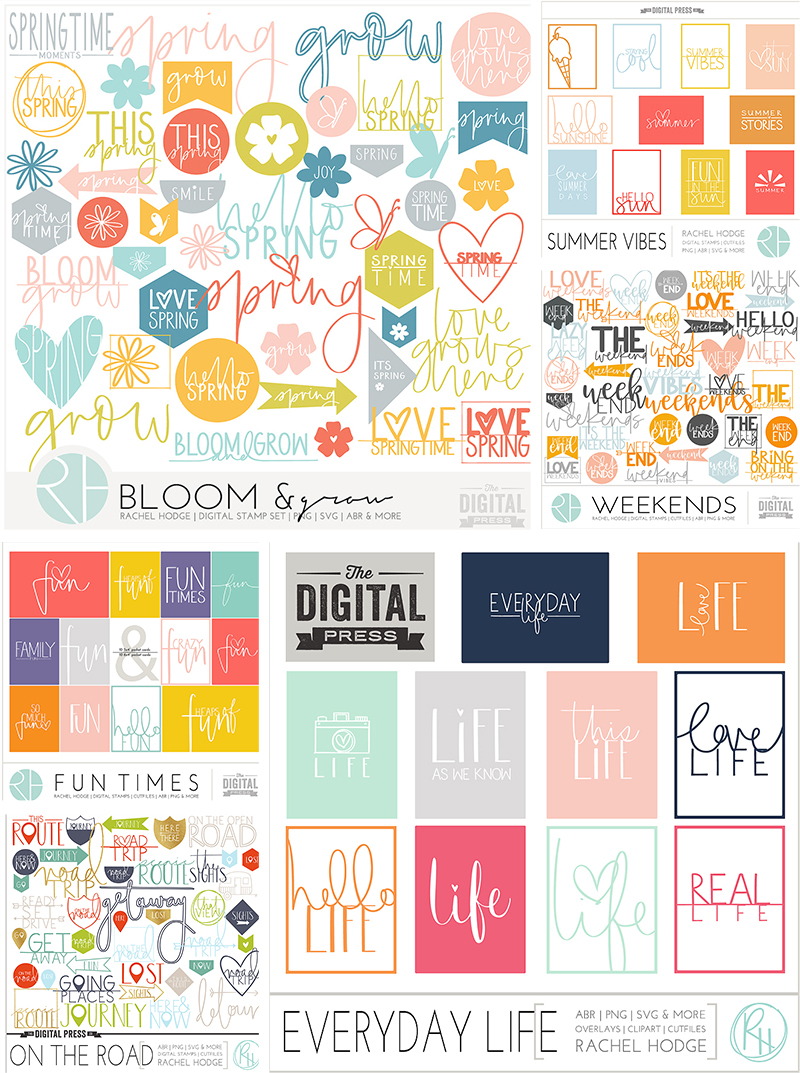 And here are some of my favorite layouts that show off Rachel's products. I hope you love these pages as much as I do (what gorgeous eye candy, eh?!)…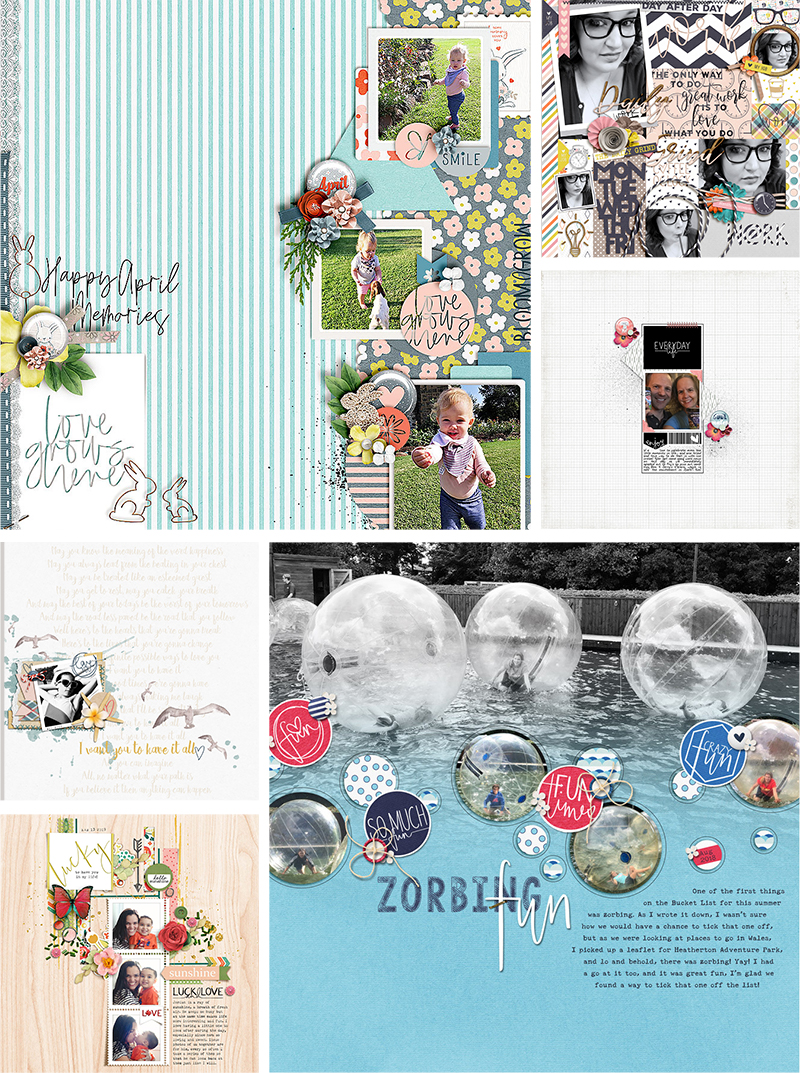 Hopefully, today's Friday Favorites article has given you even more insight into who Rachel is and more about her day-to-day life (and again, if you want to know even more about her — scroll up and use the links to her previous features here on TDP's blog, where's there's lots more good stuff!).
And the best news of all?! …during Rachel's upcoming feature week here at The Digital Press, you can enjoy the chance to score an amazing deal in her shop if you use the following coupon code when purchasing her digital goodies (this code/sale will be valid through 11:59pm EST on Thurs 4/25). Don't miss it!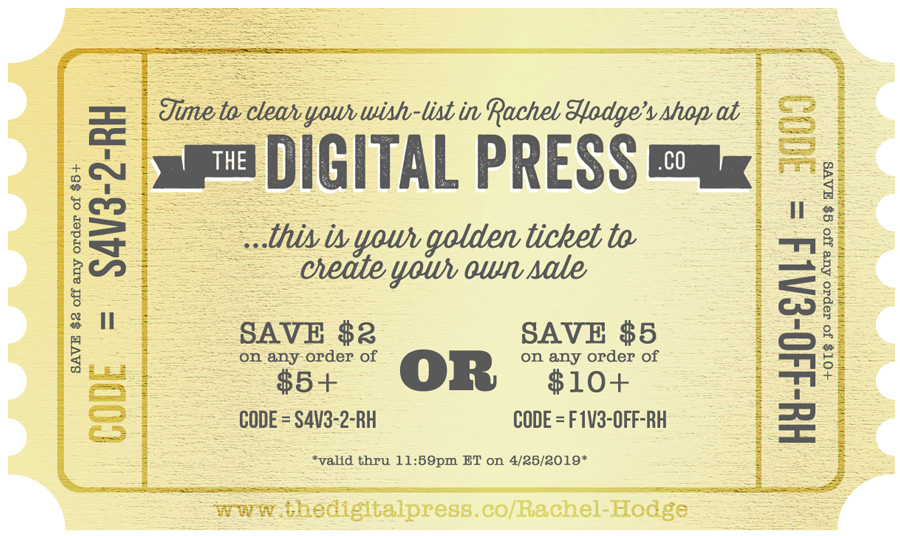 [ if you have trouble seeing the coupon image, above, the codes are as follows: "save $2 off any purchase of $5+" by using code = S4V3-2-RH . . . or "save $5 off any purchase of $10+" by using code = F1V3-OFF-RH ]
---

About the author  Robin is a member of the creative team here at The Digital Press. A wife of 26 years and a mom of 4 crazy children (3 in college and 1 still at home), she says that her life occurs mostly in the car as she transports said crazy kids to their many, many homeschool activities. When not driving, Robin loves to make her family cringe by pulling out her camera again (and again, and again…).