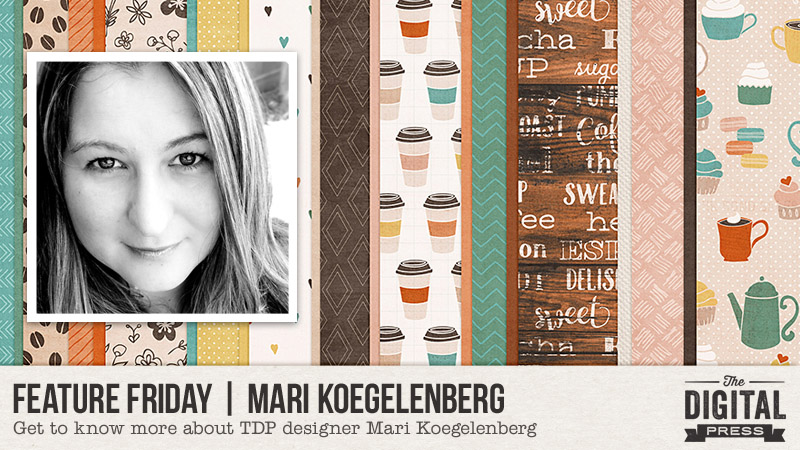 This week, I am excited to feature Mari Koegelenberg here on The Digital Press blog! This is Mari's second feature here on the blog (you can find her first feature from October 2016 HERE)… and whereas last year we used our feature series to help you get to know some fun trivia about your favorite designers — this year, we're going to use our designer feature series to give you a little peek into our designers' creative spaces, and more insight into their creative processes.
Mari is a fellow South African (although she now lives in California) who loves to be creative and make pretty things, but "dislikes making mistakes and waiting for paint to dry." She has worked in the scrapbooking industry since 2005 and sells her creations in digital format here at The Digital Press, but has also worked for the paper scrapbooking industry for many years (you can find her past work printed through companies such as My Mind's Eye and Pink Paislee, among others). Her latest obsession is Memory Planning.
She loves color, and says that this is what drives the mood and themes of her collections. She loves to sketch and draw — and even if these doodles don't end up in her products, they always serve to loosen up her muscles and get her creative blood flowing.
Here is a look at her creative space, where you'll often find her drawing, painting, and converting all of the loveliness into the finished digital products we have all come to know and love…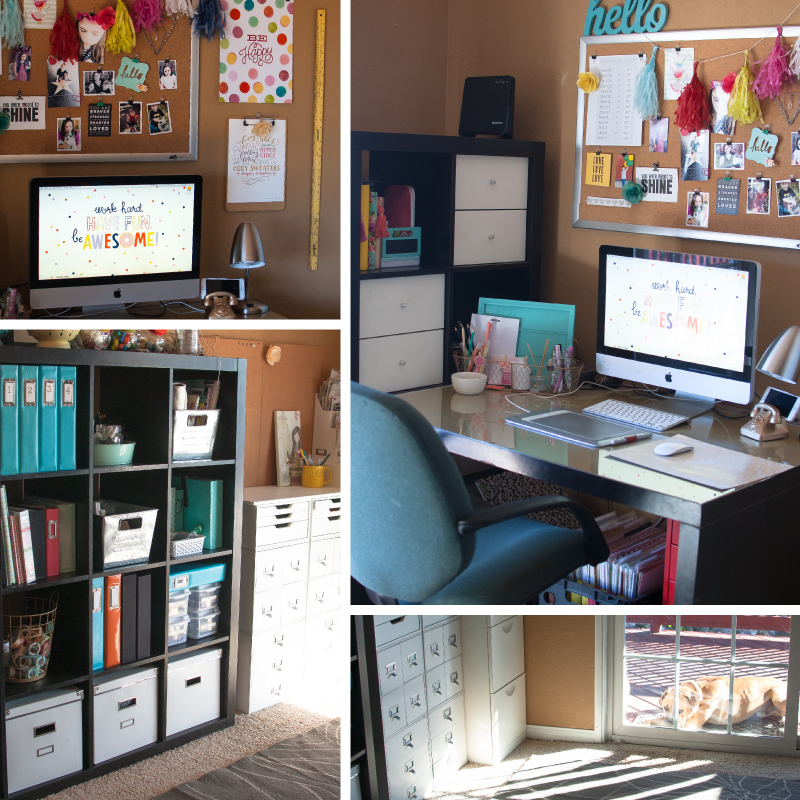 When speaking about her office space, above, Mari said this… "Last year was a crazy whirlwind of so many BIG changes. Our family moved twice — frantically searching for a home until we finally got the place of our dreams. We have always wanted an acreage… and living in the beautiful central coast area of California, the idea of being able to live off our own land and grow our own food was always something we were striving toward. We have been in our home only a few months now, and there is so much to do! But even though life is busy on our homestead… it is also so full and rich."
She continued… "So having said that… just bear in mind that my office has not been on the top list of priorities. It might not be a dream space (yet!) but its my space and I can dream! The biggest and probably most immediate change I'd love to see would be to paint it a beautiful bright white and get rid of the dark furniture and install white countertops running on both sides of the room. Maybe also removing the dysfunctional closet and adding lots and lots of wall storage and peg boards. For now, though, I am just enjoying my lovely and inspirational wall art, and the fact that my carpet is vacuumed (!) and everything is in its proper place. Oh, and did I mention my glittery tabletop? Don't worry, all you glitterphobes… haha! …it's just beautiful gift wrap, covered with an acrylic sheet — and oh boy, do I love it! I also included a pic of my beautiful big baby (dog) who doesn't understand why he is not allowed inside …boo!"
We also asked Mari to share with us a Top 5 list that is representative of herself at this point in her life… and she chose to share her Top 5 Organizational Hacks (makes sense, from someone who just moved and is getting a new home all organized, right?!)…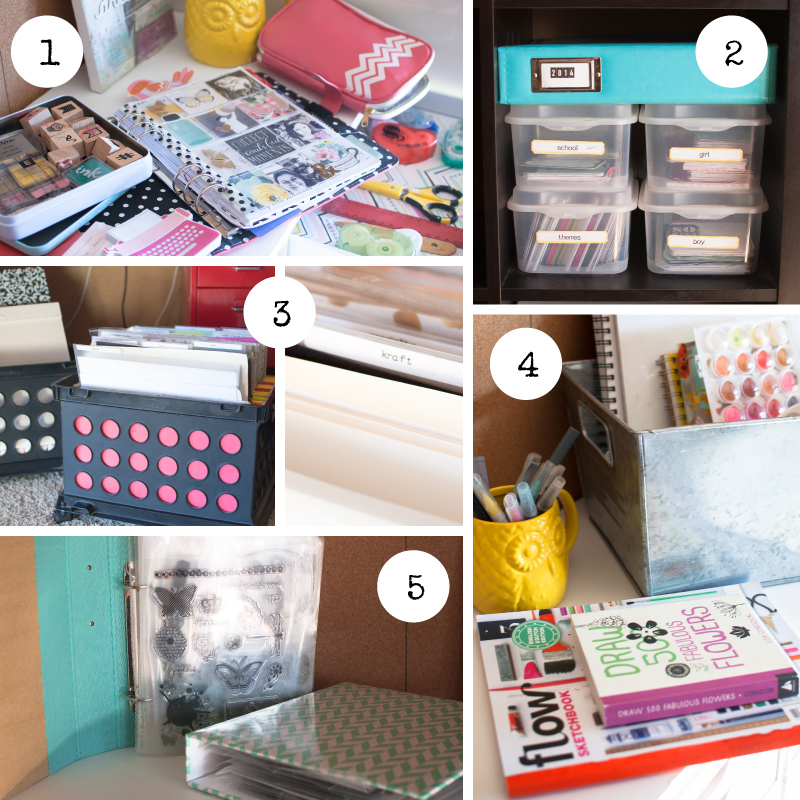 Mari's Top 5 Organizational Hacks…
My most-used supplies are easily accessible, and my planner supplies are mostly portable so I can just grab them and take them with me wherever I go.
These Steri-lite CD containers are the perfect size for holding pocket cards, and they are stackable and clear!
This next one is one of my favorite hacks 🙂 …and it's very functional. Its the plastic stackable/hanging file boxes… I added some wheels to the bottoms, so now they just roll out from under my desk to where I can easily access them. One of them holds all my beautiful 12×12 papers and some scraps using hanging folders and labeled dividers… and the other holds my paper pads and cutting mats, etc.
Painting and drawing is such a soothing and meditative task, and I love my little bin of artsy goodness! Everything I need is inside this one container, so I can grab it and go sit under the tree or on the porch or even in bed. Portability!
I have started using these 6×8 binders with their corresponding clear pocket sleeves to hold all my acrylic stamps… and boy, it has made storing (and finding!) and using them so much easier!
Aren't those some fun tips/tricks?
As for Mari's products and design style… you will find lots of flat stickers in her digital products, which are perfect for the more traditional paper scrapbook style… as well as flowers and other dimensional goodies that are fabulous for those who mainly scrap digitally. Her kits are always bright and cheerful and fun to work with.
Here are a few samples of the designs you will find in her shop here at The Digital Press (you will find that there is something for everyone!)…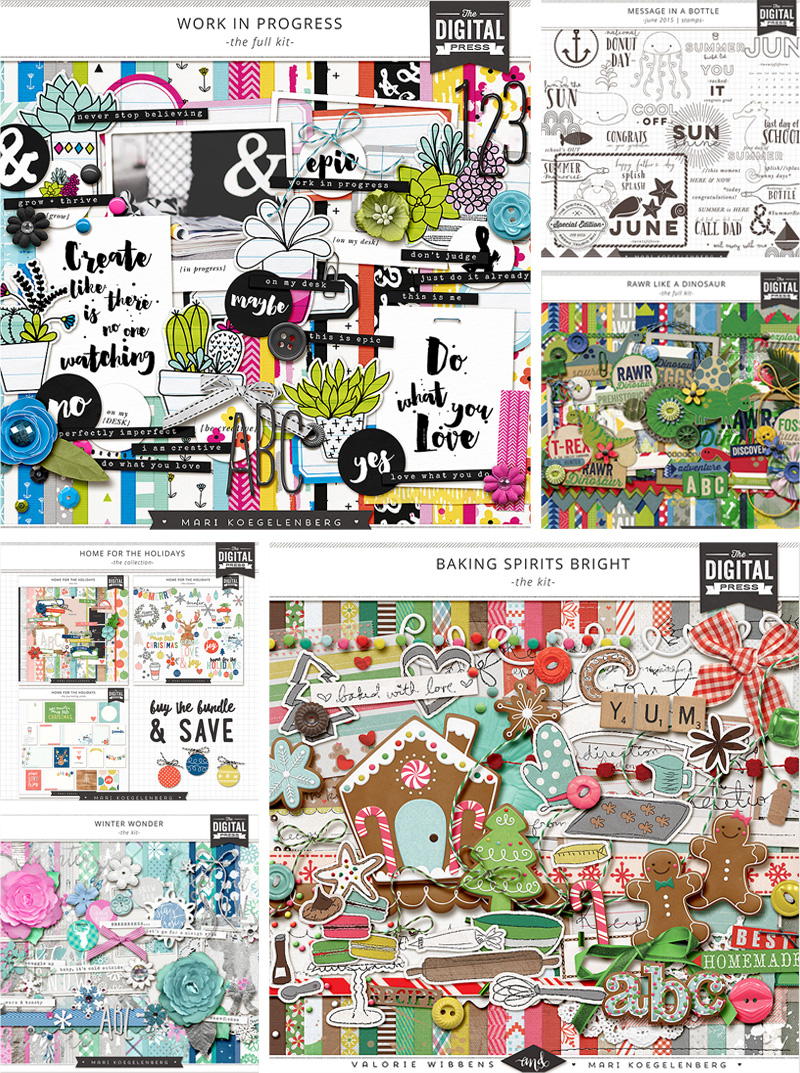 Here are some of the layouts I have created with Mari's digital designs through the years…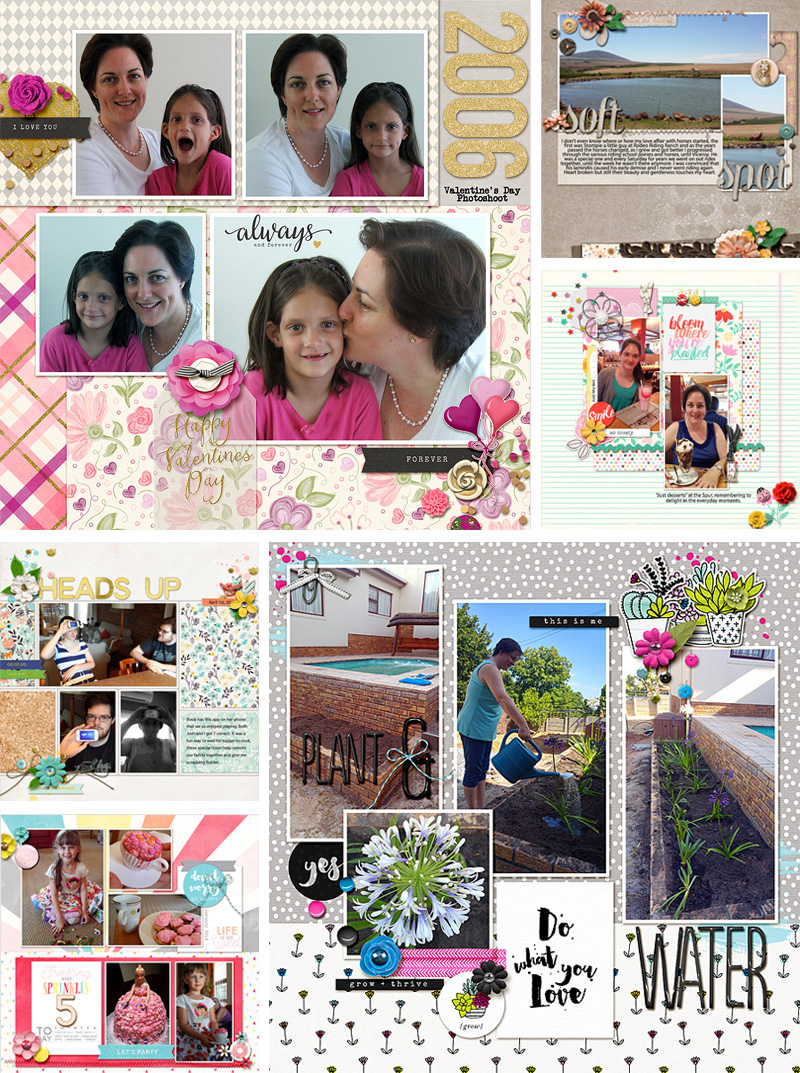 I trust that you have enjoyed getting to know Mari a little better, and the chance to see a peek of her creative space and appreciate her creative process! Remember that her shop at The Digital Press Co will be on sale 30% OFF all week long (sale will end at 11:59pm ET on Thurs 2/2). Surely that's all the excuse you need to visit her shop and clear your wish-list! 🙂
Additionally, this week only — you can snag the following FREE COLLECTION with any $10+ purchase in the Mari Koegelenberg shop at The Digital Press! Exciting stuff…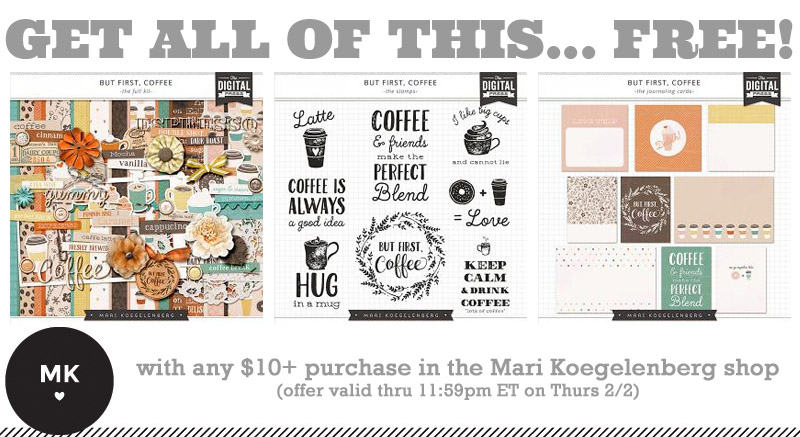 ---

About the author  Stefanie is a member of the creative team here at The Digital Press. She is a Mom of three older children, all living in Cape Town, South Africa, with her hubby of 29 years and their two cats. In her free time she loves digital scrapbooking, dabbling in photography, and reading.