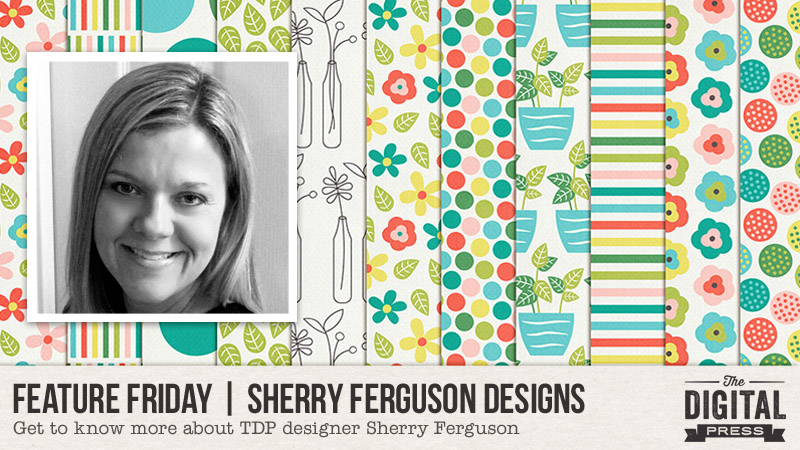 Hello, and Happy Friday! Time for another edition of our Feature Friday series here on The Digital Press blog… and this week, I'm thrilled to highlight Sherry of Sherry Ferguson Designs. This is not the first time Sherry has been featured here on the blog (find her feature from July 2016 HERE… from February 2017 HERE… and her more recent Foodie Friday post from January 2018 — with the easy bake mac 'n' cheese… yum! — HERE).
I wanted to know even more about Sherry, however, so I asked her to share 5 Things We Might Not Already Know About Her…
I have Ehlers Danlos Syndrome — which is a form of connective tissue disease — as well as many other health problems that typically go along with it. It can make life very difficult a lot of the time. I just have to do what I can, when I can… and try to enjoy the little things.
I've always loved taking pictures. Even back when it wasn't cool to do so, I would carry around a camera. I think I have every photo I've taken since 3rd grade.
I've lived in Texas my entire life and I haven't left the state since right after my oldest daughter was born almost 17 years ago!
I learned to water ski when I was six years old, but haven't done so since I was sixteen. It's definitely on my bucket list to try again if my body will allow!
I'm a technology geek. I love learning about new devices, apps, and software as they come out… and really digging deep into how they work.
As for Sherry's designs… you'll definitely want to check out her shop here at TDP. If you love graphic-style papers mixed with elements such as flowers and ribbons, Sherry is definitely the designer for you! I love that she has a good assortment of mini kits in her shop, too, for those times when you're looking for just one or two items to finish up a layout.
Here is a small sampling of the products you'll find in Sherry's shop, so you can see what I mean…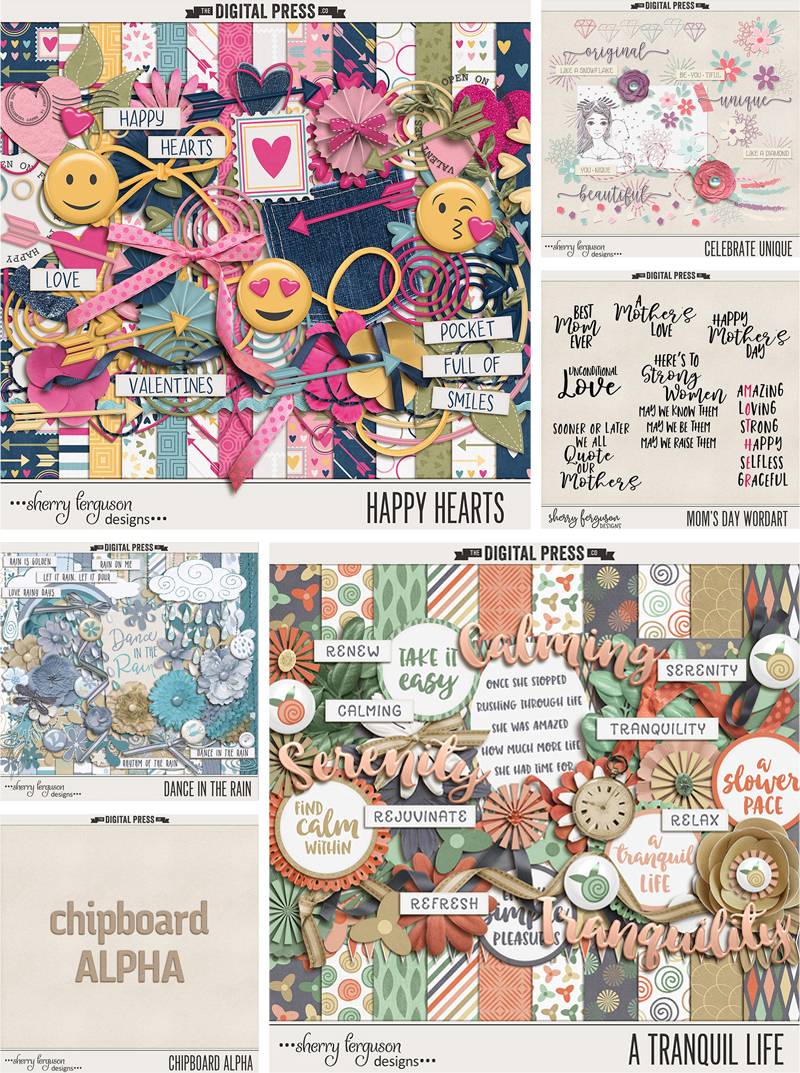 And here are some examples of projects that were made with her products, so you can see the versatility of Sherry's kits (can you tell which one is actually a hybrid layout?!)…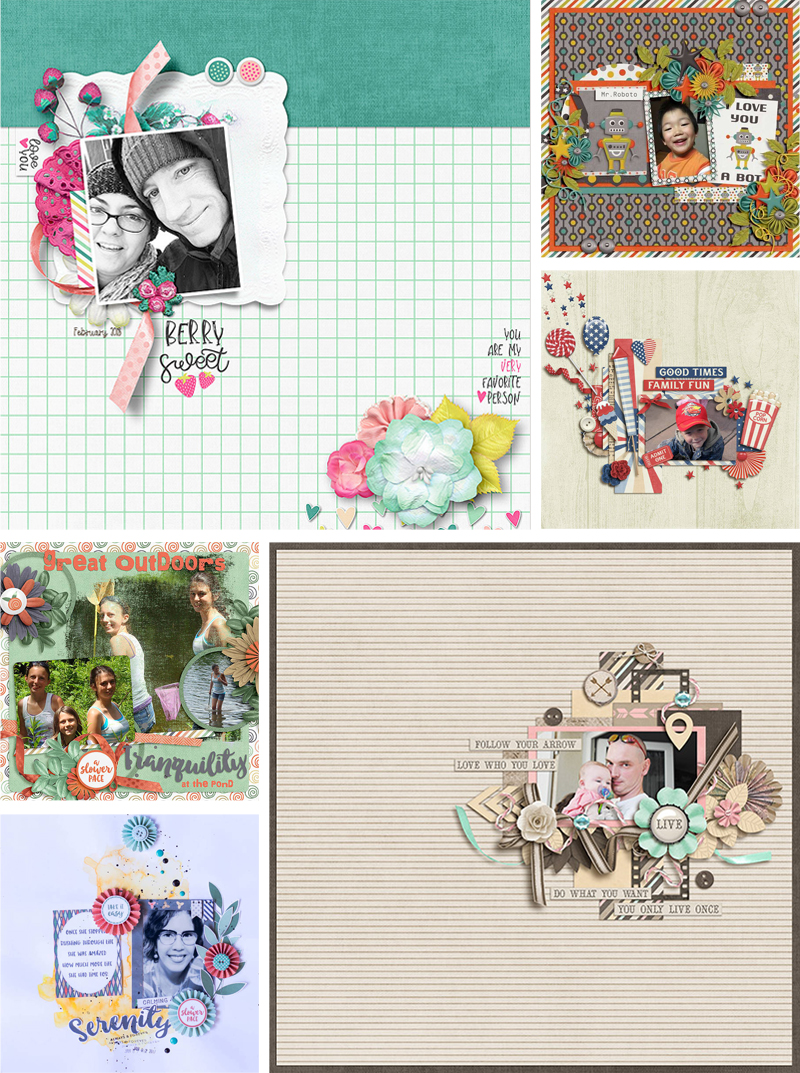 I hope that you've enjoyed learning a little more about Sherry Ferguson Designs today! To celebrate her week as our Featured Designer at The Digital Press, her entire shop will be 30% OFF all week long (the sale will end at 11:59pm ET on Thursday 5/31).
Additionally, Sherry has a special Free-with-Purchase offer for everyone this week! Don't miss out on this opportunity to stock up on your favorite products from Sherry Ferguson Designs …and you can also snag this fun kit — Inner Artist — for FREE with any $10+ purchase in her shop! (again, the offer is valid through 11:59pm ET on Thurs 5/31).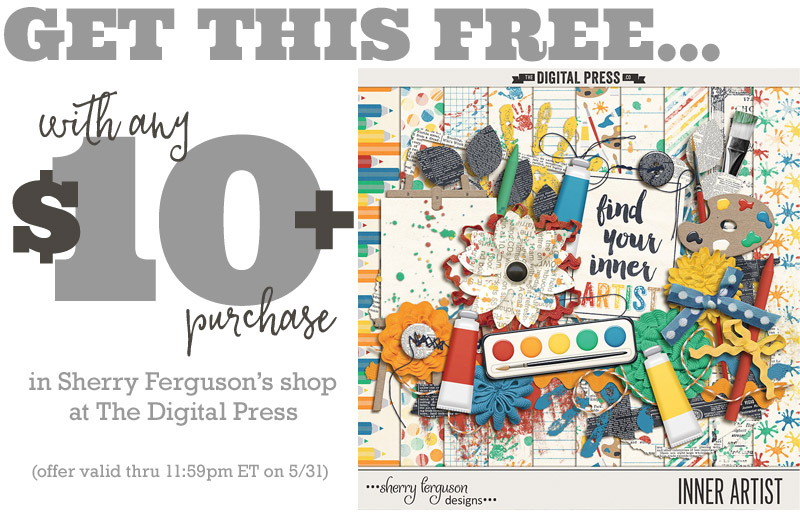 ---

About the Author Kat Hansen is a creative team member here at The Digital Press. A Director of Human Resources by day, she loves the opportunity to spend a few hours each evening being creative. Vacation memories feature pretty heavily in Kat's scrapbooking pages, as well as her health and fitness journey. Kat has quite the sense of humor (she "blames" her father for this), which she incorporates into her journaling and memory-keeping.