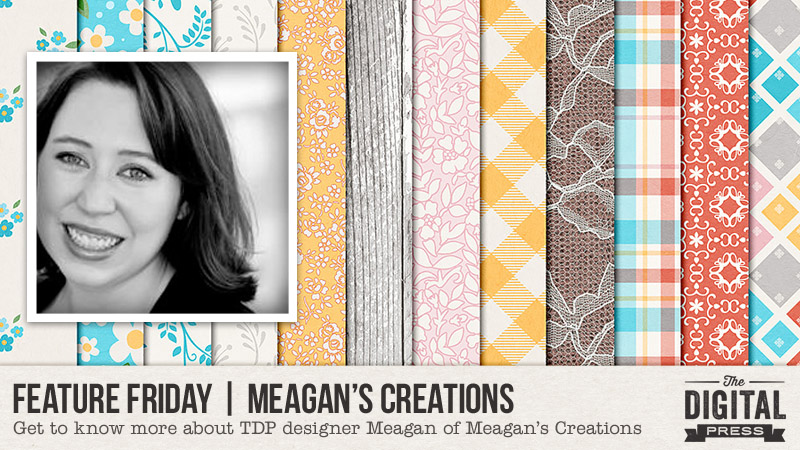 Happy Friday, everyone! It's time for another edition of our Feature Friday series here on The Digital Press blog… and this week, I'm thrilled to put the spotlight on Meagan of Meagan's Creations! This is Meagan's fourth feature at TDP (you can find her first feature from January 2017 HERE, another from June 2017 HERE, and her Foodie Friday post from November 2017 HERE).
In order to learn a little bit more about Meagan, so I asked her to share 5 things we might not already know about her. I loved reading her responses!
While I love music, I can't play any instruments. I took some piano lessons in middle school but unfortunately didn't keep up with it. Still, if I'm listening to music while I'm typing on my keyboard, I often like to pretend I'm playing the piano as I type on the keys!
I'm a bargain hunter. I'm not an extreme couponer by any means, but I do often stack coupons with sales, find ways to get a few freebies, and like to make the dollars stretch. My favorite tool? Giftcard Granny. It searches through "used" gift cards and finds the best deals. I'm currently eye-balling the 30% discounted AMC gift cards to go on a movie date with my husband here soon.
I'm a mom of 4, with my 4th child being born just this past February! All four were born via c-section, and I am done! This last recovery was definitely the hardest!
I am not athletically inclined but I did love taking Karate as a teenager. I held my own pretty well when grappling (or wrestling)… even against the boys.
I'm a math nerd and my kids are turning into math nerds, too. My 7 year-old came home excitedly the other day because he found a calculator on the sidewalk. My 9-year old loves to ask me huge math problems and now the 3-year is asking me (simpler) math problems. He claps after I give my answer, even if it's not right. So glad my kids think I'm some superhuman computer! I do love Sudoku though.
See what I mean? She's real and simply amazing! Check out Meagan's designs in her store here at TDP, and you will notice that her products are perfect for scrapping everyday moments. I love that Meagan is the queen of using bright and bold colors, and that she's also super talented at making word art and templates too! She makes my scrapping life so much easier.
Here is a small sampling of the products you'll find in Meagan's shop, so you can see what I mean…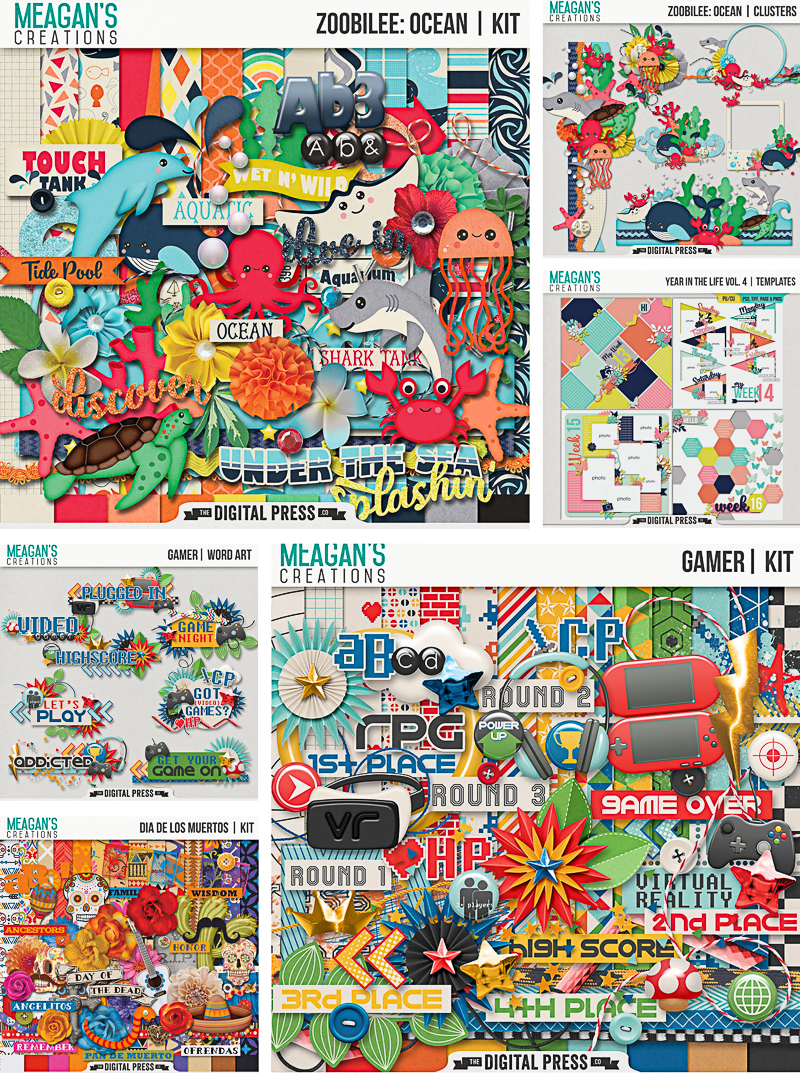 And here you can see some lovely layouts made using her products…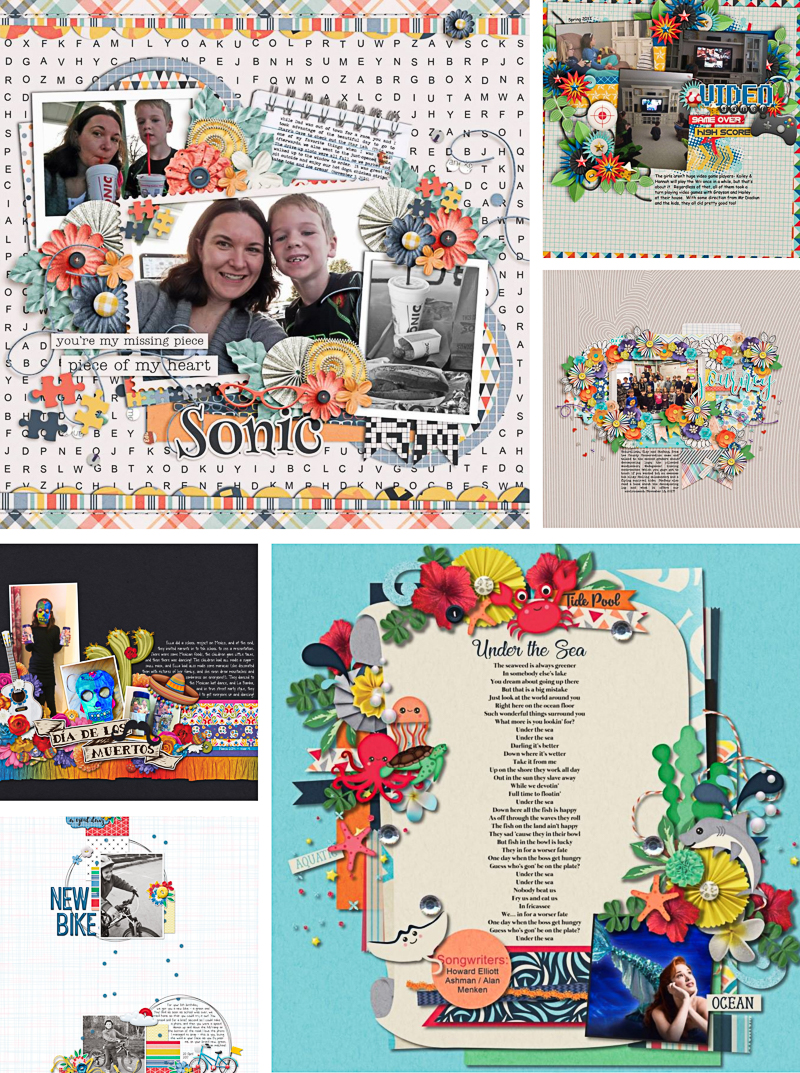 I hope that you've enjoyed learning a little more about Meagan of Meagan's Creations today! To celebrate her week as our Featured Designer at The Digital Press, her entire shop will be 30% OFF all week long (the sale will end at 11:59pm ET on Thursday 5/17).
Additionally, Meagan has a special Free-with-Purchase offer for everyone this week! Don't miss out on this opportunity to stock up on your favorite products from Meagan's Creations …and you can also snag this gorgeous brand-new kit — Countryside — for FREE with any $10+ purchase in her shop! (again, the offer is valid through 11:59pm ET on Thurs 5/17).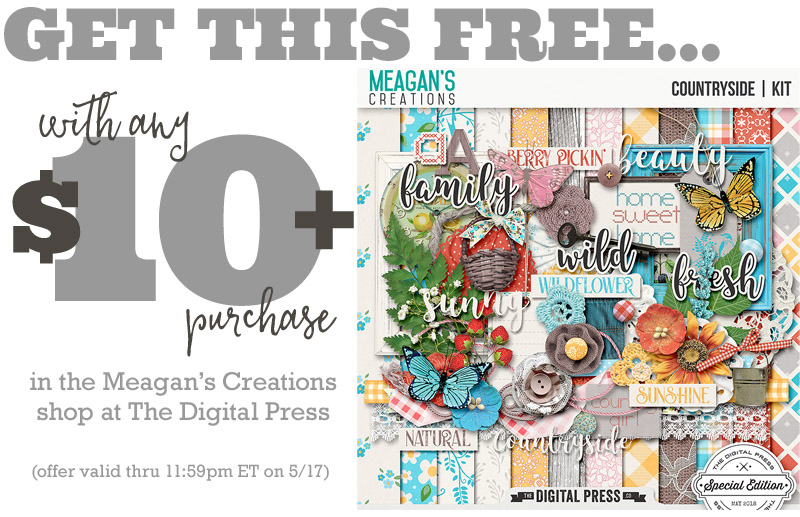 ---

About the author  Robin is a member of the creative team here at The Digital Press. A wife of 25 years and a mom of 4 crazy children (3 in college and 1 still at home), she says that her life occurs mostly in the car as she transports said crazy kids to their many, many homeschool activities. When not driving, Robin loves to make her family cringe by pulling out her camera again (and again, and again…).