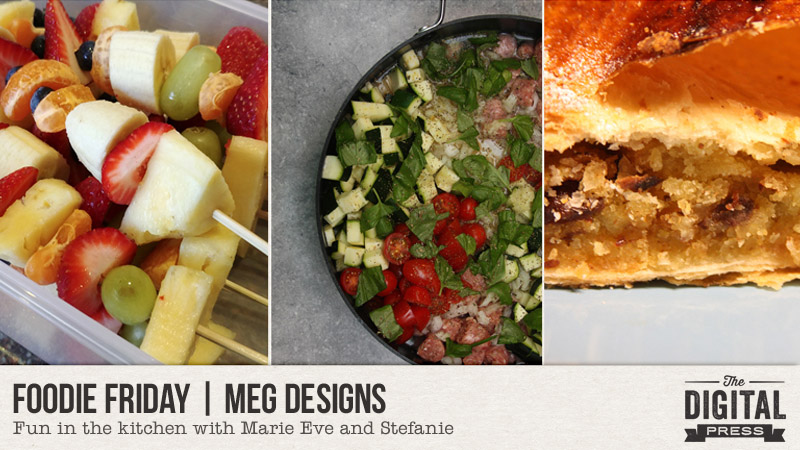 Hello! Stefanie here, to bring you another fun edition of our Foodie Friday series here on The Digital Press blog!
As you've seen this fall, Foodie Friday is our newest blog series… based on the amazing positive response we had to the "Mess Hall" feature during TDP's Summer Camp back in July. People just loved our food features… and as such, most every Friday throughout the rest of the year we will be combining the Foodie Friday thing with our weekly designer feature series — and having some fun in the kitchen! Every week you will get the chance to peek into the lives (and kitchens) of your favorite TDP designers and creative team members.
It's been really fun so far… and this week, Marie Eve of MEG designs is here with me to share a few delicious recipes from each of our kitchens! Take a quick look…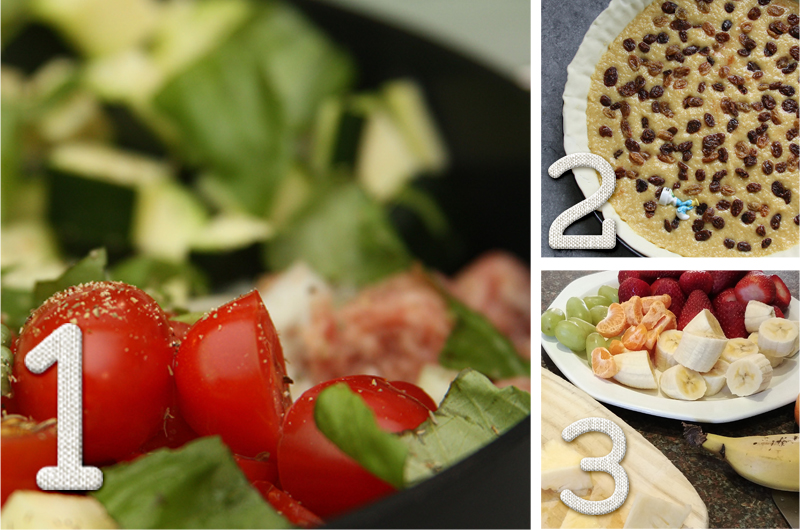 It all looks delicious, right? Here's what we have put together for you…
One-Pan Pasta
King Cake
Fruit Kebabs
---
One-Pan Pasta
This a quick dish that Marie Eve says her family loves… and it is something she turns to when time is short.
INGREDIENTS NEEDED
 350 g spaghetti (or any  other pasta)
 5 sausages (chorizo or similar)
 1/2 red pepper
 1/2 onion
 2 cloves garlic
 1 small zucchini (baby marrows)
 20 cherry tomatoes
 fresh basil (or parsley if you don't have basil)
 herbs of Provence
 750 ml of cold water
 1 chicken bouillon cube (chicken stock cube)
 black pepper pepper
INSTRUCTIONS
Wash the zucchini and the pepper and cube into small pieces (so that it cooks quickly).
Finely chop the onion and the crush the garlic.
Wash the cherry tomatoes and halve them.
Dilute the bouillon cube in cold water.
 In a large pan, place spaghetti in the bottom.
 Cut the sausages into small pieces layer them next to the spaghetti.
 Add the cherry tomatoes, the onion, the cloves of garlic, the red pepper and the zucchini.
 Add the diluted bouillon cube.
 Sprinkle with some fresh chopped basil and add some herbs from Provence (not too much!) and freshly ground black pepper (no salt).
 Cook on high heat and when the pasta begins to soften, stir gently to mix, but take care to ensure that the pasta is immersed in the water.
 Cook until there is no more water, watch and stir regularly so that it doesn't attach to the bottom of the pan. It takes about 15-20 min.
---
King Cake
About this recipe, Marie Eve says, "this is a recipe that I have made many times and we still like it. On the 6th of January, we celebrate the Epiphany (a Christian tradition). On this day, we eat the King's cake, in which we hide a bean (a porcelain object).. and whoever finds it is the "queen" or "king" for the day.
INGREDIENTS NEEDED
2 puff pastries
200g almond powder
150g sugar
 100g butter (room temperature)
 2 eggs
 1 tbsp bitter almond extract
 70g of raisins
 1 tbsp cinnamon
 150ml orange juice
 1 bean
 1 egg yolk diluted  with a water to create an egg wash to crisp and brown the dough.
INSTRUCTIONS
 Place the raisins in a bowl, sprinkle with cinnamon and cover with orange juice. Let swell 30 min.
 Preheat the oven to 180 °C (6).
 Arrange the first puff pastry in a pie dish and prick it with a fork. Do not cook it.
 Mix all the ingredients: almond powder, sugar, eggs, butter and almond extract. Spread it on the puff pastry base.
 Cover with drained raisins. Push them lightly into the mixed ingredients. Slip the bean into the filling.
 Cover the pie with the second puff pastry. Weld the edges lightly with your fingers.
 Mark the top of the cake with the tip of a knife before brushing with the diluted egg yolk.
 Bake for 35 min.
 Take the cake out, sprinkle it with sugar (through a sieve). Increase the oven to 250 °C  (8-9) and bake the cake for 5 minutes more.
---
Fruit Kebabs
This is a recipe from my own kitchen, and it's one that my daughter requested when she wanted a picnic party for her 18th birthday with her closest girlfriends. Girls are always so health-conscious, and so I made this fresh fruit selection on a skewer. They loved it!
INGREDIENTS NEEDED
pineapple, peeled and cubed
bananas, peeled and sliced
blueberries, washed
strawberries, washed and halved
mandarins, peeled and separated into segments
seedless green grapes (but any seedless ones will do)
basically you want a mix of different colours that look pretty together
INSTRUCTIONS
I started with pineapple and then layered them on to the stick one by one, ending with a blueberry
Serve cold, one per person
---
There you have it! …something for everyone, no matter where people are located in the world. These recipes are easy to make, and sure to be crowd pleasers.
After checking out these fun recipes… if you're up for a challenge, come to the forum and check out our Recipe Book challenge, which is designed to help you create a quick-&-simple book of your favorite recipes — get this — in time to print it up and give it to friends and family members as a holiday gift later this year(!). Sound like fun? Come check it out HERE.
Meanwhile, it wouldn't be a designer feature week without a fantastic sale and a special Free-With-Purchase offer… so you'll be excited to see what Marie Eve has in store for you! Not only is her entire shop marked down 30% OFF throughout her entire feature week (sale prices will be valid through 11:59pm ET on Thurs 11/9)… but she also has the following awesome deal available in her shop all week long, as well! Spend $10+ in the MEG Designs shop and get the following product absolutely FREE…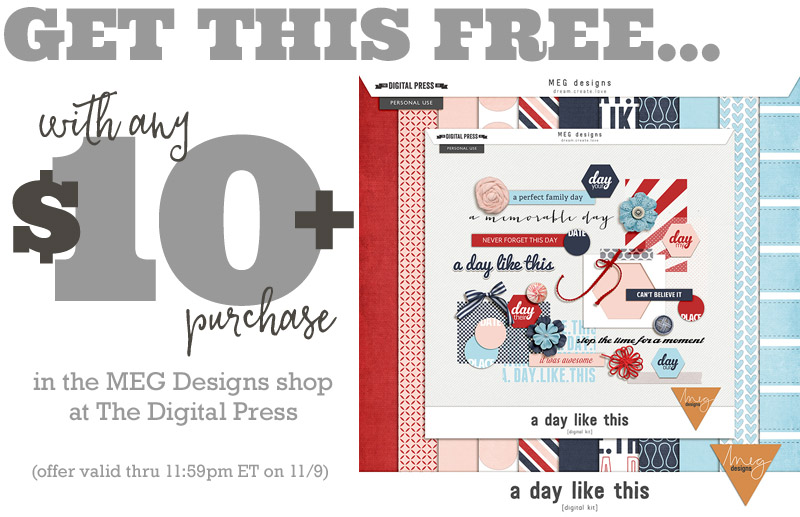 ---

About the author Stefanie is a member of The Digital Press creative team and a stay at home mother of three older children living in Cape Town, South Africa with her hubby of 29 years, two of their three children and 2 cats. She loves photography, travel and digital scrapbooking, documenting the good and the ordinary everyday.