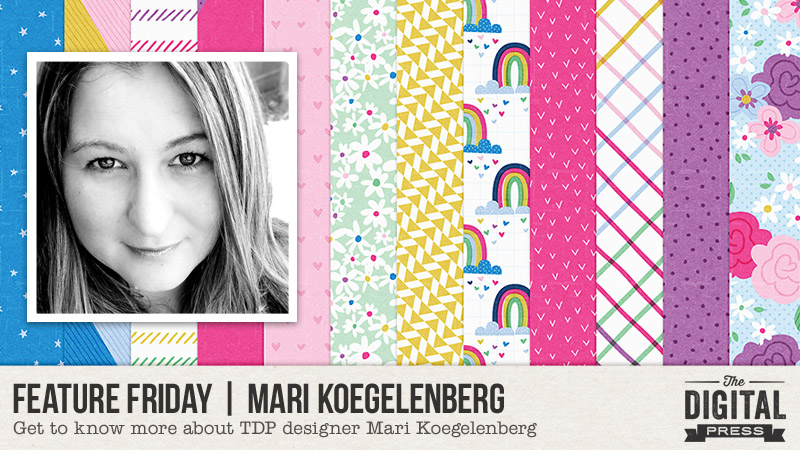 Happy Friday, everyone! It's time for another edition of our Feature Friday series here on The Digital Press blog. This week, we're excited to put the spotlight on the fantastically-talented Mari Koegelenberg! This is her fourth feature at TDP (you can find her first feature from October 2016 HERE, another from January 2017 HERE, and her Foodie Friday post from October 2017 HERE).
In order to learn a little bit more about Mari, we asked her to share 5 things about herself that we might not already know…
I am a Crazy Goat Lady* (or… replace goat with any of the following: duck/chicken/dog/cat or horse)! 🙂
I am a Gamer — and a Huntmaster (my World of Warcraft Legion Main …although I might swap that title out with Deathlord since my pink-haired NELF is just as awesome).
I am a Maker… a crafter, a baker, a designer, a gardener, a DIYer… creating keeps me sane and feeds my soul!
I am a Collector (a.k.a. Hoarder? Embarrassing, yes… but true nonetheless… I do try, though, to keep organized and get rid of stuff!).
I am a PRO-crastinator… emphasis on the PRO (I am really good at it!).
*here's a look at Mari with one of her sweet animal friends from her family's homestead farm…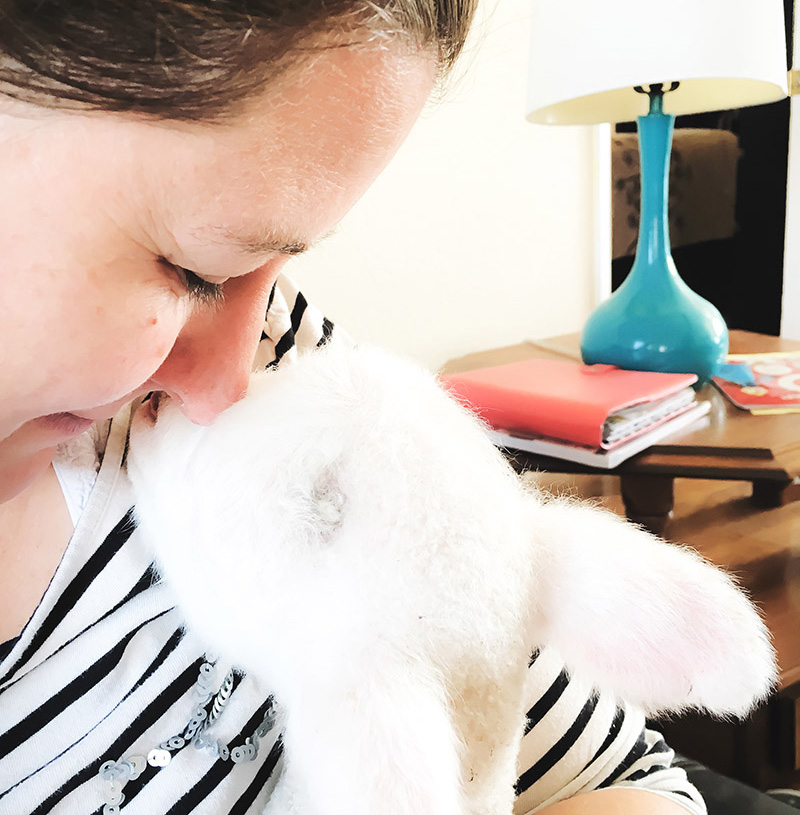 When it comes to Mari's design work… she loves color, and she says that it is what drives both the mood and themes of her collections. She also loves to sketch and draw, and you'll find her amazing original illustrations in just about all of her products. Not only does Mari use this artwork to create fantastic digital scrapbooking kits, digital and hybrid planner supplies, and pocket-style scrapping items… she also has some really amazing cutting files in her shop, as well, which will help you make some stunning dimensional paper goodies!
Here is a sampling of some of our favorite items from the Mari Koegelenberg Creations shop here at TDP…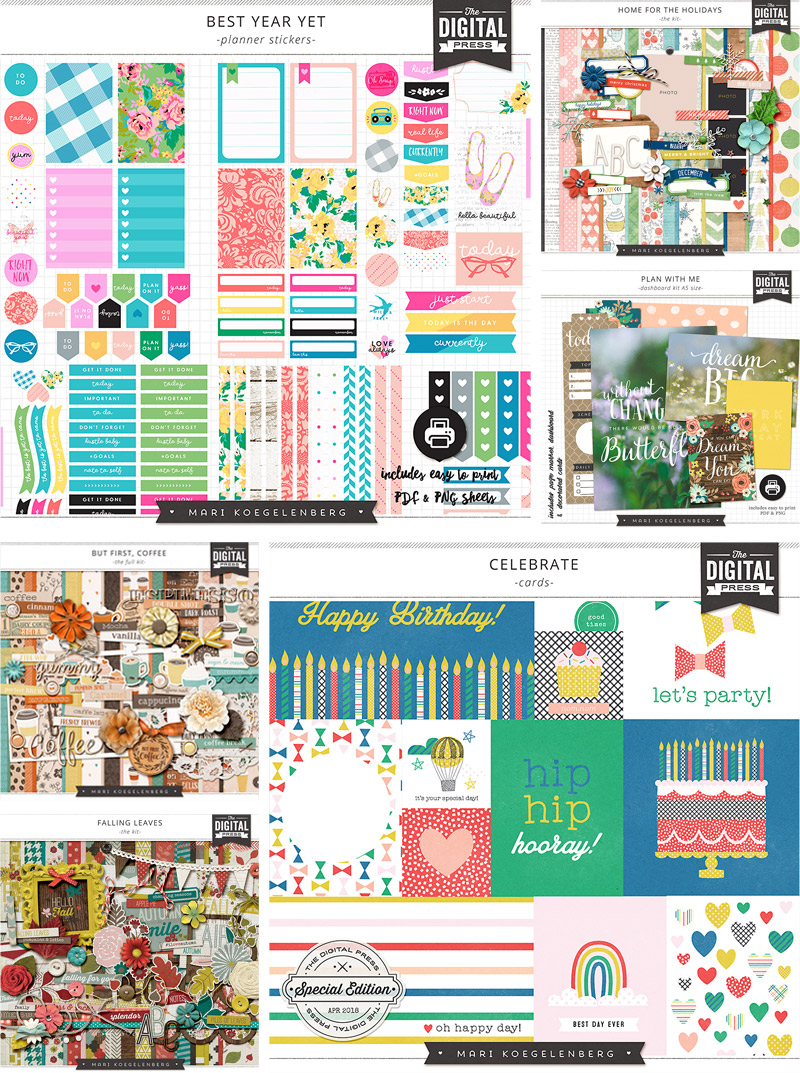 Aren't her products just amazing? It's pretty much a given that you can always turn to Mari's shop and find just the right item for any project! And it's all so adorable!
It's also really fun to look at her products in action when browsing the gallery at The Digital Press. Here are some really fantastic projects that were all creating using her wonderful products…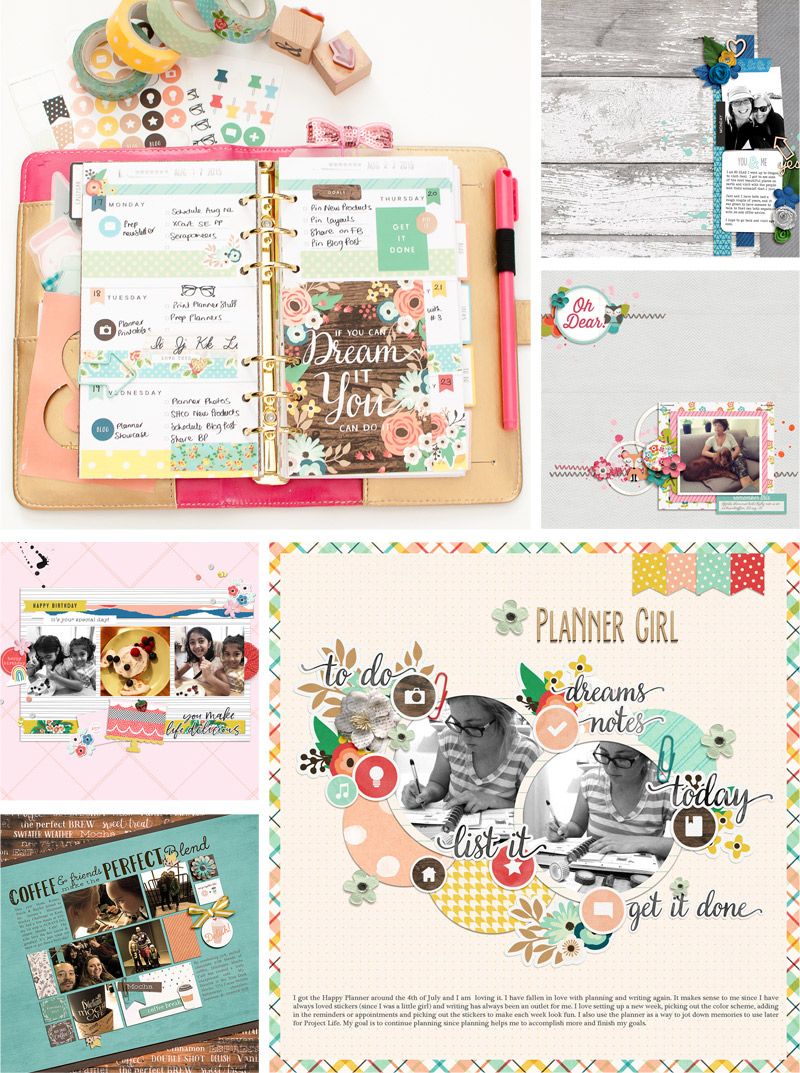 Don't those images inspire you to want to go make something pretty?! 🙂
We hope you've enjoyed learning more about Mari today! To celebrate her week as our Featured Designer at The Digital Press, the entire Mari Koegelenberg Creations storefront at TDP will be 30% OFF all week long (the sale will end at 11:59pm ET on Thursday 4/26).
Additionally, Mari has a special Free-with-Purchase offer for everyone this week! Don't miss out on this opportunity to stock up on your favorite products from Mari Koegelenberg… and you can also get her brand-new kit — "Be A Unicorn"  — for FREE with any $10+ purchase in her shop! (again, the offer is valid through 11:59pm ET on Thurs 4/26).