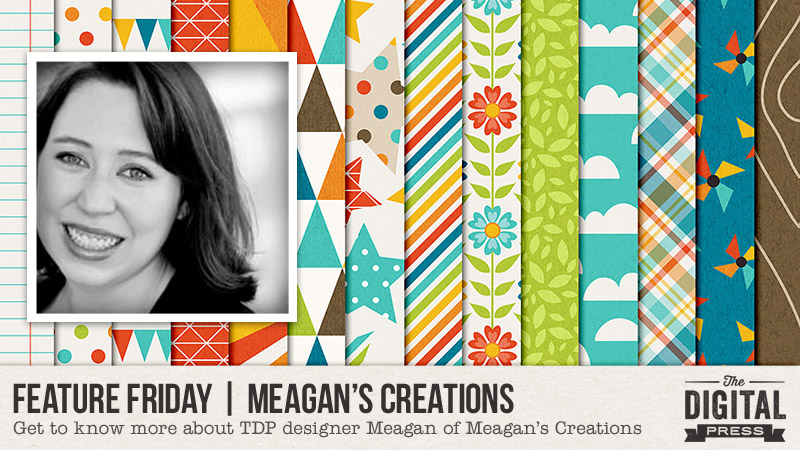 TGIF! Friday not only means the end of the work week… but also, it means it's time to learn something new about one of our fabulous designers here at The Digital Press!
Today I am happy to share more information with you about Meagan Tuck of Meagan's Creations. This is Meagan's second feature here on The Digital Press blog (you can find her first feature from January 2017 HERE), and whereas last time we used her feature article to help you get to know some fun trivia about Meagan — this time, we're using her designer feature to give you a little peek into her creative space, as well as more insight into her creative processes.
With that in mind, here's a look at Meagan's creative work space…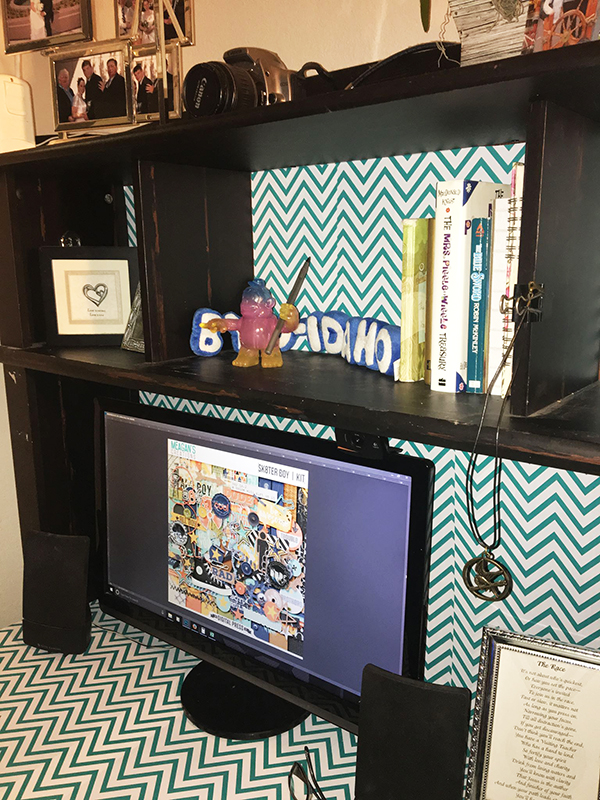 We also asked Meagan to give us a Top 5 list that is representative of herself at this point in her life… and she shared with us a list of the Top 5 Things She Also Does While Designing…
Listen to Pandora — My channel is a mix of Adele, The Lumineers, The Head and the Heart, Florence + the Machine, as well as some 90s favorites.
Tutor Math Online — I actually mentor math tutors for the past year, but before that I was an online math tutor and would tutor while designing all the time. I occasionally still tutor and it's easy to do a couple of quick things in between the 1-2 minutes it takes the student to respond.
Snack! — I love cheese and crackers, apple slices and peanut butter, or popcorn while I design. And lots of water!
Watch a Show — I'll have my Photoshop window on half of the screen, while watching a show on the other half. I just finished Designated Survivor, and before that I watched This is Us.
Getting Pinterest Inspiration — I love looking up color palettes, party supplies, and scrapbook layouts on Pinterest to get ideas for unique elements and styles. And I almost always wind up downloading a new font!
Meagan's creations (see what I did there?! 😉 ) are bright, colorful, and fun! She designs amazing themed collections full of papers, embellishments, alphas, clusters, word art, glitters, journaling cards.. and more often than not, coordinating templates!
Here's just a tiny sampling of some of the products you can find in the Meagan's Creations shop at The Digital Press…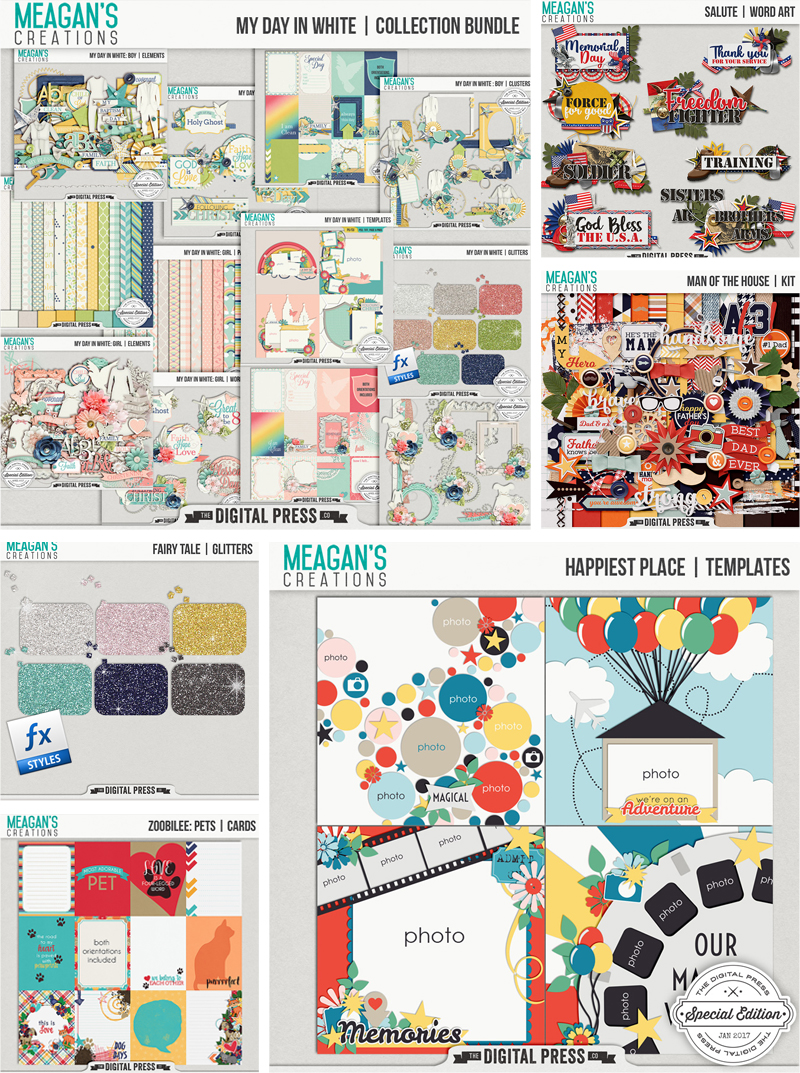 Meagan's products are also versatile and simple to use for just about any layout. Here are a few projects that use her products and caught my eye…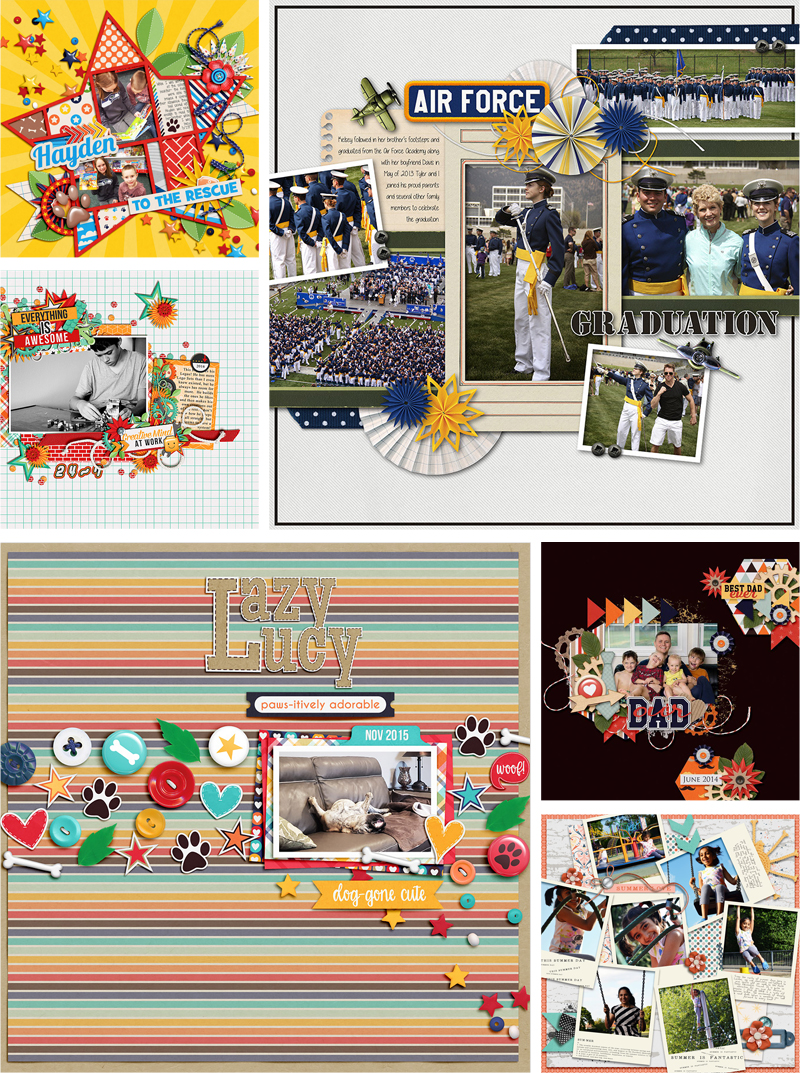 Thank you for spending some time getting to know more about Meagan with me today! I had a blast browsing through her store, and I definitely found a few things to add to my wishlist! And I have some great news! Her entire shop here at The Digital Press will be 30% OFF throughout the coming week during her feature (the sale will end at 11:59pm ET on Thursday 7/6).
And last but not least… Meagan has a fantastic Free-with-Purchase offer for everyone this week! You can snag her brand-new (just landed in the shop today!) "Sk8ter Boy" Kit for FREE with any $10+ purchase in Meagan's shop at The Digital Press — this week only (again, the offer runs through 11:59pm ET on Thursday 7/6)…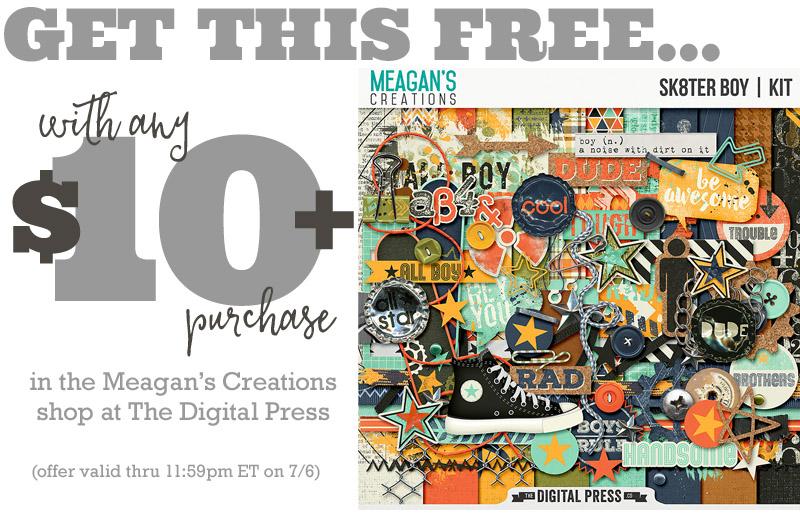 ---

About the Author  Amie is a craft-loving dental hygienist who lives in Washington state. She loves her husband, her two kids (ages 9 & 6), and her English Bulldog… as well as coffee, baking cupcakes, daffodils, glitter & sprinkles, reading a good book, and lip gloss — not necessarily in that order.