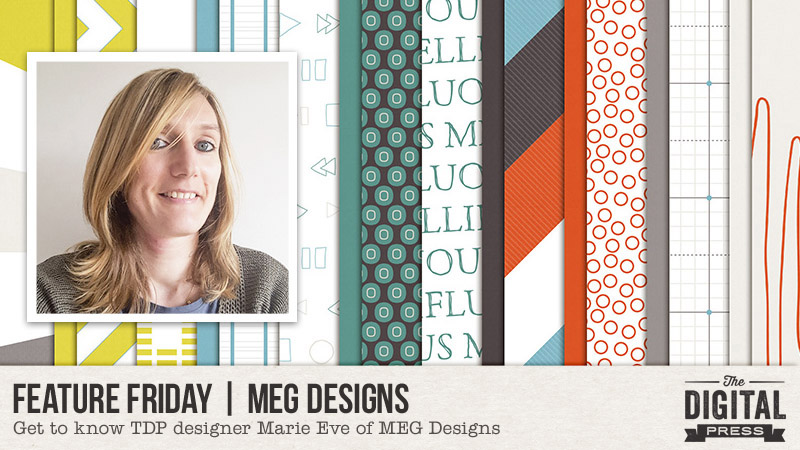 It's Friday!  That means it's time for another edition of Feature Friday… and we get to learn a little bit about one of our beloved TDP designers. This week, we're featuring Marie Eve of MEG Designs!
Anyone who has shopped at The Digital Press already knows her beautiful designs: her store is filled with digital kits, calendar templates, word art, journal cards, and amazing layout templates.  She has a knack for putting vibrant colors and patterns together with unique elements that work seamlessly with traditional 'paper-style' scrapbooking, pocket scrapbooking, and graphic style pages. You will find something that works for any photo and memory that you want to document and treasure! Personally, I love some of the names of her kits!  They are unique and fun… such as my personal favorite… Mellifluous. I mean, seriously. How awesome is that?! 🙂
Before we get to some of my favorite products of hers, however, let's learn one little tidbit of info about her, shall we? As you can see above, her name is Marie Eve. For the longest time, I thought it was Meg, but alas, I was wrong! MEG is actually her initials (last name starts with a G). Huh! Creative, right?
Okay, now I'll share a few of my favorite items from the MEG Designs store here at The Digital Press…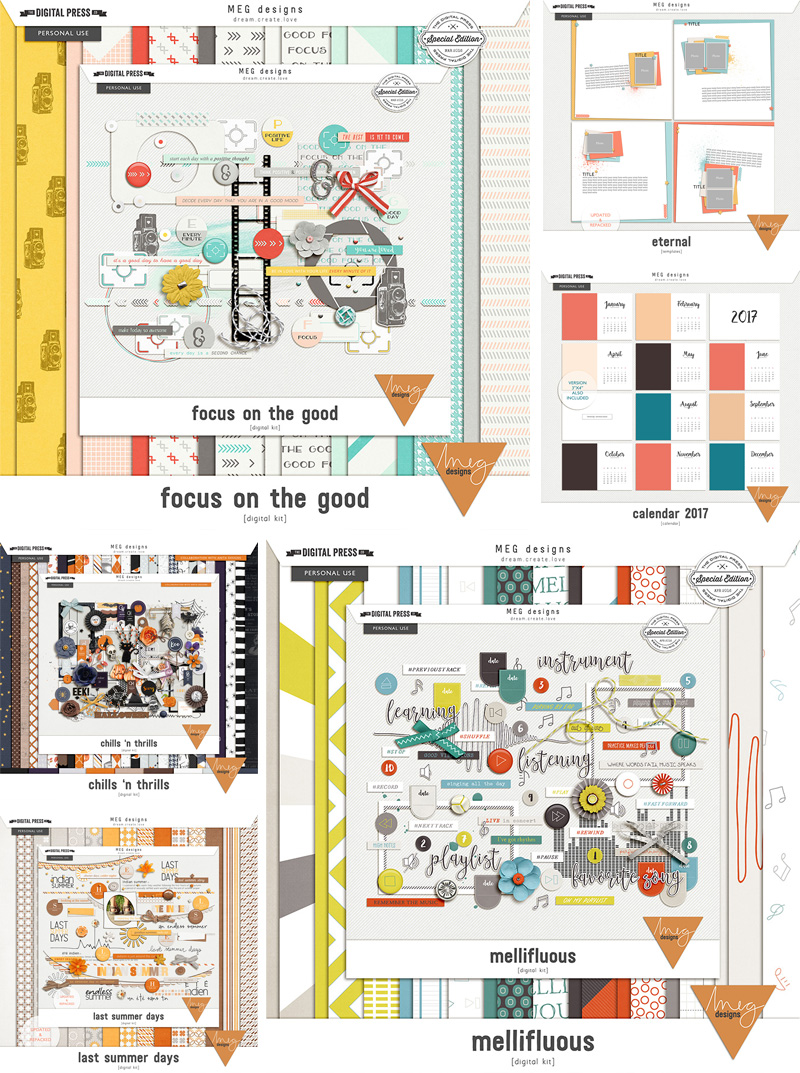 I asked Marie Eve some questions so we could learn a little bit more about her, and here's what she had to say…
Where do you live?
I live in a house in the countryside in Belgium. We see lots of of sights. There are fields and meadows with horses near the house. I don't know if everybody knows where Belgium is located in Europe; the capital is Brussels, and it's a country between France, The Netherlands, Germany, and it's in front of the United Kingdom.
When you're not designing, what do you do with your time?
First of all, I work another full-time job throughout the week. After work, I like to go 2 times a week doing some sport like Zumba or Turbo Kick Power. This allows me to decompress and think about nothing. I also love spending time cooking, especially making desserts. I never have to go to the bakery, because I make my bread myself. I also try to spend time with my 2 children, and enjoy them while they are still young. They really like to play board games.
What are 5 tidbits of trivia we might not know about you?
—I never wear dresses or skirts, I've never liked that. I prefer to wear trousers; it is much more comfortable.
—When I play board games with my family and I lose, I'm never rattled, and I am not at all a bad loser. It's all part of the game.
—I am a shy and quiet person. I do not talk much about my private life, but I am a very cheerful person. One day someone told me that when she heard me on the phone she knew I "spoke with a smile." This is absolutely me, it's my personality.
—I am a chocolate addict, and it's really difficult to do without. When I make desserts, they are often based on chocolate. When I have coffee, I like to eat a dark chocolate tip, my favorite.  Belgians say the best chocolate comes from Belgium. Swiss say it's at home, but who tells the truth? LOL
—I wish I had more time (like most people). I have started lots of scrapbooking albums that are still not finished. It's hard to balance between creating products and progress in my albums, and I can not choose. My children are growing up and their albums are not moving much. The only albums I've finished are my December Daily since 2010. Last year, I decided to make it in hybrid,  which takes a little more time than digital, but I like this style too.
Which of your products is your favorite?
That's a really difficult answer because I like everything I design. If I don't like something, I don't release it. If I had to choose, I think my favorite product is Mellifluous…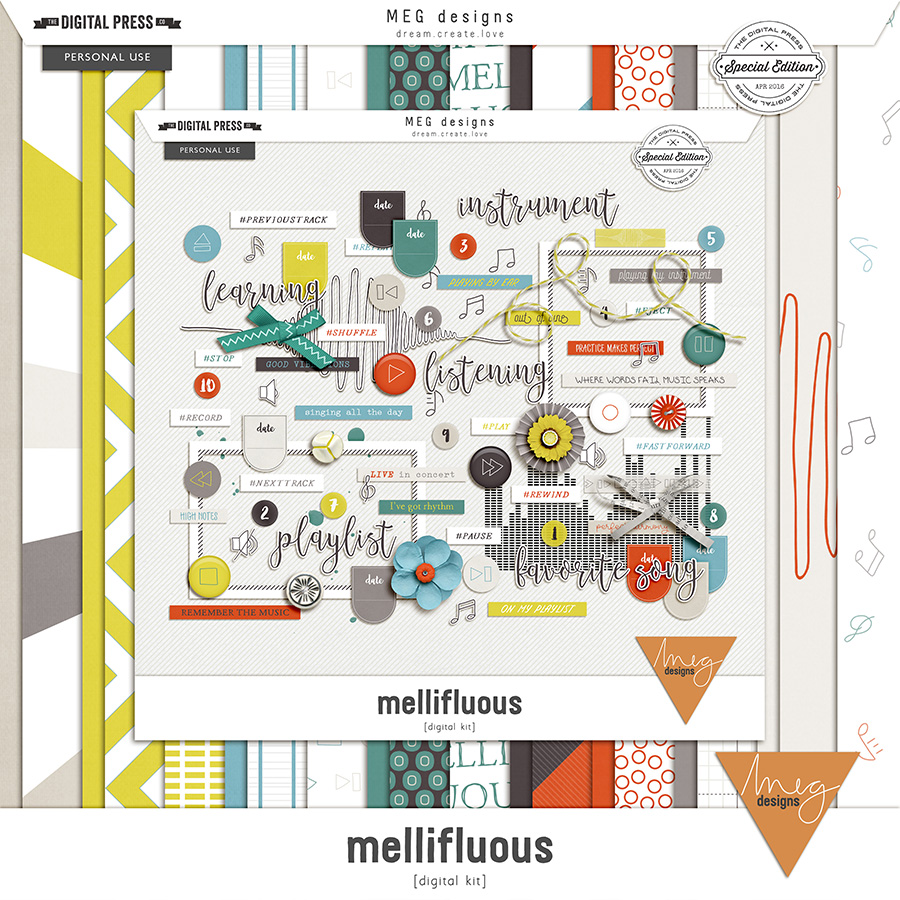 About her designs, she also had this to say: "All of my products are inspired by my private life, whether it's my children, holidays, things we do, or even something that one of my children said. Usually, I have a theme in mind and then I observe what is around me and I find a color palette that fits my theme."
MEG Designs' products are so versatile, they can be used for all of your memories and in whatever style suits you.  Here are some examples of her products in action…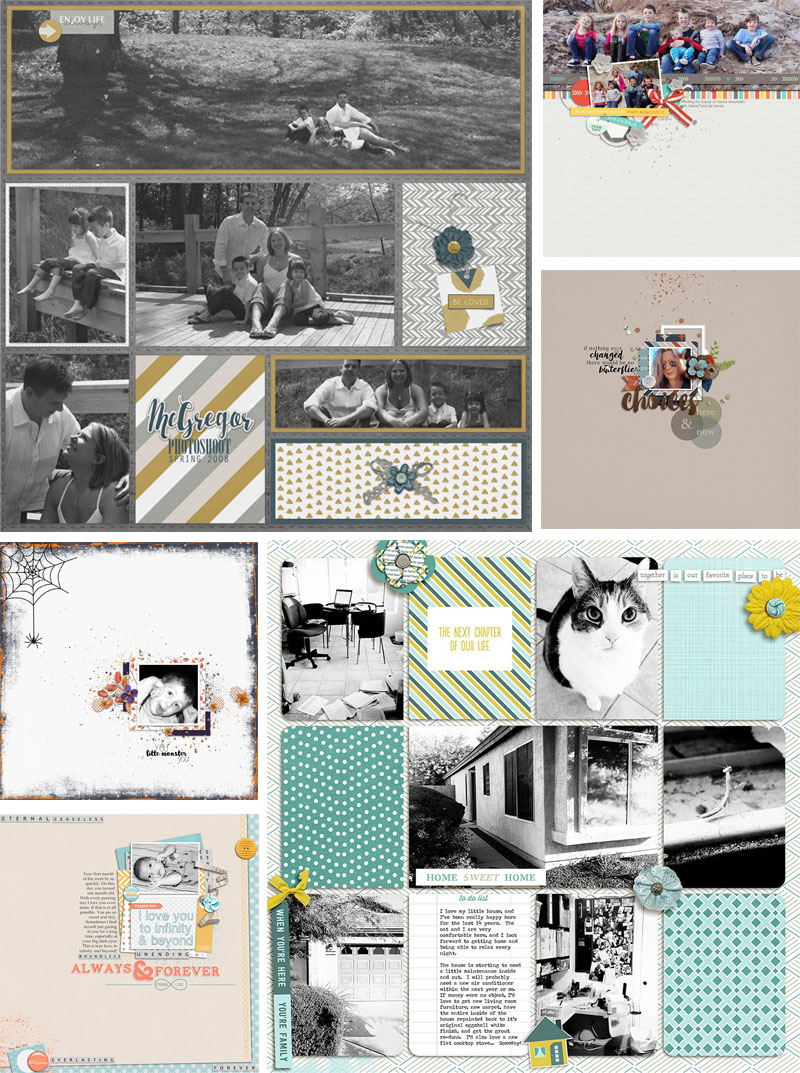 As you can see, her products are perfect for simple "white-space" layouts, for full-page pocket-style layouts, and everything in between!
I don't know about you, but I loved getting to know Marie Eve, and I can totally relate to loving coffee and dark chocolate. I'd love to taste some of her yummy desserts! She's down-to-earth, sweet, cheery, totally creative, and we love her here at The Digital Press!
Good news… if you visit her shop this week you will enjoy 30% OFF her gorgeous products (sale runs through the end of 11/17)!  Thanks for joining us this week and getting to know Marie Eve. I hope you enjoyed it as much as I did!
---

About the Author  Heidi Nicole is happily married to an amazing man, a step mama to 2 wonderful kiddos, and mama to 3 sweet and sassy furbabies.  She's a radiation therapist by day and creator of pretty things by night (she's pretty confident that she's hit super hero status, but refuses to wear a cape.)  She loves cats and huskies, coffee, audio books, FRIENDS reruns, St. Louis Blues hockey, cooking, baking, and traveling.  Oh, and wine… she really likes wine.  She lives a normal and happy life, and enjoys all the absolutely extraordinary people she gets to share it with on a daily basis!