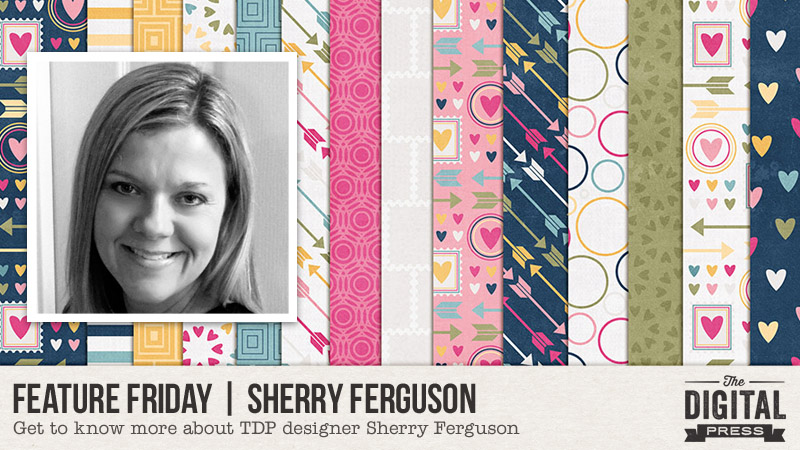 Can you believe that it's already the last Friday of February? Our bi-annual Pennysaver event has just flown right by (and there are just 5 days left to score yourself a deal, so don't miss it!)!
As always, Fridays at The Digital Press mean that it's Feature Friday time — and today we are here to help you get to know TDP Designer Sherry Ferguson a little bit better. This is Sherry's second feature here on the blog (you can find her first feature from July 2016 HERE)… and whereas last year we used our feature series to help you get to know some fun trivia about your favorite designers — this year, we're using our designer feature series to give you a little peek into our designers' creative spaces, and more insight into their creative processes.
With that in mind… let's take a peek into Sherry's creative space! This is where the magic happens…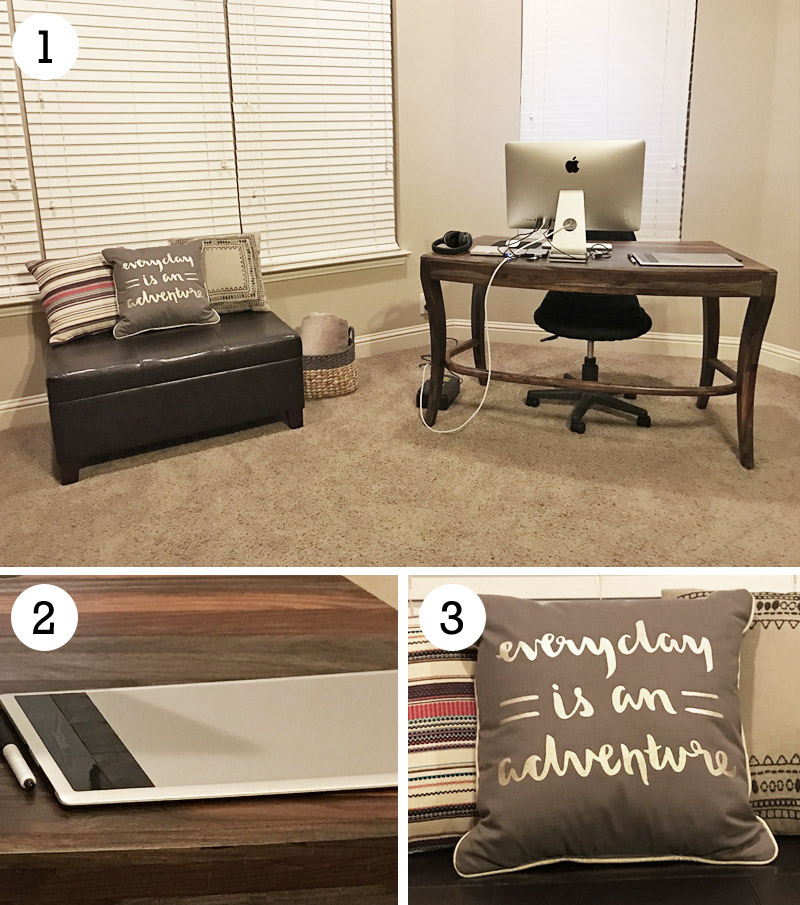 What a pretty space she has! When describing it to us, she said because "my work space is in the bedroom, I have to keep things pretty plain and neutral." I don't think this is plain at all, however — it's very elegant! As you can see… even though her desk/work space might be in her bedroom (1)… she still has the tools she needs, such as her tablet for drawing her adorable designs (2)… as well as some fun inspirational home decor (3)!
We also asked Sherry for a Top 5 list that was representative of herself at this point in life… and she chose to share a list of the Top 5 Songs She's Listening To Lately. Music is such an interesting way to get to know someone… so we love this list!
Sherry's "Top 5 Songs I'm Listening to Lately"…
Back to God by Reba McEntire — it has such a great message, and it's uplifting in a world that seems to have gone crazy sometimes
Fast by Luke Bryan — about how fast life moves and how you'd just like to slow it down sometimes
Love Triangle by RaeLynn — a sad song, but not what you would think from the title
How I'll Always Be by Tim McGraw — to me, it's about staying true to your roots and enjoying the simple things in life
Dirt on My Boots by Jon Pardi — because it's fun and has a good beat… and every playlist needs a little fun
Speaking of fun… let's look at Sherry's products! I love her designs because her kits are always full of fun papers with bold patterns, and yet she makes sure to include some neutrals, as well, for balance! Her products are versatile too; she makes a bunch of kits with funky themes that are also perfect for scrapping everyday life.
Here's a look at some of my favorite products by Sherry, which show you just how talented she is…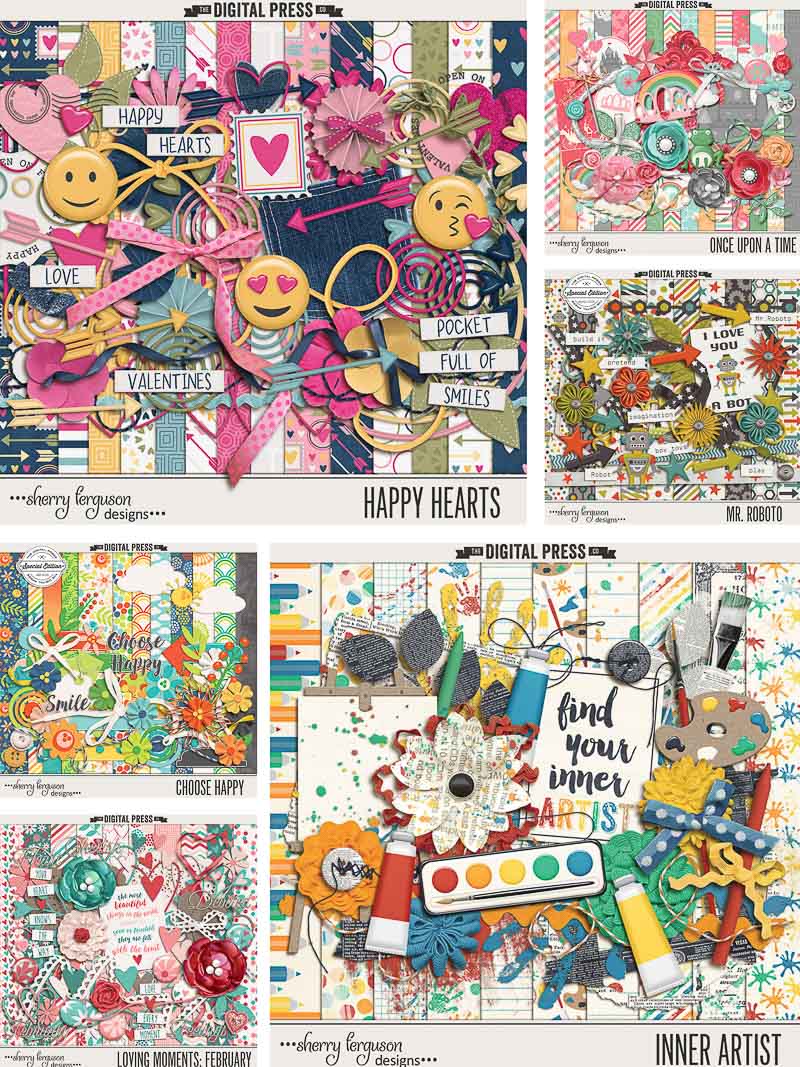 Here's a sampling of some projects that have been made using Sherry's products, so you can see what I mean, above, about her designs being versatile enough to be used by all types of scrappers for all different types of pages and projects…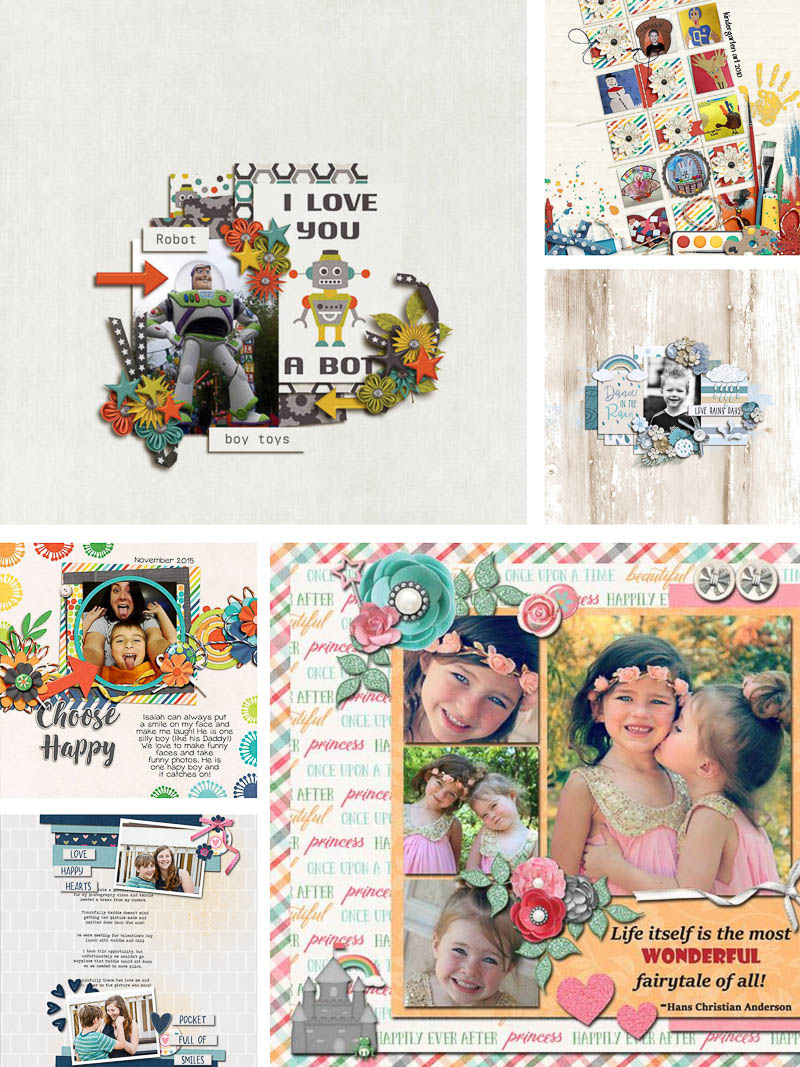 Her kits definitely appeal to many different people, and they're really fun to work with. I hope you've enjoyed getting to know her (and her fun, fresh designs) just a little better today. Don't forget that this weeek, her shop at The Digital Press will be 30% OFF during her Featured Designer week (sale prices will be valid through 11:59pm ET on 3/2). This makes now the perfect time to pick up some of your favorite products from her shop!
Additionally, Sherry has a special Free-with-Purchase offer for everyone this week! You can snag her Follow Your Arrow kit for FREE with any $10+ purchase in her shop — this week only!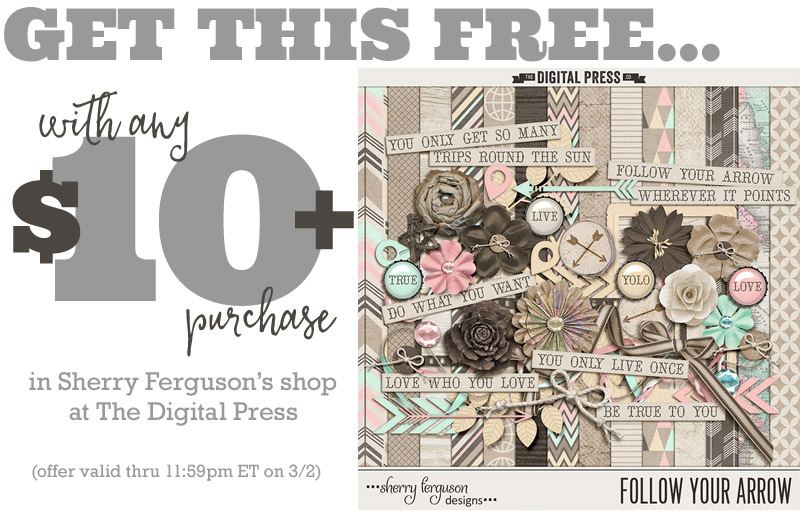 ________________________________________________________________________________________________________________________________

About the author  Robin is a member of the creative team here at The Digital Press. A wife of 25 years and a mom of 4 crazy children (2 in college and 2 still at home), she says that her life occurs mostly in the car as she transports said crazy kids to their many, many homeschool activities. When not driving, Robin loves to make her family cringe by pulling out her camera again (and again, and again…).
Save
Save
Save