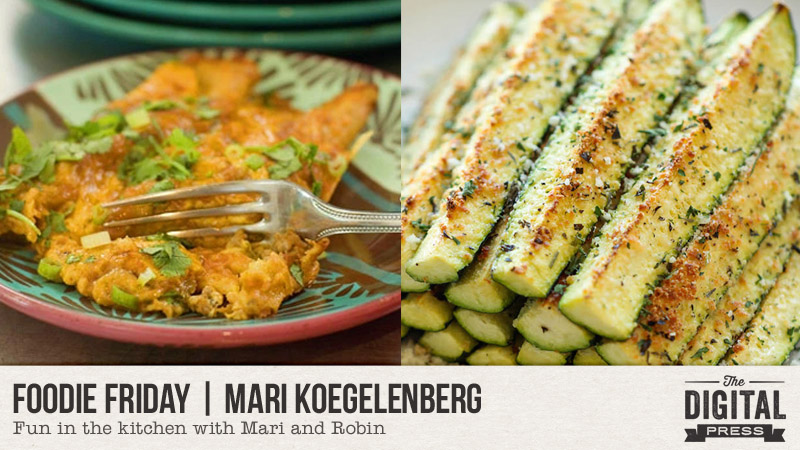 Hello! I'm Robin and am here on The Digital Press blog today to bring you another fun edition of our Foodie Friday series!
As you've seen this fall, Foodie Friday is our newest blog series… based on the amazing response we had to the "Mess Hall" feature during TDP's Summer Camp back in July. People just loved our food features… and as such, most every Friday throughout the rest of the year we will be combining the Foodie Friday thing with our weekly designer feature series — and having some fun in the kitchen! Every week you will get the chance to peek into the lives (and kitchens) of your favorite TDP designers and creative team members. It's been very fun so far!
This week Mari from Mari Koegelenberg Creations is here to share a few delicious recipes with us from her kitchen! Take a peek…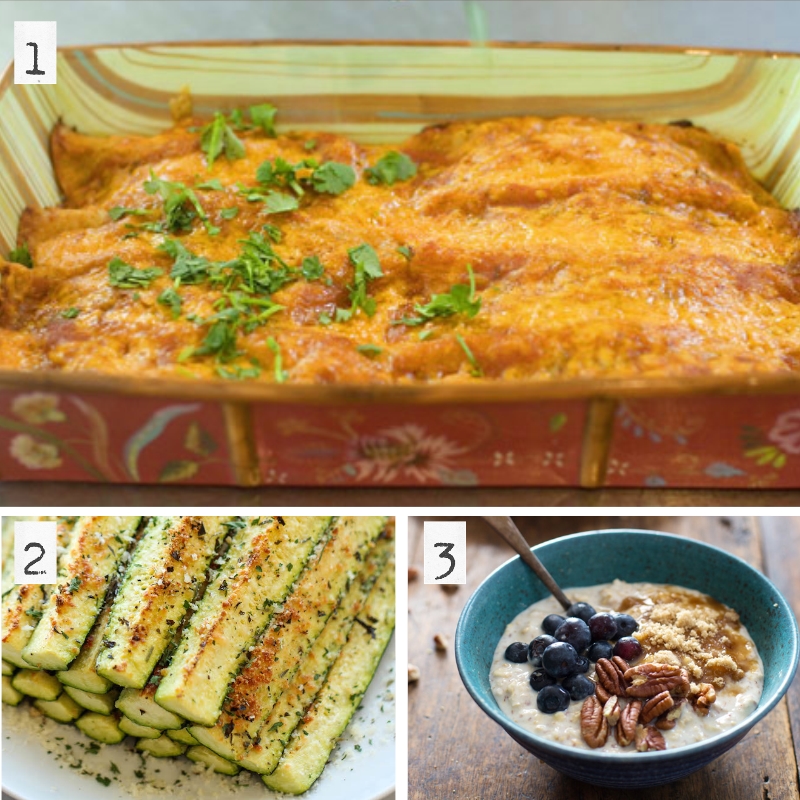 What is all of that yumminess you see, above? Here is the lineup of delicious recipes Mari put together this week:
Enchiladas
Baked Parmesan Zucchini

Flax and Blueberry Vanilla Overnight Oats  
---
Enchiladas
Mari says, "We call it Mexican lasagna. 😉 It's so good! Not having grown up with this delicacy, I scoured Pioneer Woman's vast and amazing recipe collection years ago and made this recipe one night while we had family visiting. Let's just say its a real winner! I have also substituted chicken (and even stewing beef), which I put into the crock pot and then shred it — and its just utter comfort food deluxe. Do not skimp on the sour cream!"
INGREDIENTS NEEDED
Mexican red sauce
Low sodium chicken broth
Canola oil
Flour
Salt
Pepper
Cilantro
Ground beef
Onion
Canned diced green chilies
Corn tortillas
Chopped black olives
Sliced green onions
Freshly grated sharp cheddar cheese
INSTRUCTIONS
For the sauce, add 1 tbsp. each of canola oil and flour to a medium saucepan
Whisk these together over medium-low heat for about 2-3 minutes
Add in the red sauce and chicken broth then stir to mix together
Add in ½ tsp each of ground black pepper and salt
Simmer the sauce on low heat while cooking the rest
Dice the onions and place into a large skillet with 1 tbsp. of canola oil. Sauté the onions for a few minutes
Add ground beef and brown
Add two cans of green chilies
In a small skillet over medium heat, fry individual corn tortillas just until soft (about 30 seconds each side)
Place tortillas on a paper towel-lined plate and keep warm
Add 2-3 tbsp. fresh cilantro to the sauce
Assemble the enchiladas by dipping the corn tortillas into the warm sauce, lay them flat, and spoon the meat mixture, chopped olives, green onion, and cheese on the tortillas. Roll up the tortillas and place seam side down in a baking dish.  Continue until all tortillas are used.
Pour remaining sauce over rolled up tortillas and top it off with freshly grated cheddar cheese
Bake at 350 degrees Fahrenheit for about 20 minutes until cheese is melted and enchiladas are bubbly
Remove the pan and sprinkle chopped cilantro and green onions on top
---
Baked Parmesan Zucchini
When asked about this recipe, Mari wrote, "Just over a year ago, we moved onto our little farm… and we started a veggie garden. We planted 6 zucchini plants (in case they did not all 'take')… UMM OKAY… so, yep, we had an over-abundance of zucchini this summer! It's such a versatile veggie, though, so I didn't complain (you can use it in salads, cakes/bread, grilled on the BBQ, and more). This is one of my favorite ways to prepare and it looks so presentable and is absolutely delicious!"
INGREDIENTS NEEDED
4 zucchinis, quartered lengthwise
1/2 cup freshly grated Parmesan
1/2 teaspoon dried thyme
1/2 teaspoon dried oregano
1/2 teaspoon dried basil
1/4 teaspoon garlic powder
Kosher salt and freshly ground black pepper, to taste
2 tablespoons olive oil
2 tablespoon chopped fresh parsley leaves
INSTRUCTIONS
Preheat oven to 350 degrees F. Coat a cooling rack with nonstick spray and place on a baking sheet; set aside.
In a small bowl, combine Parmesan, thyme, oregano, basil, garlic powder, salt and pepper, to taste.
Place zucchini onto prepared baking sheet. Drizzle with olive oil and sprinkle with Parmesan mixture. Place into oven and bake until tender, about 15 minutes. Then broil for 2-3 minutes, or until crisp and golden brown.
Serve immediately, garnished with parsley, if desired
---
Flax and Blueberry Vanilla Overnight Oats
Mari was quite enthusiastic about this fabulous recipe! She told me, "OMG to die for! It's like pudding… so good, and so so healthy. It's also great for busy moms/dads because you can prep this ahead and let it work its magic in a mason jar." I think you will agree with Mari after trying this!
INGREDIENTS NEEDED
1/2 cup rolled oats OR quick oats
2/3 cup water
1/2 cup low-fat vanilla yogurt
1 tablespoon flaxmeal
1 baby pinch of salt
blueberries, pecans, brown sugar, and other goodies for topping
INSTRUCTIONS
In an individual food storage container, add the ingredients in the order listed (except for toppings). Do not stir. Refrigerate overnight.
In the morning, stir up the mixture; it should be thick and the oats should be completely soft. Add the toppings of your choice. Repeat forever.
---
Don't these recipes look easy and fun to make? My kids were quite excited to try them all, after looking at the pictures!
Now, if you're up for a challenge… come to the forum and check out our Recipe Book challenge, which is designed to help you create a quick-&-simple book of your favorite recipes — get this — in time to print it up and give it to friends and family members as a holiday gift later this year(!). Sound like fun? Come check it out HERE.
Meanwhile, it wouldn't be a designer feature week without a fantastic sale and a special Free-with-Purchase offer… so you'll be excited to see what Marie has in store for you! Not only is her entire shop marked down 30% OFF throughout her entire feature week (sale prices will be valid through 11:59pm ET on Thurs 11/2)… but she also has the following awesome deal available in her shop all week long, as well! Spend $10+ in the Mari Koegelenberg Creations shop and get the following FULL COLLECTION(!) completely FREE…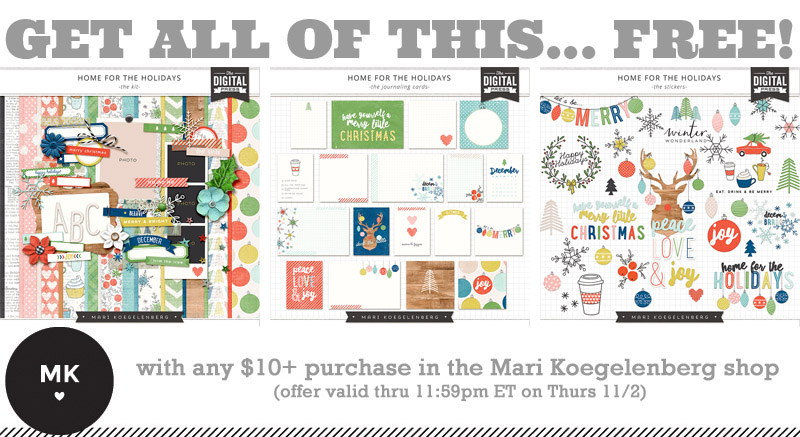 ---

About the author  Robin is a member of the creative team here at The Digital Press. A wife of 25 years and a mom of 4 crazy children (3 in college and 1 still at home), she says that her life occurs mostly in the car as she transports said crazy kids to their many, many homeschool activities. When not driving, Robin loves to make her family cringe by pulling out her camera again (and again, and again…).