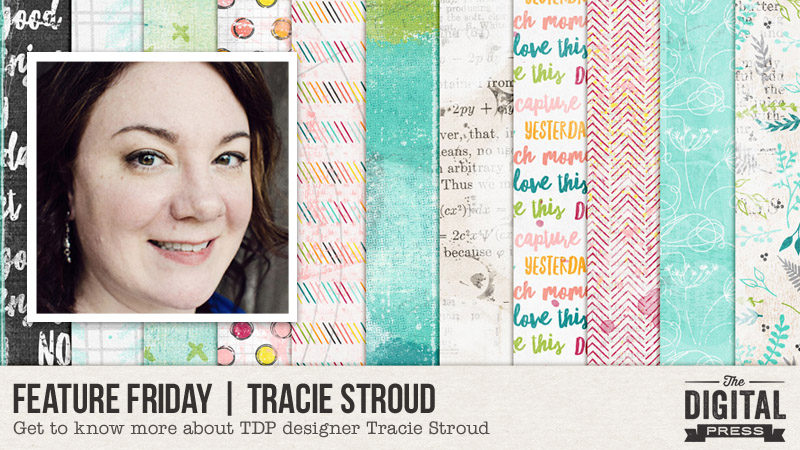 Happy Friday, everyone, and welcome to another edition of our Feature Friday series here on The Digital Press blog! This week, I'm excited to spotlight Tracie Stroud! This is Tracie's fourth feature article here on The Digital Press blog (you can find her first feature from August 2016 HERE, another from April 2017 HERE, and her Foodie Friday post from November 2017 HERE).
In order to learn a little bit more about Tracie, I asked her to share 5 things we might not already know about her…
I have a degree in elementary education, and I homeschool two of our children. I taught 5th grade for several years, but as soon as our oldest was born, my husband and I decided that I should stay home with her and any future kiddos, and homeschool all of them, eventually. Homeschooling is exhausting, but incredibly rewarding. I absolutely love taking the reins of their education.
Our middle child, Noah, has moderate-severe autism. He was diagnosed when he was 3, and luckily we live in a great school district that is able to place him in special, very small autism classrooms. Every day is a challenge, but he has made a lot of progress with the help of school, private therapy, and a great support system from our family, friends, and church.
I'm addicted to volunteer work. OK, maybe "addiction" isn't the best word to use here… but my family and I are committed to volunteering in our community. We are honored to be able to serve several hours each week through my daughter's American Heritage Girls troop, and in volunteer opportunities through our local Catholic diocese.
I live in near-constant pain from fibromyalgia and debilitating migraines. Sometimes they are easy to manage, but most days are a constant juggling act to figure out what I can and can't get accomplished that day. I've learned the hard way that if I push myself too hard, I'll pay for it twofold later. The conditions also cause chronic brain fog, so I've learned to keep constant lists just to remember things that should be easy for most people.
I am extremely introverted. I actually have sometimes-crippling social anxiety. While I love to help wherever I'm needed, I need to be in the background to be able to function. Tell me what to do and I'll get it done… but ask me to speak or teach publicly, and I'm paralyzed. The phone ringing or someone knocking on the door when I wasn't expecting a call or visit terrifies me. If I'm in a situation where I have to be around a lot of people for an extended period of time, I need to have some serious alone time afterwards to recharge.
When you check out Tracie's designs in her store at TDP, you will notice that her products are a great mix of colors and styles. At first glance, you may notice that her designs lean toward the artsy side… but when you dig a little deeper, you'll see that she always includes a lot of great dimensional elements, as well. Her designs are perfect for artsy as well as traditional/dimensional scrapbook pages. You will find tons of paints and doodles, and also beautiful dimensional flowers, brads, epoxy buttons, ribbons, and more. I dare you to check out Tracie's store and not leave in a mood to scrap using her beautiful designs! (guess what I'm doing as soon as I finish this post?!)  😉
To show you what I mean… I have compiled a small sampling of the type of products you will find in Tracie's shop…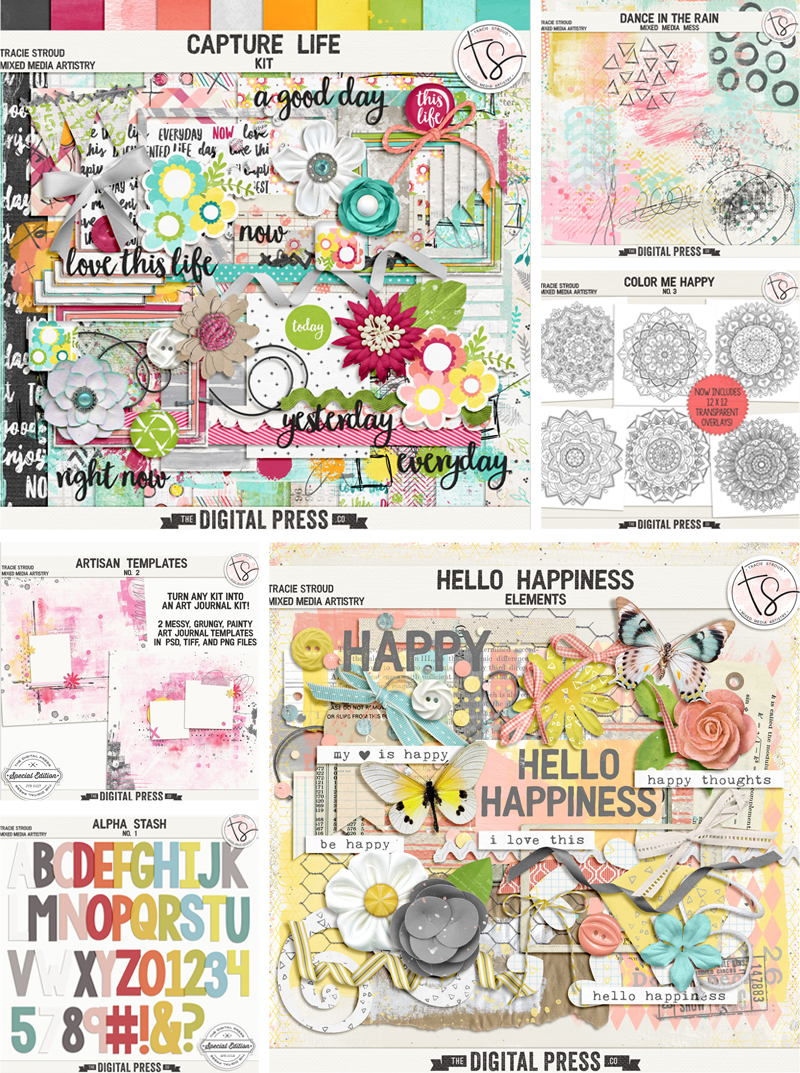 Additionally, to show you her products in action… here are a few layouts that were made using her awesome creations…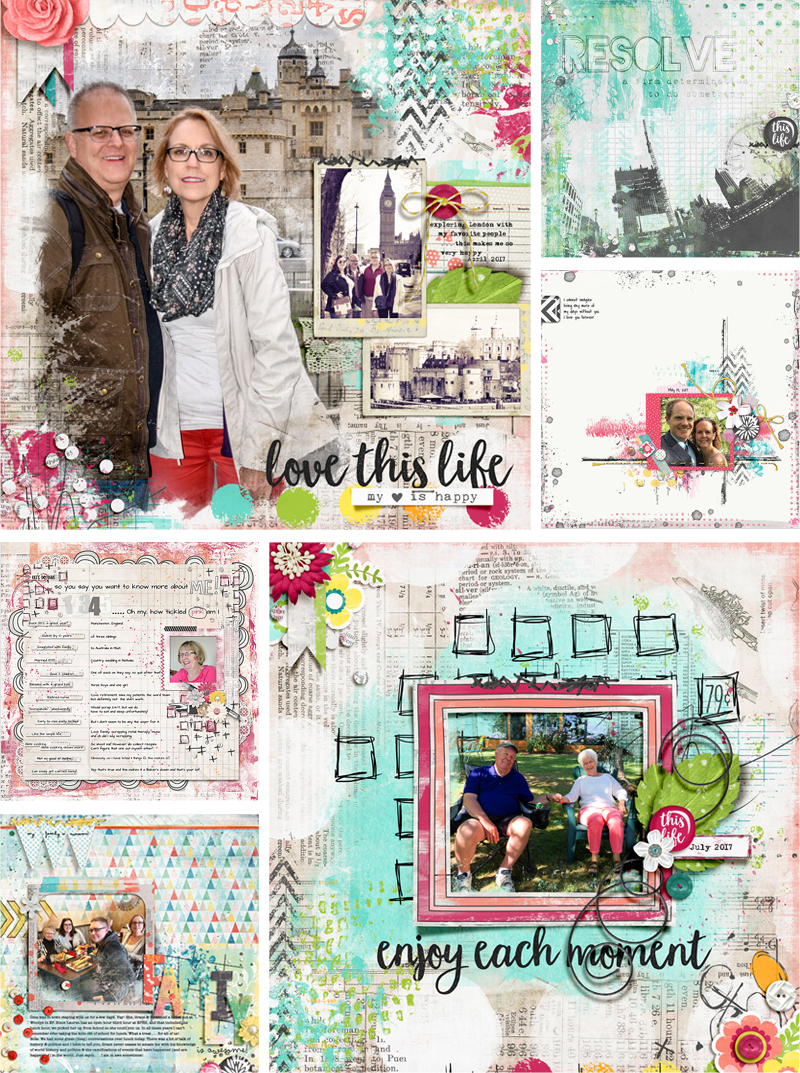 I hope that you have enjoyed learning a little more about Tracie today! To celebrate her upcoming week as our Featured Designer at The Digital Press, her entire shop will be 30% OFF all week long (the sale will end at 11:59pm ET on Thursday 5/24).
Additionally, Tracie has a special Free-with-Purchase offer for everyone this week! Don't miss out on this opportunity to stock up on your favorite products from Tracie Stroud, and you can also snag her gorgeous kit — Hello Happiness — for FREE with any $10+ purchase in her shop! (again, the offer is valid through 11:59pm ET on Thurs 5/24).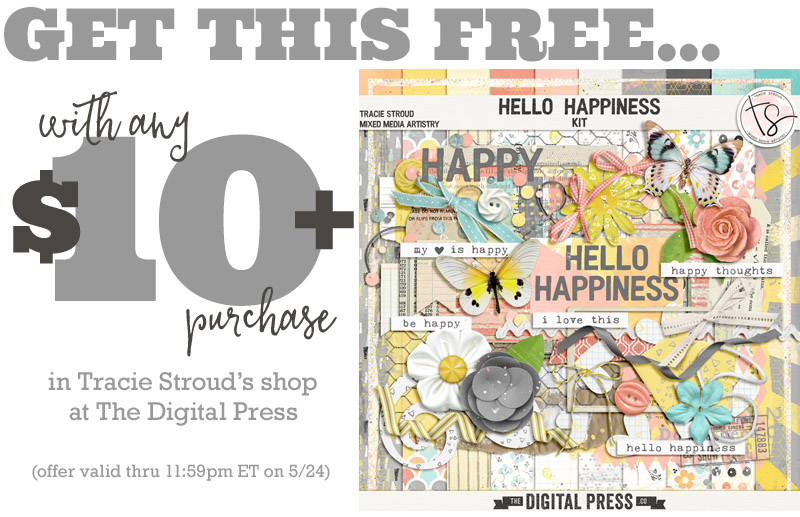 ---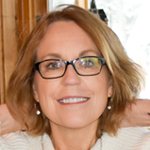 About the Author  Barbara is a member of the creative team here at The Digital Press. She's married, has two awesome kids (a 21 year old son and an 18 year old daughter) as well as an adorable Soft Coated Wheaton Terrier. With her "baby" off to college in a couple months and her son already in college she and her husband are soon to be empty nesters. It's so weird. How did that happen so quickly?! Barbara is looking forward to this summer because as of a week ago she is on vacation. She is taking the summer off work (for the first time ever!) before she starts a new job in the city in the fall. She's excited to have a couple months to hang out with her family, scrap (of course!), organize, visit friends and extended family, cook, go for walks and simply to relax (and maybe hang out in her jammies a little longer than she ever has before on weekday mornings). Life is good!