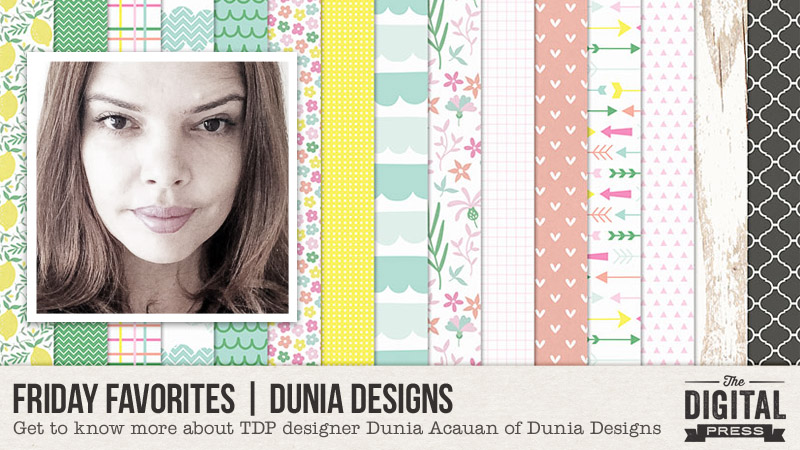 Hello and welcome to another edition of our designer feature series on The Digital Press blog in 2019 — Friday Favorites! This year, as you know, we've been learning a bit more about each of our amazingly-talented designers by having them share some of their favorite things with us each week.
This week, the spotlight is on Dunia Designs. This is Dunia Designs' fifth feature here on The Digital Press blog (you can find her first feature from September 2016 HERE, another from April 2017 HERE, her Foodie Friday post from January 2018 HERE, and her most recent feature from June 2018 HERE).
This time, we asked Dunia to share some of her "favorite things" with us, and she shared a few of her favorite binge-worthy TV series…
---
" Right now, I love to binge-watch the following shows…
1. The Mechanism (Netflix)
When you watch The Mechanism you are led to believe it's somehow related to House of Cards, but the big difference is that all the corruption really happened in Brazil. It's insane to think most of the things are based on real events. It's really exciting to watch (if you are not a Brazilian, like me, in which case it's just sad).
2. Good Omens (Amazon Prime)
I just watched this and I'm in love! I have to say I'm fan of Doctor Who, and if you like this kind of series, Good Omens is just perfect. David Tennant and Michael Sheen are incredible in their parts.
3. Chernobyl (HBO)
For the first time they did a TV series about Chernobyl, and I remember when that happened and I was a kid. I remember receiving the news about it, every day one different and bigger, very interesting approach they have in the series and the photography is absolutely amazing.

---
The shows that Dunia has shared sound intriguing! I'm going to definitely have to check them out.
If you're not already familiar with Dunia's product offerings at The Digital Press, she has nearly 400 products in her shop at TDP. Her style is fun, colorful, and super versatile! Her templates make scrapping a breeze, and her kits are filled with traditional elements, pocket cards, unique doodled artwork, and word art pieces. If you are like me, you will be ooohhhing and aaahhhhing when you visit her shop!
Here's a look at just a few of my favorite products from the Dunia Designs store at TDP…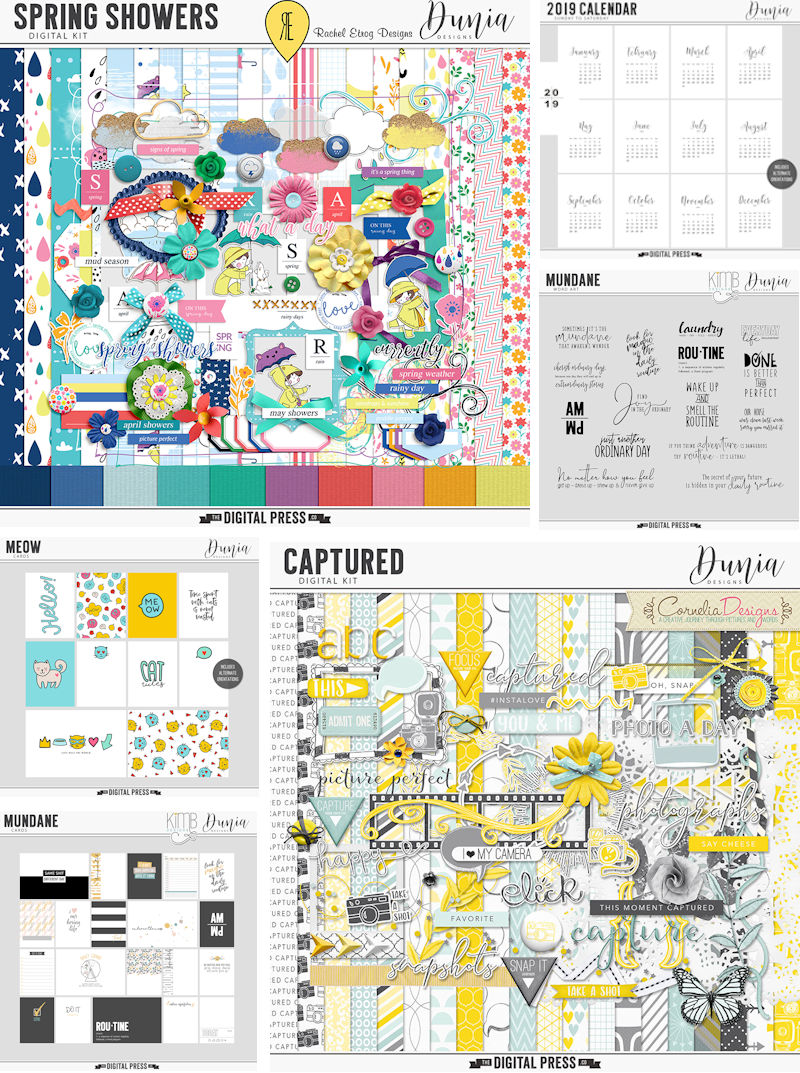 Here are a few fantastic examples of projects that use Dunia's products, so you can see how lovely and versatile her designs are…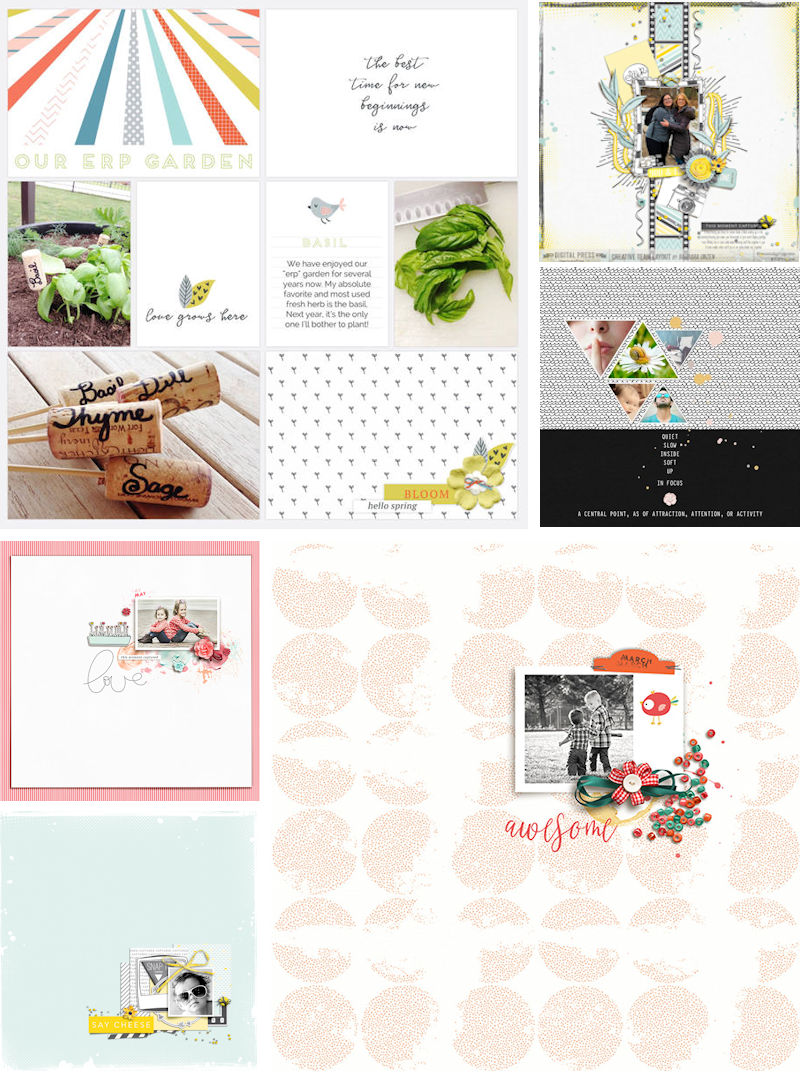 ---
I hope you've enjoyed this installment of Friday Favorites.  I'm sure you enjoyed getting to know Dunia a bit better, and I bet you have found something to swoon over in her shop!
Additionally, we've saved the truly exciting news for last… because during Dunia's upcoming feature week here at The Digital Press, you can enjoy the chance to score an amazing deal in her shop if you use one of the following coupon code(s) when purchasing her digital goodies (this code/sale will be valid through 11:59pm ET on Thursday 6/20). Don't miss it!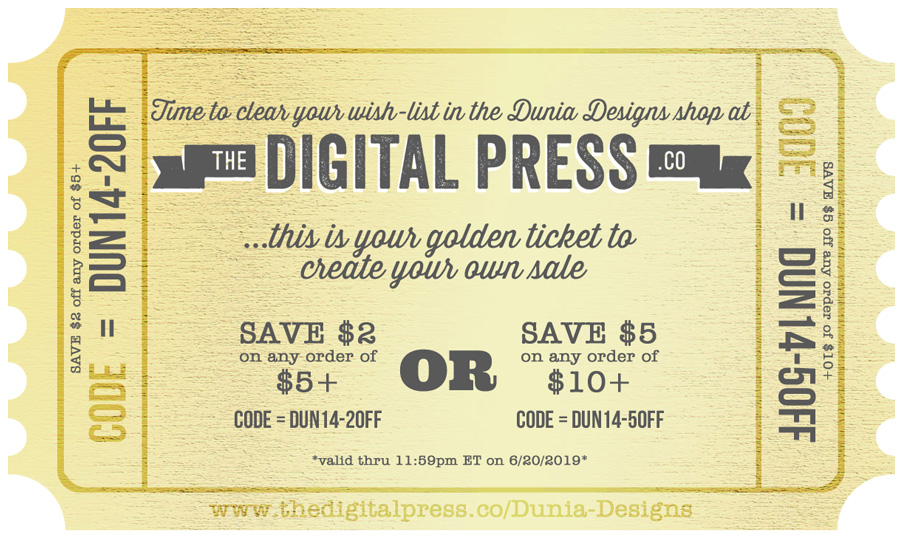 [ if you have trouble seeing the coupon image, above, the codes are as follows: "save $2 off any purchase of $5+" by using code = DUN14-2OFF . . . or "save $5 off any purchase of $10+" by using code = DUN14-5OFF ]
---

About the Author  Jill W is a creative team member at The Digital Press and has been scrapping for over 13 years. She resides in Northwest Illinois. In addition to scrapping, she enjoys spending time with her family — especially her three young grandchildren (ages 6, 4 and 2). Retirement is getting closer for her, and she is anxious to travel the country with her husband, taking photos and scrapping them as they journey across the USA.