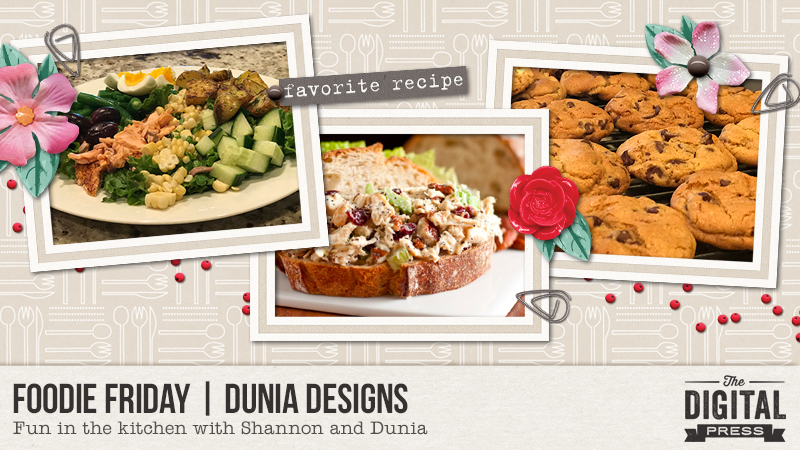 Hey gang, and welcome to this week's edition of our Foodie Friday series on The Digital Press blog. Have you guys been trying the recipes so far this year? I've definitely found a few gems that have made it into the permanent rotation at our house. And it's always nice to get easy fresh ideas at the end of a week, right?!
This week I talked with Dunia of Dunia Designs, and together we came up with a couple of our favorite recipes. We each have a favorite "lighter meal" recipe we'd like to share — both of these could work for either lunch or dinner — and then I wanted to share my very favorite chocolate chip cookie recipe, as well! I know, I know, chocolate chip cookies have been done. But these seem to come out perfect every single time, and I can't begin to tell you how many times I've searched for ways to ensure that happens (I think the secret of this recipe lies in the different types of flour that are used)!
This is actually Dunia's third feature here on the blog; if you'd like to learn more about her, check out her previous articles from September 2016 and from April 2017.
Today, however, we're all about the food (!)… and so without further ado, here's a look at what we're cooking up…

[ photo credits: [1] & [3] TDP creative team member Shannon Collier, [2] TDP designer Dunia Acuan ]
So, what are these delicious things you see pictured above?
Salmon Nicoise Salad
Sonoma Chicken Salad
Perfect Chocolate Chip Cookies
---
SALMON NICOISE SALAD
This is a recipe that I (Shannon) found on cookinglight.com but I've adapted it to include one more element — roasted potatoes. Since I like to make a meal that will last for a couple of days, I make of the "pieces" of this recipe separately, and store them separately in the fridge, and then when it comes time for another meal, I've got everything I need ready to assemble. I hope you like it!
INGREDIENTS
2 large eggs
1 (8-oz.) pkg. French green beans (I've also used fresh)
1-1/2 teaspoons extra-virgin olive oil
1 (12-oz.) salmon fillet, about 1 in. thick
1/4 teaspoon kosher salt
1/8 teaspoon freshly ground black pepper
1 head butter lettuce, torn (about 6 cups)
3/4 cup chopped English cucumber
1/2 cup fresh yellow corn kernels
1-1/2 ounces pitted kalamata or Niçoise olives (about 1/4 cup)
4 small radishes, cut into 1/2-in. wedges
FOR THE POTATOES (I revised the recipe & added)
2 cups chunked red potatoes (about 2 medium potatoes)
1 tablespoon Penzey's Northwoods seasoning
1 tablespoon vegetable oil
FOR THE DRESSING
2-1/2 tablespoons extra virgin olive oil
1/4 teaspoon salt
1/8 teaspoon pepper
2 tablespoons white wine vinegar
1 tablespoon chopped fresh flat-leaf parsley
3/4 teaspoon Dijon mustard
INSTRUCTIONS
I start with the potatoes since they take a bit of time and can been cooking while you prepare everything else. Preheat oven to 375 F. Leaving the skins on, cut potatoes into bite sized pieces. Toss the potatoes and onions with the seasoning until well coated. Then toss with the oil. Pour the potatoes into a 13×9 baking dish and place in the oven. Bake for 30 minutes, stirring every 10 minutes during that first half-hour. Then, bake uninterrupted for an additional 30-40 minutes (or until potatoes are nice and brown).
While the potatoes are cooking, bring a medium saucepan filled with water to a boil. Carefully add eggs to pan; cook 6 minutes. Add green beans; cook 2 minutes. Drain; plunge eggs & beans into a bowl of ice water. Let stand 3 minutes; drain. Peel eggs, and cut into quarters.
Heat 1-1/2 teaspoons oil in a large nonstick skillet over medium-high. Sprinkle fish with 1/4 teaspoon salt and 1/8 teaspoon pepper. Add fish, skin side down, to pan; cook 7 minutes. Turn, and cook 3 minutes. Remove fish from pan; break into large flakes with a fork.
To make the dressing, combine remaining 2-1/2 tablespoons oil, remaining 1/4 teaspoon salt, remaining 1/8 teaspoon pepper, vinegar, parsley, and mustard in a bowl.
Divide lettuce among 4 plates; top evenly with eggs, beans, cucumber, corn, olives, radishes, and fish. Drizzle with vinaigrette.
---
SONOMA CHICKEN SALAD
This one is from Dunia's kitchen, and is one of her favorites. She told me that it is actually one of the recipes that Whole Foods uses and she was really excited to discover the recipe for her own use at home.  I'm so excited to try it, as well!
INGREDIENTS
Dressing
1 cup mayonnaise
4 teaspoons apple cider vinegar
5 teaspoons honey
2 teaspoons poppy seeds
1/4 teaspoon fine sea salt
Salad
2 pounds boneless, skinless chicken breasts
3/4 cup pecan pieces, toasted
2 cups red seedless grapes, halved
3 stalks celery, thinly sliced
1/4 teaspoon ground black pepper
INSTRUCTIONS
In a bowl, combine mayonnaise, vinegar, honey, poppy seeds, salt and pepper. Refrigerate until ready to use. This can be prepared up to 2 days ahead.
Preheat the oven to 375 F. Place chicken breasts in one layer in a baking dish with 1/2 cup water. Cover with foil, and bake 25 minutes until completely cooked through. Remove cooked chicken breasts from pan, cool at room temperature for 10 minutes, then cover and refrigerate until cooled.
When the chicken is cold, dice into bite-size chunks and transfer to a large bowl. Stir in pecans, grapes, celery and reserved dressing.
---
PERFECT CHOCOLATE CHIP COOKIES
As I mentioned earlier, these tend to come out perfectly for me every time… not too flat, perfectly soft, and chewy… ooooh I could eat a whole plate of them! Enjoy!
INGREDIENTS
2 cups minus 2 tablespoons cake flour
1-2/3 cups bread flour
1-1/4 teaspoons baking soda
1-1/2 teaspoons baking powder
1-1/2 teaspoons coarse salt
1-1/4 cups unsalted butter
1-1/4 cups light brown sugar
1 cup plus 2 tablespoons granulated sugar
2 large eggs
2 teaspoons natural vanilla extract
1-1/4 pounds bittersweet chocolate disks, at least 60 percent cacao content
Sea salt
INSTRUCTIONS
Sift flours, baking soda, baking powder and salt into a bowl. Set aside.
Using a mixer fitted with paddle attachment, cream butter and sugars together until very light, about 5 minutes. Add eggs, one at a time, mixing well after each addition. Stir in the vanilla. Reduce speed to low, add dry ingredients and mix until just combined, 5 to 10 seconds.
Drop chocolate pieces into batter and incorporate them without breaking them. Press plastic wrap against dough and refrigerate for 24 to 36 hours. Dough may be used in batches, and can be refrigerated for up to 72 hours.
When ready to bake, preheat oven to 350 F. Line a baking sheet with parchment paper or a nonstick baking mat. Set aside.
Scoop six 3-1/2 ounce mounds of dough (the size of generous golf balls) onto baking sheet, making sure to turn horizontally any chocolate pieces that are poking up; it will make for a more attractive cookie. Sprinkle lightly with sea salt and bake until golden brown but still soft, about 13 minutes.
Transfer sheet to a wire rack for 10 minutes, then slip cookies onto another rack to cool a bit more. Repeat with remaining dough… or reserve dough, refrigerated, for baking remaining batches the next day.
---
Both Dunia and I hope you enjoy these recipes! Let us know if you give them a try.
And of course, because Foodie Friday is also a designer feature, Dunia is throwing a fantastic sale in her shop and also offering a special Free-with-Purchase item for all purchases of $10+ from her store. Her entire shop is marked down 30% OFF throughout her entire feature week (sale prices and FWP offer will both be valid through 11:59pm ET on Thurs 1/25).
If you spend $10+ in the Dunia Designs shop at The Digital Press you'll get the following product completely FREE!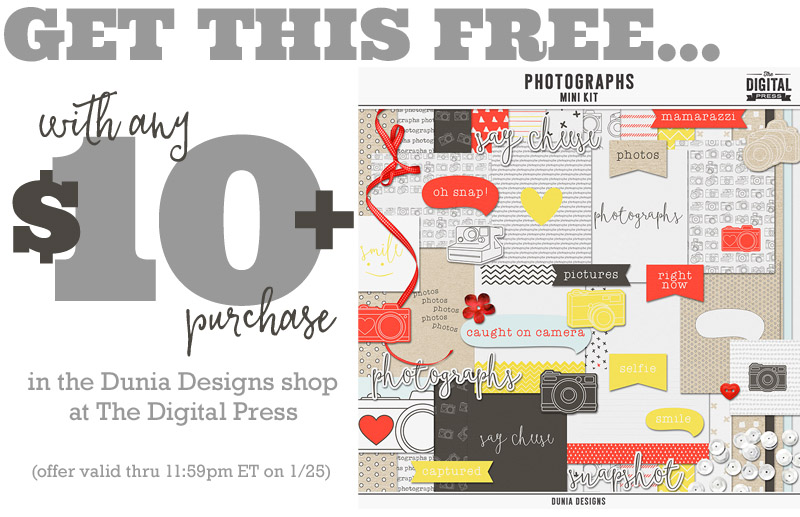 ---

About the Author  Shannon has been completely addicted to digiscrapping since she began in early 2016 (though she's been a scrapper since 2000). Her early morning ritual of a few quiet hours of scrapping while sipping a chai tea is her favorite part of each day. She is also the owner of a web design company, and when she's not at the computer designing websites or digiscrap layouts, she's probably hiking one of the local mountains in her hometown of Phoenix, Arizona.