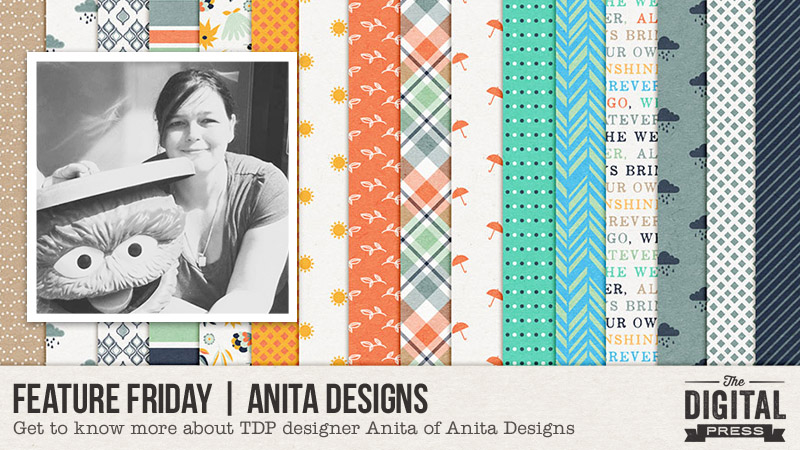 Happy Friday everyone! I love Fridays because I've got the whole weekend ahead of me (and it's a great time to scrap!), but do you know what other fun thing happens on Fridays? It's time for The Digital Press to feature another of its awesome designers. Today I'm happy to feature one of my go-to designers, Anita of Anita Designs.
Anita has been at The Digital Press since the very beginning, and therefore this is her fourth time being featured on The Digital Press blog. If you're interested in learning even more about her, you can check out her first few feature posts from November 2016 (an interview & a look at her fave products), June 2017 (see her creative workspace), or September 2017 (her Foodie Friday post).
This time around, we asked Anita to share with us 5 Things We May Not Know About Her and this is what she had to say…
I love the series Grey's Anatomy. I can watch it over and over again. I did not like it when Dereck left the series! *cries*
I can't watch the movie Gravity because I really love the feelings in the movie … a lady with George Clooney in Space, left to themselves floating around space. To save her he drifts away into space and keeps on talking to her until … that stops. The thought that something like that can happen scares the crap out of me!
I just asked my hubby to name something that no one knows about me. He answered that I have the sweetest and kindest husband in the world (OMG, I need to open a window to let some fresh air in … it's just too much!).  🙂
I am a Royal Story addict.
I love traveling! Here's a fun look at some of my all-time favorite places I have traveled…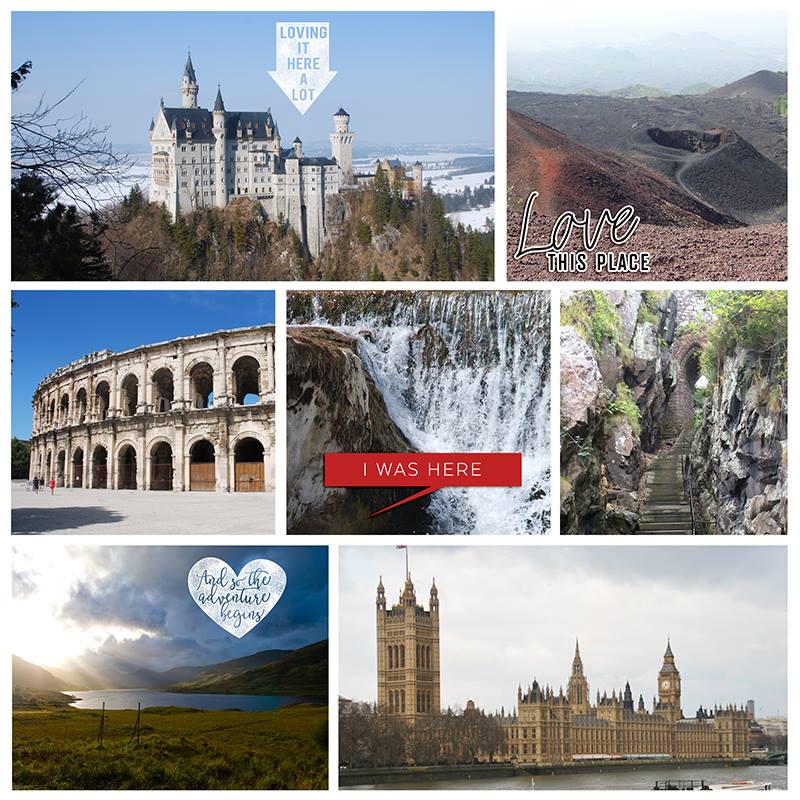 When you take a peek at Anita's store at The Digital Press, I promise you'll be in awe. She's got a huge shop… and there is literally something for everyone. She's got a distinctive style; clean, simple, and elegant. Her kits always have a great variety of elements, her papers have awesome textures and patterns, her stamps and brushes are great, and she's got pocket cards, too! And if you're looking for templates… you'll find them in her shop, as well!
Here's a sampling of some of my own personal favorites out of all of the products you can find in Anita's store…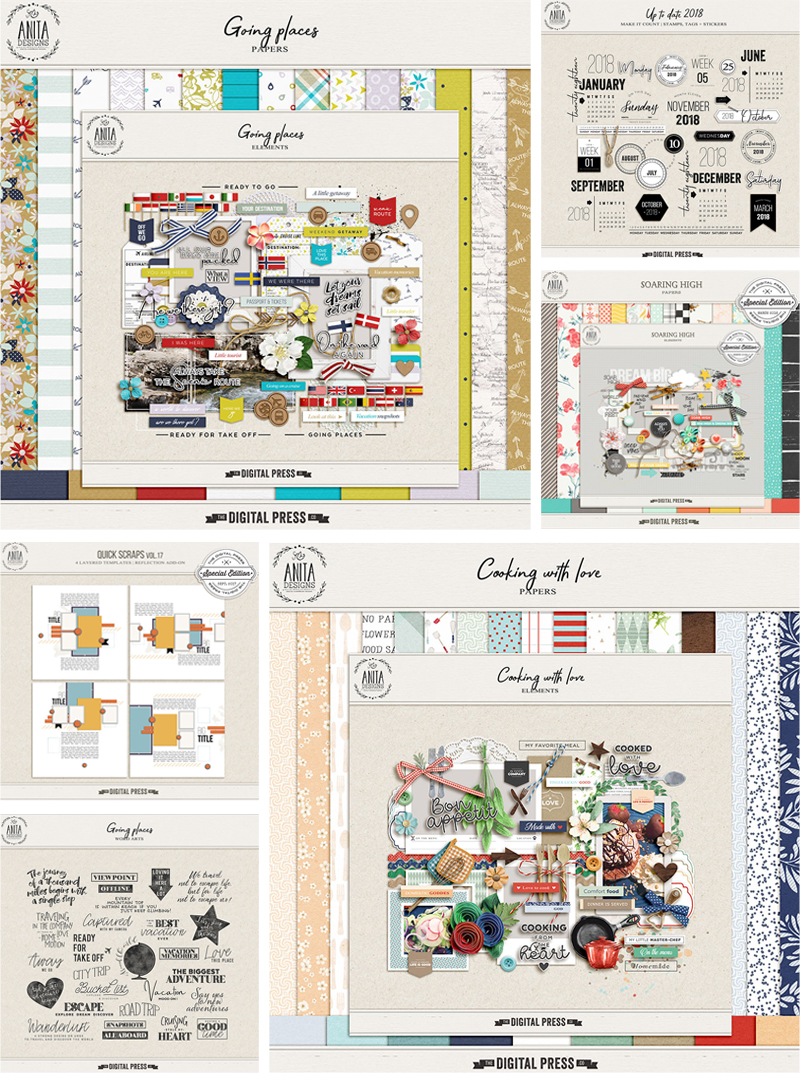 Anita's products are super versatile and easy to use in all kinds of projects. Here are just a couple of my favorite projects found around The Digital Press, using Anita's beautiful creations…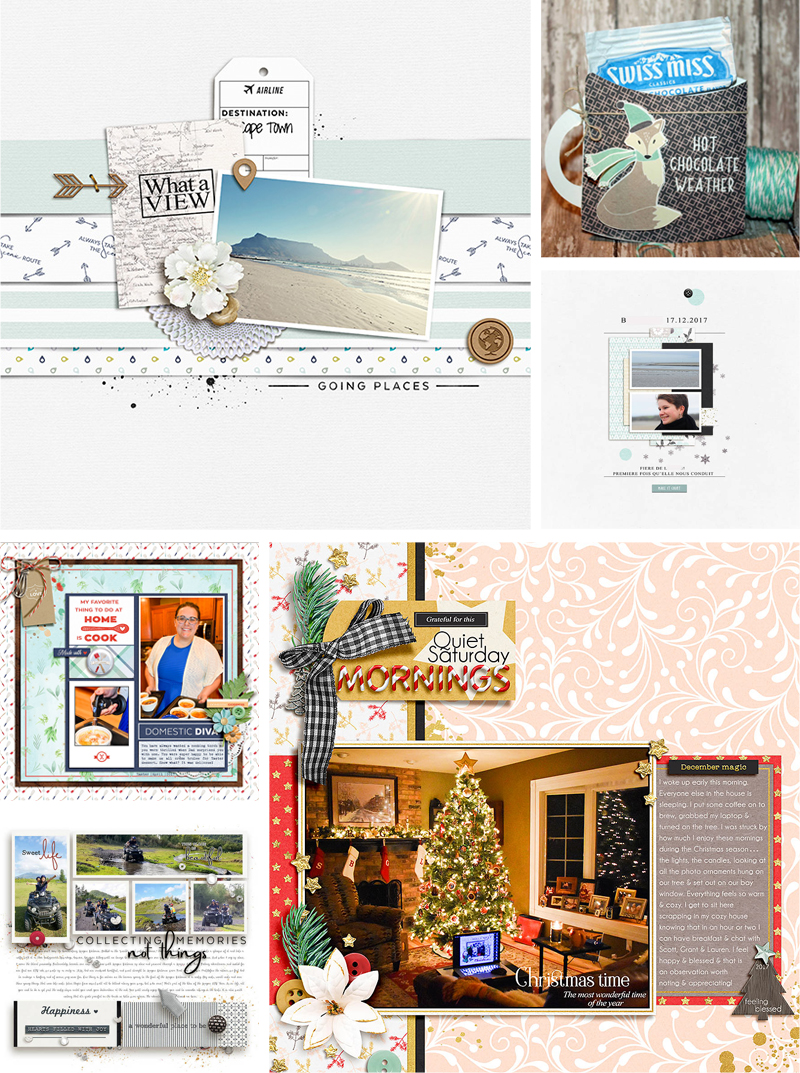 I hope you enjoyed getting to know a little more about Anita today, and seeing some of her products in use. If you love her products as much as I do (or even if you're just discovering Anita for the very first time today), I've got great news! Throughout her upcoming feature week, you can enjoy a 30% off sale in her store all week long (the sale will end at 11:59pm ET on Thursday 3/15)… so now is a great time to stock up and clear your wish-list!
Additionally, Anita has a special Free-with-Purchase offer for everyone this week! That's right… all week long, you can snag this awesome brand-new kit (just released today!) called Forecast for FREE with any $10+ purchase in her shop — this week only!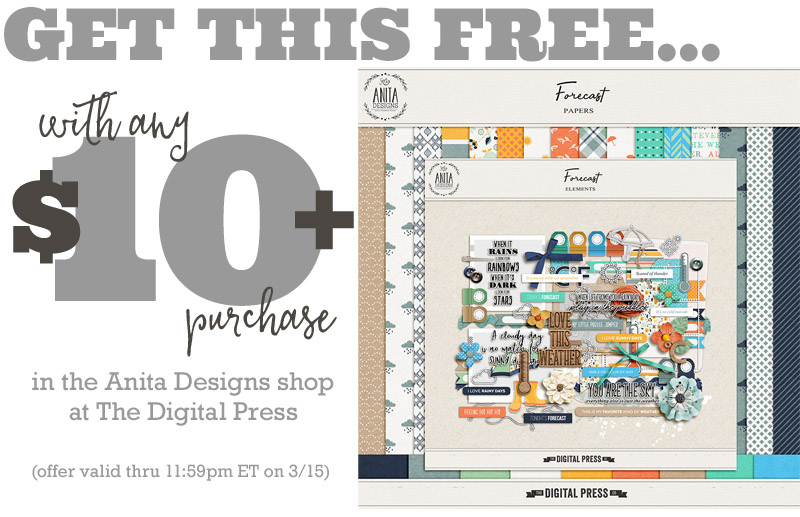 ---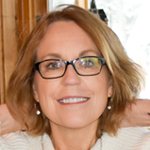 About the Author  Barbara is a member of the creative team here at The Digital Press. She's married, has two awesome kids (a 21 year old son and an 18 year old daughter) as well as an adorable Soft Coated Wheaton Terrier. With her "baby" off to college soon and her son already in college she and her husband are soon to be empty nesters. Yikes! She's been wondering how her kids have turned into adults seemingly overnight while she and her husband haven't aged a bit (at least in their minds they haven't aged!)? In her free time Barbara enjoys telling her family's stories via the art of digital scrapbooking, "playing" in Photoshop (it makes her happy and she learns a little something new every time she uses it!), taking photos and trying out new recipes for healthy dishes. Life is good!