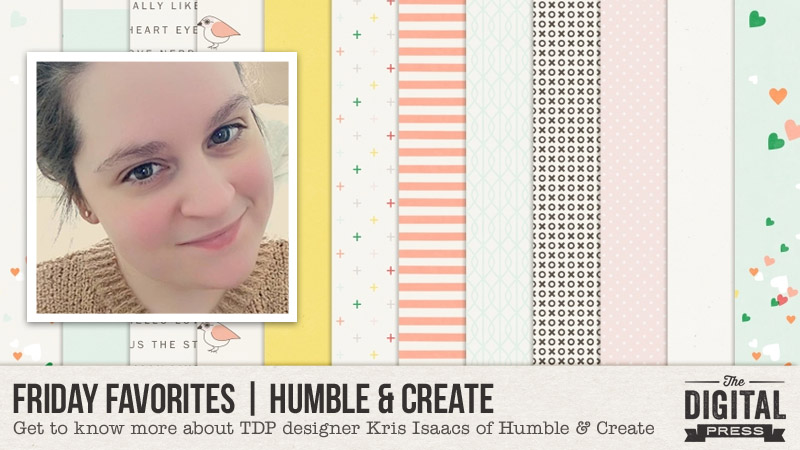 Hello, and welcome to another edition of our designer feature series on The Digital Press blog in 2019 — Friday Favorites! This year, we have been learning about each of our amazingly-talented designers by having them share some of their favorite things with us each week.
This week, I am beyond excited to introduce you to Kris — the fabulous face behind Humble & Create. She is our newest designer here at The Digital Press, and so this is her first feature on The Digital Press blog.
We asked Kris to share some of her favorite things with us, and here's what she had to say…
---
"When I was young, and just starting off in scrapbooking, I loved doing mini albums. Does anyone remember paper bag books?! I know I do, and mini albums were a thing too. Long before pocket scrapping and travelers notebooks came along, there was traditional scrapbooking and creatives looooved "making up" anything to do with documenting their photos in creative ways. Not unlike today. 🙂
After all these years, I'm still in love with mini tag books! They are so fun for documenting quick day trips, favorite seasonal photos, summer beach trips, and more! You can make them as plain, chunky, small, big, and/or colorful as you want! You can even challenge yourself to use all your leftover supplies that might be collecting dust… or that special coordinated kit you've been keeping around… etc. Tag books are not just fun, they're versatile too! I love making 3×4 tag books with journal cards and papers from my kits cut to the same size (and as you may have guessed from the photos shown here, I love making them chunky!). There are tons of ideas on Pinterest, as well, but here are a few shots of a tag book that I made for fall a few years back and it's still my favorite…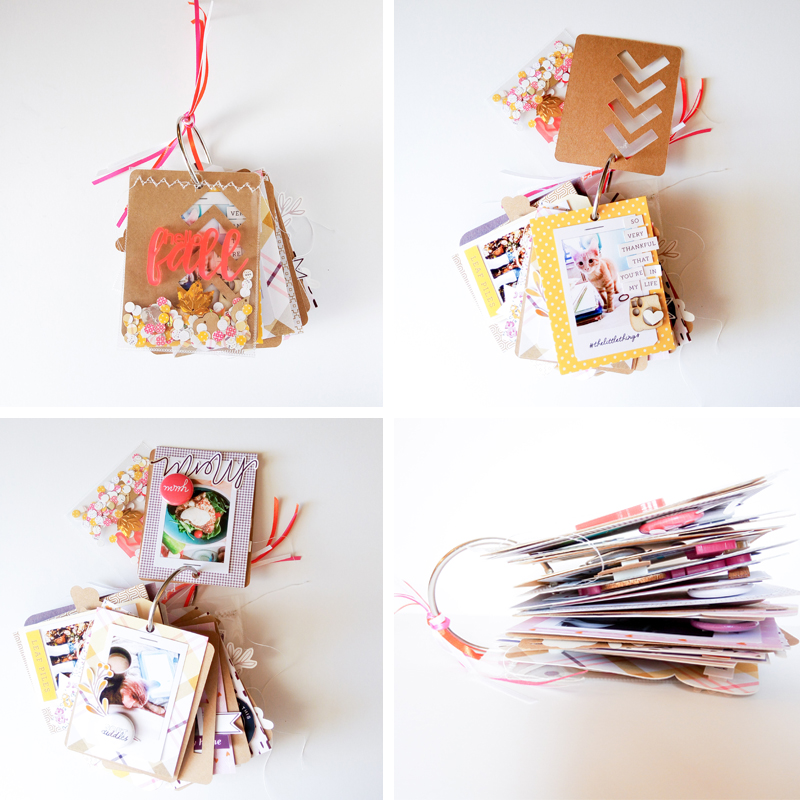 ---
Isn't that so great?! 🙂
Meanwhile, when it comes to Kris's designs… if you haven't checked out the Humble & Create shop at TDP, go there now! Kris creates gorgeous collections of elements, papers, journal cards, and great word art. Her designs are perfect for just about anyone — from the simplistic scrapper, to the pocket scrapper, to the 'kitchen sink' scrapper (like myself!) with her eclectic elements and bold patterns! No matter the type of scrapper, you're sure to fall in love with her designs!
Here are a few of my favorites from the Humble & Create shop here at TDP…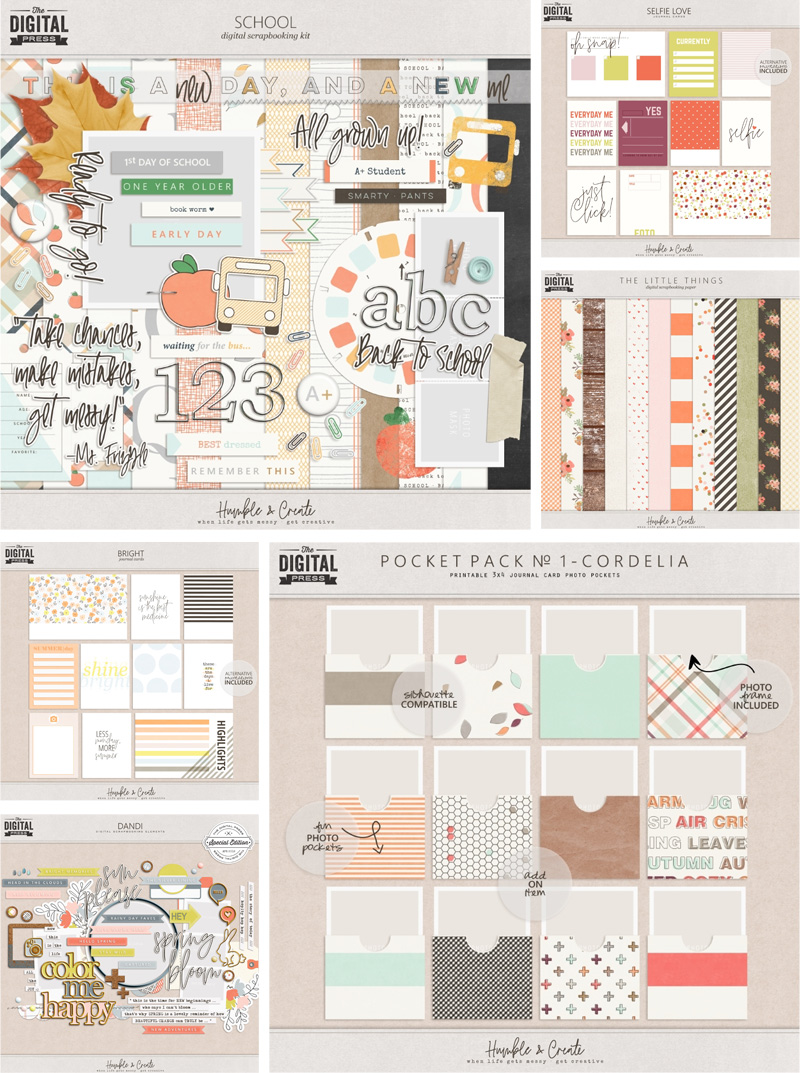 Additionally, here's a look at a sampling of fun projects that have been created using Kris's fantastic designs…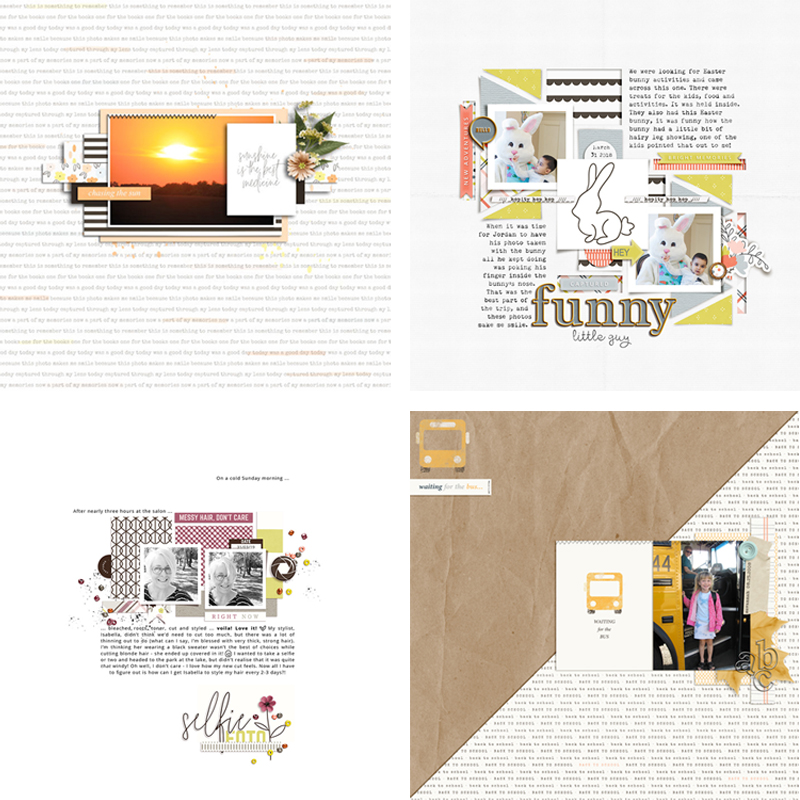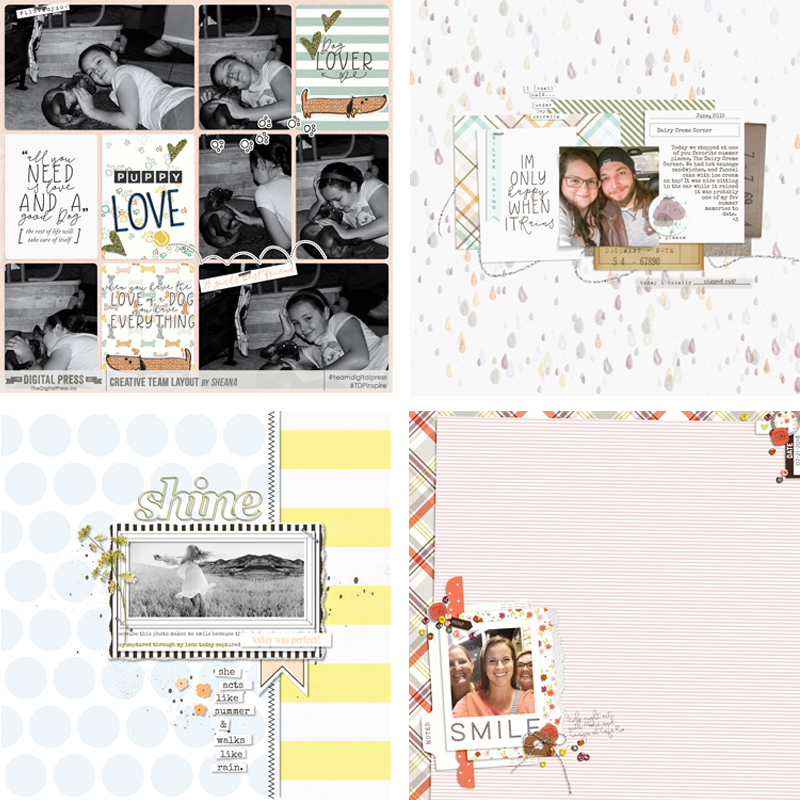 Awesome and inspiring, right?
It was great to learn a bit more about our newest resident designer here at TDP… but the fun doesn't stop there! During Kris's feature week here at The Digital Press, you'll not only find her entire shop 30% OFF… but you'll also get an amazing deal in her shop if you use the following coupon code(s) when purchasing her digital goodies (this code and/or her sale will be valid through 11:59pm ET on 6/6).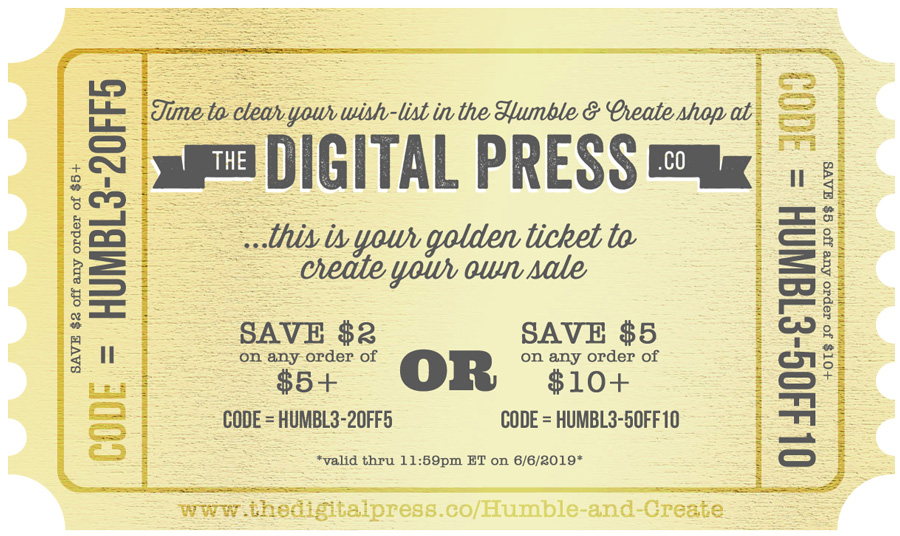 [ if you have trouble seeing the coupon image, above, the codes are as follows: "save $2 off any purchase of $5+" by using code = HUMBL3-2OFF5 . . . or "save $5 off any purchase of $10+" by using code = HUMBL3-5OFF10 ]
---

About the Author  Amie is a craft-loving dental hygienist who lives in Washington state. She loves her husband, her two crazy kids, and her English Bulldog… as well as coffee, baking cupcakes, daffodils, glitter & sprinkles, reading a good book, and lip gloss — not necessarily in that order.