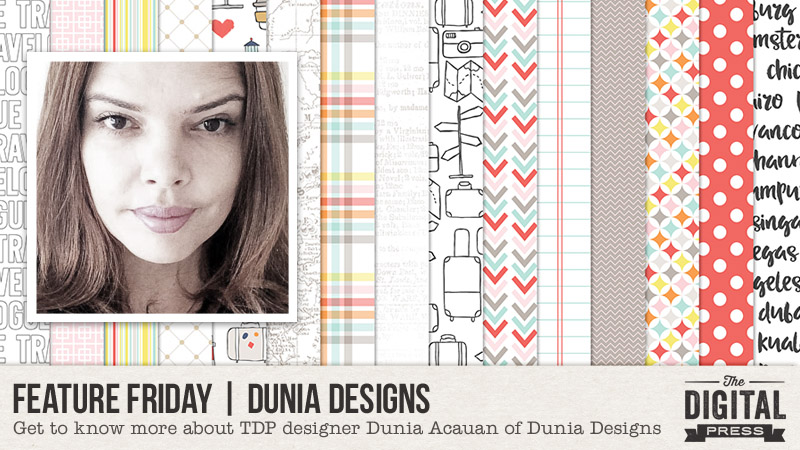 Happy Friday, and thank you for joining me for another edition of our Feature Friday series here at The Digital Press! This week, I have the honor of highlighting the lovely Dunia Acauan of Dunia Designs! This is the fourth time Dunia has been featured here on the blog (if you want to learn even more about her, you can find her feature article from September 2016 HERE… her feature article from April 2017 HERE… and her most recent "Foodie Friday" post from January 2018 HERE).
To learn even more about Dunia, this time around I asked her to share 5 Things We Might Not Already Know About Her… and here's what she had to say…
I'm from Brazil — We moved to Michigan (USA) in 2016, and we are loving it here — except for the winters! It's spring currently, and we are enjoying it so very much!
I'm a photographer — It started as a hobby, but it's turned into my passion. It's sometimes hard to make time for both businesses (designing and photography), but I love them so much that I can't imagine my life without both.
I'm a TV series addict — I love everything from "This is Us" to "The Big Bang Theory" to "Game of Thrones" …everything is on my playlist!
I should be healthier — But, I'm definitely not (shame on me)! Coca-cola, chocolate, and pasta make me so happy!
I only listen to rock and roll music — My favorites are the good old ones, such as Led Zeppelin, The Clash, and Pink Floyd.
I don't know about you, but I feel like I have a lot in common with Dunia! 🙂
When it comes to Dunia's design work… you'll find that her shop is filled with lots of products that boast beautiful colors, fun doodles, unique word art… and items that are perfect for digital layouts, pocket pages (both digital and hybrid), and paper-style layouts. Her templates will make your scrapping life easier and quicker, and who doesn't want that?! She also has a variety of products that will become staples in your scrapbooking stash — items that will inspire you to create unique projects that showcase your style and your wonderful memories!
Here are a few of my personal favorites from Dunia's store at The Digital Press…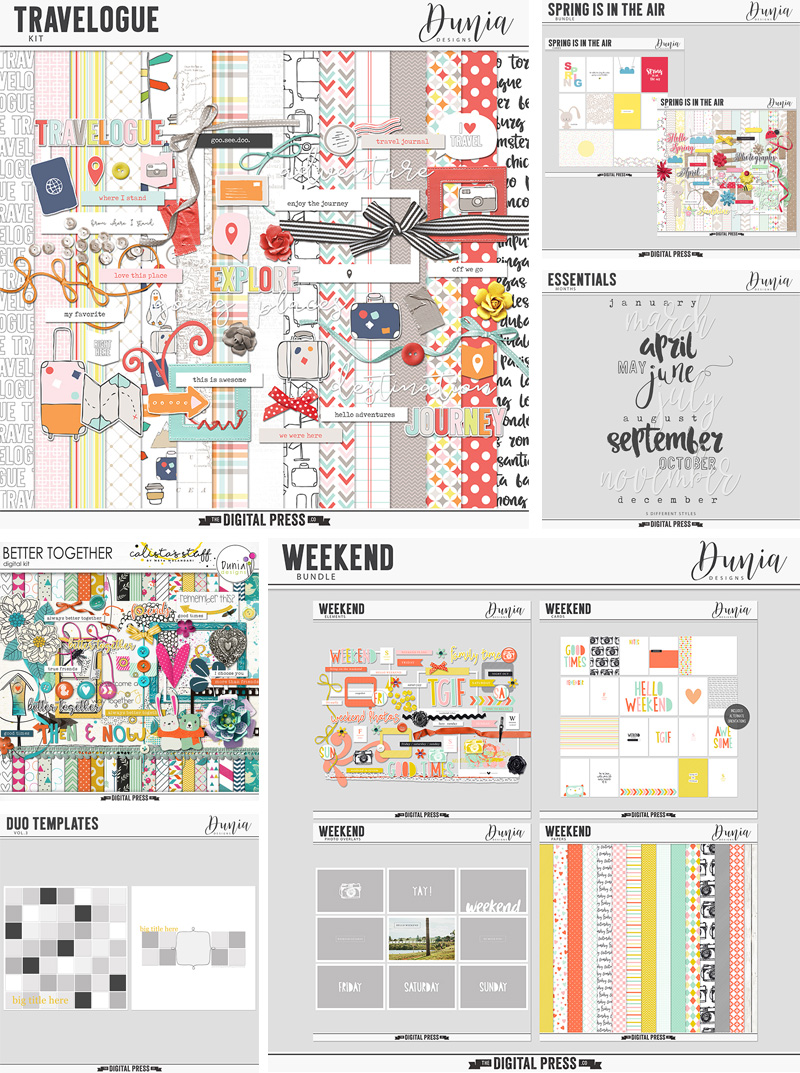 …and if that doesn't inspire you, then take a peek at these fun projects created with the many products you'll find in her shop…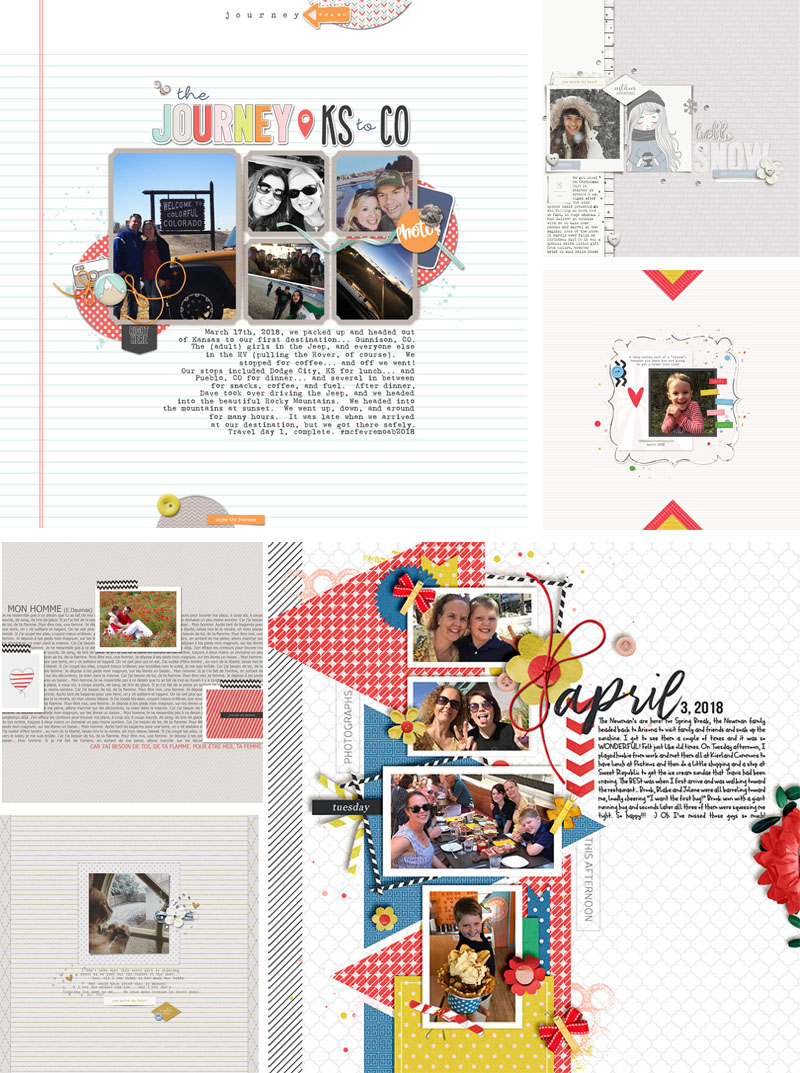 Aren't those layouts gorgeous and fun?!
I hope that you've enjoyed learning more about Dunia today! To aid in our celebration of her upcoming week as our Featured Designer at The Digital Press… her entire shop will be 30% OFF all week long (ending at 11:59pm ET on Thursday 6/14).
Additionally, Dunia has a special Free-with-Purchase offer for everyone this week, as well! Don't miss this opportunity to stock up on your favorite products in Dunia's shop while they're discounted… and you can also grab this fantastic full kit — Cats & Dogs — completely FREE with any $10+ purchase in the Dunia Designs shop (again, this offer will be valid through 11:59pm ET on Thursday 6/14).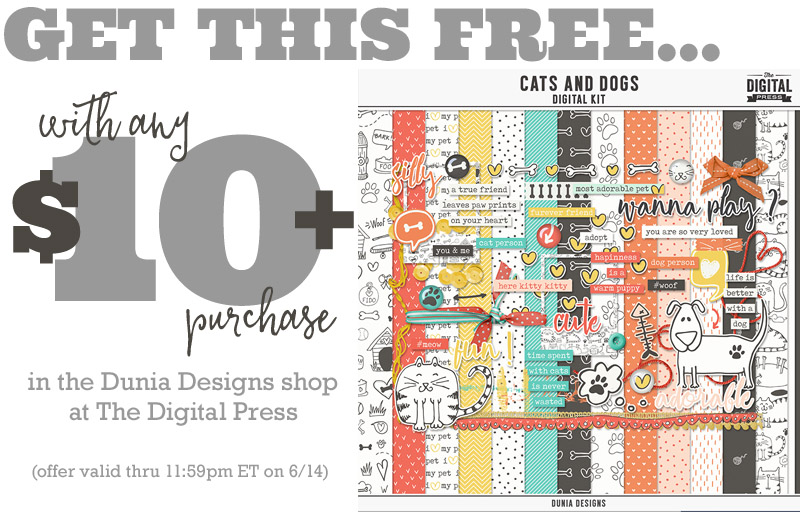 ---

About the author  Heidi Nicole is happily married to an amazing man, is a step-mama to 2 wonderful kiddos, and is a cat mama extraordinaire. She's a radiation therapist by day and a runner and creator of pretty things by night. She loves her family and friends, coffee, wine, books, Friends reruns, St. Louis Blues hockey, craft beer, good food, cats, Jeeps, and traveling. She lives a normal and happy life, and enjoys all of the absolutely fascinating people she gets to share it with on a daily basis.