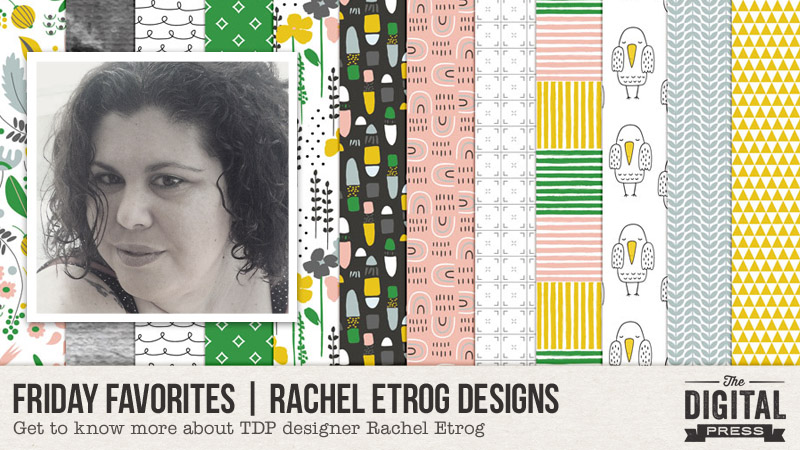 Hello everyone, and welcome to another edition of our designer feature series on The Digital Press blog in 2019 — Friday Favorites! This year, as you know, we've been learning a bit more about each of our amazingly talented designers by having them share some of their favorite things with us each week.
This week, the spotlight is on Rachel Etrog Designs. This is Rachel's second feature here on the blog (you can find her first feature from September 2018 HERE)
This time, to learn even more about Rachel, we asked her to share some of her favorite things with us, and here's what she had to say…
---
"My favorites things? Well it's hard for me to point on a few because i have a long list, but here are few of them:
1. Music Music Music! I can't imagine my life without music, all the time music is playing in my apartment.  I love all kinds of music from classic music to gothic music and, as you know from my previous designer feature, I'm a huge fan of Depeche Mode — they are my number 1 band. I also love Placebo and a Norwegian band Apoptygma Berzerk. Every summer I love to travel to Germany with my friends to see concerts of Apoptygma Berzerk and other fabulous bands at gothic music festivals, like Cologne (Amphi festival) and Hildesheim (Mera Luna festival).  Every festival is full of great music, vibes, costumes, food & drinks. (It's been a while since my last time but still remain my favourite). When Depeche Mode and Placebo go on tour, I love to see their concerts abroad so I travel a lot. I've seen them in Amsterdam, Barcelona, Madrid, Paris, Romania and the list goes on!
2. I love to scrap digital and hybrid layouts especially for special occasions. After I'm finished, I print them in an album and give it as a part of the gift.
3. Besides loving to design digital papers and stuff I also love painting on canvas. I never know what i'm going to draw — I just go with the flow of the paint and my emotions.
4. I love to going to the beach like every Israeli person. The summer is already here in Israel and most of the year we have hot and sunny days (we just had a few days of 40 degrees). I love to walk near the water or just sitting on the sand and meditating to the sound of the waves. But most of all I love sitting (alone or with friends) on the sand with glass of wine or a beer and watching the sunset."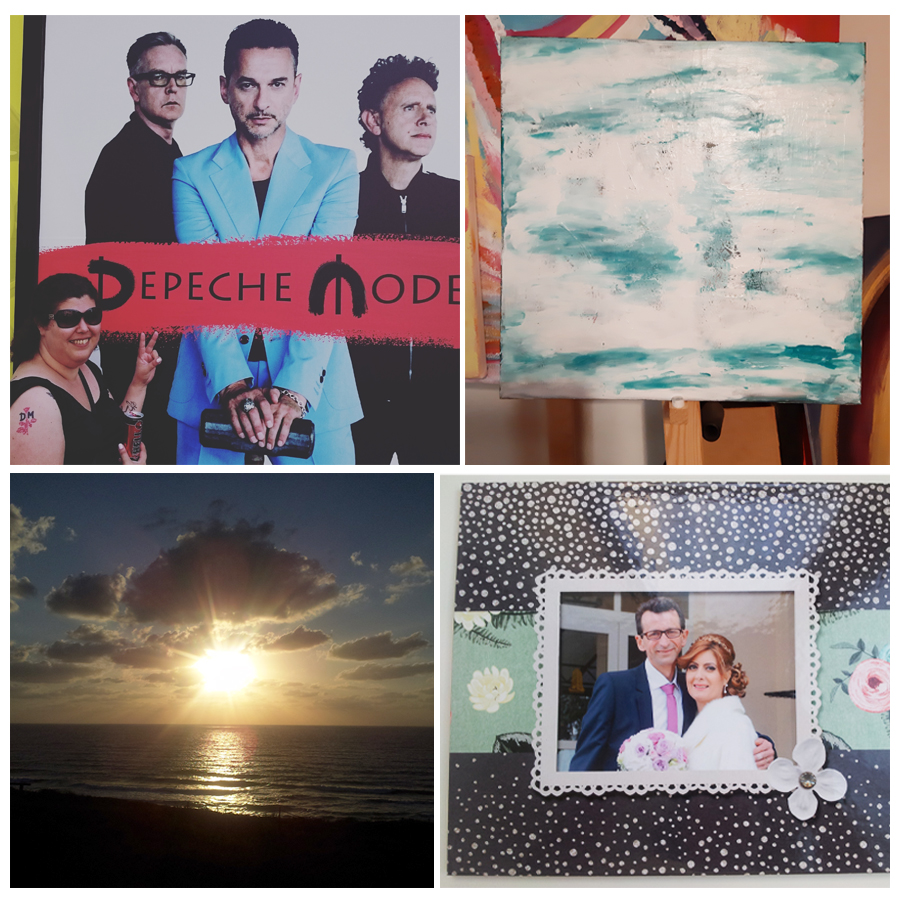 ---
Rachel's shop is filled with the most gorgeous goodies. She regularly designs monthly collections in stunning colour schemes, and she doesn't forget about the scrappers who prefer pocket or travel journal style pages, as well (you'll find heaps of cards especially for them in her shop). Her products always include unique elements and stunning papers — any scrapper's dream!
Here is just a small selection of what you'll find in her shop…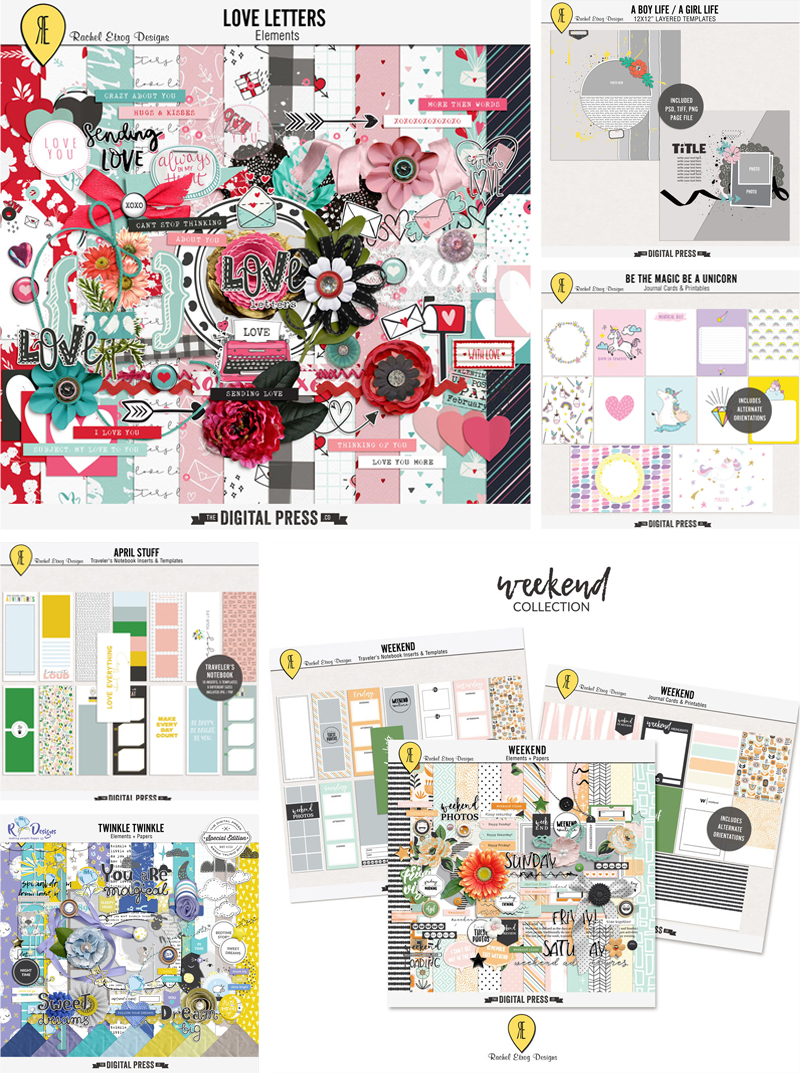 And here's a look at just a few projects that showcase Rachel's lovely products…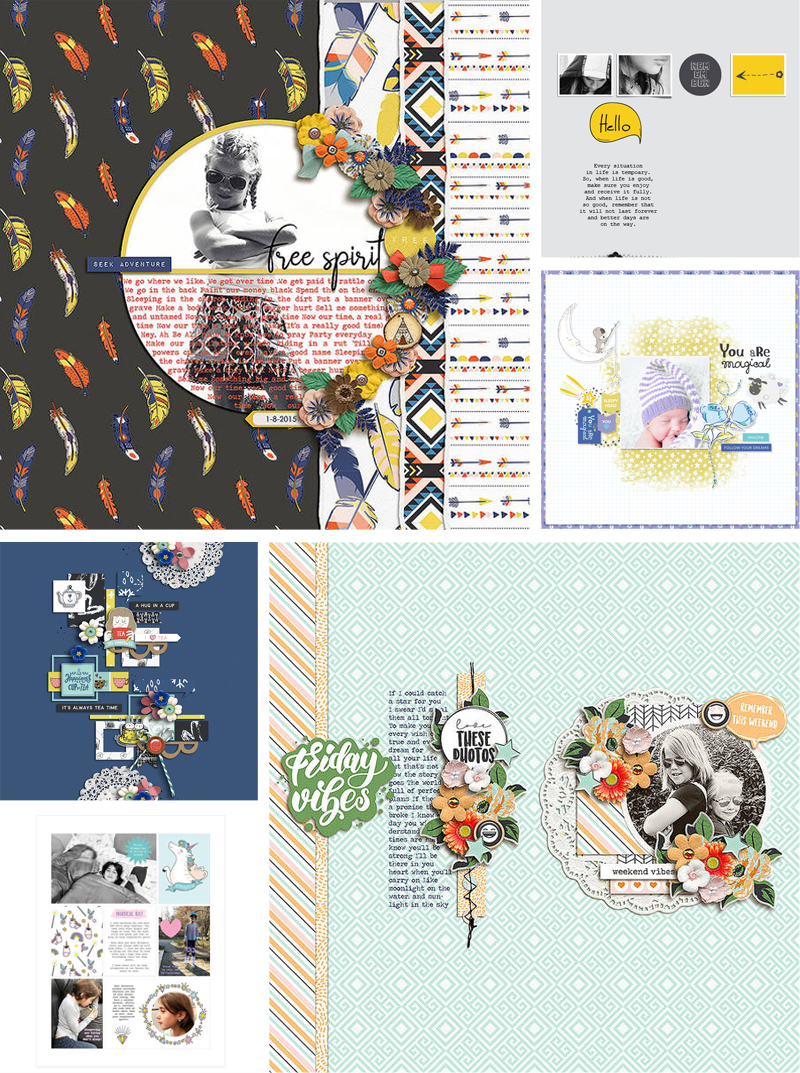 I hope you all enjoyed getting to know Rachel a bit better! I think a person's favorite things say a lot about them! Remember to have a look through Rachel's store and see what other gems you find…
…and don't forget that during Rachel's upcoming feature week here at The Digital Press, you can enjoy the chance to score an amazing deal in her shop if you use the following coupon code(s) when purchasing her digital products (this code/sale will be valid through 11:59pm ET on Thursday 6/13). Don't miss it!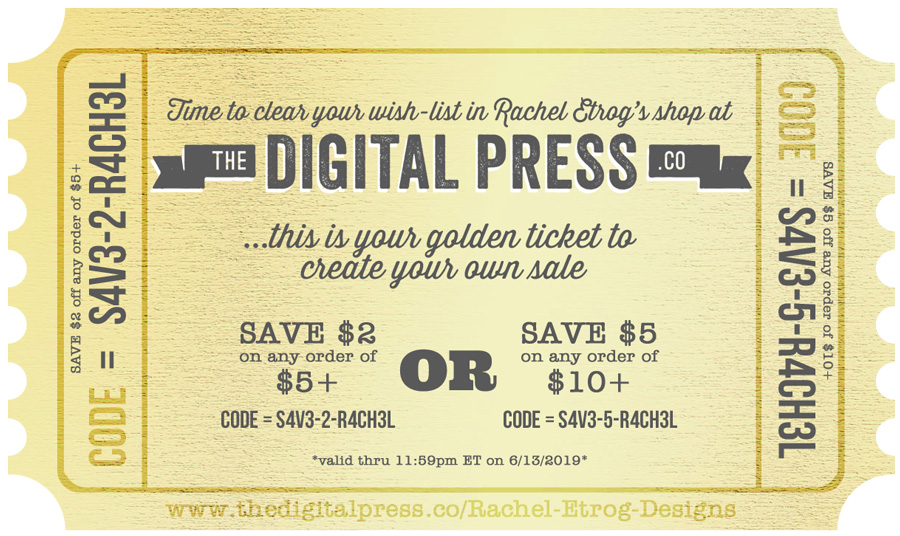 [ if you have trouble seeing the coupon image, above, the codes are as follows: "save $2 off any purchase of $5+" by using code = S4V3-2-R4CH3L   . . . or "save $5 off any purchase of $10+" by using code = S4V3-5-R4CH3L ]
---

ABOUT THE AUTHOR  Christelle is a creative team member at The Digital Press, happily creating for all of the talented designers. She's originally from South Africa, and has recently relocated to the UK with her husband. She loves scrapping her 3 lovely step-children and 4 beautiful nieces and all of their (mis)adventures. If she could, she'd travel all the time, but for now she makes do with traveling as often as possible. Her other hobbies include machine embroidery and sewing, as well as reading soppy romance!