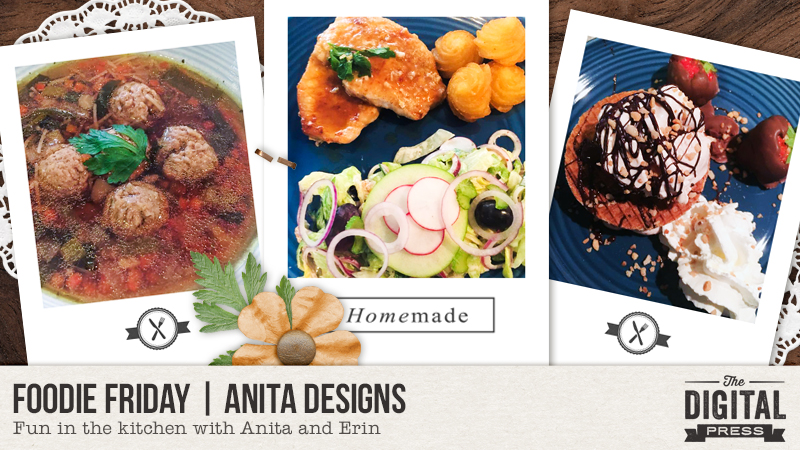 Well hello again, and welcome to another edition of our Foodie Friday series here on The Digital Press blog!
As you have likely already caught on throughout this past month… Foodie Friday is a new series based on the amazing response we had to the "Mess Hall" activities during TDP's Summer Camp, back in July. As such, every Friday throughout the rest of the year, we will be combining this fun feature with our weekly designer feature series — and having some fun in the kitchen! Every week you will get the chance to peek into the lives (and kitchens) of your favorite TDP designers and creative team members.
This week's fabulous recipes are coming to you from the spectacular Anita of Anita's Designs. If you did not know already, Anita loves to cook… so she was very excited about sharing these recipes with you this week. I really enjoy cooking as well — and I love trying out new recipes — so I was super excited to see some new things here that I have not tried before!
Today we are sharing a series of recipes that Anita cooked one weekend this month for her family. In a way, this is "A Day in the Kitchen with Anita" documented! 🙂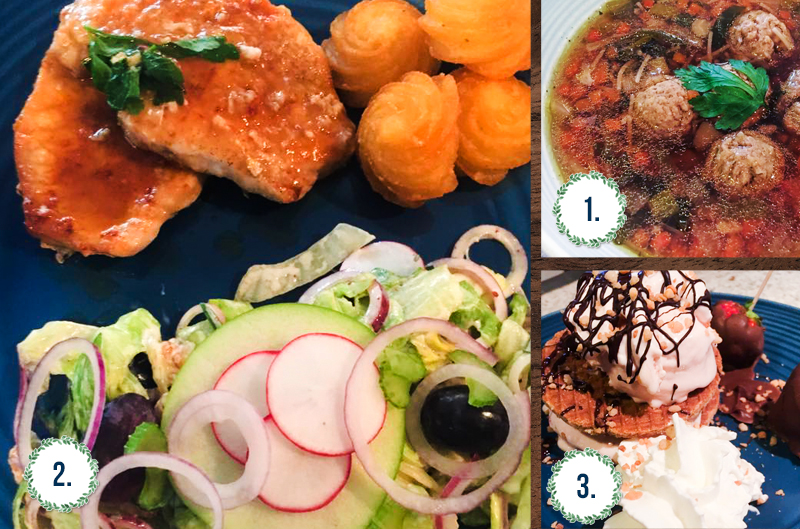 [all photo credits to Anita ]
So, what are these delicious things you see pictured above?
Sunday Soup (a.k.a. Meatball Veggie Soup)
Waldorf Salad and Tarragon Oil
Pork Filet (Minute Steaks) in White Wine Sauce
Ice Cream with Chocolate Dipped Strawberries
---
Sunday Soup (a.k.a. Meatball Veggie Soup)
Anita says, "this is a soup most people in Holland know and eat. My grandma used to cook this on Sunday for all kids and grand-kids. My husband's mom makes it too sometimes, and hers is just as delicious as the one my grandma made. We call it 'Groentesoep'."
INGREDIENTS NEEDED
—4 liters (about 1 gallon) water
—broth to make 4 liters of soup
—500 gm (about 1 lb.) minced meat
—500 gm (about 2 cups) finely chopped mixed veggies ( carrots, cauliflower, leek, celery, white cabbage, etc)
—a handful of vermicelli
—flavor enhancers for soup (optional)
INSTRUCTIONS
—In a large pot bring the water to a boil.
—In a bowl add seasoning to the meat (salt, pepper, paprika, etc. to taste).
—Mix the seasoning into the meat and then form small meatballs.
—Add the meatballs to the boiling water and reduce the heat to low.
—Cook the meatballs in the water for about 60 minutes, removing the foam that collects on top every 10 to 15 minutes.
—Add the broth to the soup and cook for an additional 60 minutes.
—Add the chopped veggies to the soup.
—If desired, add the flavor enhancers to the soup and cook for additional 55 minutes.
—Add the vermicelli and cook until the vermicelli is soft, then remove from heat.
[serves: 8-12 people]
---
Waldorf Salad and Tarragon Oil
INGREDIENTS NEEDED
—3 Granny Smith apples, thinly sliced
—2 celery stalks, leaves picked, stalks thinly sliced
—1 red onion, thinly sliced
—100g (1/2 cup) walnuts, toasted and chopped
—170g (1 cup) raisins or a bunch of purple grapes
—50g (1/4 cup) tarragon leaves, roughly chopped
—1/2 Tb white wine vinegar
—60ml (1/4 cup) extra virgin olive oil
—a bunch of radishes
—juice from 1 lemon
—150 gm (about 3/4 cup) mayonnaise
INSTRUCTIONS
—Combine lemon juice and mayonnaise in a bowl and season to taste with salt and pepper.
—Place the apple, celery stalks and leaves, onion, nuts and raisins in a large bowl and toss with the dressing.
—Make the tarragon oil by combining the tarragon, vinegar, olive oil in a bowl.
—Serve the Waldorf salad and drizzle with tarragon oil on top.
[serves: 6-8 people]
---
Pork Filet (Minute Steaks) in White Wine Sauce
About this dish, Anita says… "I served the pork filet and Waldorf salad with pomme duchess (duchess potatoes)."
INGREDIENTS NEEDED
—8 thin pork filets
—4 Tbs flour
—100gm (1/2 cup) butter
—4 cloves of garlic
—250 ml (about 1 cup) white wine
—200 ml (about 1 cup) broth
—20gm (3/4 cup) fresh chopped parsley
INSTRUCTIONS
—Mix the salt and and pepper into the flour and dip the pork filets in the mixture.
—Shake off excess flour and saute them in 50 gm (1/4 cup) of butter for about 4 to 6 minutes, turning over once in the middle.
—Remove from skillet, cover with foil and let rest.
—Add in remain butter and saute the garlic for about 1 minute.
—Add the wine and broth.
—Bring to a boil and let it boil for about 10 minutes or until it is 1/3 reduced.
—Place the meat back in the pan, and warm it on a low heat for about 7 minutes with the lid on the pan.
—Remove from heat and plate filets.
—Add parsley to the butter wine sauce and give it a good stir. Serve the sauce in a bowl, or over the meat in the plate.
[serves: 8 people]
---
Ice Cream with Chocolate Dipped Strawberries
INGREDIENTS NEEDED
—200 ml (1 cup) semi-skimmed milk
—2 tbs liquid honey
—250g (1 and 1/4 cup) fine sugar
—600 (3 cups) ml crème fraîche
—250 grams  strawberries
— 2 icecream waffles per person
—100 ml (1/2 cup) water
—additional fresh strawberries (to coat with chocolate)
INSTRUCTIONS
—Put the milk, honey and 1 cup of sugar in a pot on low heat and whisk until the sugar dissolves.
—Remove from heat and let cool slightly.
—In a bowl, add the cooled milk/honey sugar mixture to the fresh cream. whisk until blended.
—Place cream mix in an ice cream machine and let it work 1.5 to 2 hours (if you don't have a ice cream machine, put the mix in a container and put in freezer and stir it gently every 15-20 minutes).
—Remove the green from 250gm of strawberries and slice in half.
—Add strawberry halves, 100ml water and 50gm sugar to a pot and bring to boil on med/high heat.
—reduce heat and crush the strawberries let the mix thicken for about 20-25 minutes (it should be syrup like).
—Remove from heat and let cool.
—Once cooled, mix the strawberry syrup into the freezing ice cream mixture with a fork and return to freezer for at least 20 minutes.
—Skewer the remaining strawberries from the top.
—set a bowl above a pot of boiling water and add chocolate to the bowl, stirring regularly until the chocolate is melted.
—Holding your skewer, dip the strawberries into the chocolate and twist to coat evenly.
—Place dipped strawberries on a baking sheet to cool, then store in the fridge until needed.
TO SERVE
—You can simply serve the ice cream in a bowl, and garnish it with the chocolate-dipped strawberries… OR…
—You can also place a waffle on a plate, and put a scoop of ice cream on top; add a second waffle on top and do another scoop; top with some chocolate sauce, sprinkled chopped nuts, and some whipped cream; serve with chilled chocolate dipped strawberries on the side.
[servings: 1 liter/10 people]
---
I don't know about you, but just reading through those recipes and looking at the photographs got me ready to hit the kitchen (or at least have a nice snack!). Everything looks so amazing!
If you're up for a challenge… come to the forum and check out our Recipe Book challenge, which launched this month and is designed to help you create a quick-&-simple book of your favorite recipes — get this — in time to print it up and give it to friends and family members as a holiday gift later this year(!). Sound like fun? Come check it out HERE.
Meanwhile, it wouldn't be a designer feature week without a fantastic sale and a special Free-with-Purchase offer… so you'll be excited to see what Anita has in store for you! Not only is her entire shop marked down 30% OFF throughout her entire feature week (sale prices will be valid through 11:59pm ET on Thurs 9/28)… but she also has this awesome deal in her shop all week long, as well! Spend $10+ in the Anita Designs shop, and get the following brand-new FULL COLLECTION (!) that just launched in her shop today — completely FREE!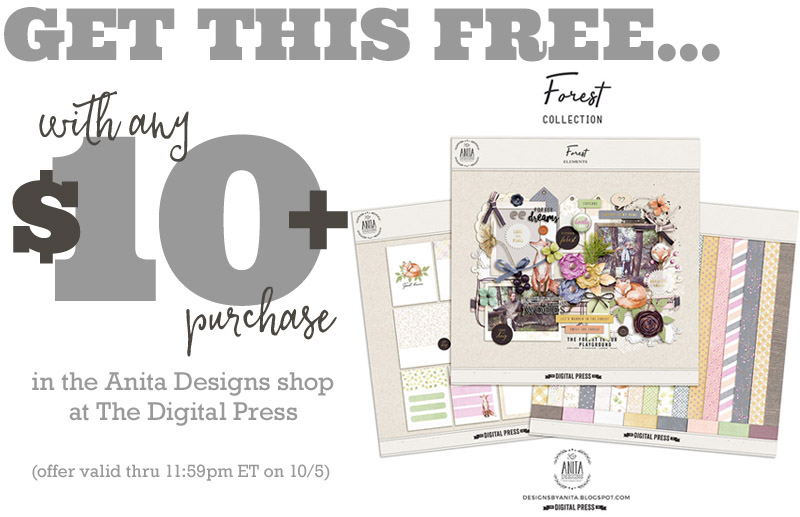 ---

Erin is an artsy crafty kind of girl who is currently dabbling in far too many things, but is working hard to enjoy every moment of it, while avoiding the rain, which is difficult due to living in the land of many rains. She is slowly learning to use her smart phone to capture all the fun little bits of life that would otherwise go unremembered in the busy craziness that is raising a family!