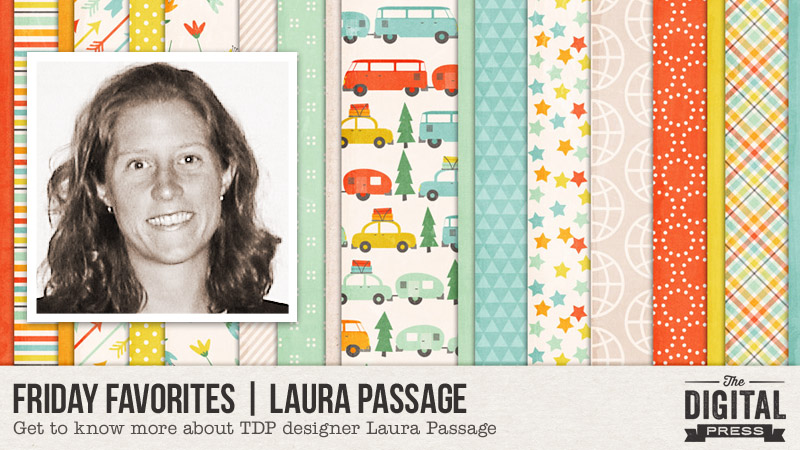 Hello everyone, and welcome to the first edition of our all-new round of designer features on The Digital Press blog in 2019 — Friday Favorites! This year, we're going to learn a bit more about each of our fantastic designers by having them share some of their favorite things with us each week, and we think you're going to have so much fun following along with this new series!
This week, the spotlight is on the super-talented and creative designer (and our very own TDP chief) Laura Passage! This is actually Laura's fifth feature here on the blog (you can find her previous features from July 2016 HERE… from July 2017 HERE (including a look at her crafty workspace!)… her Foodie Friday article from February 2018 HERE w/ yummy food ideas/recipes… and her most recent feature from July 2018 HERE).
This time around, in order to learn even more about Laura, we asked her to share one (or more) of her favorite things with us… and she did not disappoint! This tip of hers is going to be sooooo useful to all of us who struggle with our obsessive love of fonts (and those of us who might just have waaaay too many fonts installed on our computers, and can therefore never find the one we're looking for when we need it?!)…
The following video gives us a quick tour of one of Laura's favorite things — her font organizer software! 🙂 ENJOY!

**NOTE** if you are viewing this in Firefox and have trouble w/ the video… please try another browser. Firefox has known glitches with video, whereas Chrome, IE, and Safari all seem to be working fine.
Isn't that tip just the best thing ever?! 🙂
---
For those of you who aren't already as familiar with Laura's design work… it has a distinctly paper-ish style and feel, mimicking traditional paper scrapbooking products (likely because she also designs products for the paper industry — for companies such as Echo Park Paper Company, Carta Bella Paper Company — and also for the app-based version of Becky Higgins' Project Life product line). She tends to create colorful, fun products that often have cute or hilarious puns or jokes included in the word art/cards; whatever the theme, her kits are always full of surprises and fun to work with.
Here is a sampling of some of the items you'll find in Laura's shop here at The Digital Press…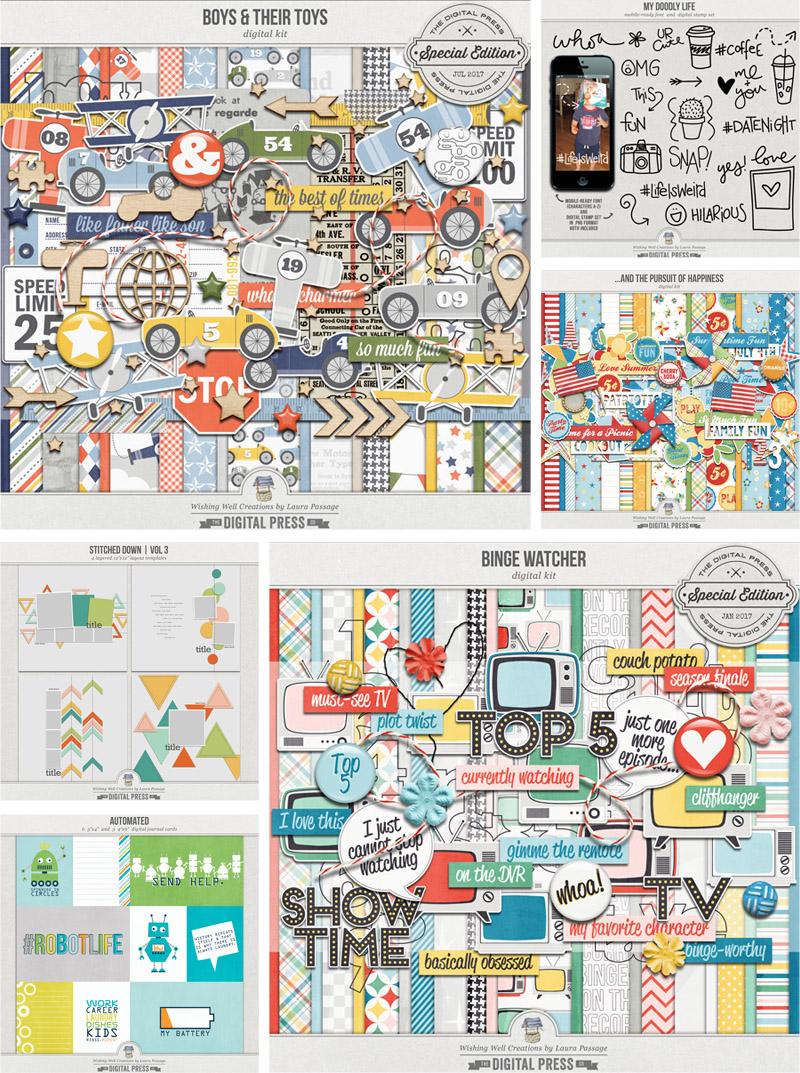 And to give you just a glimpse of how versatile her products are, and show you many of the fun ways they can be used… here's a look at just a few of my favorite projects from the gallery at TDP, which is always full of beauties from Laura's shop…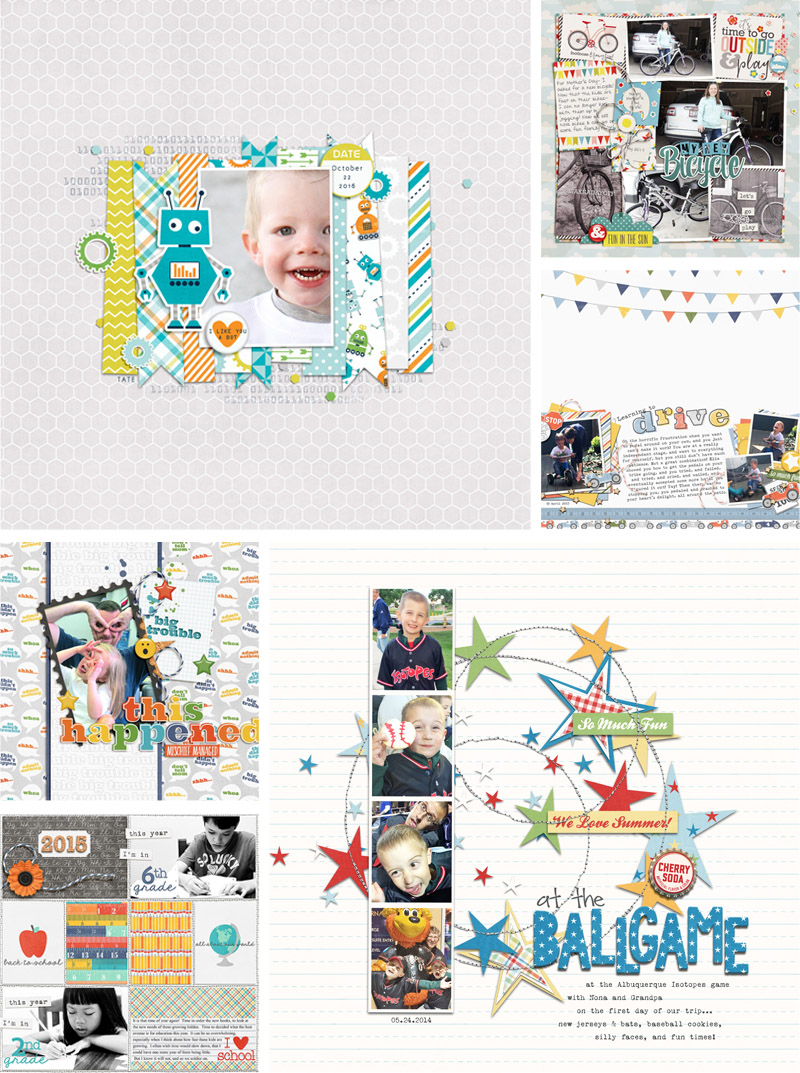 Aren't those all so great?!
Hopefully, today's Friday Favorites article has given you even more insight into Laura's persona and creative style (and again, if you want to know even more about her — scroll up and use the links to her previous features here on TDP's blog, where's there's lots of good stuff!).
And the best news of all?! …during Laura's upcoming feature week here at The Digital Press, you can enjoy the chance to score an amazing deal in her shop if you use the following coupon code when purchasing her digital goodies (this code/sale will be valid through 11:59pm ET on Thurs 3/7). Don't miss it!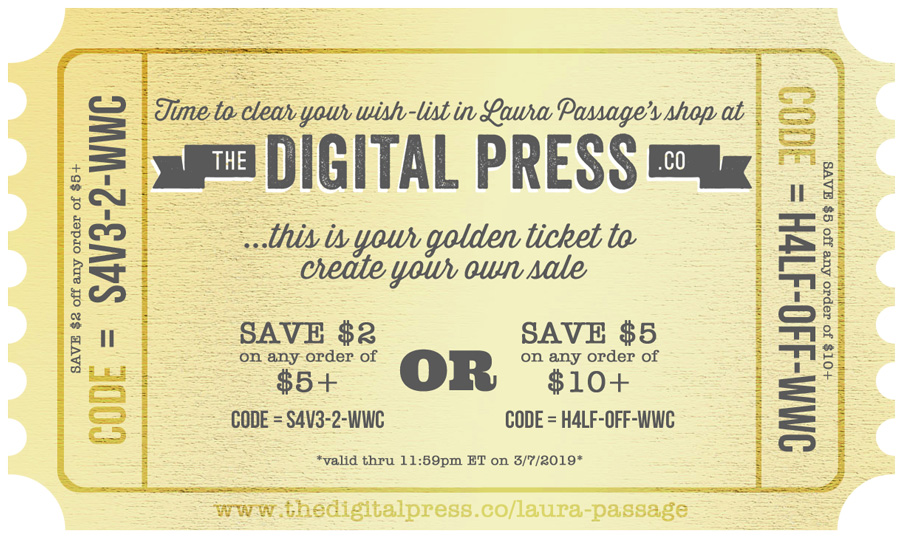 [ if you have trouble seeing the coupon image, above, the codes are as follows: "save $2 off any purchase of $5+" by using code = S4V3-2-WWC . . . or "save $5 off any purchase of $10+" by using code = H4LF-OFF-WWC ]
---

About the Author  Jan is a high school teacher, wife, mom, and grandma who spends most every little bit of free time she gets documenting her family's memories through digital scrapbooking. She is a summertime sunshine and beach lover who gets her energy from being outdoors. She is currently looking forward to retirement and a beach chair with her name on it and someone bringing her fruity drinks on command!