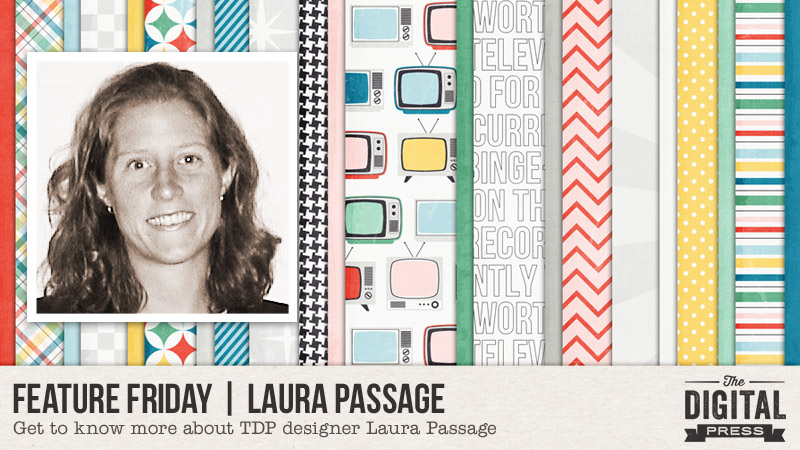 Hello everyone, and welcome to another edition of our Feature Friday series here on The Digital Press blog! Today, I am super excited to be showcasing the very talented Laura Passage (known to many of us as Wishing Well Creations by Laura Passage, or just WWC)! This is Laura's second feature here on the blog (you can find her first feature article from July 2016 HERE)… and whereas last time we used our feature series to help you get to know some fun trivia about your favorite designers — this time, we're giving you a little peek into the designers' creative spaces, as well as more insight into their creative processes.
With that in mind, here's a look at Laura's creative work space…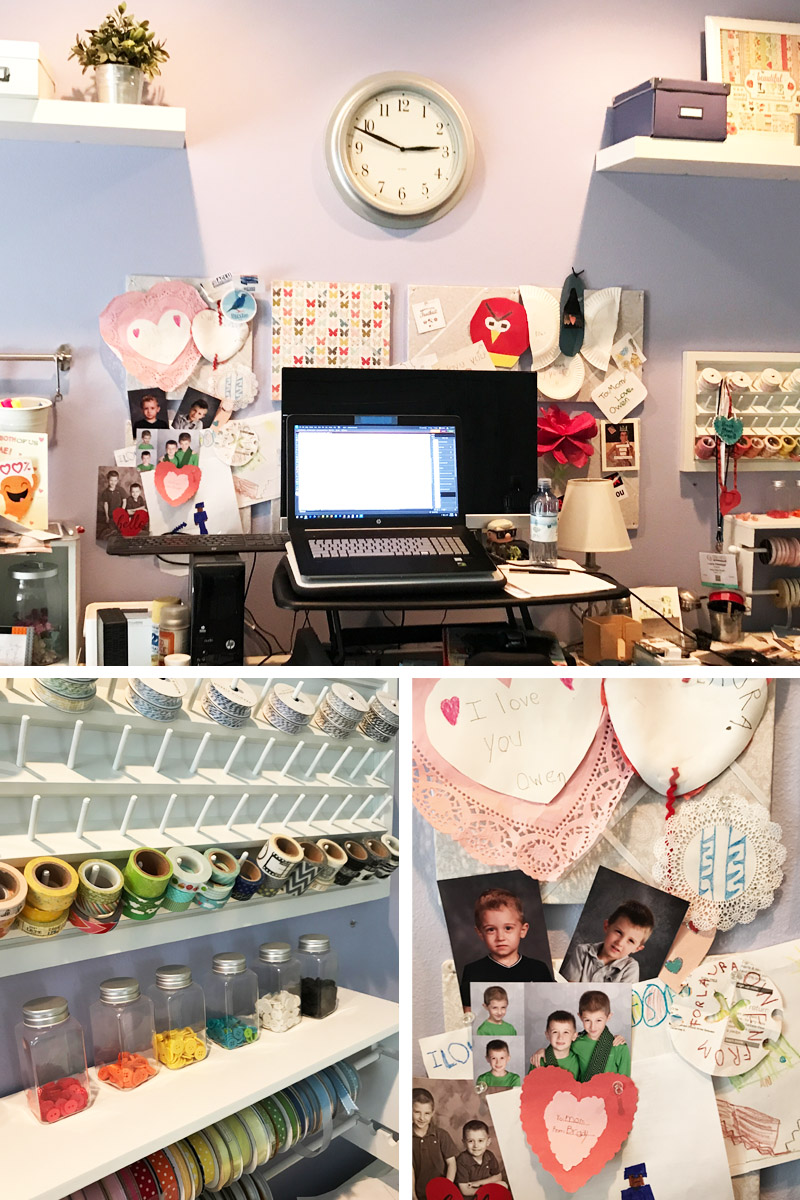 Here's what Laura had to say about her space: "My "office" is a long counter/desk that runs along one wall of our guest bedroom. It's a complete disaster zone. I didn't even bother cleaning it up in order to take this photo (ha! ha! I just creatively cropped out the piles of paperwork and scrapbooking supplies (LOL!) that are stacked on either side of my main desk area, which is a Vari-Desk variable-height standing/sitting workstation desk that my husband bought me after I had emergency back surgery a few years ago). You can also see close-ups of two areas of my work space that speak to my personality… (a) my rainbow-addiction in tangible form (a.k.a. All the Rainbow Ribbons, and All the Rainbow Washi, and All the Rainbow Baker's Twine, and All the Rainbow Buttons)… and (b) the area of my bulletin board that houses all of the cute notes/etc. that I get from my kids."
We also asked Laura to give us a Top 5 list that is representative of herself at this point in her life… and she shared with us her Top 5 TV & Movie Quotes She Most Often Uses in Her Daily Life…
[ click on any of the quotations, above, to see the original video clip that relates to each 😉 ]
.
As for her designs… Laura creates digital scrapbooking products that also have a distinctly paper-ish style and feel. You'll find lots of flat stickers and icons in her kits, mixed with the types of dimensional items you tend to find used on traditional paper scrapbook layouts — stuff like wood veneer, string, staples, paper flowers, etc. Her kits are always bright and colorful and fun to work with.
Here are just a few of my favorite products by Laura Passage…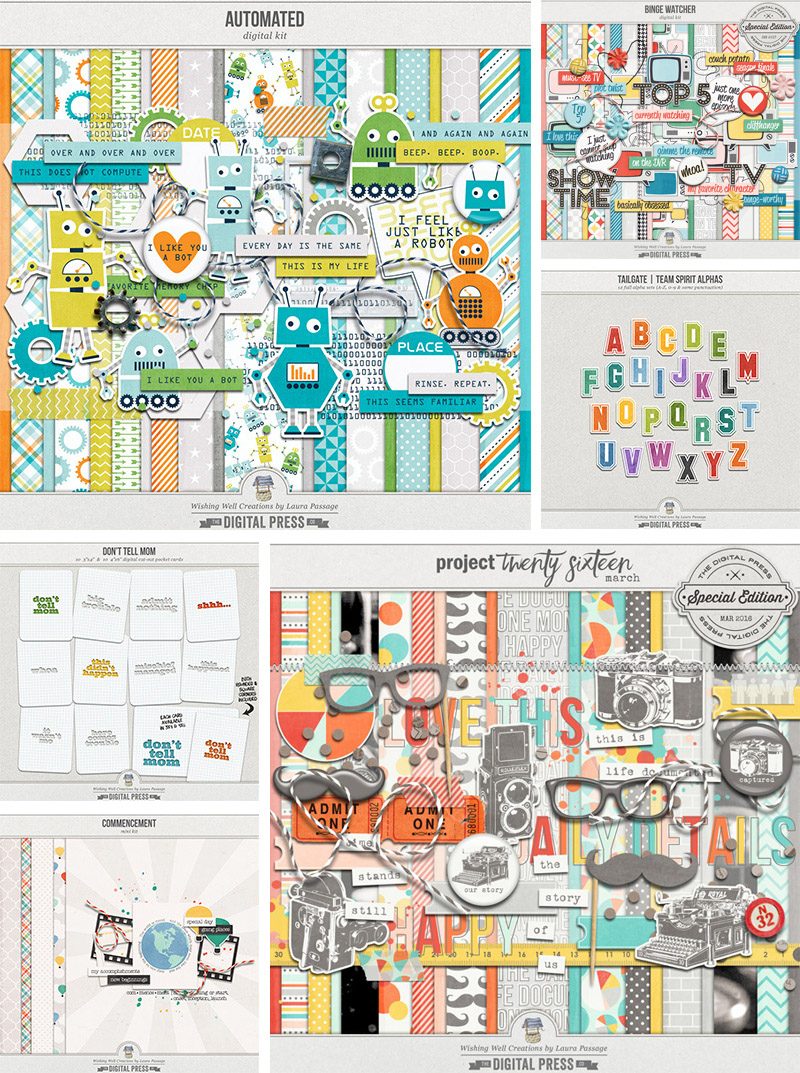 Additionally, here's a look at just a small sampling of the gorgeous projects that have been created using Laura's products…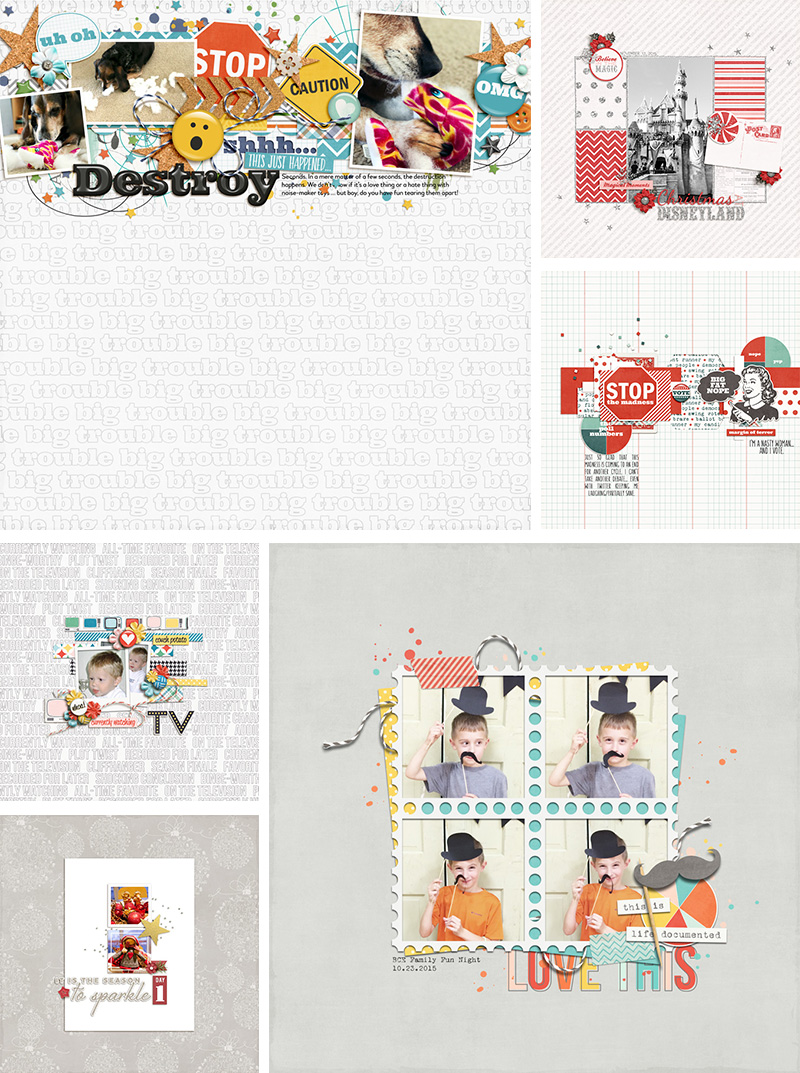 Isn't it all so fun and inspiring? 🙂
I hope you have enjoyed getting to know a little bit more about Laura and peeking into her creative space! If your wish-list grew while you looked through the inspiration, above, then I have some good news for you! During her entire feature week, you will find all of Laura's products 30% OFF in her shop at The Digital Press! (the sale will end at 11:59pm ET on Thursday 7/20). Check your wish-list, and don't miss out on this great chance to clear your favorite items off it — at a discount!
And finally, this week only — you can snag the following FULL COLLECTION (!) from Laura's shop for FREE with any $10+ purchase in Laura Passage's shop at The Digital Press (this offer also ends at 11:59pm ET on Thurs 7/20)…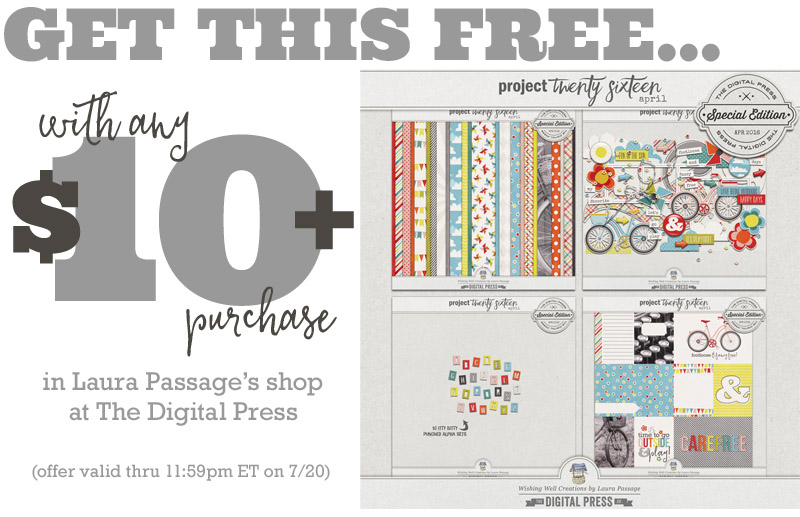 ---

About the author Gaelle is a member of the creative team here at The Digital Press. She lives in France with her hubby, her two sons and her kitty. She loves digiscrap and discovered this activity in 2012, since she's totally addict and scrap to keep memory her everyday life. Her family is definitively her principal source of inspiration.

Enregistrer
Enregistrer
Enregistrer
Enregistrer
Enregistrer
Enregistrer
Enregistrer
Enregistrer
Enregistrer
Enregistrer
Enregistrer