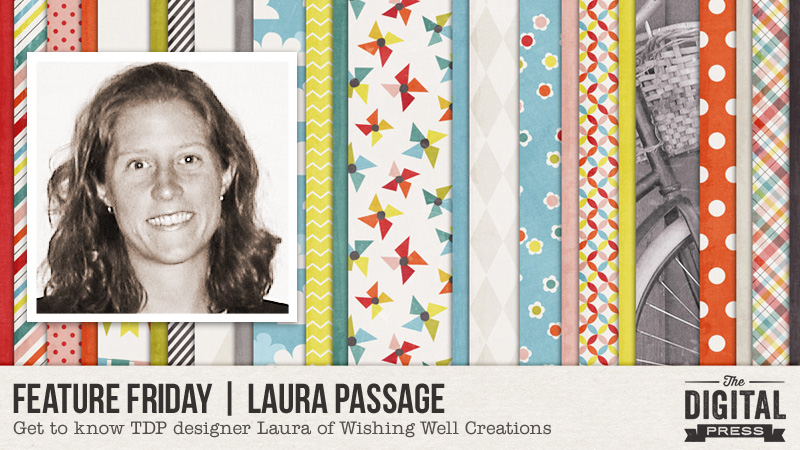 This week, we're excited to feature the designs of Laura Passage (known to many of us as Wishing Well Creations by Laura Passage, or just WWC). Laura is not only a designer at The Digital Press, but is also our fearless leader! As a designer who also works in the paper scrapbooking industry, designing for companies like Echo Park Paper Company and Carta Bella Paper Company, Laura creates digital products that also have a distinctly paper-ish style and feel. You'll find lots of flat stickers and icons in her kits, mixed with the types of dimensional items you tend to find used on traditional paper scrapbook layouts — stuff like wood veneer, string, staples, paper flowers, etc. Her kits are always bright and colorful and fun to work with.
Here is a look at just a few of my favorite products designed by Laura…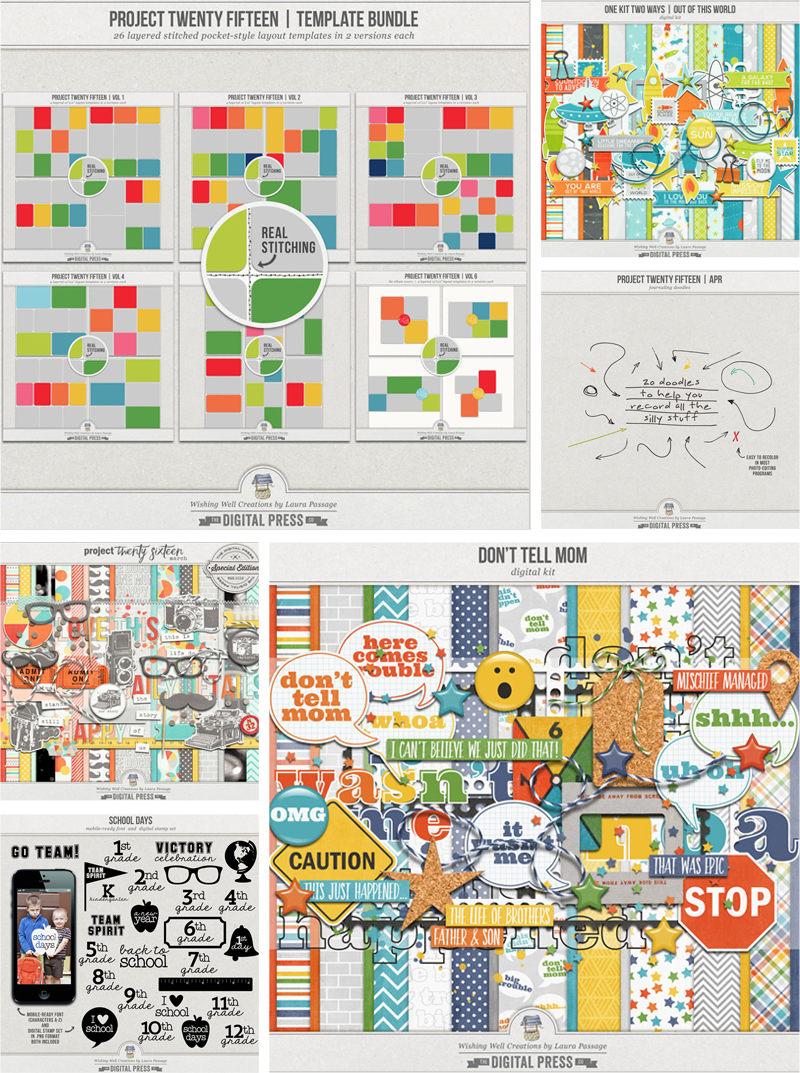 I interviewed Laura so that we could all learn a bit more about her, and here's what she had to say…
Where are you from?
I live in the Pacific Northwest (about 45 min south of Portland, Oregon in Salem — the state capitol).
When you're not designing, what do you do with your time? I sort of "unexpectedly inherited" full ownership of The Digital Press this past winter, and for the past few months my design time has been really limited while I have focused most of my time on expanding and updating the site (and there are lots of really fun new things on the way to The Digital Press this year!). When I'm not doing that and/or trying to find time to design fun digital or paper goodies… I like to (in no particular order) go sit on the sidelines and cheer on my kids during their sporting events; cook and bake; read good books; binge-watch my favorite series on Netflix or Hulu with my husband; and sleep (although I really don't do that very much! haha).
What are 5 tidbits of trivia that we might not know about you?
—Before I had kids, I worked as a college soccer coach for about a decade.
—My favorite place in the world is the mountains of Colorado. I lived there when I was a kid, and nowadays as an adult even just the act of driving through that area calms me and centers me and makes me happy.
—I'm kind of obsessed with rainbow colors. The clothes in my closet are even hanging in rainbow order, because it just seems happier that way.
—My computers are all PC-based (and that isn't going to change, because I keep buying PCs every time I need to upgrade — which I actually just did a month or two ago)… but I am totally an Apple snob when it comes to phones and devices. So yeah, basically, I am a walking contradiction and I know it makes no sense haha!
—I have had a love affair with paper goods my entire life. When I was 10 or 12, I would save up my allowance and spend it on pretty patterned paper stationary and matching envelopes… and then that stationary would seem too nice to actually use, so I would just hoard it. This info completely and totally explains my craft space in my home office, which is overflowing with patterned paper and other gorgeous crafty stuff. I mean, washi tape, people. Right?! I have a giant collection of it just because it's so pretty.
Which of your products is your favorite?
Oh man, I cannot choose just one. I've done it before, and then I always feel like I am cheating on my other favorite kits, hahaha! I have multiple favorites, depending on the time of year / theme / etc. Right now because it's summertime here in Oregon, though, I will say that there is something I adore about last year's Project Twenty Fifteen | July Collection… I love the happy colors, and the combination of travel-themed items and outdoorsy things and girly florals…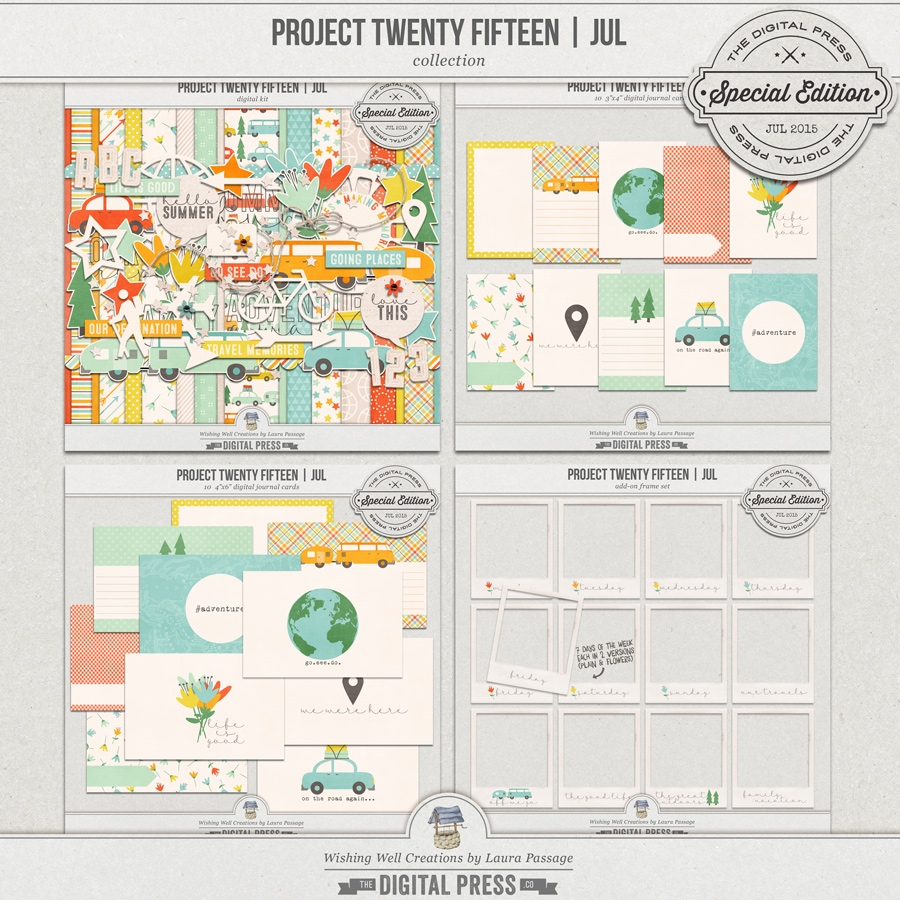 And here are some gorgeous layouts and projects featuring some of Laura's designs from her shop…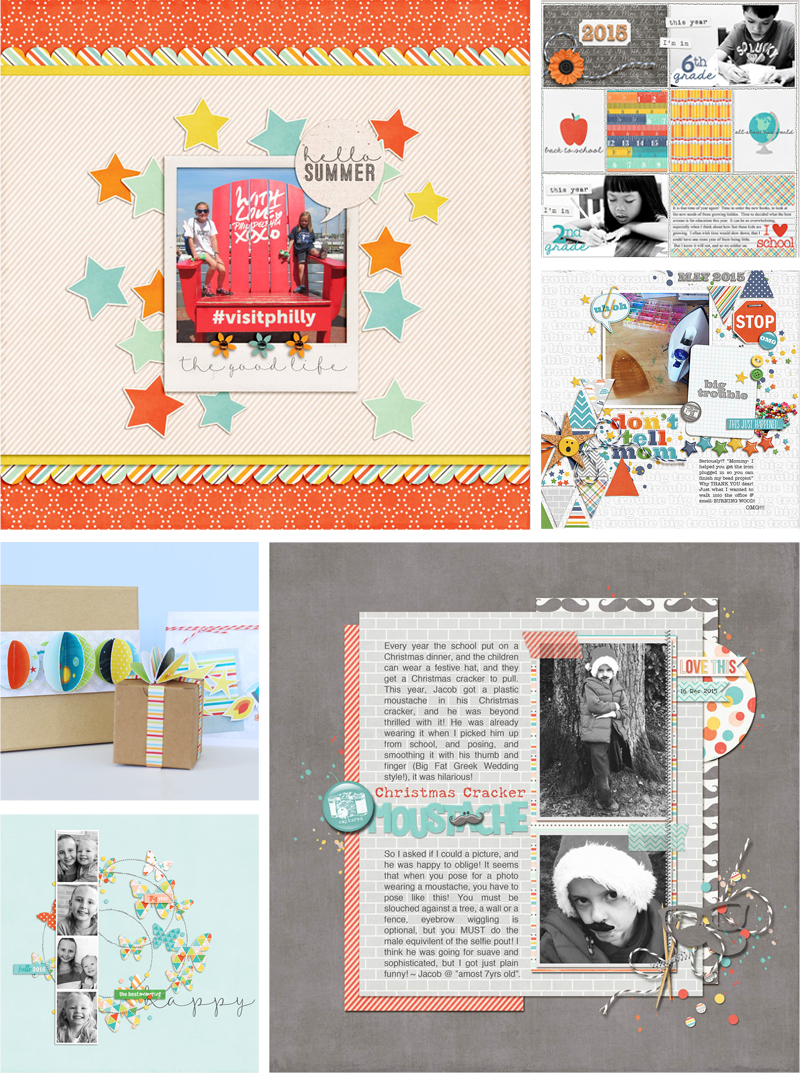 If you love fun color and papery goodness, you need to be sure to check out Laura's products in the shop! My personal favorite item of hers is her Project Twenty Fifteen Template Bundle. These templates are my go-to templates for all my pocket scrapbooking layouts. With real stitching in both black and white, and tons of layout varieties, they are the templates I turn to when I have lots of photos to include on a page. They are a pocket scrapper's dream come true!
Be sure to head over to Laura's shop at The Digital Press this week for an amazing 30% OFF SALE on all of her products. (sale runs through 11:59pm ET on Thurs 7/28). You can pick up some of those amazing templates… or anything else that suits your fancy!
---

About the Author  Katie is a member of the creative team here at The Digital Press. She lives in Central Florida with her husband and their four sweet but crazy boys. When she's not dodging Nerf bullets or trying to dig out from under the never-ending pile of laundry, she enjoys photography, cooking, going to Disney World with her family, and, of course, digital scrapbooking.