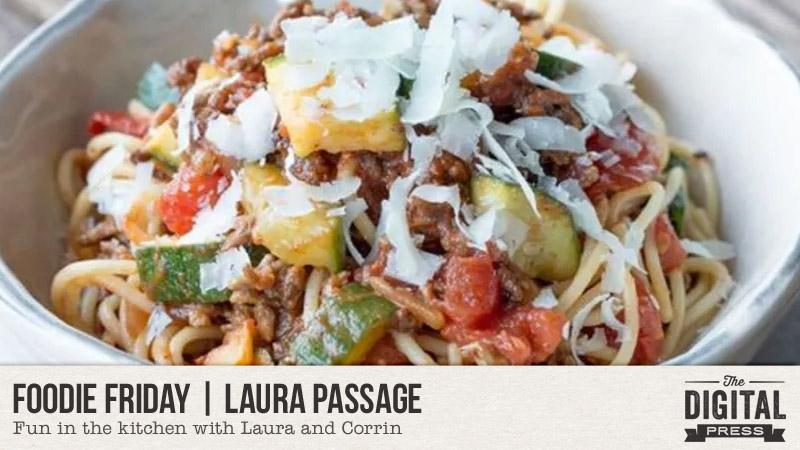 Hello, and welcome to another edition of our Foodie Friday series here on The Digital Press Blog! This week we are lucky to be featuring TDP Designer Laura Passage (formerly known and loved by many as the designer behind the Wishing Well Creations brand).
Laura has already been featured twice before, here on The Digital Press blog… so if you would like to learn a little more about her, check out her first feature from July 2016 HERE and her second feature article from July 2017 HERE. You can also learn a lot about her, and her design style, by having a browse around her fun and fabulous store at TDP,
But if you are really here at the blog for the food today — and keen to get to the delicious recipes — we won't keep you waiting any longer! Here is a quick peek at the deliciousness we have each whipped up in the kitchen for you this week…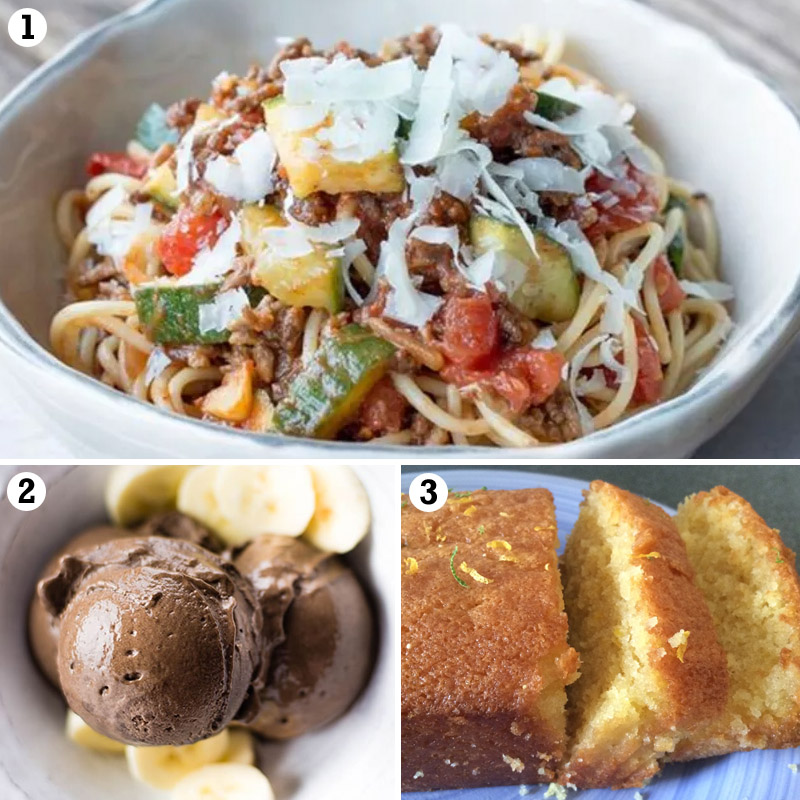 [ photo credits: (1) Hello Fresh, (2) A Sweet Pea Chef, and (3) TDP creative team member Corrin ]
What is all of that deliciousness you see pictured above, you ask?
Tomato and Zucchini Ragu
Faux Banana Chocolate Ice Cream
Luscious Lemon Cake
---
Tomato Zucchini Ragu
Says Laura… "This is one of our family's favorites… and it's awesome because it appeals to just about everyone (even the pickiest of eaters, like kids!), and it's loaded with veggies! The secret to this recipe is the surprise ingredient — soy sauce — which turns a regular ho-hum tomato sauce into the most flavorful, perfect concoction ever. No joke… I don't know why I never thought of adding soy sauce to something like pasta sauce before, but it's AH-MAZE-ING."
INGREDIENTS
1 lb ground turkey or beef
1/2 lb spaghetti (or noodles of choice)
2 small zucchini (each about 8″ long-ish?)
1 medium yellow onion
1 large can (28 oz) diced tomatoes (or crushed, or whatever type you prefer)
1/2 oz fresh thyme (can use 1 Tbsp-ish of dried thyme, if desired — but fresh is better, if you have it!)
3 Tbsp soy sauce
3 cloves garlic
1 tsp chili flakes (red pepper flakes)
olive oil
parmesan cheese for garnish (optional)
INSTRUCTIONS
Wash and dry all fresh produce. Bring a large pot of salted water to a boil.
Cut zucchini lengthwise into quarters, and then slice into 1/4 or 1/3-inch pieces.
Halve, peel, and small-dice the onion.
Strip the fresh thyme leaves off the stems (skip this step if using dried thyme).
Peel the garlic and then finely mince… or put the peeled cloves into a garlic press and set aside for use later in recipe.
In a large (12+ inch) skillet or high-sided frying pan, cook the ground meat in about 1/2 Tbsp olive oil… breaking it up into smaller pieces while it cooks.
When meat is browned but not fully cooked, season with salt and pepper and then add onions and zucchini and cook it (stirring often) for about 5 more minutes, until vegetables begin to soften.
Add the soy sauce, the thyme, and the minced garlic (or use garlic press, pressing straight into the pan).
Add the pasta to the pot of boiling water and stir occasionally to keep it from sticking to itself. Cook for about 10 minutes (until al dente), and then reserve 1/2 cup of pasta water before draining the pasta in a colander.
While the pasta boils, add the can of tomatoes to the pan of meat/vegetables, and then add the chili flakes (to taste! they're hot… only add as much as you like, with regard to the spiciness). Stir constantly for a minute or so, until everything is coated in the tomatoes.
Add the pasta water to the sauce mixture until sauce is the desired thickness.
After draining pasta, add it to the sauce and toss to coat pasta completely in the ragu.
Serve the pasta topped with parmesan cheese, if desired. Enjoy!
[recipe tweaked and adapted from Hello Fresh by Laura Passage]
---
Faux Banana Chocolate Ice Cream
Says Laura… "OK, so… usually on Foodie Fridays, we offer up recipes for a main dish, a side dish, and a dessert. But you know what? Our family views that pasta sauce, up above, as a main dish AND a side dish because it's so chock full of everything — protein, carbs, veggies, all of it! And so… clearly the only option here is to double up on dessert recipes, because it's what we all want anyway. And this one? This one is so fun, because it's sorta healthy! It's free of added sugars, and it's also dairy-free! And soooooo yummy (and even customizable)."
INGREDIENTS
6 large ripe bananas
4 Tbsp unsweetened cocoa powder
OPTIONAL: other variations could include a tablespoon or two of peanut butter (= chocolate peanut butter ice cream!)… or a cup of frozen strawberries (banana split ice cream!)… or you could skip the cocoa powder and instead mix in dark chocolate chips/chunks (= Chunky Monkey ice cream!)… or really, anything else your brain can dream up to go with banana ice cream!
INSTRUCTIONS
Cut the bananas into approximately 1/4-inch slices, and throw them onto a parchment paper-lined baking sheet that will also fit into your freezer (IMPORTANT! haha). The slices don't have to be lined up all neat and tidy or anything… you just want to be able to freeze them and have them remain in basically separate pieces.
Freeze the banana slices for a couple of hours… just long enough for them to harden so they're not sticky when you run them through a food processor / blender.
Add the frozen banana slices into a food processor or blender, and process until the mixture has a thick, creamy consistency.
Add the cocoa powder and process again until totally blended together.
The mixture will be pretty soft at this point… so it's usually best to re-freeze in an air-tight container for an hour or so, just to make the consistency more ice cream-like, before serving.
OPTIONAL: if, however, you were planning on adding another ingredient (see variations, above, at bottom of ingredients list)… add it after you've added/blended the cocoa powder, and process once again until well-blended.
[recipe tweaked and adapted from A Sweet Pea Chef by Laura Passage; makes about 6-8 servings ]
---
Luscious Lemon Cake
Says Corrin… "This is one of my own recipes… and it is something of an antique, having been given to me by my lovely neighbour not long after we moved into our current home. It has been a family favourite ever since!"
INGREDIENTS
4oz/115g soft butter
6oz/170g caster sugar (superfine sugar)
6oz/170g SR flour (sifted)
4 Tbsp/60ml milk
2 large eggs
the grated rind of 1 lemon
FOR THE SYRUP
3 rounded Tbsp icing sugar (powdered/confectioner's sugar)
3 Tbsp/45ml of lemon juice
INSTRUCTIONS
Grease and line a 2lb loaf tin, or a 7″ round tin.
Warm the oven to 350F (180C/gas mark 4).
Cream the buttter and sugar together in a bowl.
Add the eggs, grated lemon rind sifted flour and milk, and mix well to a soft dropping consistency.
Place into your baking tin smooth the top.
Bake for 40-45 min (until firm).
While the cake bakes, mix the sifted icing sugar with the lemon juice to make the syrup.
Pour the syrup over the cake as soon as it comes out of the oven.
Leave in the tin until completely cooled… and then, enjoy!
---
Doesn't that all look so yummy?! I hope you have a chance to try out some of these dishes soon (you won't be disappointed)! If you have any questions don't hesitate to ask in the comments, below… and if you try something and love it, we'd love to hear about that too! 🙂
Meanwhile, it wouldn't be a designer feature week without a fantastic sale and a special Free-With-Purchase offer! Not only is Laura's entire shop marked down 30% OFF throughout her entire feature week (sale prices will be valid through 11:59pm ET on Thurs 3/1)… but she also has the following Free-With-Purchase offer available in her shop all week long, as well — spend $10+ in the Laura Passage shop at The Digital Press and get her Flip Flop Season | Kit completely FREE!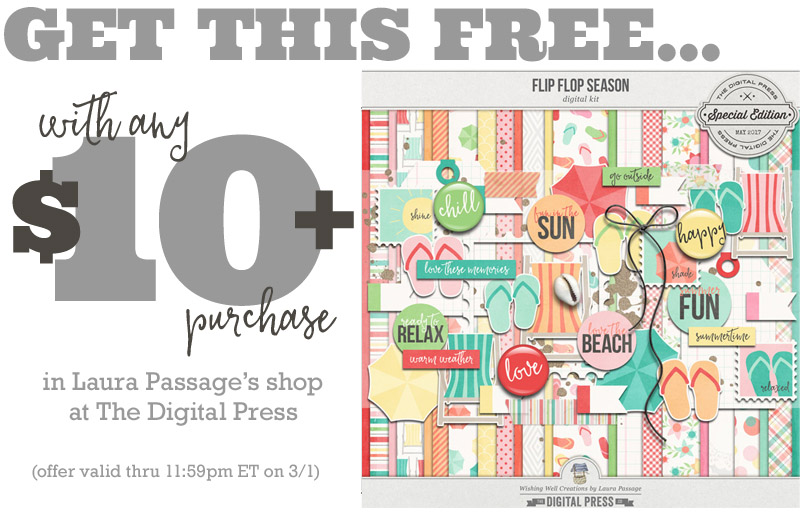 ---

About the Author  Corrin is a member of the creative team here at The Digital Press. She is a fan of the Big Bang Theory and a lover of cozy pajamas. She lives in the breezy South of England with her husband and 4 crazy kids, who regularly discover & plunder her secret chocolate stashes! She is still trying to get the house straight after moving nearly 4 years ago. Who knows… maybe this will be the year she reaches the bottom of the laundry pile!