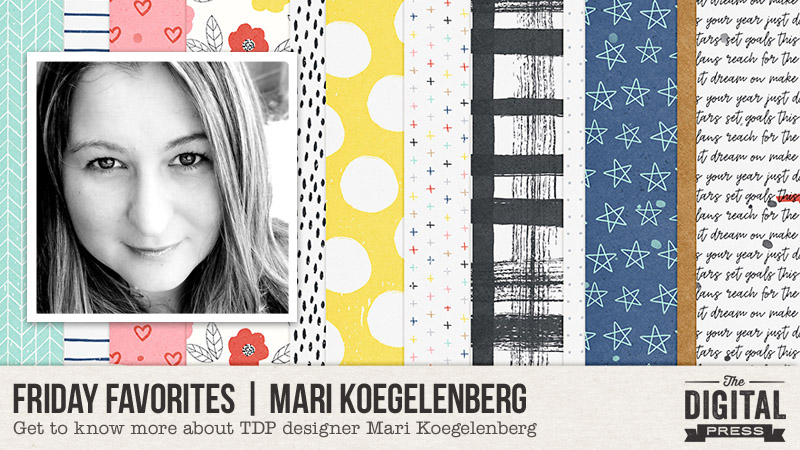 Hello everyone, and welcome to another edition of our designer feature series on The Digital Press blog in 2019 — Friday Favorites! This year, as you know, we've been learning a bit more about each of our amazingly-talented designers by having them share some of their favorite things with us each week.
This week, the spotlight is on the creative designer Mari Koegelenberg. This is actually Mari's fifth feature here on the blog (you can find her first feature from October 2016 HERE, another from January 2017 HERE, her Foodie Friday post from October 2017 HERE, and her most recent feature from April 2018 HERE).
This time around, in order to learn even more about Mari, we asked her to share some of her favorite things with us, and here's what she had to say…
---
"Hi there! If you have followed me for a while. I bet you already know by now that I love to create paper projects… uhm, dare we say 'addiction'? …there are some serious repercussions (hoarding… *cough cough*).
Over the years, I have collected more scrapbooking stuff than I know what to do with! One of my favorite ways to de-stash (and/or get inspired to use it all up) is with all of the great videos on YouTube! It's also a wonderful way to unwind after a crazy week at work, and do something creative.
I am subscribed to soooo many creative YouTubers that are absolutely amazing… but the following 3 ladies are my all-out favorites… 😉
1. Dani @ PopFizzPaper
Link: https://www.youtube.com/channel/UCSXHr4OfdKbJxVT9UXIvb-w


Her videos cover a bunch of crafts including Happy Mail, DIY Embellishments & Scrap your stash projects.
2. Adelle @ Inkie Quill
Link: https://www.youtube.com/channel/UC3SBSfhhz7K7e9qxAlK3n3g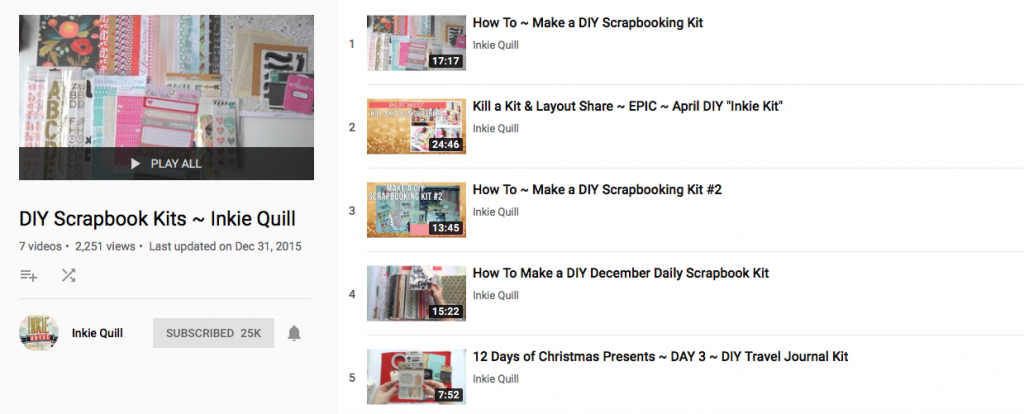 Love her quirky sense of humor and obsession with Heidi Swapp's Gold Shine. She does Project Life shares, 'Kill a Kit' challenges, Mixed Media and Scrapbook pages.
3. Kristina @ K Werner Designs
Link: https://www.youtube.com/channel/UCW6F7pbVdCeTj6WRZoZJ1TQ



Cards are a fun way to do small creative projects just to get the juices flowing, and Kristina is the Queen of Card making! She does a series of Holiday Cards… 1 each day for a month to get you prepped and ready for the festive season. She also covers watercoloring and copic coloring; this is another recent addiction for me, but let's not go there yet, LOL!"
---
I had fun checking out Mari's favorites! It's amazing to see how scrapbooking supplies and digital kits can be used in so many ways! I really love that. And YouTube is really an awesome source of inspiration.
If you're not already familiar with Mari's designs, you'll love browsing through all of the eye candy in her store at TDP. Here's a peek at just some of the fabulous products you'll find in her shop…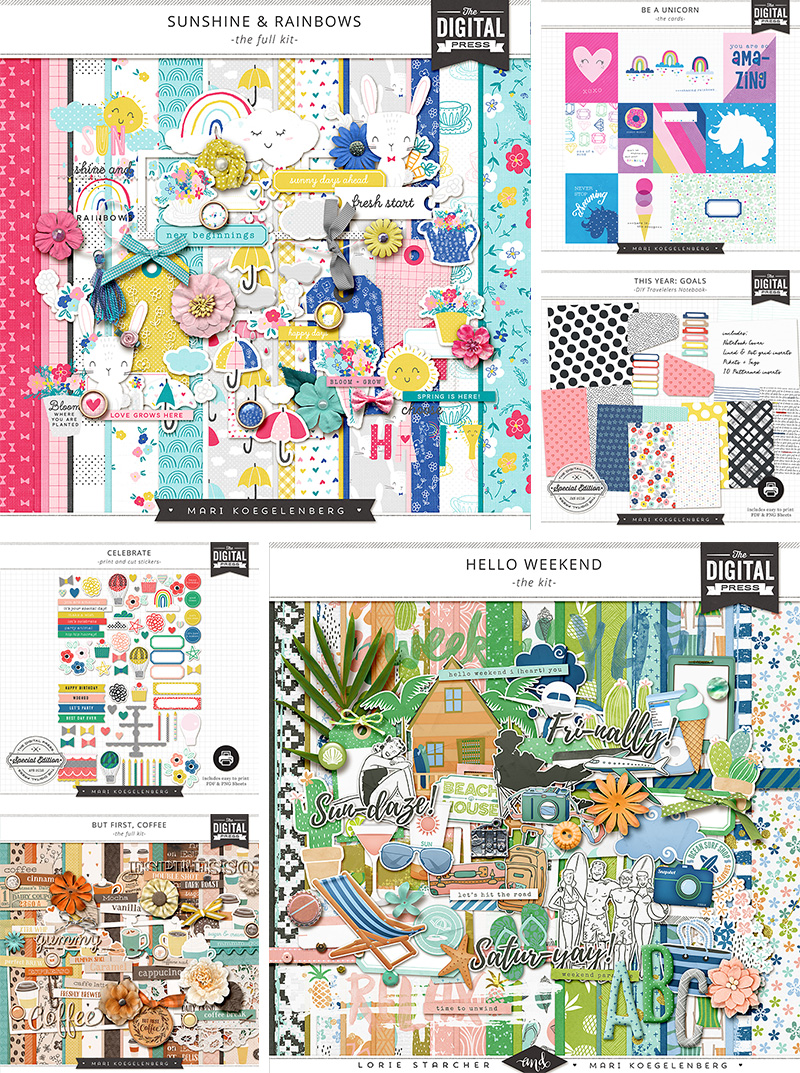 Also, here's a look at just a small sampling of the gorgeous projects that can be made using Mari's products…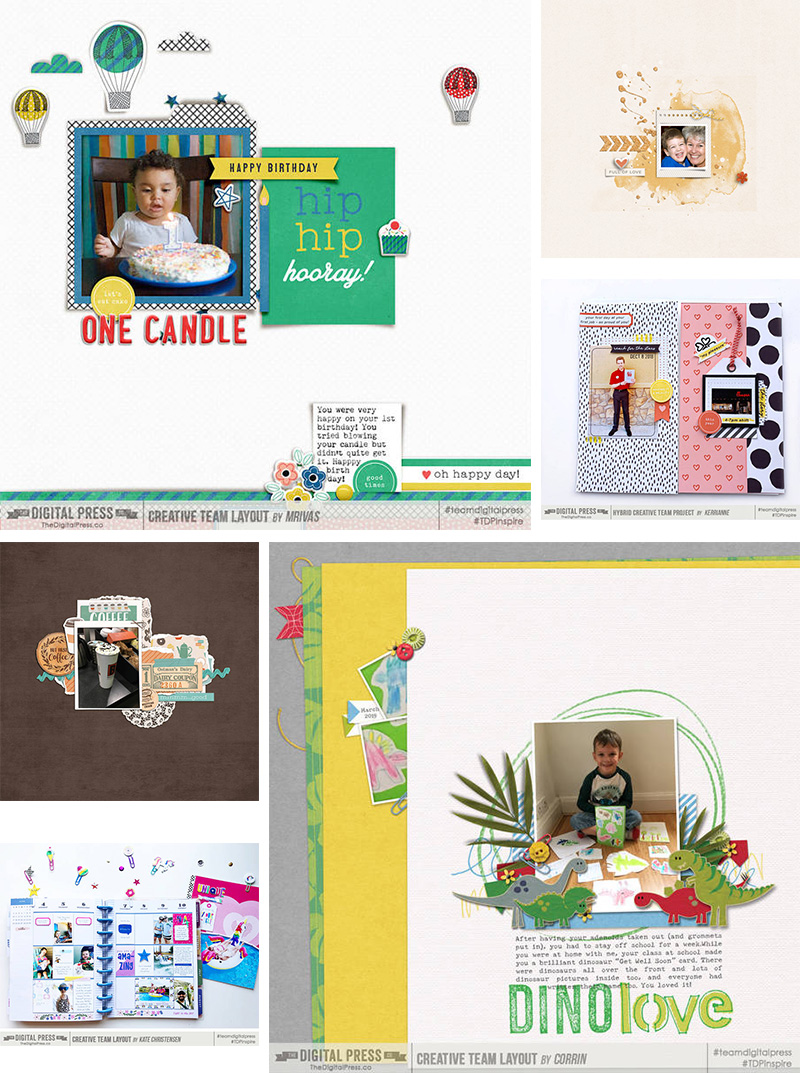 Hopefully, today's Friday Favorites article has given you even more insight into Mari's personal style (and again, if you want to know even more about her — scroll up and use the links to her previous features here on TDP's blog, where's there's lots of good stuff!).
And the best news of all ?! …during Mari's upcoming feature week here at The Digital Press, you can enjoy the chance to score an amazing deal in her shop if you use the following coupon code(s) when purchasing her digital goodies (this sale and the corresponding codes will be valid through 11:59pm EST on Thursday 5/16). Don't miss out on these discounts!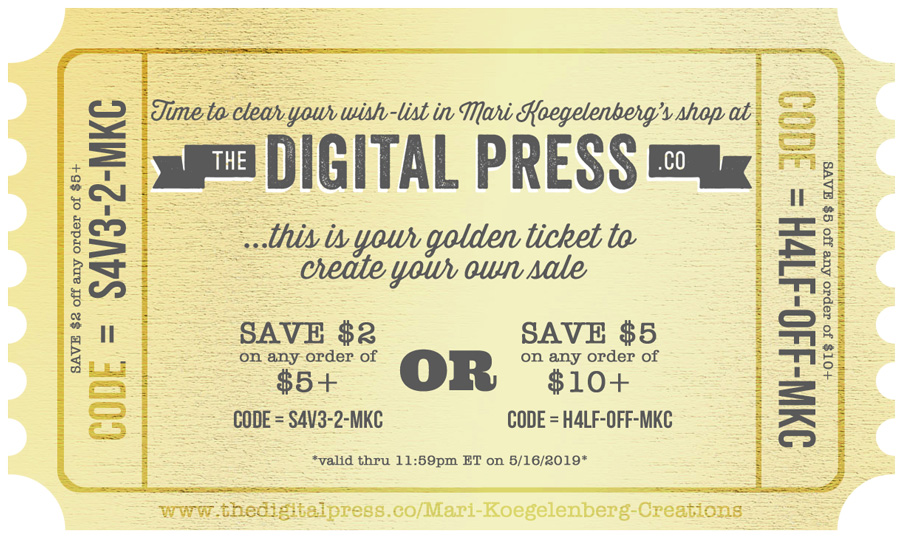 [ if you have trouble seeing the coupon image, above, the codes are as follows: "save $2 off any purchase of $5+" by using code = S4V3-2-MKC . . . or "save $5 off any purchase of $10+" by using code = H4LF-OFF-MKC ]
---

About the author  Gaelle is a member of the creative team here at The Digital Press. She lives in France with her hubby, her two sons and her 3 kitties. She loves digiscrap and discovered this activity in 2012, since she's totally addict and scrap to keep memory her everyday life. Her family is definitively her principal source of inspiration.