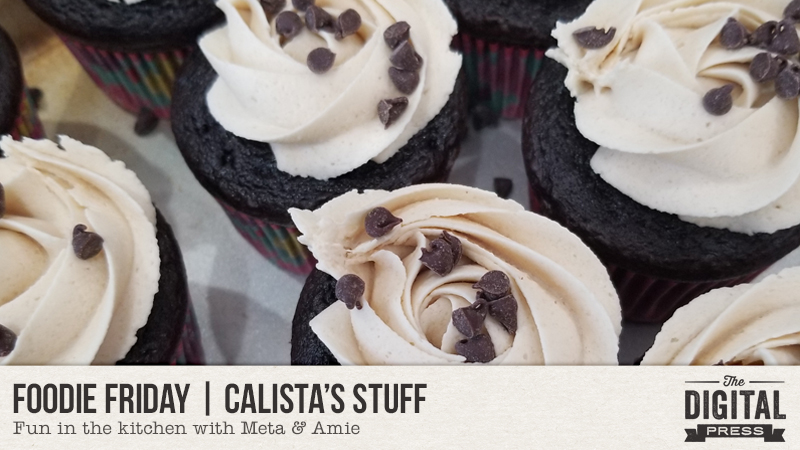 Thank goodness it's Friday! Not only is the weekend almost here… but it's time for another edition of our Foodie Friday series here on The Digital Press blog! This week we are featuring TDP designer Meta Wulandari — the name behind Calista's Stuff.
Meta has already been featured once before on The Digital Press blog; if you would like to learn more about her, you can check out her first feature from May of 2017 HERE. You can also learn more about her design style by checking out her gorgeous store at TDP.
For our Foodie Friday series, though, it's all about the food! Here is a glimpse of the yummy stuff Meta & I have for you this week…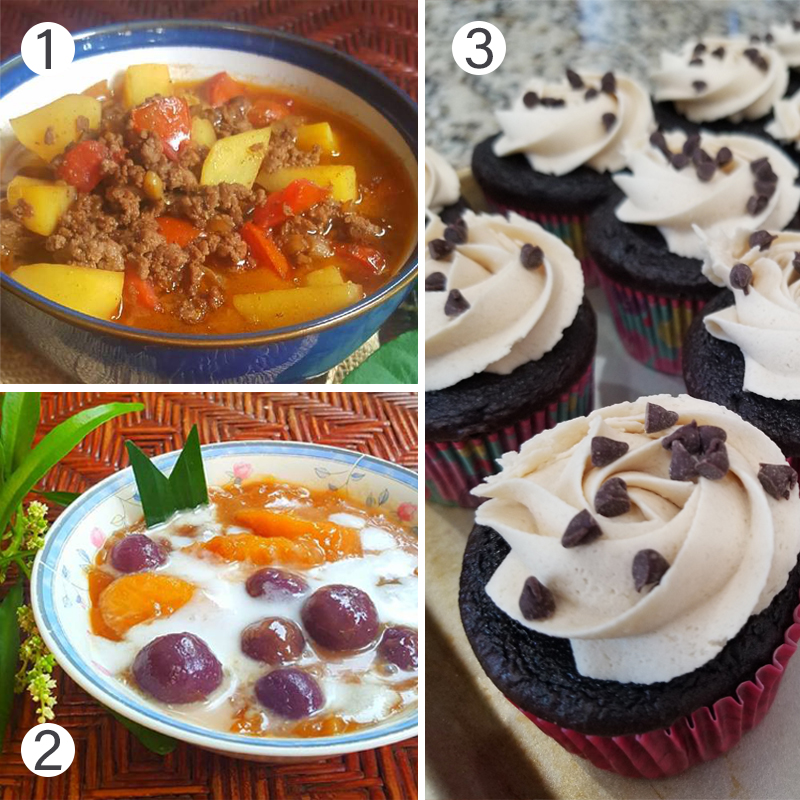 [ photo credits: (1) Meta Wulandari, (2) Meta Wulandari, and (3) TDP creative team member Amie ]
What's all of that deliciousness you see pictured above?
Beef Semur (Beef Stew)
Kolak Bola Ubi Ungu dan Pisang (Stewed Purple Sweet Potato Balls and Banana in Coconut Milk)
Chocolate Chip Cookie Dough Buttercream (on dark chocolate cupcakes)
---
Beef Semur
Meta says… "This is a recipe my family loves to eat and I really enjoy cooking, because it's super easy to make!"
INGREDIENTS
250 gram

 minced beef

(about half a pound)

1 large potato, 

cut into big chunks

 and fried


3 bay leaves

300 ml

 water 

(1 1/4 cups)

4 tablespoons of sweet ketchup (sweet soy sauce)


1 tablespoon salty ketchup

(salt, nutmeg, pepper, sugar & 1 spoon tomato sauce)
INSTRUCTIONS
Melt unsalted butter in a pot and add in onion, garlic, pepper, nutmeg and bay leaves.
Stir fry until fragrant.
Add the beef, and sweet soy sauce to the pot and let them brown a little bit for about 10 minutes. Pour in the water and bring to a boil and lower the heat and slowly simmer for about 1 hour until the meat is tender.
Add in the tomatoes after 30 minutes of cooking and add the fried potatoes in 10 minutes before the end of cooking. Gently stir everything to mix.
Have a taste and season with salt. It should be slightly sweet from the sweet soy sauce
---
Kolak Bola Ubi Ungu dan Pisang
Meta explains… "Kolak is an Indonesian common dessert which is made from pisang (banana), ubi (sweet potato), and often labu (jackfruit). It has sweet and creamy flavor from coconut milk. My family loves to eat kolak during Ramadhan (fasting month for mosleem). In this recipe I used Purple sweet potato and banana."
INGREDIENTS
4 pieces

 Banana, cut small pieces

200 grams

 boiled purple sweet potato (1 cup)

50 grams

 Javanese palm sugar/brown sugar (1/2 cup)

1 can

 coconut milk, add 2 cups of water

2

 pandan leaves (screwpine leaf)
4 tablespoons tapioca flour
2 tablespoons rice flour, mix with 4 tablespoons of water

pinch

 salt
1 Pandan leaf
INSTRUCTIONS
Mash boiled purple sweet potato, add salt, tapioca flour and water. Make a small balls
Heat the coconut milk in a boiling pan, add palm sugar and stir until the sugar completely dissolved. You can adjust the sweetness according your taste.
Keep stirring the coconut milk to prevent from lumpiness. Then add the banana and purple sweet potato balls, bring to boil.
Add the pandan leaf and pinch of salt, stir again.
Taste the soup to make sure it's sweet enough for you.
Serve it warm or with rice.
---
Chocolate Chip Cookie Dough Buttercream
Amie says… "This frosting tastes like the real thing, but without the raw eggs! You can use it on any flavor of cake, or even between graham crackers for a yummy treat!"
INGREDIENTS
2 cubes (1 cup) unsalted butter at room temperature
1/2 cup brown sugar packed
2 2/3 cups confectioners (powdered) sugar
1/3 cup all-purpose flour (if worried about raw flour, omit & add additional 1/3 cup of powdered sugar)
1/2 teaspoon salt
2-3 tablespoons heavy cream
2 teaspoons vanilla extract
1/2 cup mini chocolate chips
INSTRUCTIONS
Beat the butter with a mixer for at least 5 minutes (it's what makes the buttercream light & fluffy!)
Add the brown sugar & mix until combined.
Slowly add in the powdered sugar until smooth
Mix in the flour, salt & vanilla
Add in the cream 1 tbsp at a time until the desired consistency (smooth & creamy, thick enough to hold it's shape, but not thin & runny)
Frost as you desire on your cooled cupcake (I baked Dark Chocolate Cupcakes, but you can use ANY cake mix or flavor with this frosting!)
Sprinkle Mini Chocolate chips on top to decorate & Enjoy!
---
Oh my… don't those recipes all look amazing!? I'm totally adding to my shopping list this week — I'll have to hunt down some of Meta's ingredients! We hope you'll give them a try, as well (and please feel free to leave us any questions or comments!). Happy Cooking!
Last but definitely not least — Meta is having a fantastic sale and is offering a special Free-With-Purchase offer! Not only is the entire Calista's Stuff shop marked down 30% OFF throughout her entire feature week (sale prices will be valid through 11:59pm ET on Thurs 3/8)… but she also has the following Free-With-Purchase offer available in her shop all week long, as well — spend $10+ in the Calista's Stuff shop at The Digital Press and get her entire Real Life Bundle completely FREE!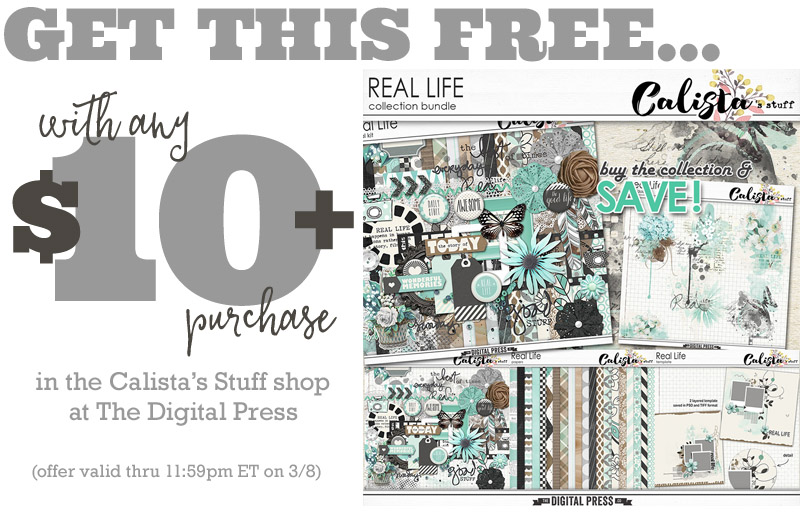 ---

About the Author  Amie is a craft-loving dental hygienist who lives in Washington state. She loves her husband, her two crazy kids, and her English Bulldog… as well as coffee, baking cupcakes, daffodils, glitter & sprinkles, reading a good book, and lip gloss — not necessarily in that order.