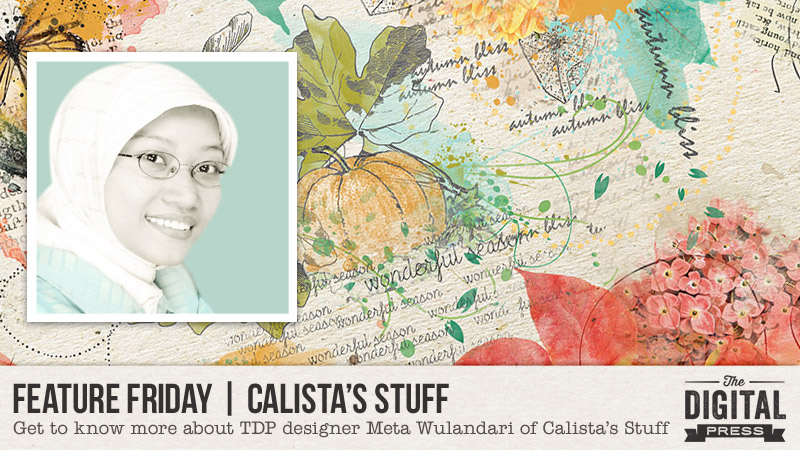 Happy Friday! I'm so excited to be here today to introduce you to the newest designer to recently make her permanent home at The Digital Press — Meta Wulandari of Calista's Stuff! Meta initially joined us as a Guest Designer in April 2017, and we're so excited to announce that she's joining our Designer Team and staying at TDP!
This is Meta's very first feature on the blog, so I'm excited to help you get to know her and her amazing products better… and whereas last year we used our feature series to help you get to know some fun trivia about your favorite designers, this year we've been using our designer feature series to give you a little peek into our designers' creative spaces and more insight into their creative processes.
With that in mind, we asked Meta to show us her creative space. She says that she does her designing "wherever possible" in her house, using her laptop, because she needs to be available to take care of her sweet little baby, Calista (isn't she precious? see photo, below)! She also said that she always has to have a snack around her laptop… "it's mandatory!" Here is a photo of her laptop and her beautiful baby girl…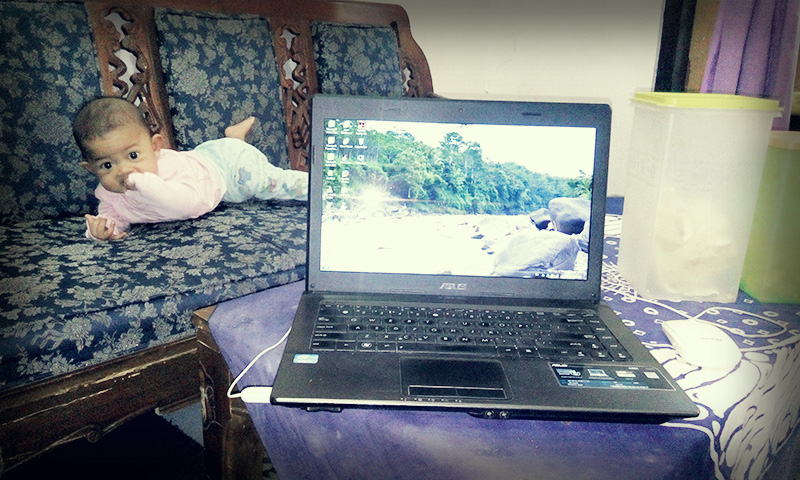 Meta says that her family has a very humble house, but they have each other and really enjoy their life together! Here are photos of her family and of her lovely 6 month old, Calista…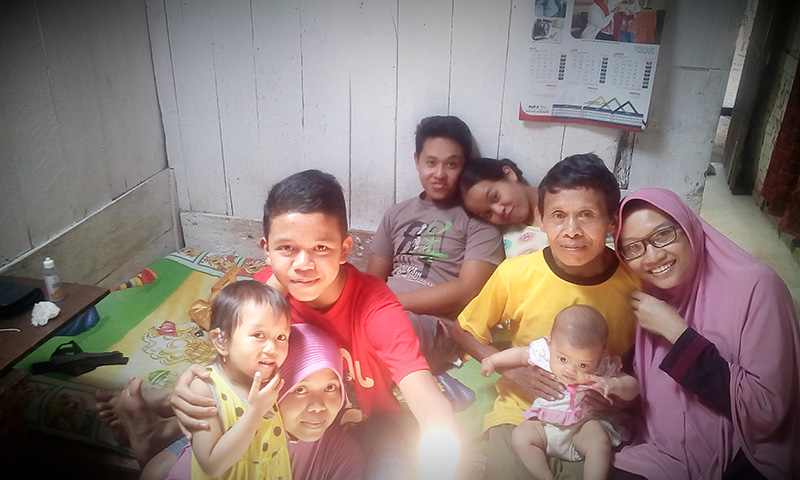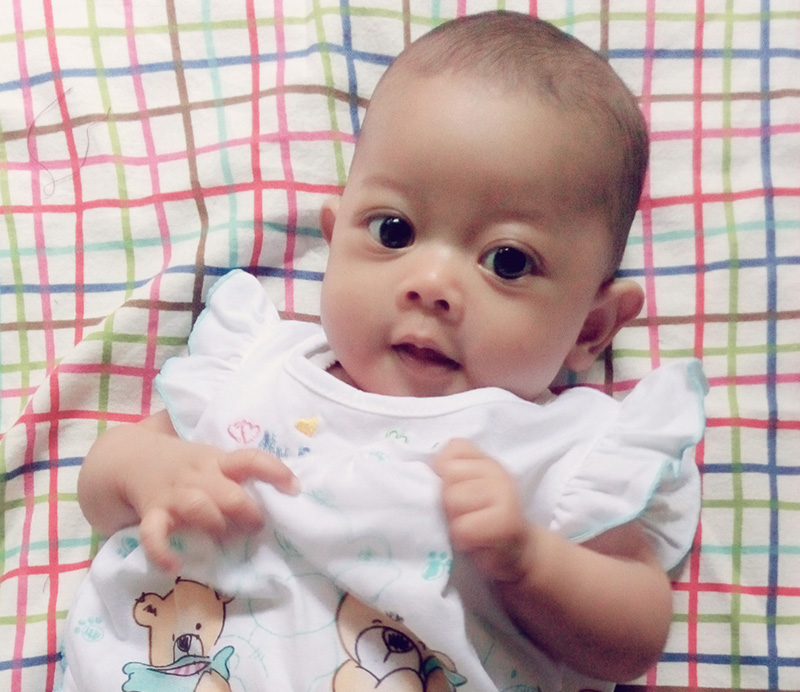 We also asked Meta to share with us a Top 5 list that is representative of herself at this point in her life, and she shared with us her Top 5 List of Things She Wants to Do/Have As Soon As Possible…
She can't wait to hear her baby call her "ibu" (mother)
She can't wait to have a vacation with her family
She'd like a new laptop
She'd also like to get a super speedy internet connection (she lives in a small town and it's hard to get a full bar of internet signal)
She wants all of her family members to be healthy, happy and continuing to support one another
As for Meta's products and design style… you will find lots of color and unique elements! She also creates such beautiful  and breathtaking blended elements that give you that special pop to your pages; they are simply stunning! She has fantastic templates in her store, as well… products for almost any occasion! Her designs always contain amazing flowers and wonderful word art options. Furthermore, I love that the items in her store are perfect for scrapbook pages AND pocket pages! There are so many versatile and useful options to be found.
You'll definitely want to take a look at the Calista's Stuff shop and see for yourself how fantastic her products are, but here are a few of my personal favorites…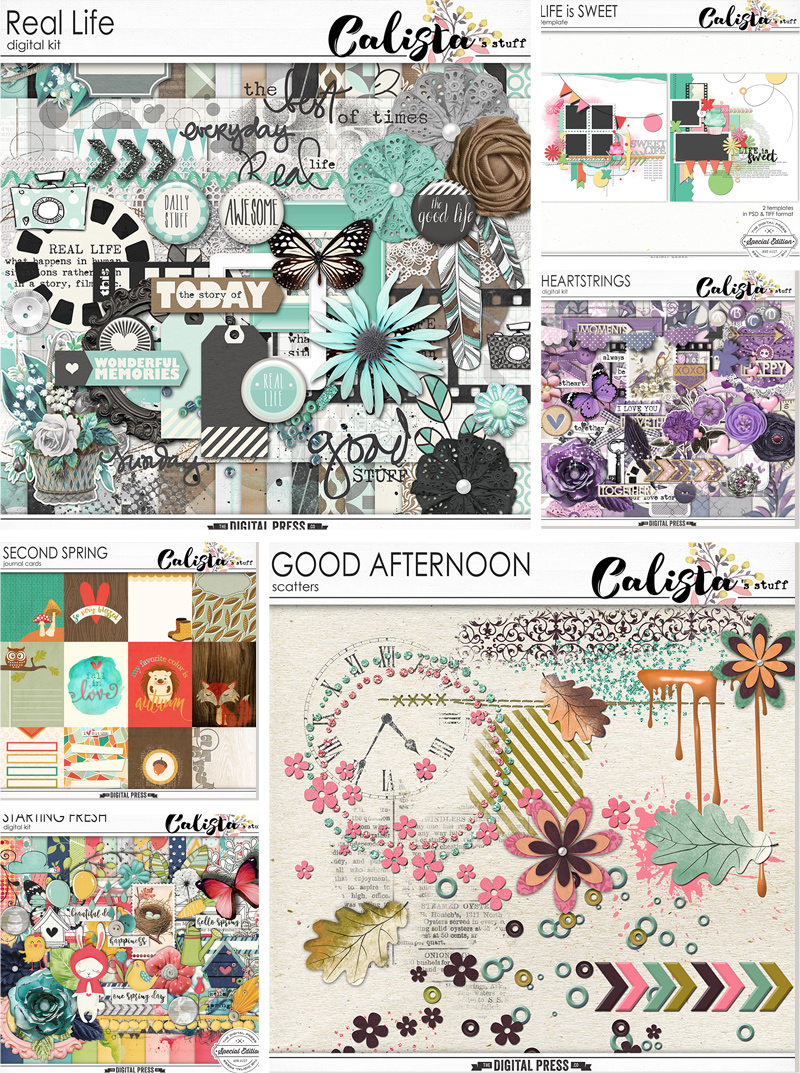 And here are some examples of the beautiful projects that have been made using Meta's products from The Digital Press…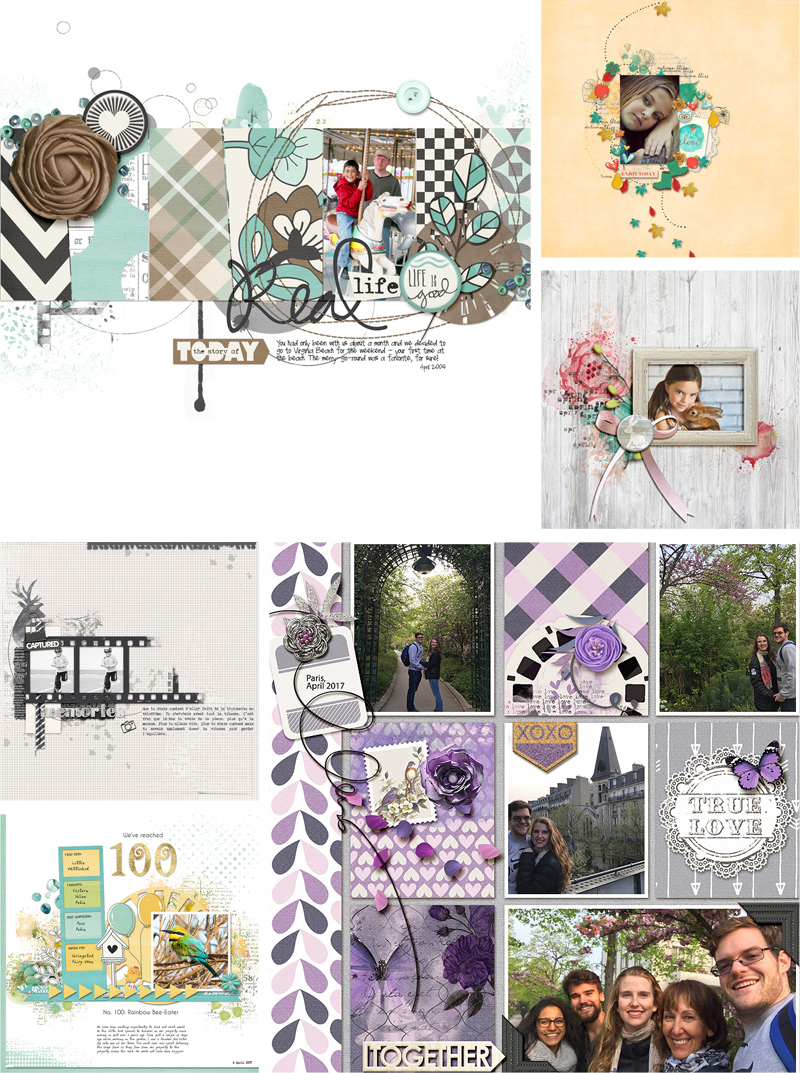 Aren't those fun?
I hope you have enjoyed getting to know a little bit about Meta Wulandari of Calista's Stuff today! To celebrate her upcoming week as our Featured Designer at The Digital Press, the entire Calista's Stuff shop will be 30% OFF throughout the entire week (the sale will end at 11:59 EST on Thursday 5/18).
Additionally, Meta has a special Free-with-Purchase offer for everyone this coming week! Don't miss out on this opportunity to stock up on your favorite products from Calista's Stuff at the 30% OFF rate …and you can also snag her brand-new (just hit the store shelves today!) Tutti Frutti Kit for FREE with any $10+ purchase in her shop — this week only!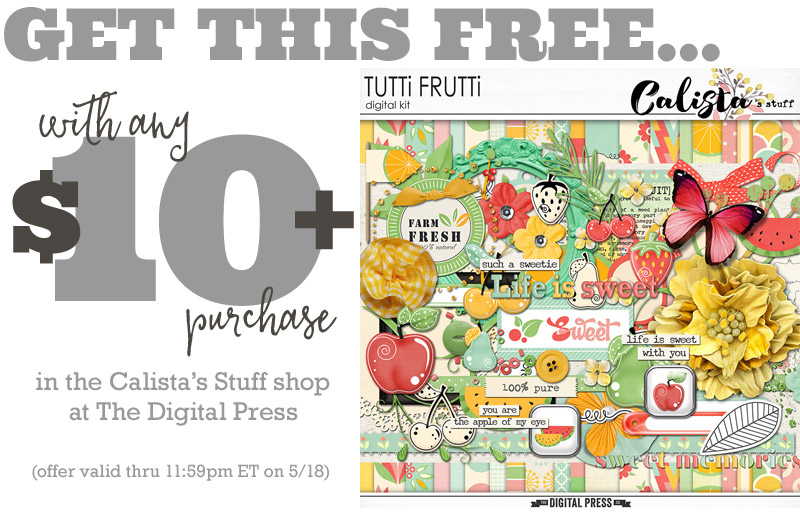 ---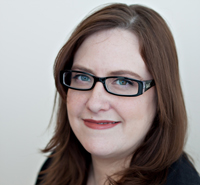 About the Author  Amy lives in Richmond, Virginia with her husband of  15 years and their 12 year old boy/girl twins. Their 21-year-old daughter will begin graduate school in the fall at Clemson! Amy has been scrapbooking since the early 1990s but discovered digital scrapbooking in 2005 when her twins were born and has primarily scrapped digitally since that time. She is passionate about telling her family's stories and documenting their life together! Amy is a huge reader (mostly literary fiction), and is a pop culture junkie! She also LOVES all things beauty & makeup!