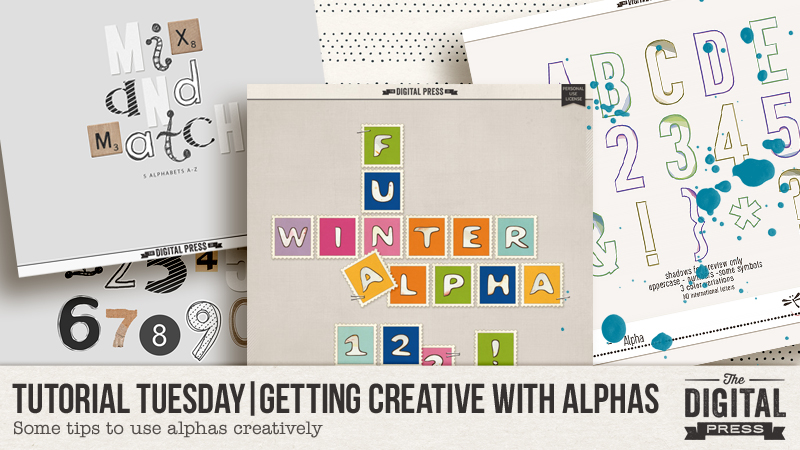 Hey everyone! and welcome to yet another edition of our Tutorial Tuesday series here on The Digital Press blog! I hope you enjoy reading the tips/tricks and ideas that the our creative team members share here every week. I certainly am always on the hunt for new techniques/ideas, and these tutorials never disappoint!
Today I'm going to talk a bit about using digital alphas — especially ideas related to using them creatively / a bit differently than possibly intended. There are some other similar tutorials on the topic that you'll fine in our archives; check out How to use alpha sheets by Erin, and Titles Matter by Heidi. There is also a Pinterest board with all of The Digital Press's tutorials in one place, displayed visually. Now isn't that handy?!
What comes to your mind when you think of alphas? Creating titles, right? Of course! That is the most common way alphas are used. And yes, they are great for creating nice, bold, impactful titles. We have an amazing selecting of alphas at The Digital Press — available both as part of some coordinated kits, and also available as standalone products (see those here).
So what can we possibly do differently with alphas? Well, a lot actually. Let's dig in and look at some ideas…
USE ALPHAS AS DESIGN ELEMENTS
Very simply, alphas can be used as purely design elements, without being in the title.  In the first example below, I have used alphas as stamps to scatter about on my background paper. Of course, if you look closely, they form words like guide, book, map. So that adds so much movement to the layout and a hidden word search challenge!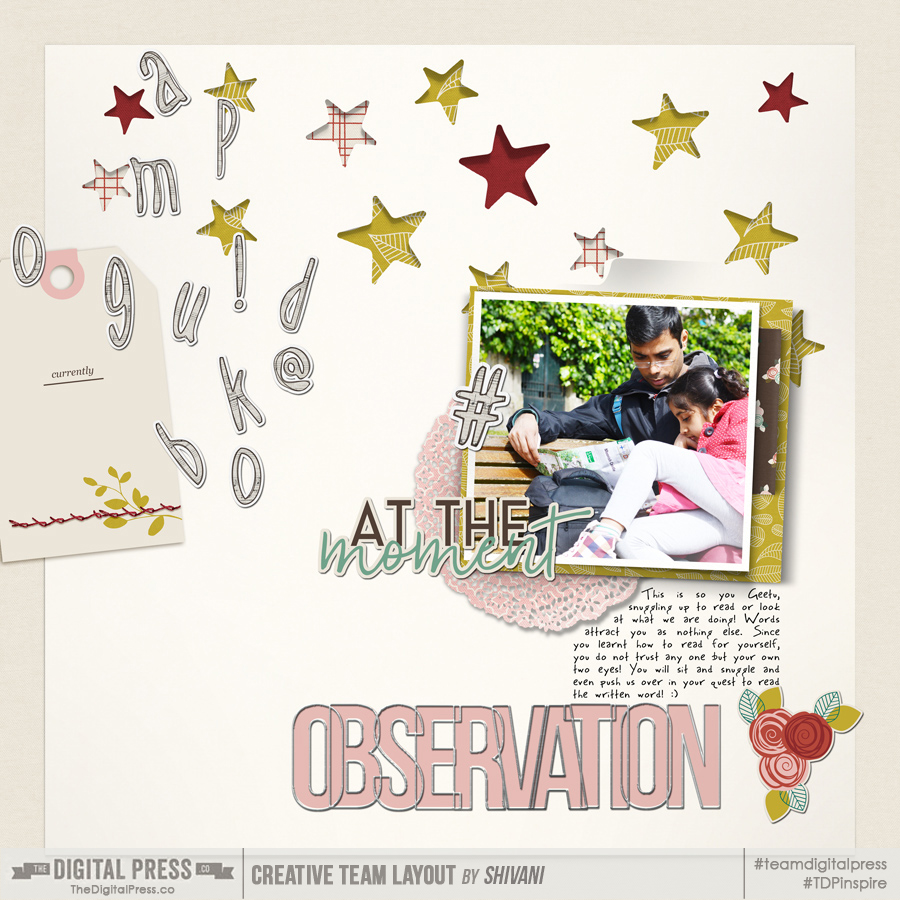 DRESS UP YOUR ALPHAS
Simply clipping papers on to alphas can also give a very different look. CT member Maribel created this striking layout by using a big, bold title and clipping patterned papers to it. I just love the eye-popping result!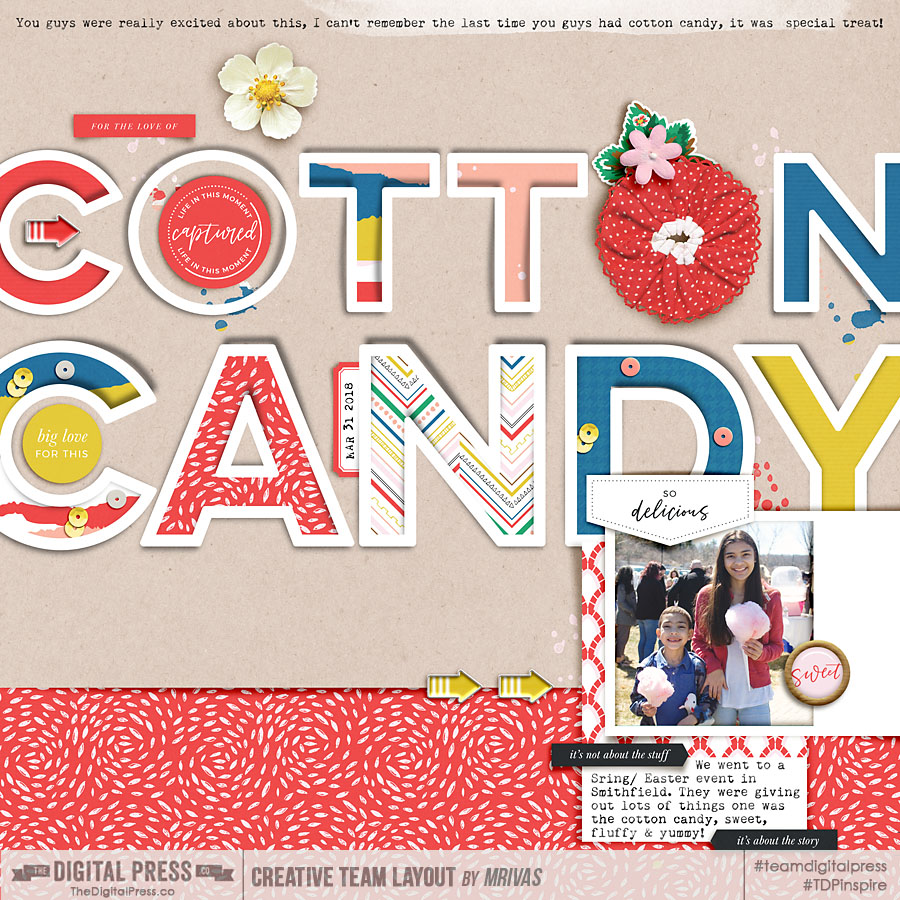 USE ALPHAS TO BOOST TO YOUR JOURNALING
You can use alphas to label/number your photos and/or journaling or as part of your journaling. In my first example here, I have used the alphas as starter to my words and arranged them in a pattern (ADVENTURE) to add to the interest in the layout.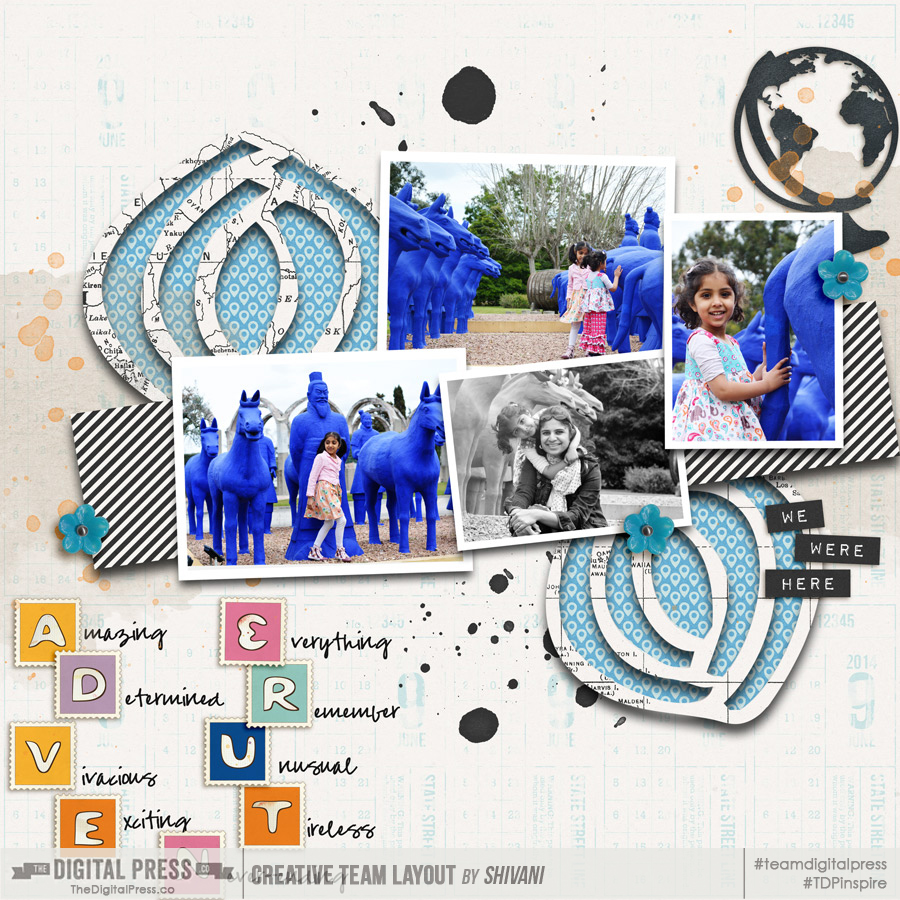 In my second example, I have used an alpha as my first letter in  my journaling – nothing too drastic but does make you stop and take notice, right? Also naming photos with these wonderful stamped alphas (by Dawn by Design) makes your eye move along the layout and take in all the details.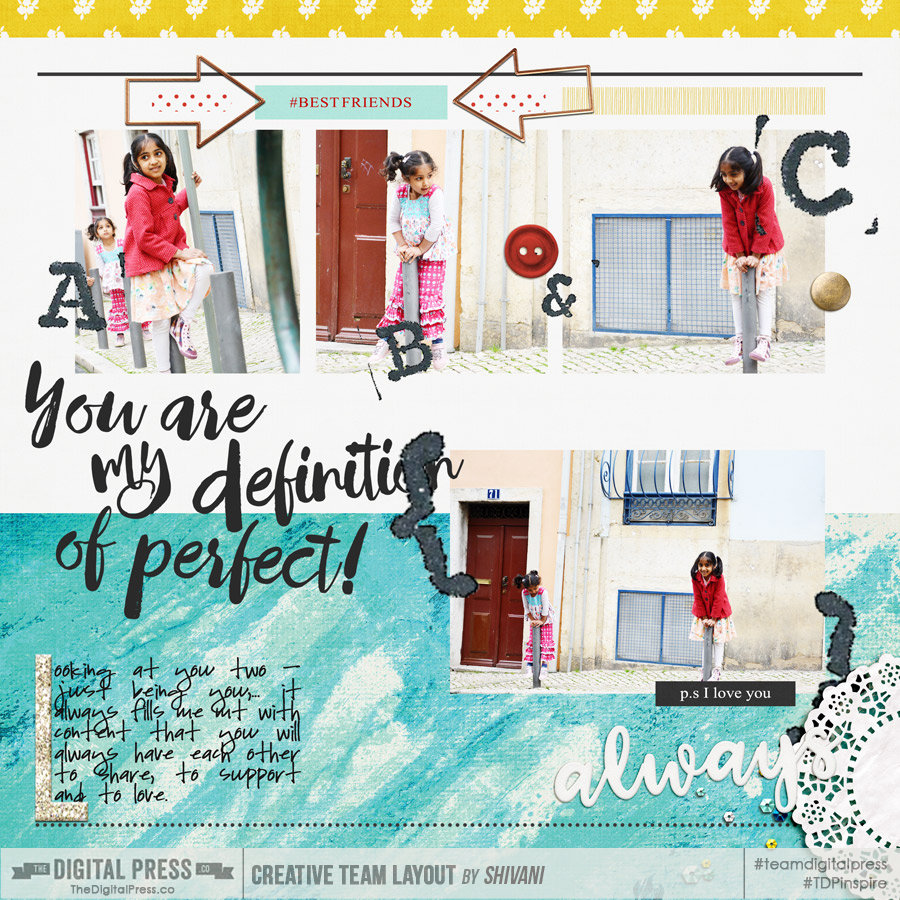 MIX UP YOUR ALPHAS
Mix and match different alpha types in your title – we have some great selections of mix and match alphas in the shop. Mix and Match series by Dunia Designs is quite terrific if you want to create a quirky mixed up title -like I have done below.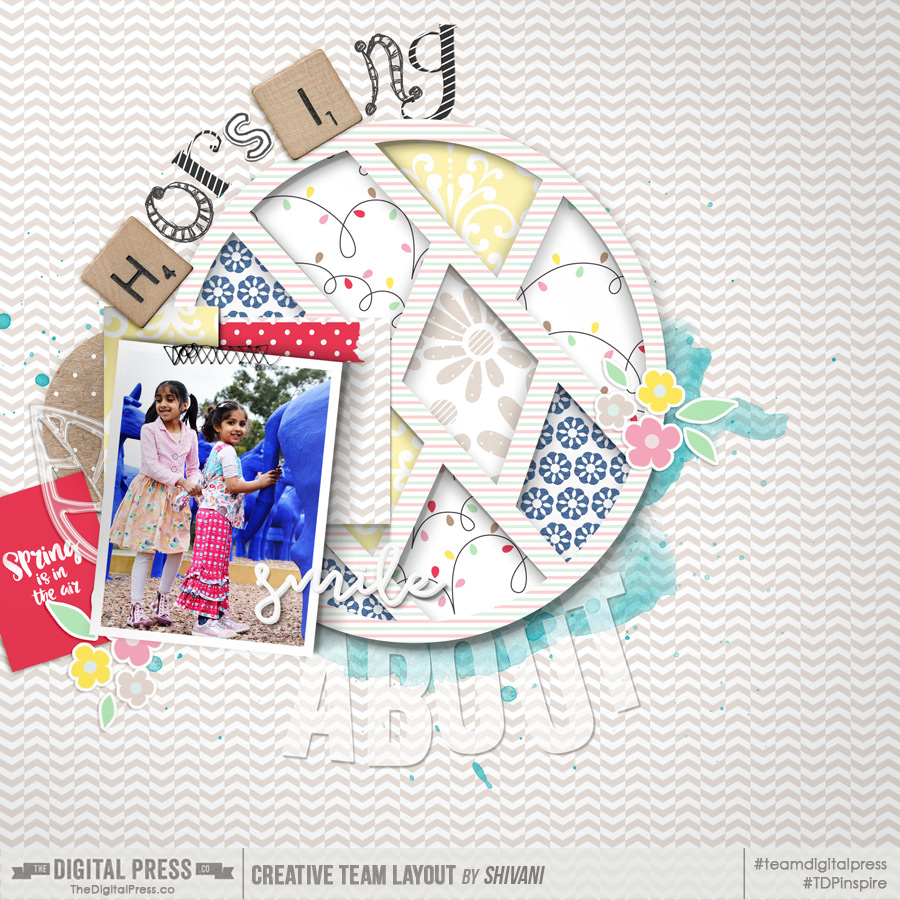 USE ALPHAS TO CREATE CUT OUTS
Cut out alphas on your layout/photo to create a graphic style. In my example, I used Nini Goes Digi's Pencil Play alpha, aligned it to my photo and then cut out the words from the photo. Adding a shadow, then, to the cut out photo enhances that effect further.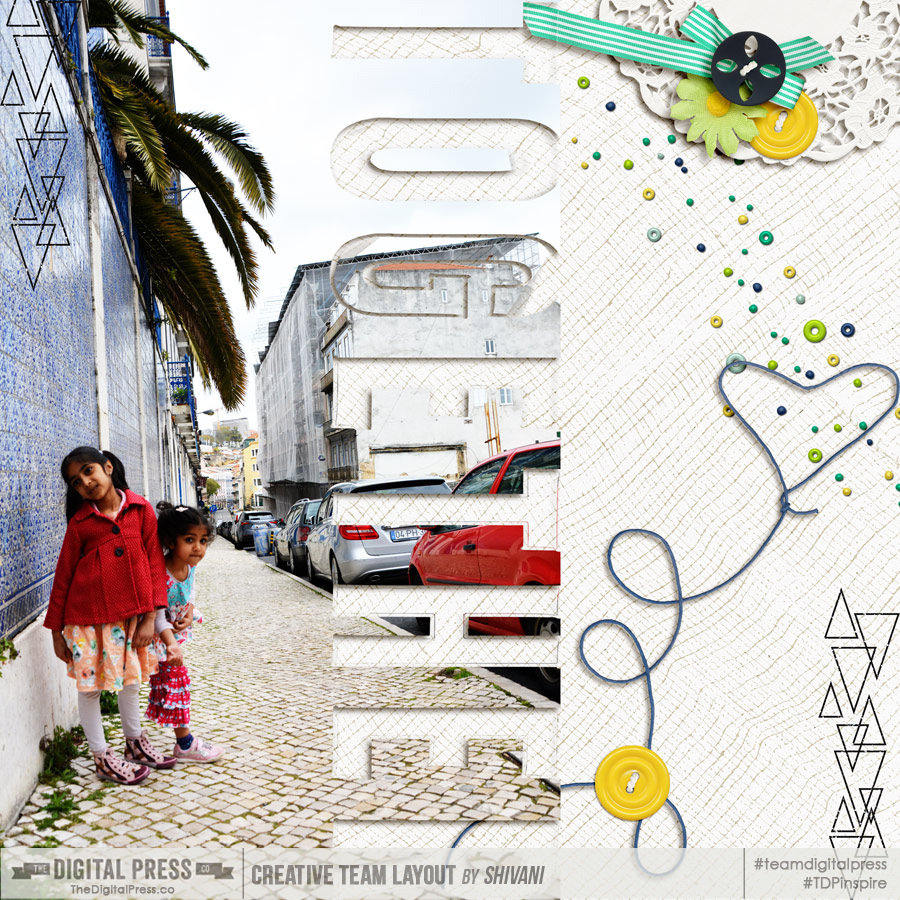 MIX ALPHAS AND WORD ART
Mix alpha up with fonts (especially handwritten ones) to get a nice eclectic feel to your layouts. I am sharing two examples from layouts I did some time back.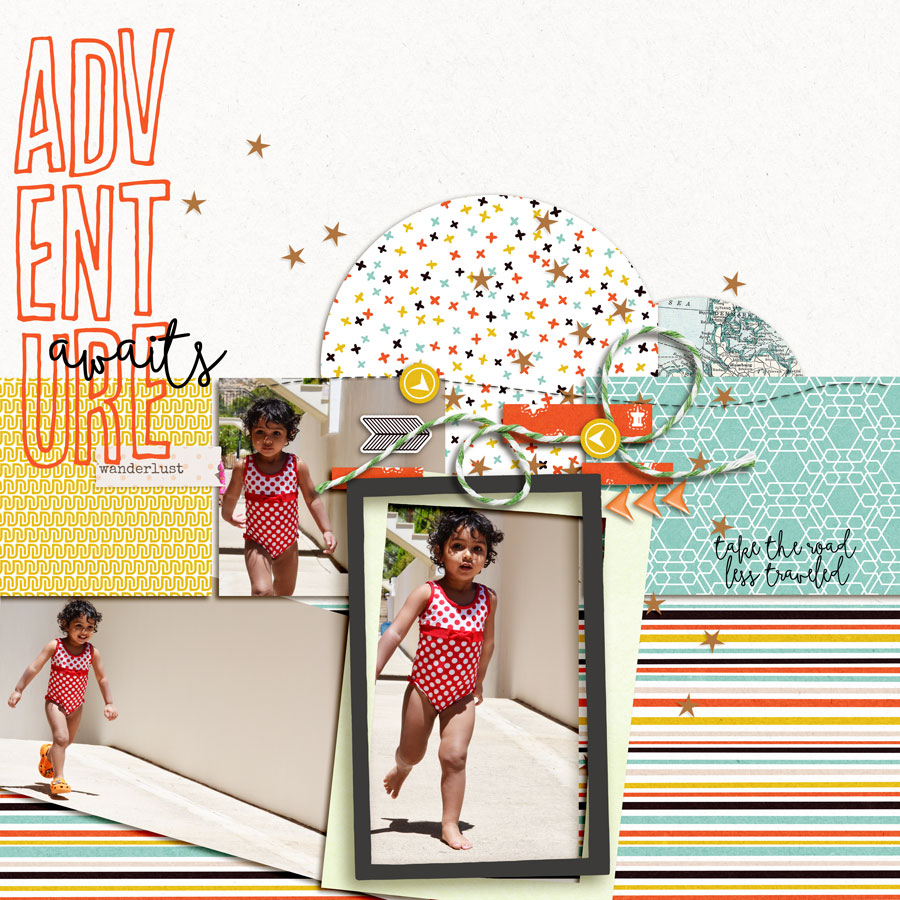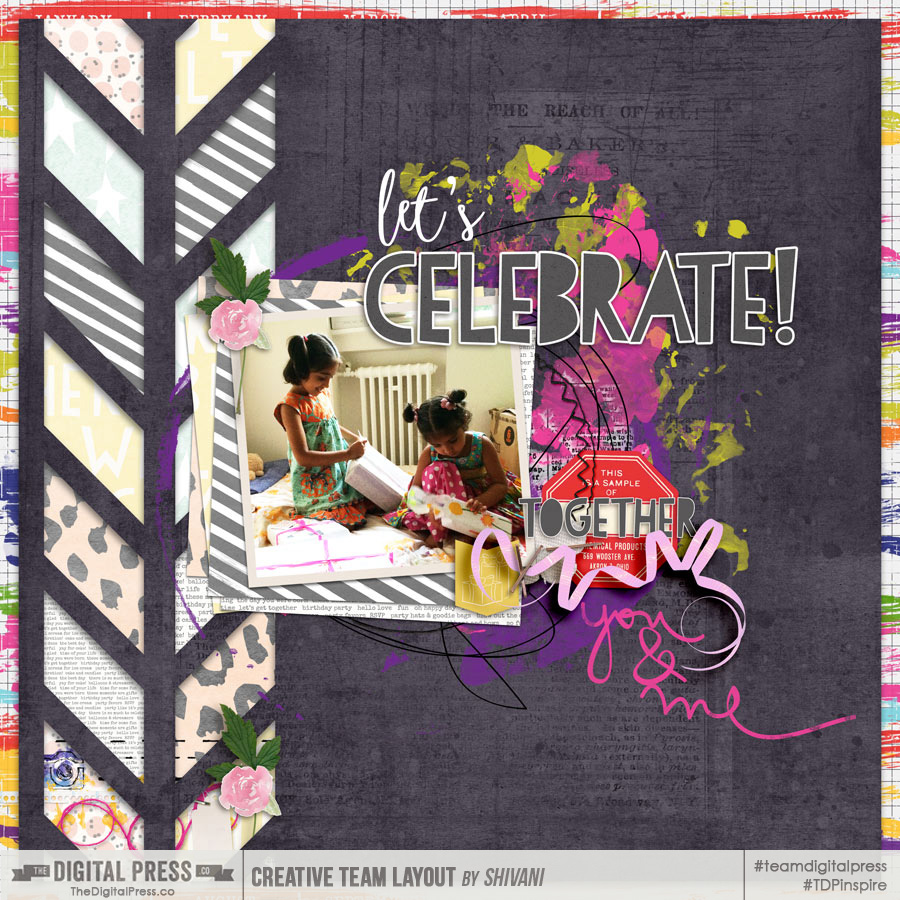 So, there it is 6 easy ways to give a twist to your alphas.
Hope you enjoyed looking through these examples and it has given you some ideas of your own. Please share any of your ideas as comments to this post or in the galleries – I'd love to see them.
Till next time then, happy scrapping!
---

About the Author Shivani is a donner of many alter-egos. A finance professional by day in busy London, she morphs into a seemingly normal mum of two in the evenings and weekends. She is constantly found with her fingers in too many pies and juggling the metaphorical balls. That is living on the edge for her; aided by the two ankle biters and a darling hubby who define the warm and mushy for her. She is ferociously dedicated to memory keeping — almost immune to any nay-sayers (or equally-disruptive crying children or annoying house fires!); keeping her head down and forging ahead at all times.