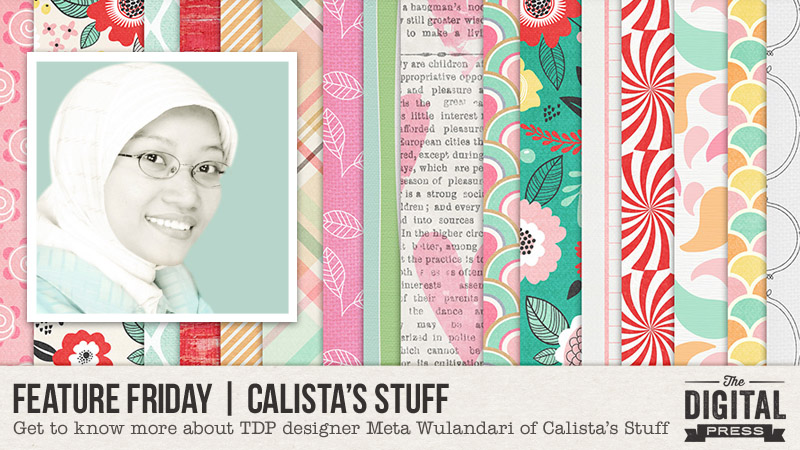 Happy Friday, everyone! It's time for another edition of our Feature Friday series here on The Digital Press blog. This week, I'm happy to put the spotlight on Meta of Calista's Stuff! This is Meta's third feature at TDP (you can find her first feature from May 2017 HERE, and her Foodie Friday post from March 2018 HERE).
In order to learn a little more about Meta, I asked her to share 5 things we might not already know about her…
I super love playing with balloons and bubbles. It's always great to play with my baby girl with those two things!
I was a French language teacher, a mathematics teacher, and a science teacher, but now I am a proud and happy stay at home mom.
My kitchen is my kingdom, but I think my baby girl will take over it soon. She is always busy in the kitchen and likes to taste every spice and herb.
I am not fashionable at all.
When I started learning Photoshop for the first time it was only to make my photos look pretty 😛 – to brighten the skin, make up touch effects, whiten the teeth, remove acne, etc. Now Photoshop is my tool to work as designer.

 
As for Meta's digital designs… have you taken a peek at the Calista's Stuff shop here at TDP? It's full of some really amazing things! Her designs are so versatile, and she puts colors together beautifully. She's got a great mix of dimensional elements, gorgeous artsy add-on paints, pocket cards, paper packs with unique patterns, and layered design templates, too. Whatever you're looking for, I'm sure you can find it in her shop.
Here is just a small sampling of the products you'll find in the Calista's Stuff shop here at The Digital Press…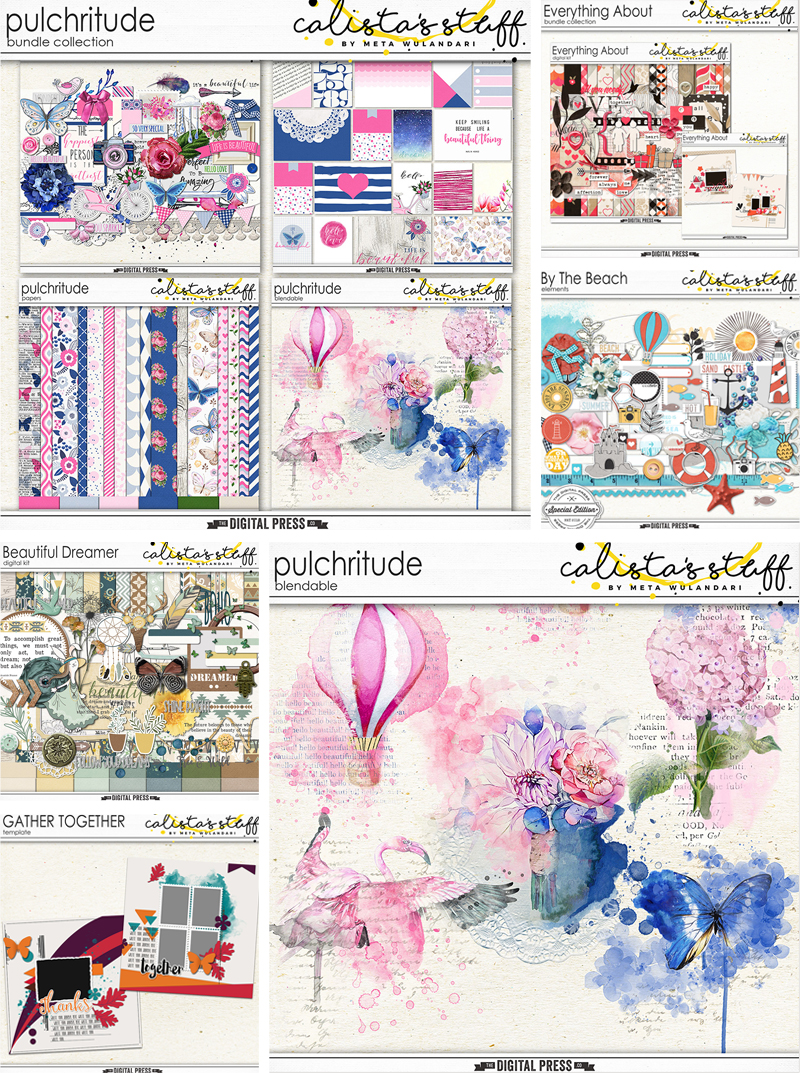 And to give you just a bit more inspiration, here are a few fantastic sample projects using Meta's products…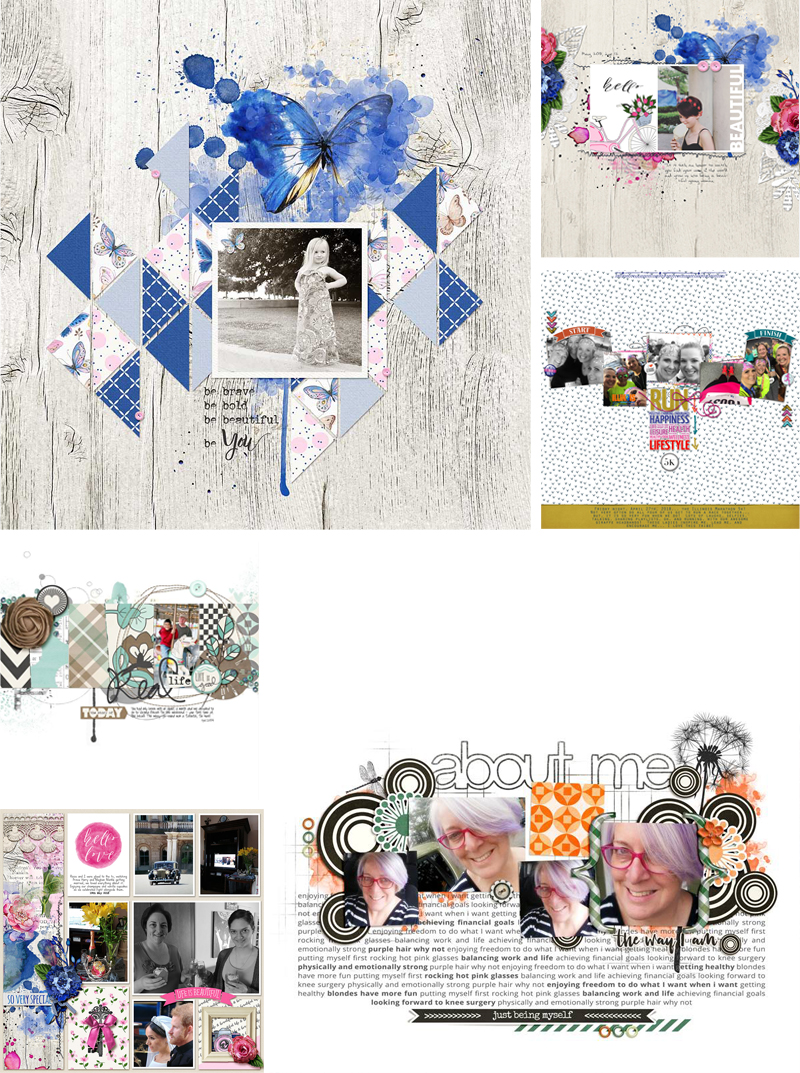 I hope that you've enjoyed learning a little more about Meta of Calista's Stuff today. To celebrate her week as our Featured Designer at The Digital Press, the entire Calista's Stuff store will be 30% OFF all week long (sale will end at 11:59pm ET on Thursday 7/19).
In addition, Meta has a special Free-with-Purchase offer for everyone this week! Don't miss out on this opportunity to stock up on your favorite products from Calista's Stuff… and you can also snag this fantastic bundle — Real Life — for FREE with any $10+ purchase in her shop (offer will be valid through 11:59pm ET on Thursday 7/19).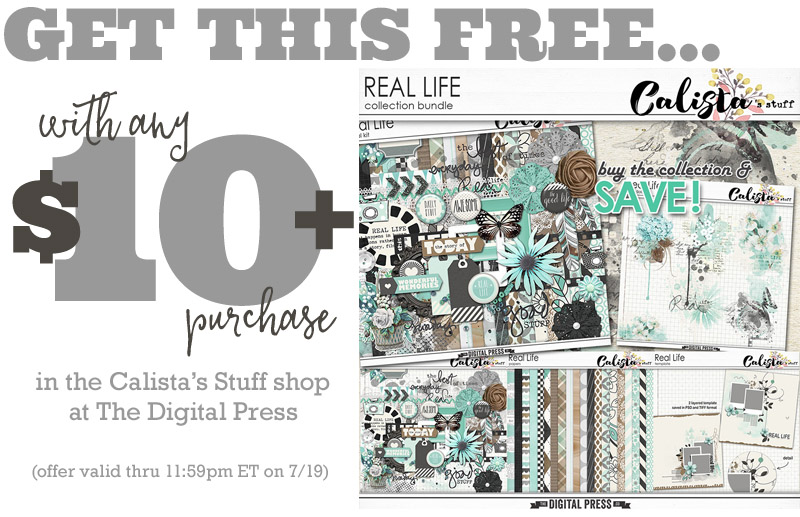 ---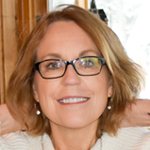 About the Author  Barbara is a member of the creative team here at The Digital Press. She's married, has two awesome kids (a 21 year old son and an 18 year old daughter) as well as a 10 year old adorable Soft Coated Wheaton Terrier pup. You'd think with all these ages posted here about her family she'd tell you her age but NOPE … not gonna happen! 😉 With her "baby" off to college in a couple months and her son already in college, she and her husband are soon to be empty nesters. It is just so weird how quickly time flies! Wasn't it just yesterday she was scrapping pictures of babies and toddlers?! Time flies and each stage of life is good!