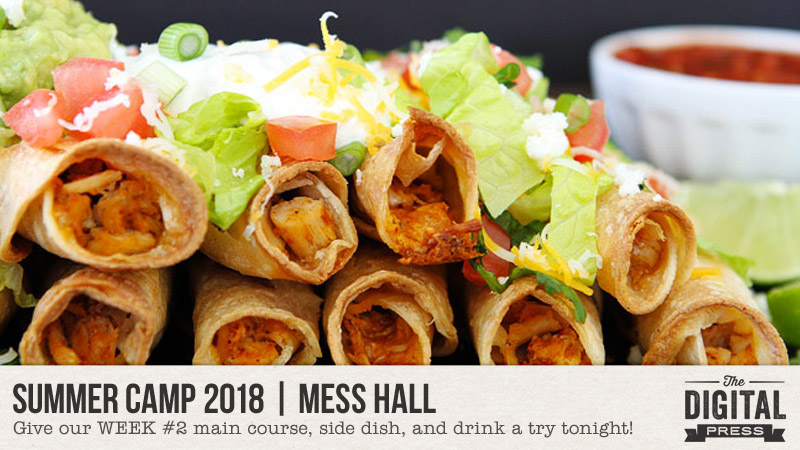 Hey gang! It's week #2 of Summer Camp –how's everyone doing?! Having fun?! I know I am! Well, I'd like to welcome you to Week #2 of Summer Camp's Mess Hall, where we check out a couple of recipes that our team is loving right now. Make sure you check out Week #1 and all of the other challenges going on for TDP's Summer Camp. You can check them all out in THIS FORUM, and be sure to grab a badge tracking card and join in the fun yourself! We've got fun events, challenges, tutorials… and best of all… prizes!
I'm actually really excited to try these. I live in Phoenix, Arizona in the U.S. and Mexican food is super common around here. My husband and I have discovered several restaurants that we like to hit up for some Mexican eats, but now I can try making some myself! TDP's very own Hillary has a couple of recipes that look amazing… and our wonderful designer Kim B is following up with a cool and refreshing beverage to accompany! Try any of these recipes (and show us!) to get your week #2 Mess Hall badge. Take a look at the full details HERE.
Ok ok… let's get to it… my tummy is starting to growl.
For our tasty treats, Hillary has for us authentic Mexican Rice as the side dish and some awesome looking Baked Chicken Taquitos with salsa as the main course. Take a look at these, people… can we say YUM?! I can't wait to try them out. And for a bit of adult fun to top if off, try the cool Cucumber Martini that Kim's got on deck for us. Sounds like summer fun to me!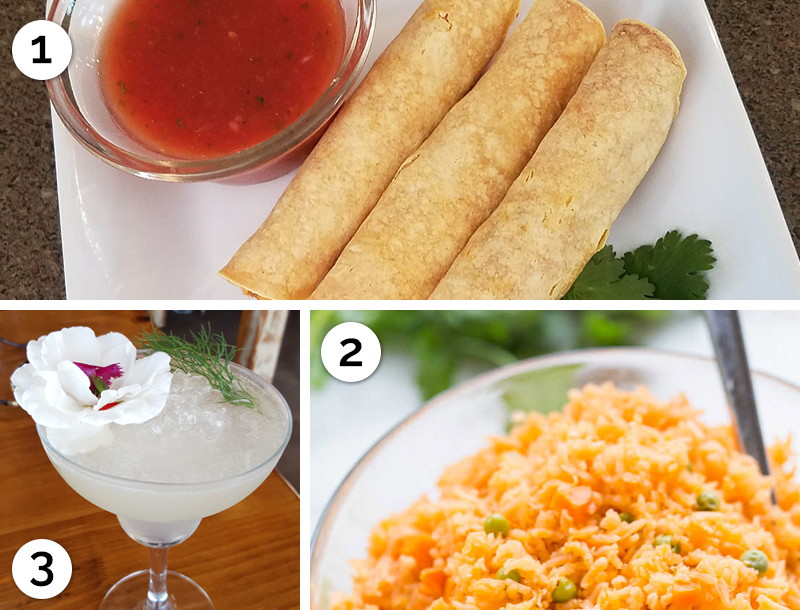 photo credits to [1] TDP Creative Team member Hillary [2] TDP Designer Kim B [3] tastesbetterfromscratch.com
Baked Chicken Taquitos with Salsa
Authentic Mexican Rice
Cucumber Martini
---
BAKED CHICKEN TAQUITOS with SALSA
FOR THE TAQUITOS:
2 cups shredded chicken (we use rotisserie chicken)
1/2 teaspoon ground cumin
1/2 teaspoon ground chili powder
1/2 teaspoon kosher salt
1/4 teaspoon garlic powder
1/4 teaspoon paprika
2 teaspoons fresh lime juice
1 cup shredded cheddar or Mexican blend cheese
20 corn tortillas
FOR THE TOPPINGS:
Shredded lettuce
Diced tomatoes
Guacamole
Sour Cream
Chopped Green Onion
Crumbled Queso Fresco
Salsa (recipe below!)
DIRECTIONS:
Preheat the oven to 425 degrees F. Spray a large baking sheet with nonstick cooking spray and set aside.
In a medium bowl, combine the shredded chicken with the cumin, chili powder, salt, garlic powder, paprika, and fresh lime juice. Stir until chicken is well coated with the seasonings. Stir in the shredded cheese.
Get two paper towels damp and place two tortillas at a time in between the paper towels. Place in the microwave for 20-30 seconds. Remove from the microwave and roll up the taquitos.
Place a heaping tablespoon of the chicken and cheese mixture in the center of the tortilla and roll it up tightly. Place the taquito, seam side down on the prepared baking sheet. Continue rolling taquitos until the tortillas and filling are gone. You should have about 20 taquitos.
Spray the taquitos generously with nonstick cooking spray. Bake for 15-20 minutes or until taquitos are golden brown and crispy. Remove from the oven and serve warm with desired toppings.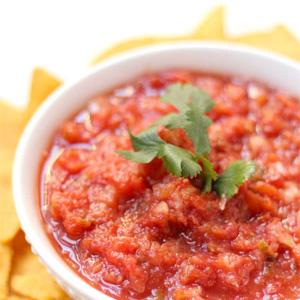 FOR THE SALSA:
2 cans (14.5 oz each) whole or diced tomatoes, drained
1 TBSP (to taste) canned diced jalapeños (not pickled)
1/4 – 1/2 yellow onion (to taste)
1 teaspoon garlic salt
1/2 teaspoon salt
1/2 teaspoon cumin
1/2 teaspoon sugar
2 teaspoons lime juice (to taste)
DIRECTIONS:
Place all of the ingredients together into a food processor or blender and puree until smooth. Serve with tortilla chips.
TIP: Hillary told me that while the original recipe calls for all of those colorful toppings (guac, sour cream, etc.) that she thinks all of that covered up the yummy flavor of the taquitos too much, so she prefers them without.
Recipe photo credits to tastesbetterfromscratch.com
---
AUTHENTIC MEXICAN RICE
INGREDIENTS:
1 1/2 cups long grain white rice
1/4 cup oil
1 teaspoon garlic , minced
1/4 medium onion , finely diced
1/4 cup tomato sauce , or 2 pureed tomatoes
2 tomato bouillon cubes , chopped (these can be found in the Mexican food aisle at Walmart or your local grocery store)
1/4 teaspoon salt
1 carrot , diced (optional)
1/2 cup peas (optional)
3 1/4 cup water
3-4 whole serrano peppers (optional, but do add flavor, not heat)
DIRECTIONS:
Rinse and drain the rice in a fine mesh strainer.
In a large saucepan over medium-high heat, add the oil. Add the rice and stir to combine. Cook over medium heat, stirring frequently, until the rice is lightly golden brown all over (about 10 minutes).
Add tomato sauce, garlic, and diced onion to the pan. Stir. Add the tomato bullion cubes, salt, carrots, peas, and water (and serrano peppers, if using. They add a little flavor, but not spice.).
Cook, stirring, until bullion cubes are completely dissolved. Bring to a boil, then cover, reduce heat to low and cook for about 20 minutes or until the water is completely absorbed. Remove from heat and allow to rest for 5 minutes before fluffing with a fork.
Recipe photo credits to tastesbetterfromscratch.com
---
CUCUMBER MARTINI
INGREDIENTS:
4 thick slices of cucumber(about 1/4 English Cucumber) + 1 thin slice for garnish
3 oz Vodka (+/- 90ml)
1 oz triple sec (+/- 30ml)
1/2 Lime freshly squeezed
1 Cup Ice
VARIATIONS:
Add a splash of simple sugar syrup if you like it sweeter
Add 4 Basil or 4 Mint leaves to shaker for a tasty twist.
Replace Vodka with Gin
DIRECTIONS:
In a martini shaker, add the cucumber chunks. Muddle with a wooden spoon or muddler (or crush as you wish) to bring out their flavor and juices, then add in the vodka, triple sec, lime juice and ice.
Put the top on the cocktail shaker. Shake and shake(and I mean shake- lol). Shake for at least 30 seconds – you want to 'BLEND' the ingredients and flavors together and melt some of that ice.
Strain the mixture into a martini glass(usually lid has strainer). Add the remaining 1 thin slice of fresh cucumber(un-muddled) to the glass or cocktail, and serve immediately.
Decorate with mint leaves, edible flowers, sprig of dill or as you want.
Recipe photo credits to Kim B.
So there it is people — give these tasty looking recipes a try and earn your WEEK #2 MESS HALL BADGE for the 2018 TDP Summer Camp!  I'm off to the kitchen!
---

About the Author  Shannon has been completely addicted to digiscrapping since she began in early 2016 (though she's been a scrapper since 2000). Her early morning ritual of a few quiet hours of scrapping while sipping a chai tea is her favorite part of each day. She is also the owner of a web design company, and when she's not at the computer designing websites or digiscrap layouts, she's probably hiking one of the local mountains in her hometown of Phoenix, Arizona. She is an avid reader and loves to travel to foreign countries.