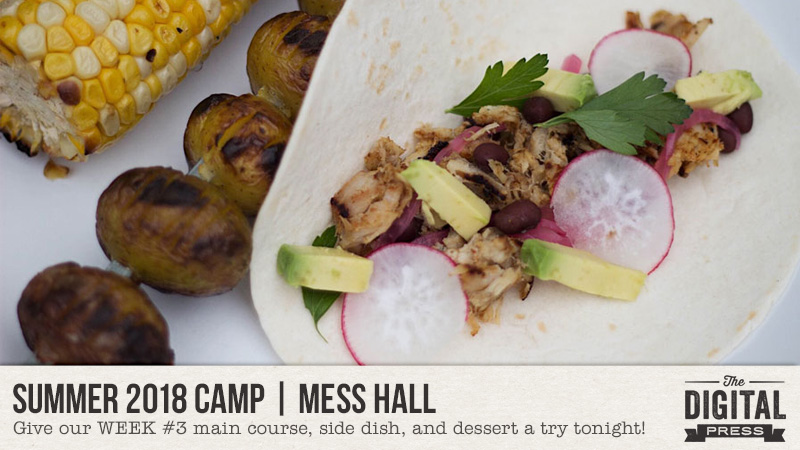 Hi y'all! Can you believe it's already Week #3 of our Summer Camp here at TDP? July is just flying by! If you haven't already checked out our lineup of activities for SUMMER CAMP 2018… definitely swing through the forum, grab yourself a badge tracking card and join the fun! We've got events, challenges, tutorials, and more lined up throughout the month of July!
With a new week comes an all-new edition of our Mess Hall series… and I'm here to share with you some delicious recipes from Amie of Little Lamm Paper Co.
When I asked Amie, who lives in Fargo, North Dakota, about her three favorite summer recipes… she replied, "It's hot and yucky in Fargo in July, and I am all about meals that don't heat up the house!" As such. she has a great (summer-friendly) main dish, side dish, and dessert to share with us this week!
Here is a look at Amie's dishes…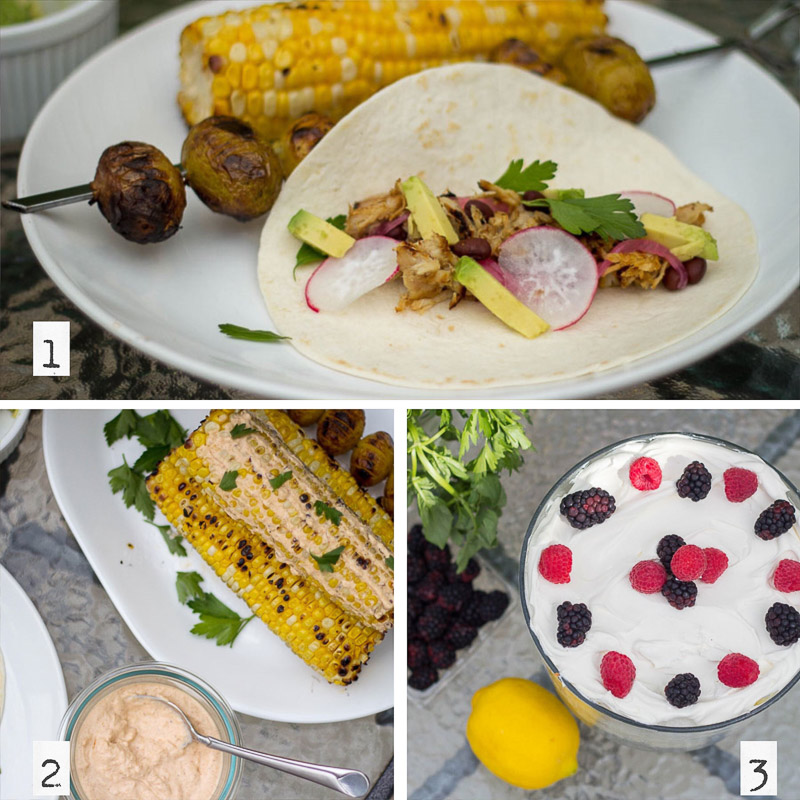 What's that yumminess you see up there?
Slow-Cooker Pork Carnitas
Mexican Grilled Corn
Lemon Berry Trifle
---
 SLOW-COOKER PORK CARNITAS
Amie says she loves these carnitas because you can freeze batches to use for future meals. And since her family doesn't have taco trucks on every corner here, she needs to make her own. Luckily, it's super easy!
INGRIEDIENTS NEEDED
1 (3- to 3 1/2-pound) boneless pork butt roast, lightly trimmed and cut into 2-inch chunks
1 small onion, peeled and halved
3 (2-inch) strips orange zest plus 1/2 cup juice
3 (2-inch) strips lime zest plus 2 tablespoons juice
5 garlic cloves, minced
1 Tbsp ground cumin
1 Tbsp dried oregano
Salt and pepper
2 bay leaves
2 Tbsp vegetable oil
INSTRUCTIONS
Combine pork, onion, orange zest and juice, lime zest and juice, garlic, cumin, oregano, 2 1/2 teaspoons salt, 1 1/2 teaspoons pepper, and bay leaves in slow cooker. Cover and cook until fork slips easily in and out of pork, 5 to 7 hours on high or 8 to 10 hours on low
Using slotted spoon, transfer pork from slow cooker to large bowl. Using potato masher, smash pork until coarsely shredded. Strain cooking liquid from slow cooker through fine-mesh strainer set over separate bowl and discard solid.
Heat oil in 12-inch nonstick skillet over medium-high heat until shimmering. Add pork to skillet. Whisk cooking liquid to recombine, then add 1 cup to skillet with pork. Cook, stirring occasionally, until liquid has evaporated and pork is evenly browned and crispy in spots, 10 to 15 minutes.
Season with salt and pepper to taste. Transfer pork to serving platter and moisten with 1/4 cup remaining cooking liquid, or more as needed. Serve.
She likes to serve with lime wedges, sliced radishes, avocado, black beans, pickled red onions and her favorite tomatillo salsa.
---
MEXICAN GRILLED CORN
When describing this recipe, Amie stated, "I take advantage of the grill as much as possible in the summer months. Especially to get a char on vegetables. My 6 year old loves almost any veggie if it's roasted. But it's too hot outside to use the oven, so onto the grill it goes!"
INGRIEDIENTS NEEDED
Vegetable oil for cooking grate
1/4c. mayonnaise
3 Tbsp chopped cilantro or parsley
3 Tbsp sour cream
1 medium garlic glove minced or pressed
3/4 tsp chili powder
1/4 tsp ground black pepper
1/4 tsp caynnne pepper
4 tsp fresh lime juice
1 oz grated pecorino Romano
4 tsp vegetable oil
1/2 tsp kosher salt
6 large ears of corn
INSTRUCTIONS
Turn all grill burners to high and heat grill with lid down until very hot, about 15 minutes. Scrape grate clean with grill brush. Dip wad of paper towels in vegetable oil; holding wad with tongs, wipe cooking grate.
While grill is heating, combine mayonnaise, sour cream, cilantro, garlic, ¼ teaspoon chili powder, black pepper, cayenne (if using), lime juice, and cheese in large bowl; set aside. In second large bowl, combine oil, salt, and remaining ½ teaspoon chili powder; add corn and toss until coated evenly.
Leave burners on high and cook corn with lid down, turning corn occasionally, until lightly charred on all sides, 7 to 12 minutes total. Remove from grill and place in bowl with mayonnaise mixture; toss to coat evenly. Serve immediately.
---
LEMON BERRY TRIFLE
Of course we need a no-bake dessert… and this one is so simple! If you don't have a trifle dish, you can just use a large bowl. Amie has even seen it done in a lasagna pan before (just with less layers).
INGRIEDIENTS NEEDED
1 – 9×5 inch pound cake (lemon, if available)
2 – 16oz containers of cool whip (or you can use real whipped cream)
1 – 8 oz block cream cheese (softened)
1/2 tsp vanilla extract
1 cup lemon curd
5-6 cups fresh berries, blueberries, raspberries, blackberries, etc.
INSTRUCTIONS
Slice the pound cake into 9 different 1-inch slices. Cut into bite-sized cubes. Set aside.
Make the lemon cheesecake layer: In a large bowl using a hand mixer or stand mixer fitted with a paddle or whisk attachment, beat the cream cheese on medium-high speed until creamy. Add the vanilla extract and lemon curd and beat on medium-high speed until combined. Lastly, beat in half of whipped cream (about 2 cups). Cover and store the remaining whipped cream in the refrigerator.
Assemble: This trifle has 3 layers of pound cake, 3 layers of berries, and 2 layers of the lemon cheesecake mixture. Begin with a base of lemon pound cake cubes. Top with an even layer of fresh berries, then half of the lemon cheesecake mixture. Repeat. Finish with final layer of lemon pound cake cubes followed by a final layer of berries. Spread or pipe remaining whipped cream on top of the trifle.
Refrigerate for at least 2 hours and up to 6 hours. You can refrigerate uncovered for 2-4 hours, but I recommend loosely covering if storing longer than that. The time in the refrigerator gives the flavors a chance to settle and allows the pound cake to soak up some of the lemon cheesecake mixture.
Garnish with extra berries and/or lemon slices and serve cold. Cover and store any leftovers in the refrigerator for up to 2-3 days.
My stomach is growling just reading these recipes! So go give these tasty looking recipes a try and earn your WEEK #3 MESS HALL BADGE for the 2018 TDP Summer Camp! Your stomach will thank you!
---

About the author  Robin is a member of the creative team here at The Digital Press. A wife of 25 years and a mom of 4 crazy children (3 in college and 1 still at home), she says that her life occurs mostly in the car as she transports said crazy kids to their many, many homeschool activities. When not driving, Robin loves to make her family cringe by pulling out her camera again (and again, and again…).