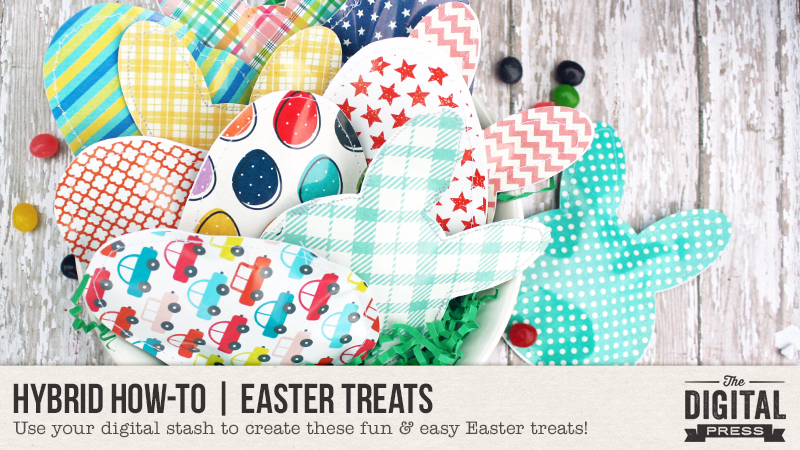 Hello everyone! It's Tanya here, and I'm excited to share another edition of Hybrid How-To with you here on The Digital Press blog! With Easter just around the corner, I thought I'd show you how to use your digital papers and or elements to create some really fun Easter treats.
This is a great project because you can truly use just about any of your favorite digital products to create these treats. I used soft papers for the girls' Easter bunny and brighter colors for the boys' Easter egg.
SUPPLIES NEEDED:
Your favorite digital scrapbooking products
White photo paper
Printer (or, you can also have it printed at any copy shop)
Jelly beans, M&M's, or any other small candies
Scissors
Stapler or sewing machine
Here is a quick look at the kits I used for my treats…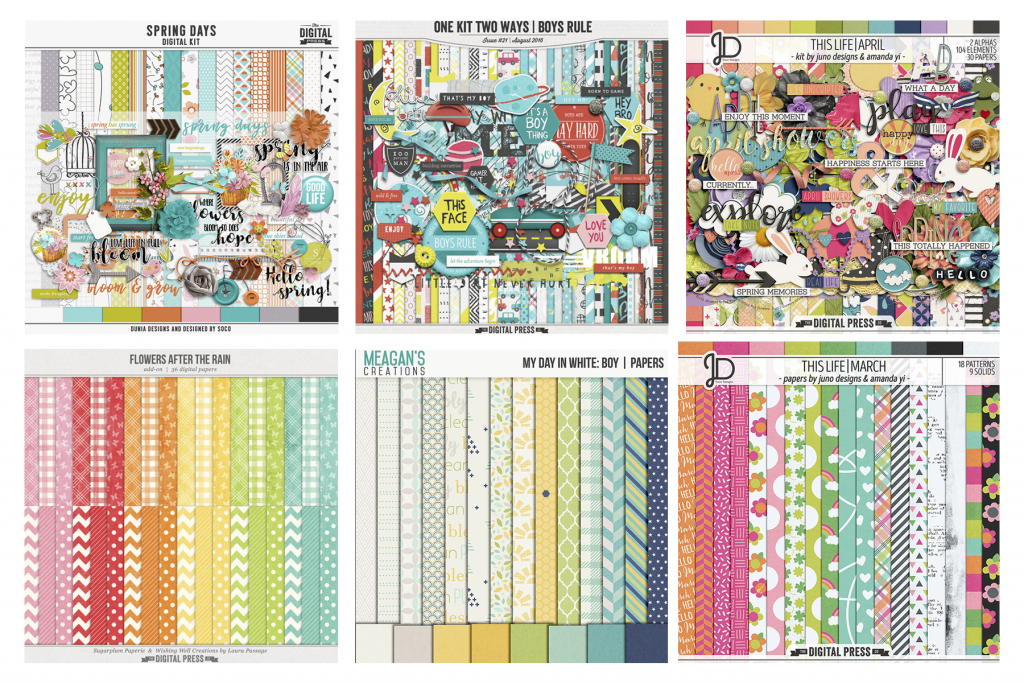 For this project, I used my Silhouette Studio Business Edition software. You can use any photo editing software, however. The first step is to draw out your Easter bunny head and your Easter Egg. To do this I used the draw tools to the right of the work space. You can also find similar patterns by googling "outline Easter egg shape" or "outline Easter bunny head"…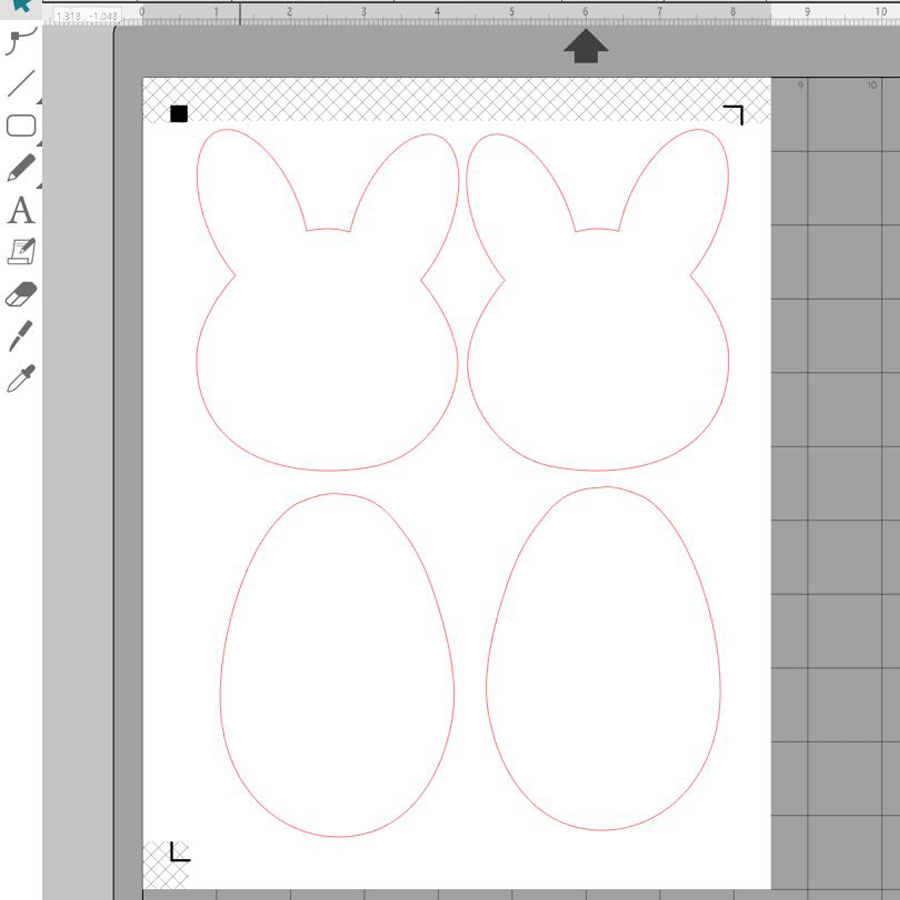 Open the paint palette on the right side of the page, and then choose the little box with the polka dots to open your patterned papers. To fill the pattern, click on the bunny or egg image and then click on the paper you want…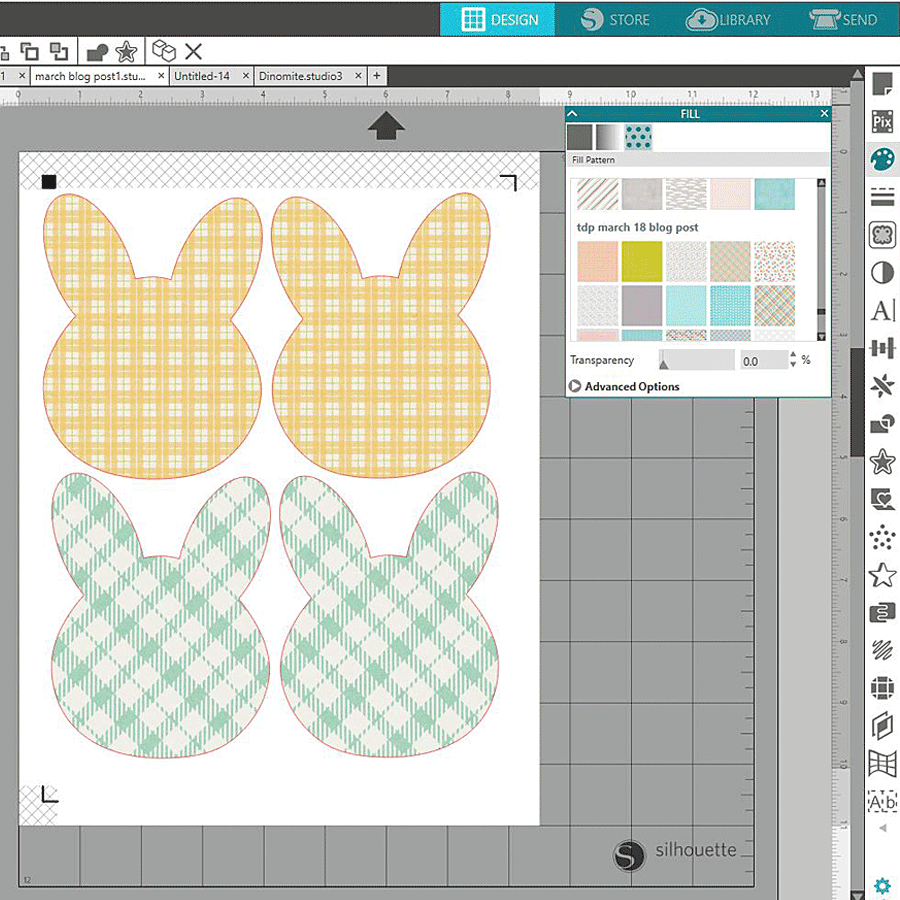 Page Setup  —  I usually do this step first thing; it's just habit now. But if you haven't already turned on your registration marks (if you are choosing to cut with your Silhouette machine), you will need to do that now. Open the Page Setup menu and choose the third icon (see screenshot, below). Next, choose the machine you are using and then slide the Inset all the way to the left. This gives you the most work space for cutting as possible…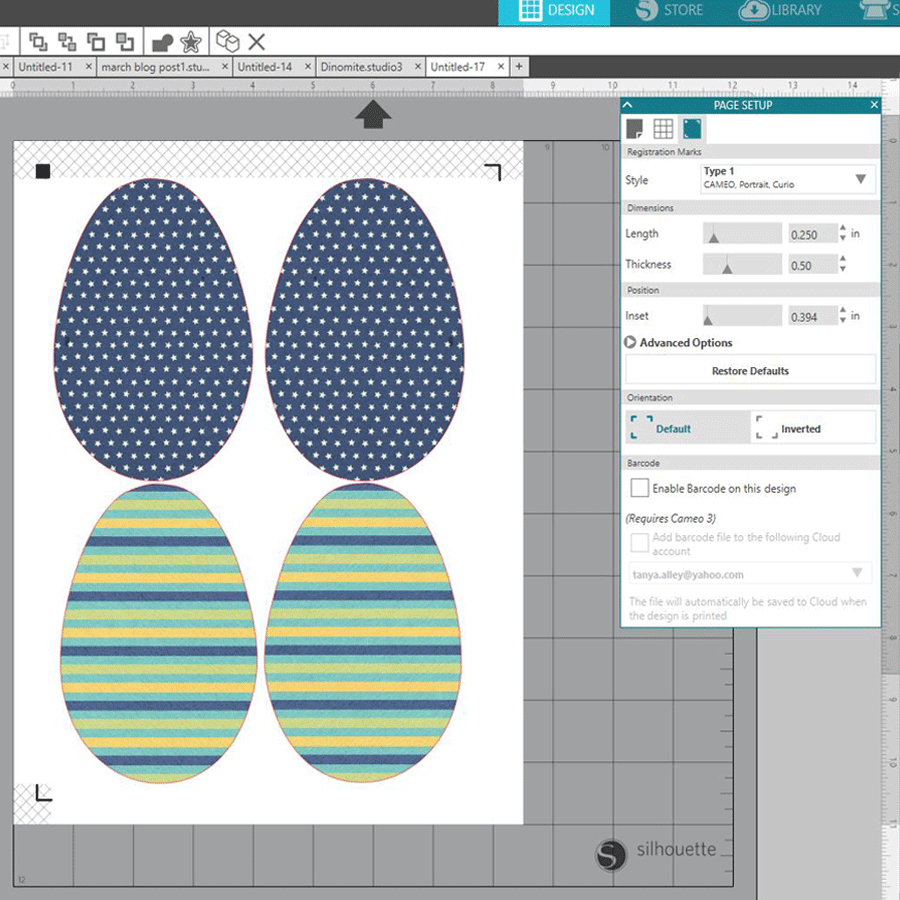 If you choose to send the pages through your printer, you will want to make sure that your cut lines are turned on. To do this go into the SEND menu, and if it doesn't show up with red cut lines on, you will need to highlight everything and choose the cut edge option (this will turn on the cut lines)….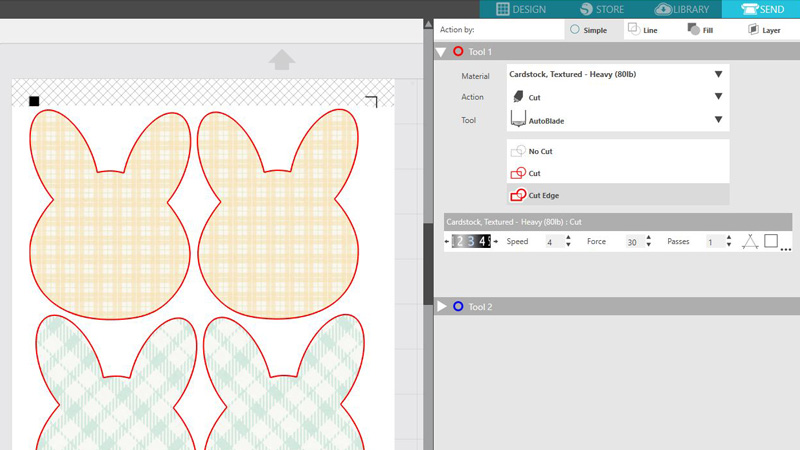 You are now ready to move on to the next step, which is to print it out. Once you print it, you can either use a pair of scissors and hand cut it… or… use your cutting machine to cut them out. Honestly, it is probably just as fast for a simple project like this to just cut them out by hand… 😉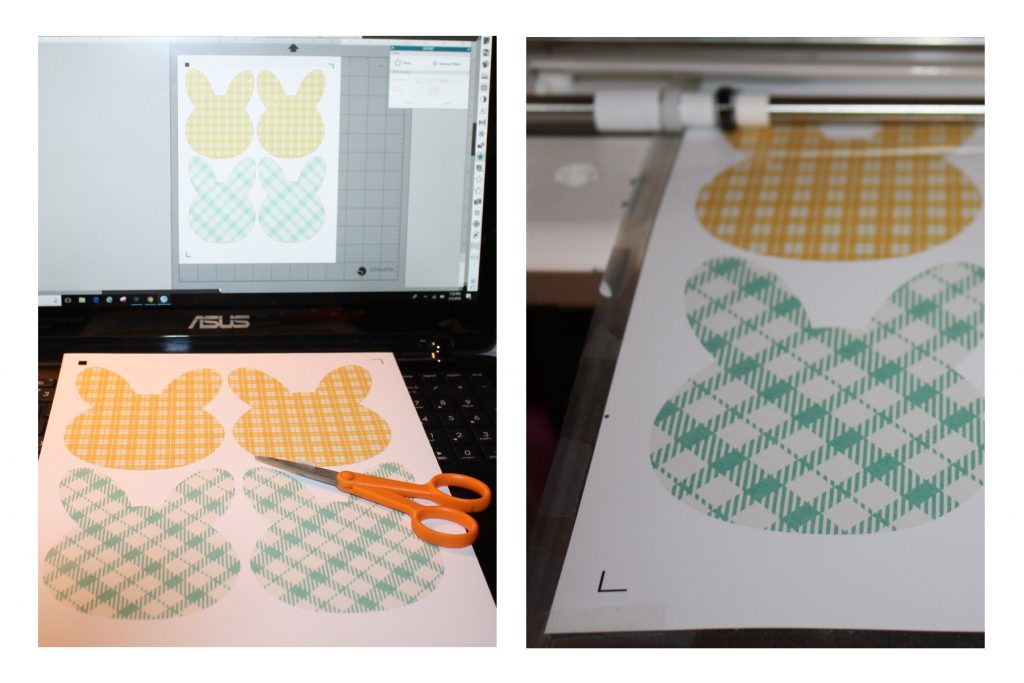 Next, you will take two of the same-shaped pieces and put them back to back. Make sure that the printed sides are facing outward. You can either staple them all the way around… or… sew them together. Either way, make sure to leave a small space to fill the pouches with your candy of choice.
For myself, I love the stitched look and have a sewing machine just for hybrid projects. This was my first time using it… and about halfway through closing the little opening for the candy, it stopped working. UGH! …it's always something, isn't it?! 😉 I guess this means I will have to watch the "How-To" disk the sewing maching came with.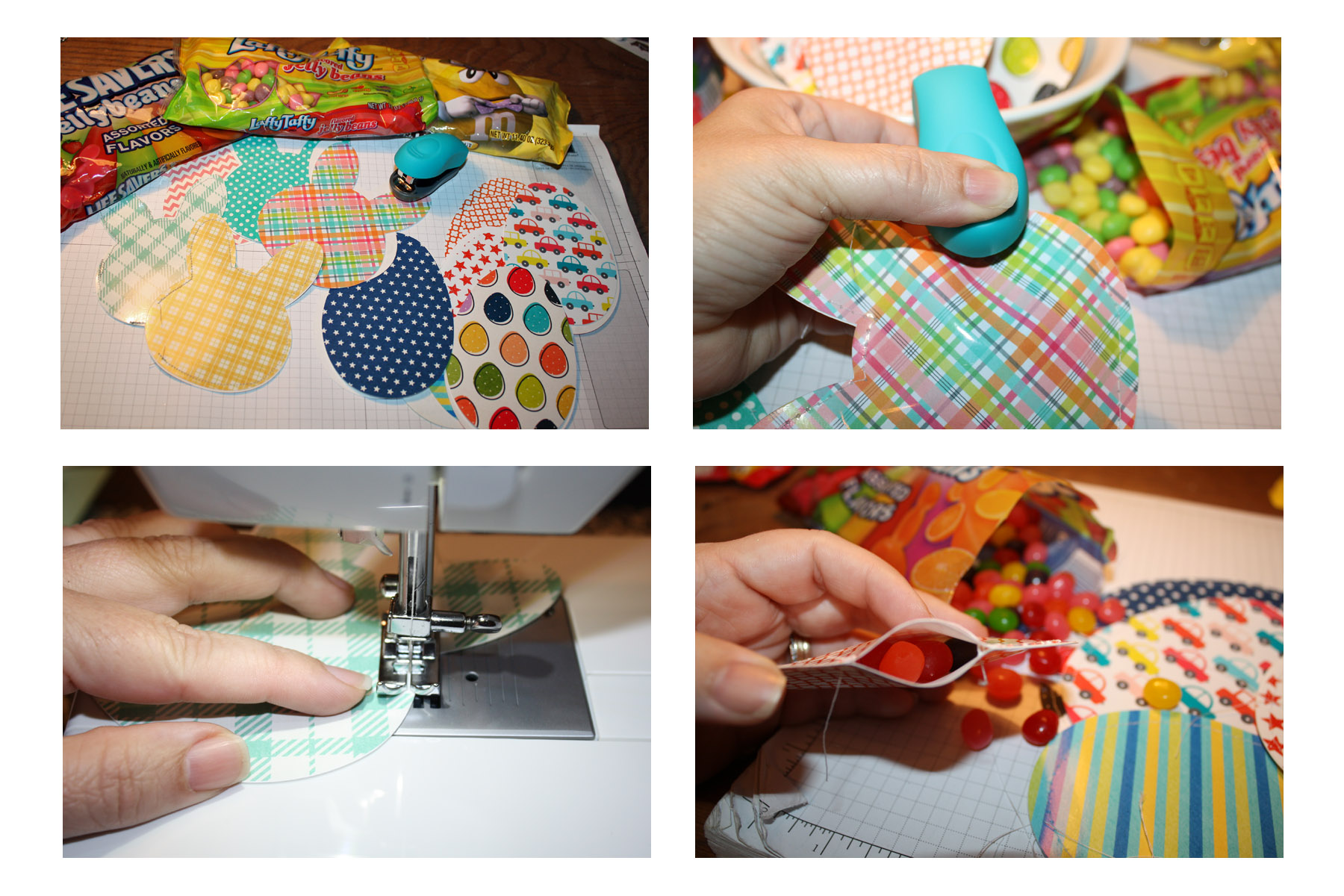 Here's a look at one finished egg and one finished bunny. Aren't these just the cutest things? You can make them for your co-workers, your child's Easter parties, etc.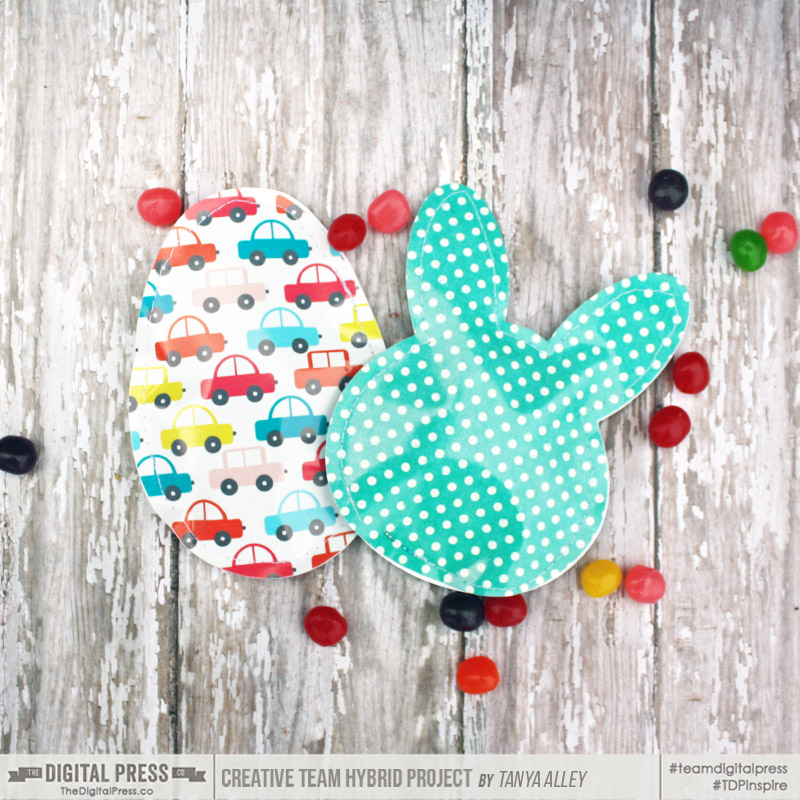 You could even make a bunch and display them together (as shown here) and use them as party favors, etc…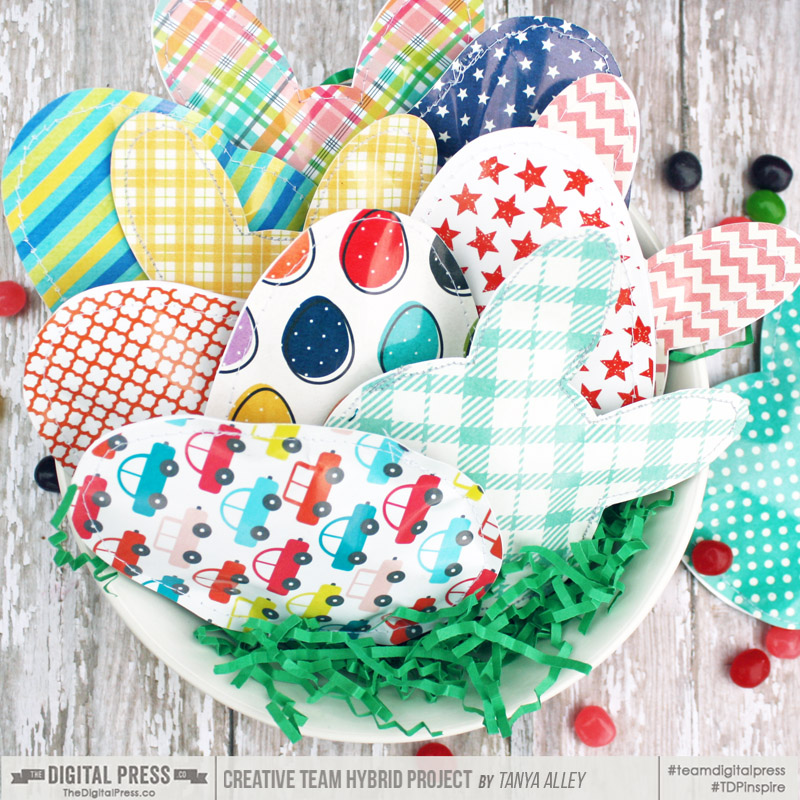 I hope that you have enjoyed this edition of Hybrid How-To, and that you will give this easy project a try (and/or come up with a shape of your own for these Easter treats!).
If you're participating in The Digital Press's challenge system for March 2018, don't forget to visit the CROSSWORD SECTION in TDP's forum to get the details about this month's Hybrid Challenge — because you can earn challenge points if you give this project a try (you can earn points toward discounts & FREEBIES)! I hope that you will join in!
---

About the Author  Tanya is a part of the hybrid team here at The Digital Press. She has been hybrid crafting for at least 15 years now, and loves creating and sharing those creations with others. Her all-time favorite tool is her Silhouette Cameo. She has been married for 29 years to her high school sweetheart, Richard and has two sons: Chris, 26 and Chance, 22. She also enjoys crocheting, photography and woodworking.