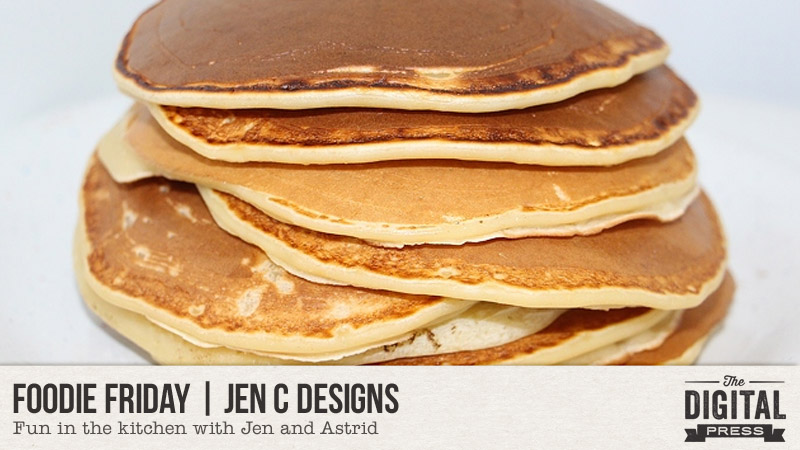 Hello everyone, and welcome to another edition of our Foodie Friday series here on The Digital Press blog!
Foodie Friday is our newest blog series… based on the amazing response we had to the "Mess Hall" activities during TDP's Summer Camp back in July. As such, most every Friday throughout the rest of the year, we will be combining this fun feature with our weekly designer feature series — and having some fun in the kitchen with members of our team! Each week you will get to peek into the lives (and kitchens) of your favorite TDP designers and creative team members.
This week, you get to join Jen Cairns from Jen C Designs and TDP creative team member Astrid in the kitchen, where we're cooking up a few delicious autumn-inspired recipes from Jen's recipe books!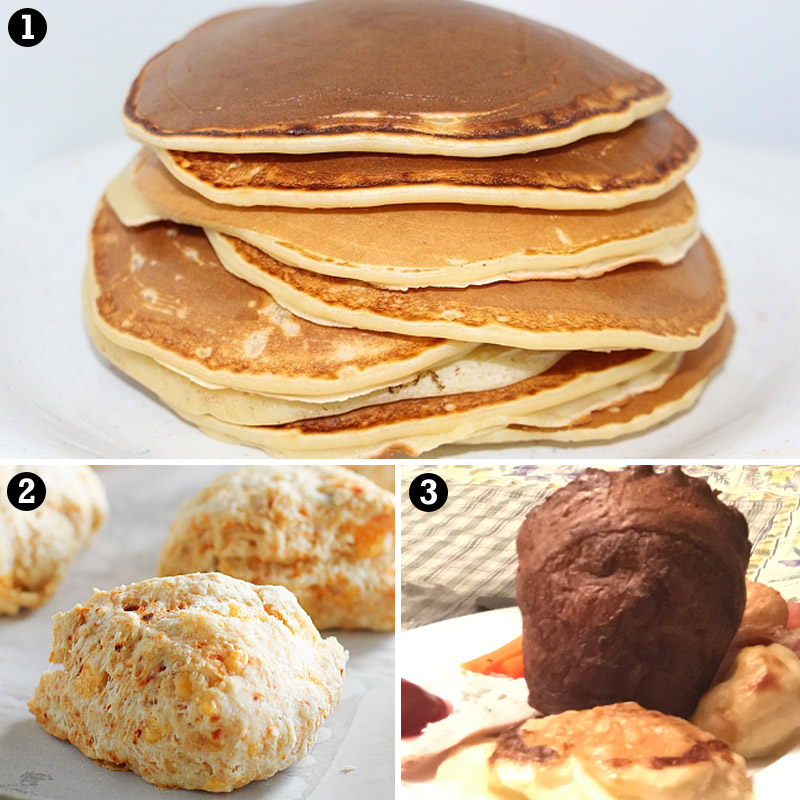 [ photo credits to Jen Cairns and 
tasteandtellblog.com (scones) ]
Here is the lineup of delicious recipes Jen put together this week (shown above):
Pancakes
Cheddar Biscuits
Yorkshire Puddings
---
Pancakes
About this recipe, Jen says… "they're really simple and my kids love them! My 7 year old now makes her own pancakes!"
INGREDIENTS NEEDED*
—1 cup self rising flour
—1 cup milk
—1/4 cup white sugar
—1 egg
INSTRUCTIONS
—Combine all ingredients in a bowl and mix together.
—Heat a pan and melt some butter in the pan; pour desired amount of batter into the pan (depending on the size pancake you want to make).
—Wait until bubbles form across the top of the pancake, and then flip over. Let cook for another 2-3 minutes.
—Serve with topping of choice; we use syrup (and/or more sugar on top for extra sweetness!).
*makes 2 large or 4 small pancakes
---
Cheddar Scones
INGREDIENTS NEEDED
—200g self-raising flour (plus a little more for dusting)
—50g butter (chilled)
—75g grated cheese (plus extra for topping; optional)
—150ml milk
INSTRUCTIONS
—Preheat oven to 220 C (about 425 F)
—Place the flour in a large bowl, and then grate in the butter.
—Stir in the cheese, then the milk. If it feels like it might be too dry, add a touch more milk… then bring together to make a soft dough.
—Lightly dust your work surface with a little flour. Roll out the dough no thinner than 2cm. Using a 4cm plain cutter, cut out the scones.
—Transfer to a non-stick baking sheet, dust with a little more flour (and/or grated cheese topping), and then bake for 12-15 mins until well-risen and golden.
---
Yorkshire Puddings
INGREDIENTS NEEDED
—140g plain flour (this is about 200ml/7 oz)
—4 eggs
—200ml milk
—sunflower oil
INSTRUCTIONS
—Preheat oven to 230 C (about 450 F).
—Drizzle approx 1-2 TBSP sunflower oil evenly into 2 x 4-hole Yorkshire pudding tins or a 12-hole non-stick muffin tin and place in the oven to heat through.
—To make the batter, add 140g plain flour into a bowl and beat in four eggs until smooth.
—Gradually add 200ml milk and carry on beating until the mix is completely lump-free. Season with salt and pepper.
—Pour the batter into a jug, then remove the hot tins from the oven. Carefully and evenly pour the batter into the holes.
—Place the tins back in the oven and leave undisturbed for 20-25 mins until the puddings have puffed up and browned. Serve immediately with lots of gravy!
---
Here's a fun photo Jen provided of her two kids eating the Yorkshire Puddings (left) and pancakes (right)… two of their favorites!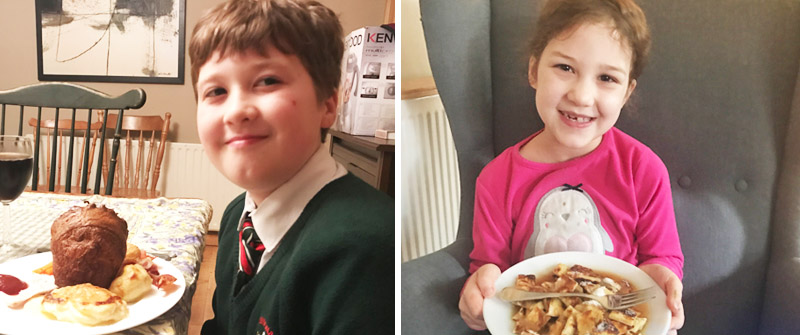 Doesn't that all look delicious?!
If you're up for a challenge… come to the forum and check out the latest edition of our Recipe Book challenge, which launched this month and is designed to help you create a quick-&-simple book of your favorite recipes — get this — in time to print it up and give it to friends and family members as a holiday gift later this year(!). Sound like fun? Come check it out HERE.
Meanwhile, it wouldn't be a designer feature week without a fantastic sale and a special Free-with-Purchase offer… so you'll be excited to see what Jen has in store for you! Not only is her entire shop marked down 30% OFF throughout her entire feature week (sale prices will be valid through 11:59pm ET on Thurs 10/26)… but she also has this awesome deal in her shop all week long, as well! Spend $5+ in the Jen C Designs, and get the following BRAND NEW template set that just launched in her shop today — completely FREE!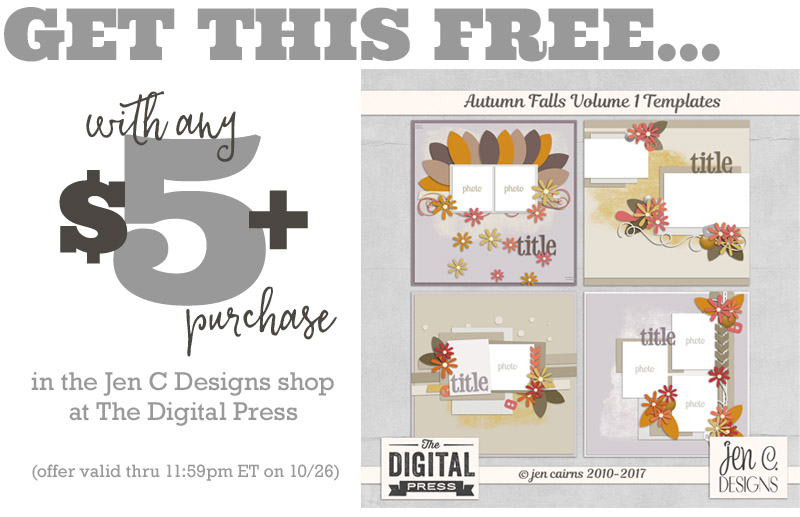 ---

About the author Astrid is a member of the creative team here at The Digital Press. She lives with her husbandand her 2 teenage/adult kids in Germany. As a mini-jobber with only 10 hours/week, she has plenty of time for her digital scrapbooking hobby. She has Netflix and Amazon Prime, and is addicted to nearly all series. Vampires, zombies, vikings… it doesn't matter; she likes everything. She loves the ocean and the summer heat, but lives in the opposite: mountains. Therefore, she loves visiting her family in Algeria or the south of France.