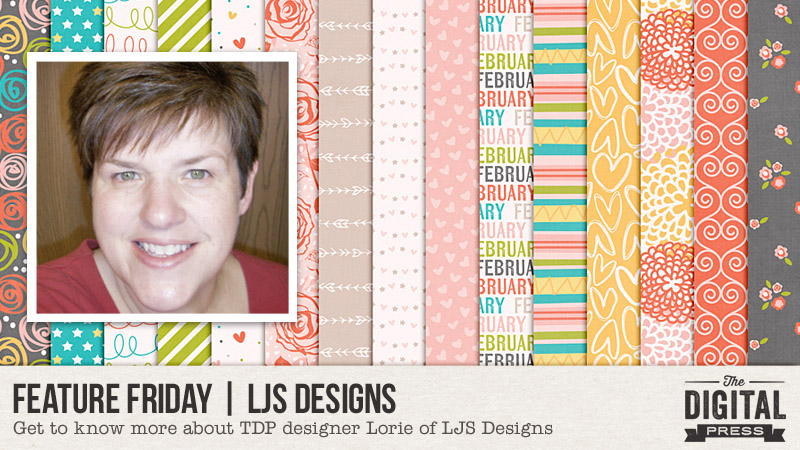 Happy Friday, everyone! It's time for another edition of our Feature Friday series… this time, starring the wonderful Lorie of LJS Designs. Lorie is a single mother (to a 25 year old son), and she has been designing for about 3-1/2 years now. By day, she works for an international fruit company as a production planning supervisor, and she loves coming to her home office where she can be artistic and creative in peace and quiet.
This is Lorie's second feature here at TDP (you can find her first feature article from September 2016 HERE)… and whereas last year we used our feature series to help you get to know some fun trivia about your favorite designers — this year, we're going to use our designer feature series to give you a little peek into our designers' creative spaces, and more insight into their creative processes.
With that in mind, here's a peek at Lorie's creative space…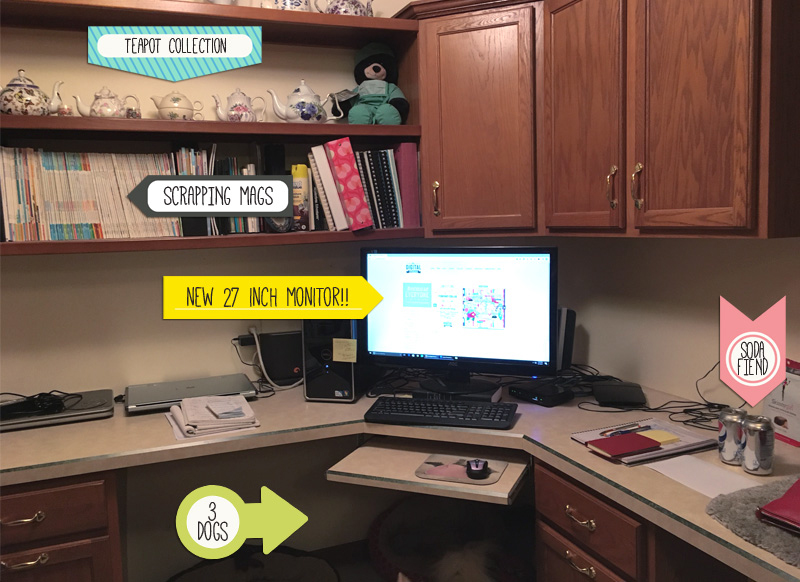 When talking about her work space, Lorie said, "my work space is located in my basement in my home office/laundry room.  I love the combination for three reasons: (1) my laundry is always caught up… (2) in the past, the noise from the washer and dryer would drown out any noise from my son or the TV or the dogs, or most anything else… and (3) it is always warm! For someone who is always cold, those warm comfy spots are really important."
Additionally, we also asked Lorie to share with us a Top 5 list that is representative of herself at this point in her life… and as a huge Disney fan, she decided to share her Top 5 Favorite Disney Characters (she recently celebrated her 50th Birthday at Disney World, and as you can see she had a lot of fun)…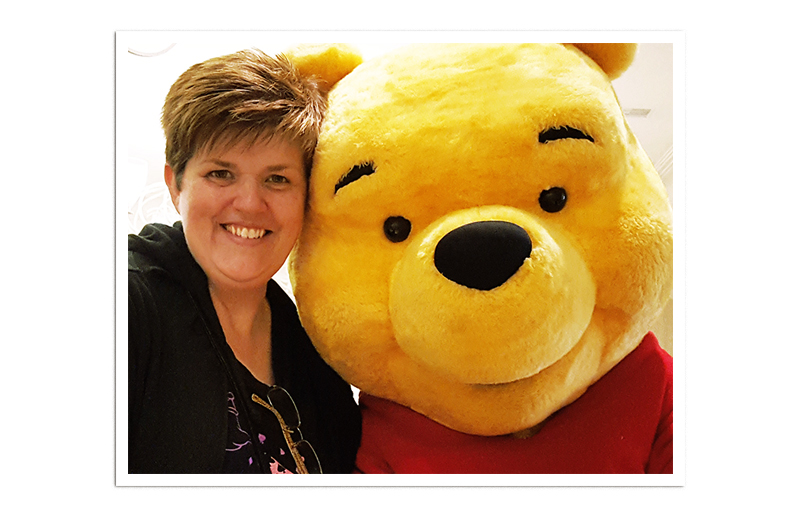 Lorie's Top 5 Favorite Disney Characters…
Belle from Beauty and The Beast. I love to read and am often lost in a book, so I totally relate to Belle. I appreciate her sense of self, that she is not afraid to be different, and that she is a dreamer. But what what makes her my favorite is her ability to see with her heart, and not just her eyes. In a world that too often judges a book by its cover, I appreciate that Belle reads each line of every page until she understands the whole story. It's also really cool that it is Belle's ability to see beyond the Beast's exterior and love him for who he is, that saves him, which kinda makes her the hero in the end. I love tough chicks!
Rolly from 101 Dalmatians. Rolly was the chubby puppy in 101 Dalmatians who was always hungry — which I can also relate to — but that is not the reason I love him. I love him because when my son was little he used to imitate Rolly's big line in the movie when he was ready for supper… telling me, "but Mama, I'm hungry. I'm really hungry." It always made me smile then, and the memory still makes me smile now.
Captain America. Now, I know he is not the traditional Disney character… but he is part of Disney, and he is my superhero super crush (and thus, he made the list!). It helps that Chris Evans is a total hottie, but really I love Cap because of his old fashioned values, his sense of honor, and his unwavering loyalty to his country and friends. In Winter Soldier when he tells Bucky (who is beating the tar out of him at the time), "Then finish it. 'Cause I'm with you 'til the end of the line…" I want to swoon. Seriously, I don't care how old he is, I'd date him.
Winnie the Pooh. I have to say that for a bear full of fluff and hunny, who is a terrible speller like I am, Pooh is really rather smart in all the ways that matter. He appreciates good food, good friends, and good times… and is not afraid to talk about the important stuff. One of my favorite quotes comes from Pooh: "If there ever comes a day when we can't be together, keep me in your heart, I'll stay there forever." He's got a place in my heart for sure.
 Mickey Mouse. If you're a Disney fan, then you gotta love the mouse that started it all, right? Everything about Mickey is great, but I think I like his giggle best. As a giggler myself, I can totally appreciate the joy behind it. Disney and Mickey are magic to me. They allow me to let go of the serious side that usually rules my personality and embrace my inner child. I did a lot of giggling on my recent birthday trip, and felt like I was turning five, not fifty. It was a wonderful gift. Did I mention that Mickey sang Happy Birthday to me? It was awesome!
Just like her personality — Lorie's designs are always full of color! Also, they contain a wealth of elements — many of which are hand-drawn and distinctly her own! She is especially talented at putting together themed kits. She also makes some wonderful blocked template sets, as well, which are perfect for pocket scrapbookers (and also for those of us who simply have too many photos!). 😉
If you haven't ever had a chance to do so… you will love looking through the LJS Designs at The Digital Press! Here's a peek at just a fews of my favorite products…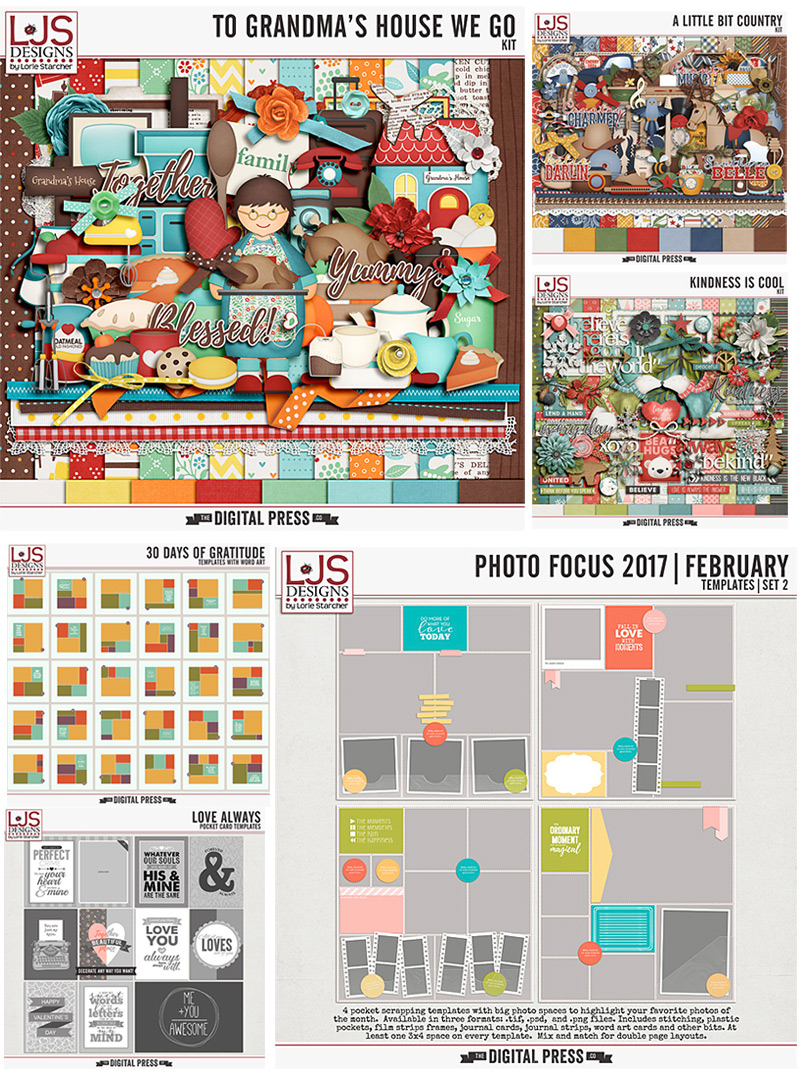 Additionally, here are some layouts that were created using some of Lorie's fun product offerings…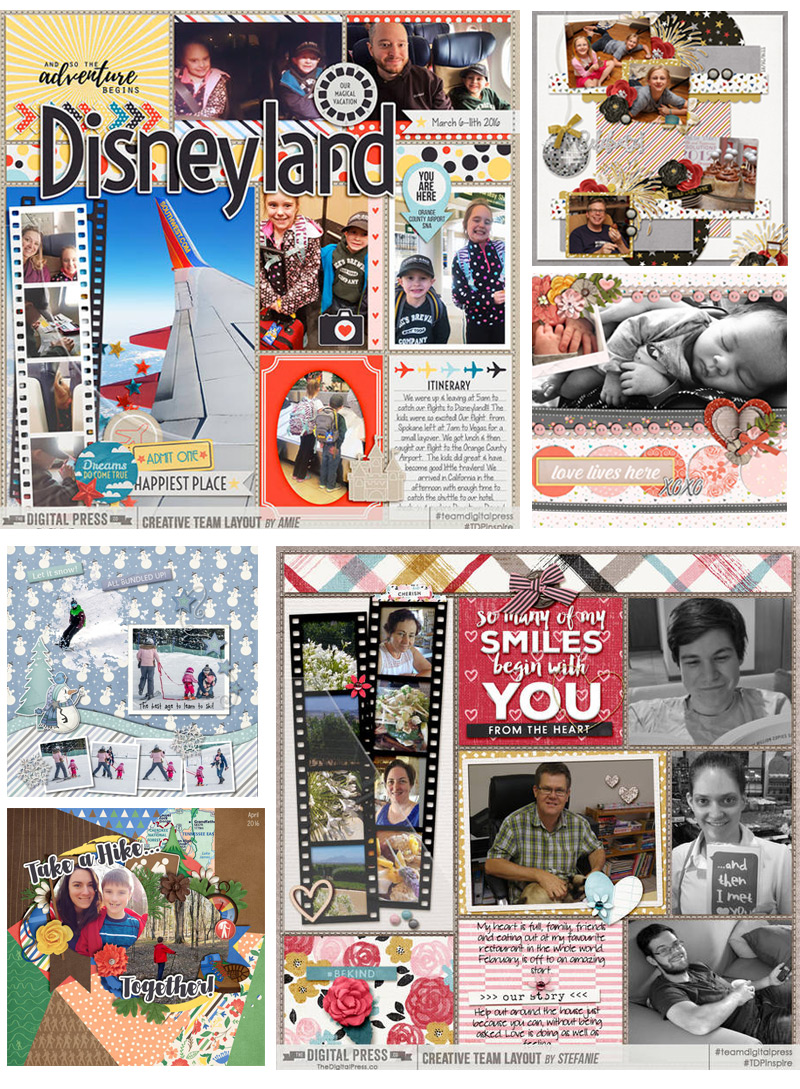 I hope you have enjoyed getting to know a little bit about Lorie! To celebrate her week as our Featured Designer at The Digital Press, the entire LJS Designs Store will be 30% OFF this week (the sale will end at 11:59 EST on Thursday 2/23).
Additionally, Lorie has a special Free-with-Purchase offer for everyone! Don't miss out on this opportunity to stock up on your favorite products from LJS Designs… and you can snag her entire "Summer Fun: At Walt's Place" Collection for FREE with any $10+ purchase in her shop — this week only!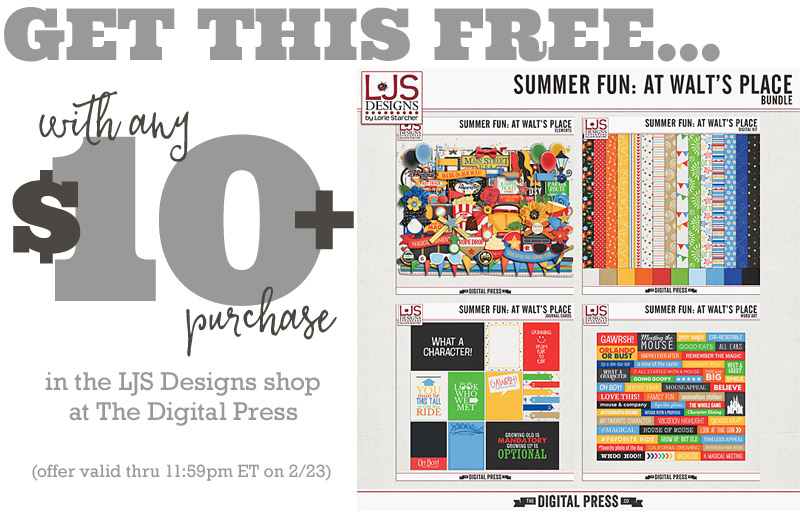 ---

About the author  Carolyn lives with her partner and 3 rescue dogs on 5 acres of paradise in the hinterland of the Sunshine Coast, Australia. Her camera, along with an assortment of lenses, is never out of sight. When not taking photos, she loves cooking and gardening and, of course, scrapbooking.
Save
Save
Save
Save
Save