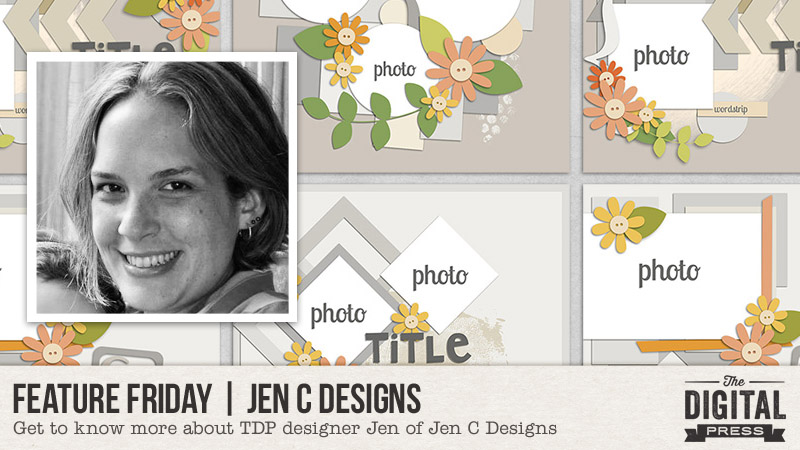 Happy Friday, and welcome to another edition of our Feature Friday series here on The Digital Press blog! I'm excited today to help you get to know Jen of Jen C Designs a little better this week! This is Jen's third feature article here on The Digital Press blog (you can find her first feature from February 2017 HERE, and her Foodie Friday post from October 2017 HERE).
In order to get to know her better this time around, Jen has shared with us 5 Things We Might Not Already Know About Her…
My feet haven't grown since I was 13 — and my height has been the same since then, as well! 5'10" and size 10 shoes weren't any fun at all when I was in grade 9!
I think on-demand TV is amazing. Our family hardly ever watches anything live — and even if we watch it almost-live, we watch it on delay so we can fast forward through the commercial breaks!
I'm insanely excited about Tim Horton's opening in Belfast! Before I emigrated, I went as often as possible — 2 creams, no sugar, and as large as possible!
My guilty pleasure is breakfast cereal, but not with milk. It's a little insane because I can't stand noisy eating/crunching (and dry cereal is always crunchy!).
I can make almost anything in the kitchen — except for cake. It's just one of those things. But my favourite thing to make is anything savory.
In terms of her product offerings… Jen is an amazing template designer who makes unique and interesting templates that are excellent for all kinds of scrappers. The assortment of layout designs she offers makes it easy for anyone to create pages in their own style, while also allowing them to step out of their comfort zone if they want to do so. Her templates are always a time-saver… but they also allow any scrapper to try new and interesting things with their memory-keeping. You can't go wrong with her templates… they offer so many different options for capturing your memories!
You won't believe the wonderful products you'll find in Jen's shop here at TDP …so here is a look at just a few things you'll find, so as to give you a taste of her amazing template designs…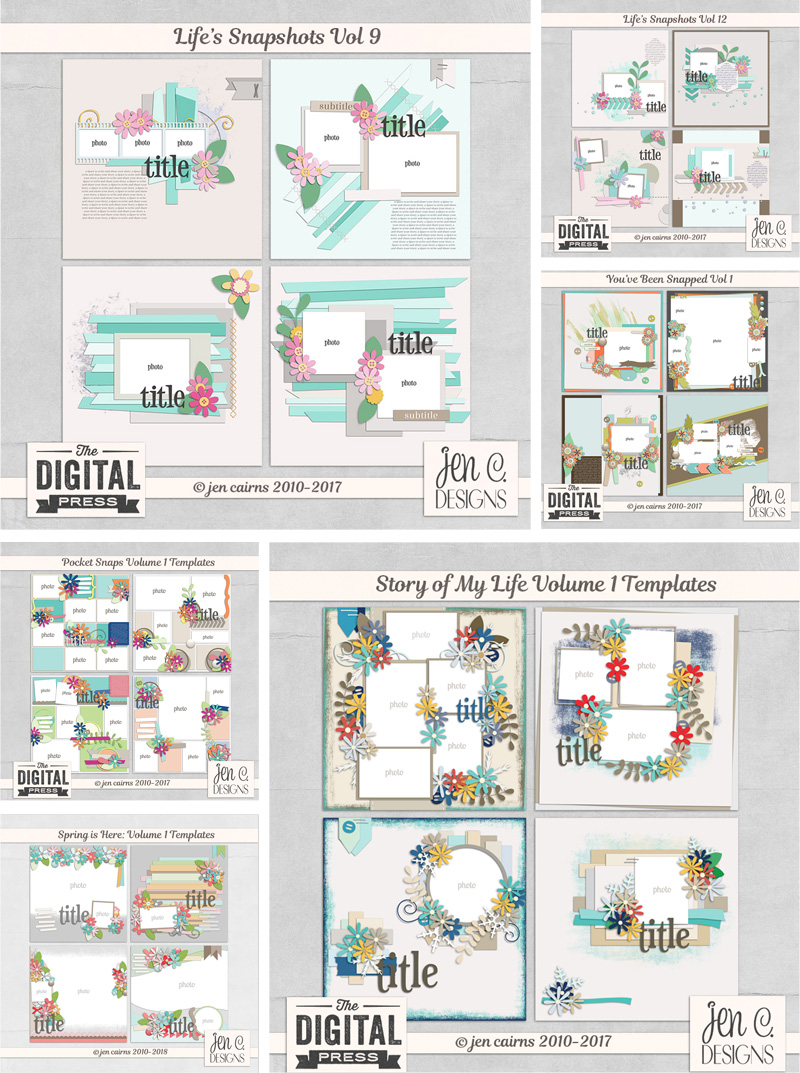 I love seeing her templates in action… so I pulled together this sampling of layouts that use her products, so you can see examples of what you can create using her templates…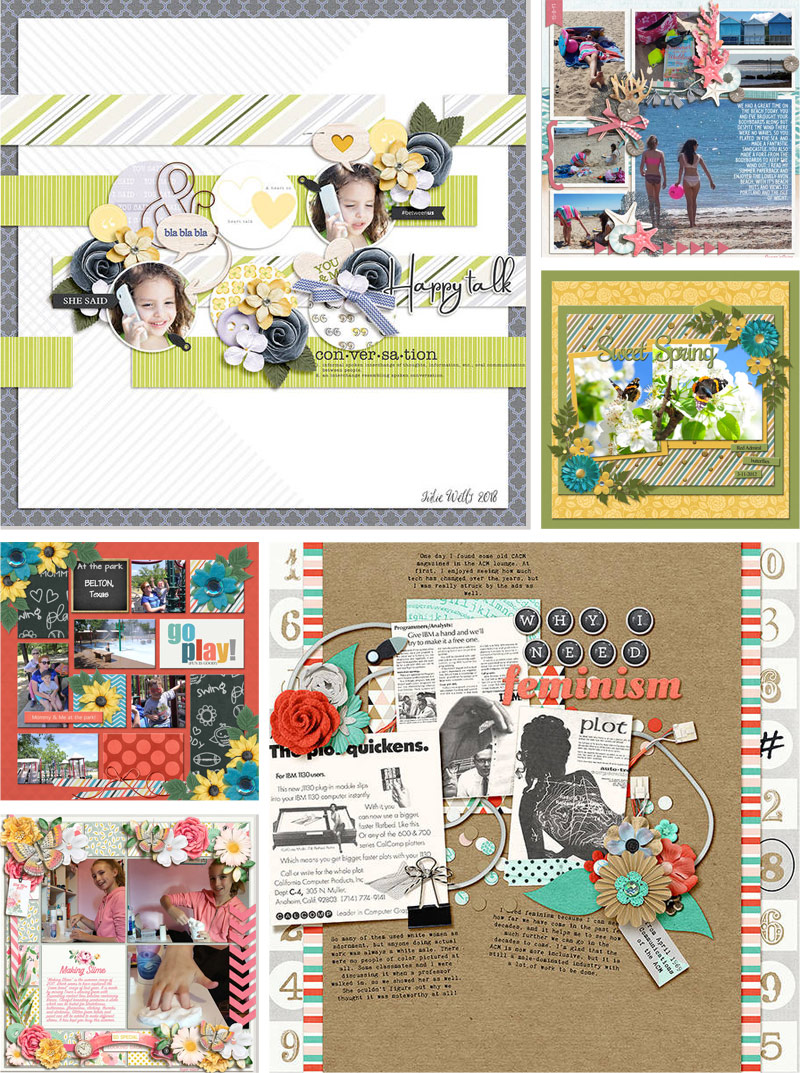 It wouldn't be a designer feature week here at TDP without a fantastic sale to go along with it… so you'll be happy to know that you will find the entire Jen C Designs shop at TDP on sale 30% OFF all week long (sale prices valid through 11:59pm ET on Thurs 4/19).
Additionally, Jen has a special Free-with-Purchase offer for everyone this week, as well! Don't miss out on this opportunity to stock up on your favorite products from her shop at a discount, and you will also receive the following item — Pocket Snaps Vol 2 — for FREE with any $10+ purchase in her shop — this week only (this offer is available through 11:59 pm ET on Thurs 4/19).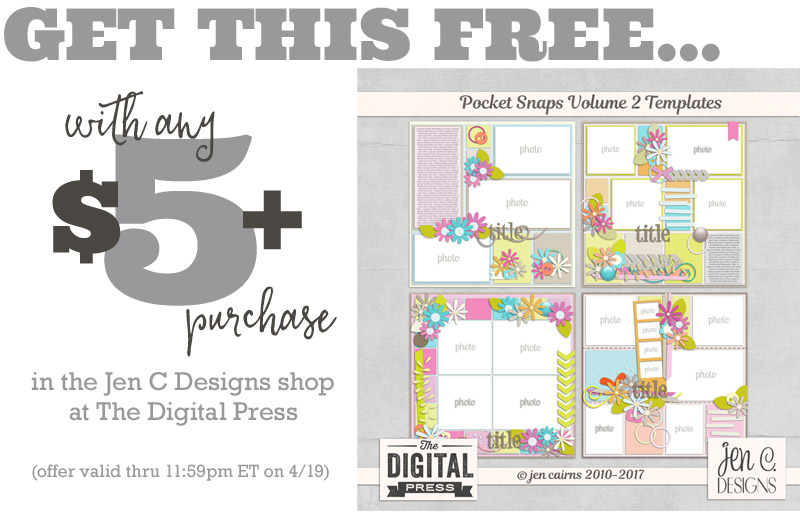 ---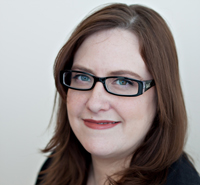 About the Author  Amy lives in Richmond, Virginia, with her husband and their 13-year-old boy/girl twins. Their 22-year-old daughter is currently in graduate school at Clemson! She has been scrapbooking since the early 1990s, but discovered digital scrapbooking in 2005 when her twins were born… and has primarily scrapped digitally since that time. She is passionate about telling her family's stories and documenting their life together. She is also a huge reader (mostly literary fiction), a pop culture junkie, and LOVES all things beauty & makeup!