Happy Friday to one and all, and welcome to another edition of our Feature Friday series! Today I'm here to help everyone get know Jen (of Jen C Designs) a little bit better! She is the newest designer at The Digital Press, and we are so delighted to have her fantastic selection of layered templates in the shop here on a permanent basis!
Jen is a template designer with a knack for unique, trendy, and creative page designs. Her templates are easy to use and easy to personalize to match your own style of scrapbooking. Her products save time, while also encouraging us to continue with our memory-keeping by making it such an effortless process! Her designs are definitely reflective of her motto — making your memories scraptacular!
Here are a few examples of the beautiful products you will find in her store here at The Digital Press…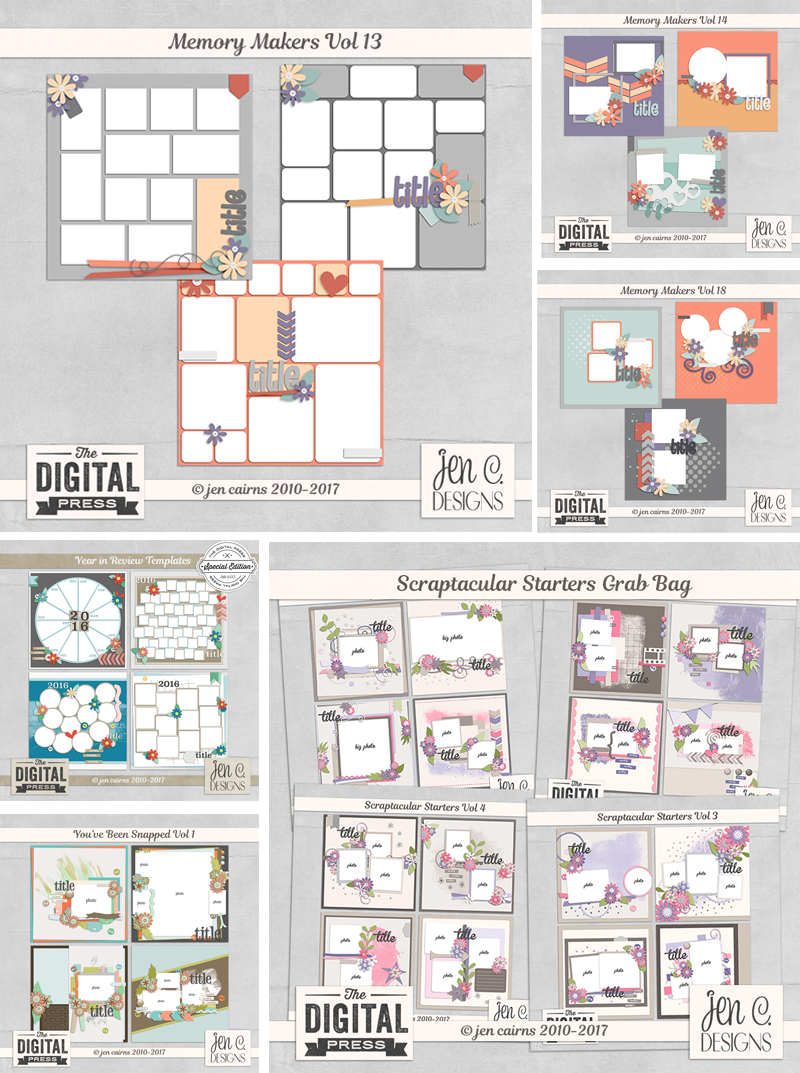 Jen's templates always inspire creativity! Here are some layout examples that use her templates…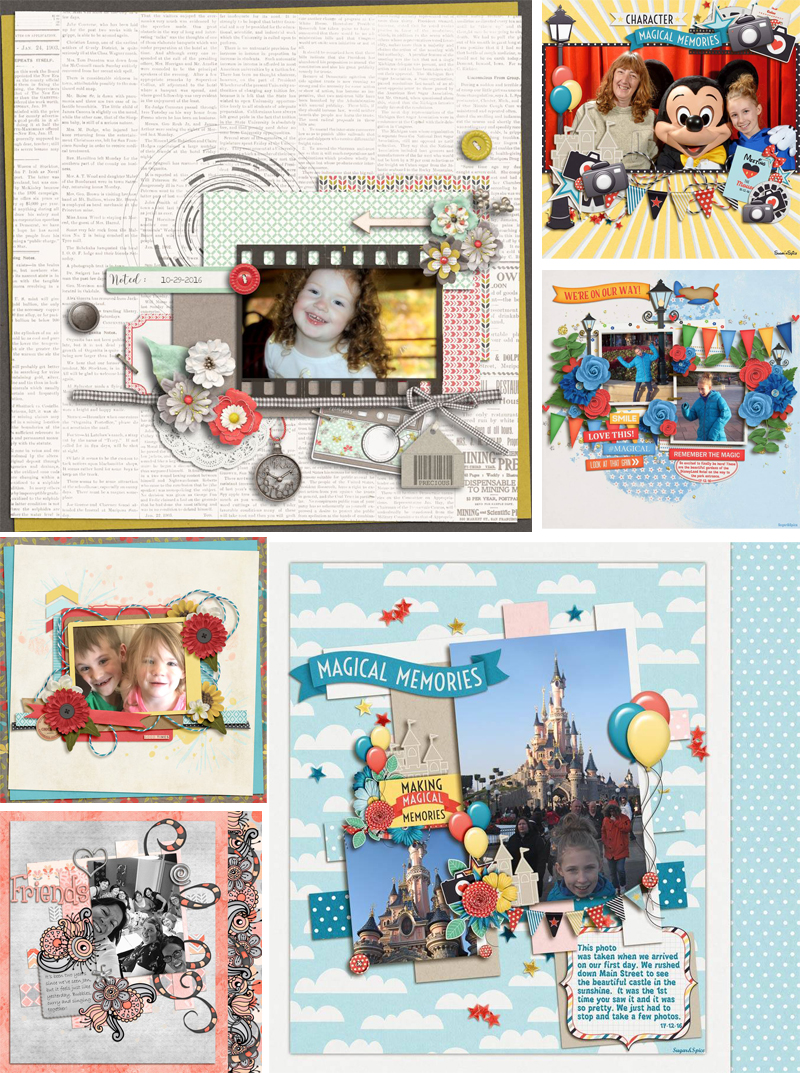 As we noted in last week's Feature Friday post… in 2017, we're using our designer feature series not only to introduce you to each designer and her products, but also to give you a little peek into each designer's creative space (and a little more insight into each of their creative processes!). So with that in mind, here's a peek at Jen's workspace arrangement…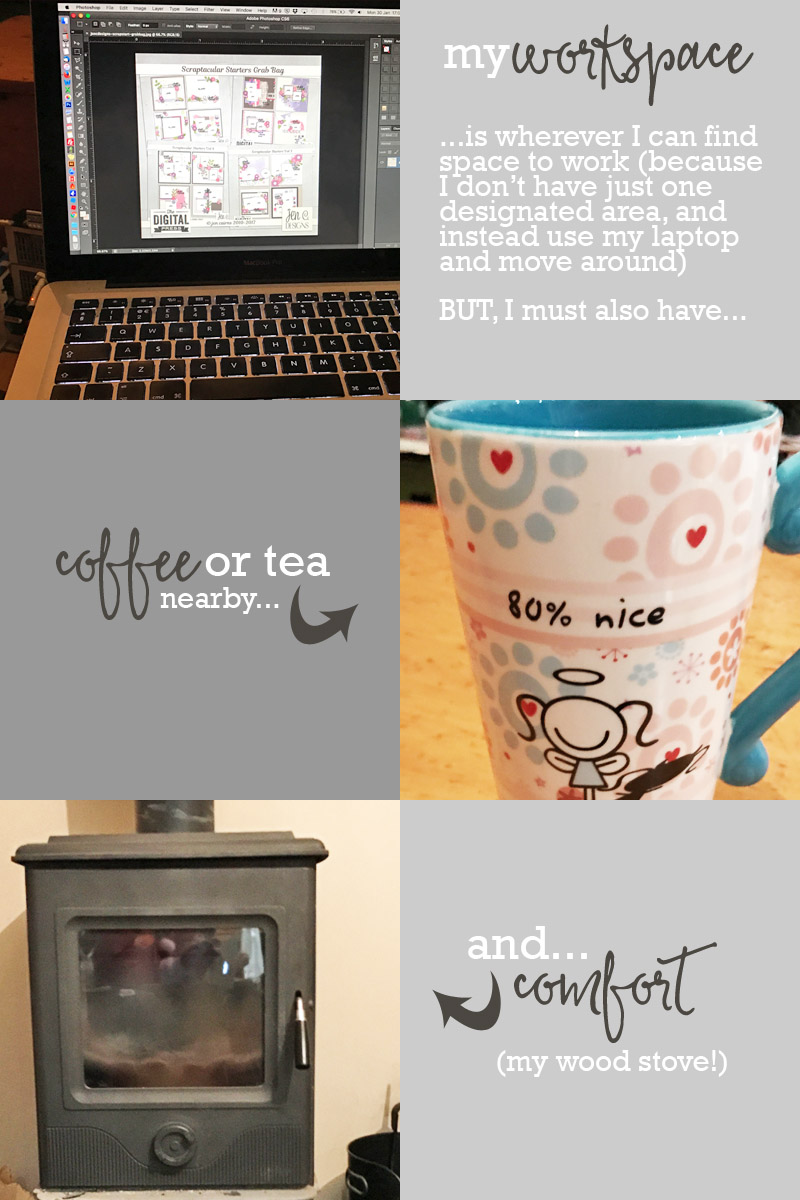 Additionally, we also asked Jen to share with us a Top 5 list that is representative of herself at this point in her life… and she chose to share her Top 5 Must-Have Apps, as shown here…

Jen's Top 5 Must-Have Apps (in her words)…
PINTEREST — It's not often that a simple app can do so much! It's the perfect place to be inspired, to relax, to be motivated, to be encouraged, to feel like maybe this time my chocolate chip cookies will turn out a wee bit better! Or maybe that my New Years resolutions (long since discarded) could still be shifted into a mid-year resolution. As a designer, I love the "secret board" function — I've used it for colour palette hoarding (though I have plans to organize them into a slightly more sensible fashion and start sharing them for others to see!). For scrapping there's no shortage of inspiration to be found from around the papercrafting and digiscrap world!
NETFLIX — Sure, it's another relatively obvious choice… but there is a reason that millions of people love it! By way of recommendations, I love… Once Upon a Time, Designated Survivor, Suits, and Lewis (to mention my most current list of recently viewed box sets). As I watch while I design, I often have to skip back a bit (and quite frequently) to keep on top of what I'm watching! But as a parent, the most important feature is the fact that we can have separate profiles. It means I can monitor what my kids are watching while they don't accidentally click on recently-watched episodes of Black Mirror!
CANDY CRUSH SAGA — Everyone needs a game to play, and this one is definitely my favourite. I don't have time to keep up with time-constraints and quests. But I do love some candy-crushing relaxation.
KINDLE — I wish I could spend as many hours reading as I do watching TV, but designing plus life means that's not possible (due to the functional limitation of being unable to read lines on a page, turning pages, all while using Illustrator or Photoshop)! Kindle has renewed my love for reading — I used to read a book a day as a child/teen! — but BookBub (a free daily newsletter) has introduced me to dozens of new authors I'd never have come across otherwise! While in some cases you get what you pay for, it's easy to just delete the book when you lose nothing for doing so! Plus you can set your own preferences for the reading selection which is sent out to you.
EVERNOTE — I simply cannot live without this app! I use it for organizing everything! Between setting reminders, brainstorming, tracking my progress, sharing documents/inspiration with my CT, and many other uses… I've found it to be an invaluable source of sanity over the last couple of years since it was first shared with me. It's much easier than using just Pinterest — as I can collect images and write notes that correspond with them, as well as use the integration with my calendar.
So tell us… which, if any, of those apps are you already addicted to? And which are you now excited to check out now that they've got the official "Jen C Stamp Of Approval"? 😉
As you can clearly see, Jen is an awesome asset to our community here at The Digital Press, and we're so happy that she has decided to stick around on a permanent basis after her guest spot in January! To celebrate her feature week, her entire shop will be on sale 30% OFF throughout the coming week (sale will end at 11:59pm ET on Thurs 2/9). We think you will definitely appreciate her creative page designs, as well as the time you'll save using her products!
Additionally, this week only — you can snag the following FREE TEMPLATE SET with any $5+ purchase in the Jen C Designs shop at The Digital Press! Exciting stuff…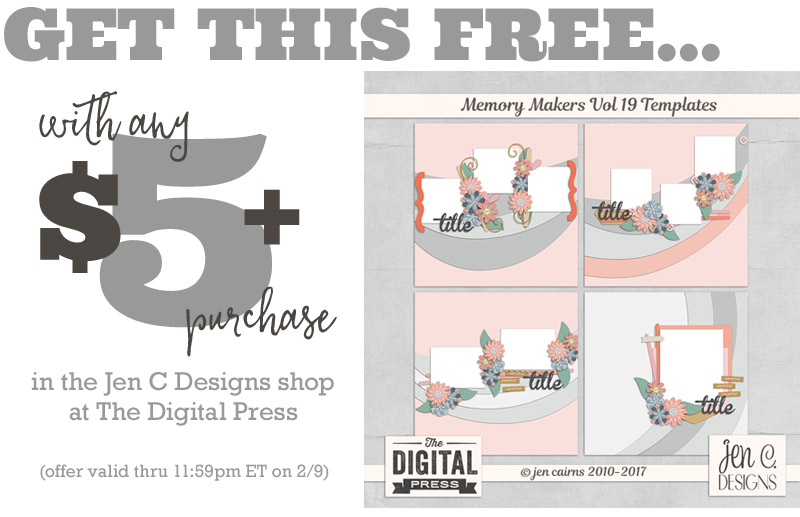 ---

About the Author  Heidi Nicole is happily married to an amazing man, a step mama to 2 wonderful kiddos, and mama to 3 sweet and sassy furbabies.  She's a radiation therapist by day and creator of pretty things by night (she's pretty confident that she's hit super hero status, but refuses to wear a cape.)  She loves cats and huskies, coffee, audio books, FRIENDS reruns, St. Louis Blues hockey, cooking, baking, and traveling.  Oh, and wine… she really likes wine.  She lives a normal and happy life, and enjoys all the absolutely extraordinary people she gets to share it with on a daily basis!