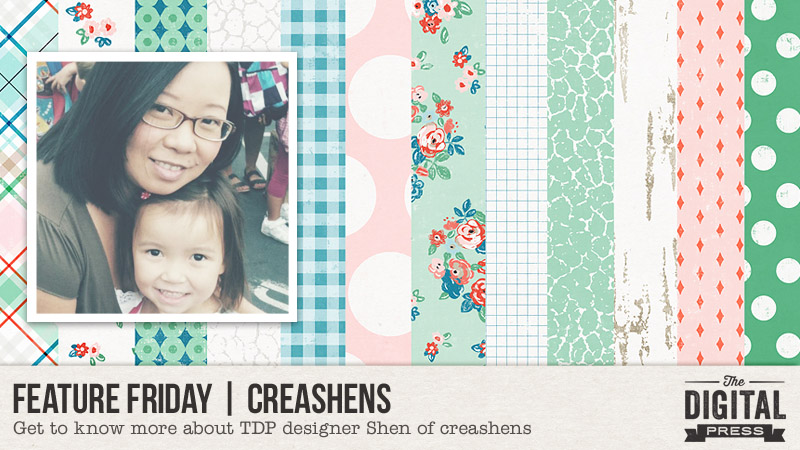 Hello and happy Friday to you all!
Being Friday, we have another exciting edition of our Feature Friday series for you today… and this week, we'll be spotlighting one of our awesome Designers here at The Digital Press — Shen of creashens! I just adore Shen's work, and I am sure you will, too!
This is Shen's second feature here on the blog (you can find her first feature from October 2016 HERE)… and whereas last year we used our feature series to help you get to know some fun trivia about your favorite designers — this year, we've been using our designer feature series to give you a little peek into our designers' creative spaces, and more insight into their creative processes.
One way we are doing that is by showing you the designer's work space… and I have to say, I LOVE this! I really think a work space says so much about a designer's personality and creative style. And if you look back through previous posts about other designers, you will see what I mean by that! You'll also see what I mean by that when you look at Shen's creative work space…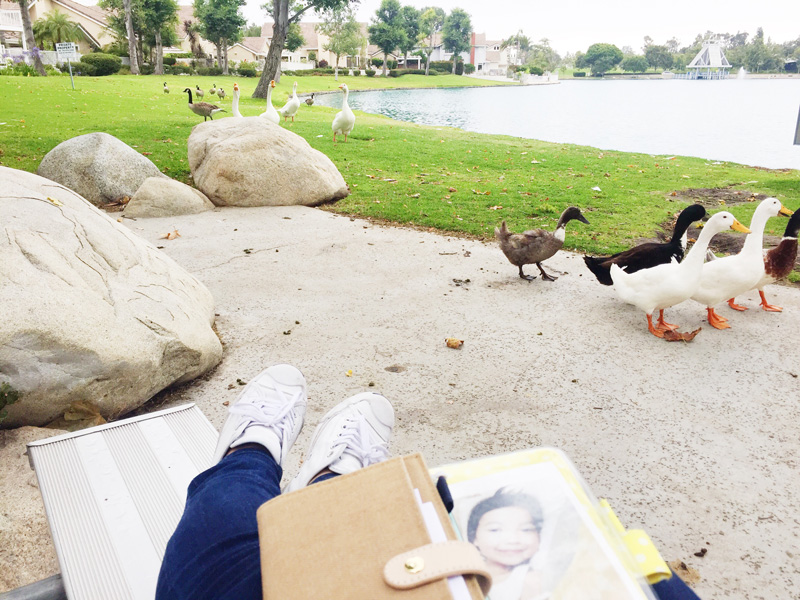 If you know Shen at all, you know how much this work space fits her carefree personality! She says, "This is where I go to draw/paint/etc. I always do my drawings "old school" / by hand, first… and then I digitize them later."
We also asked Shen to share with us a Top 5 list that is representative of herself at this point in her life… and she chose to share her Top 5 Favorite Snacks (along with a recipe! wahoo!)…
Gummies (give me all the gummies!)
Chili dried mango
Beef jerky
Hurricane Chex Mix (sharing the recipe, below, because everyone should try this!)
SHEN'S HURRICANE CHEX MIX RECIPE
Mix — 21 oz box Chex cereal; 1.7 oz furikake; 1 pkg arare ice crackers; 10 sheets nori; non stick cooking spray
Sauce — 1/2 c. butter (1 stick); 1/2 c. oil; 3/4 c. sugar; 1/2 c. light corn syrup; 2 -4 tbs soy sauce
Heat oven 250 degrees. Get a large deep roasting pan and coat with non stick cooking spray or a light coat of oil. Add Chex, crackers, and cut-up strips of nori into pan.
Meanwhile, mix the sauce ingredients in a medium saucepan until sauce mixes and starts to boil a little; take off stove immediately.
Spoon the sauce over dry mixture in pan and sprinkle the furikake as you turn the mixture with 2 wooden spoons. make sure to coat the pieces as evenly as possible and make sure the nori gets coated, too.
Bake at 250 degrees for 1 hour, mixing every 15 minutes. Pour onto wax paper and let cool. Untangle the nori strips. Pack into airtight bags or containers when cool. Keeps 7-10 days.
As for Shen's digital products… they are always so fun and playful, and her shop boasts a beautiful assortment of color combinations from which to choose. In addition to her beautifully-coordinated kits, Shen also produces an wide variety of stand-alone packs — from vellum paper, to confetti and alphas, to beautiful flowers, to journal cards, and even some great paint spatters. I am never lacking in inspiration while browsing her shop.
I admit, I struggle to choose favorites from so many gorgeous items, but if forced to do so… here are a few that really stand out to me…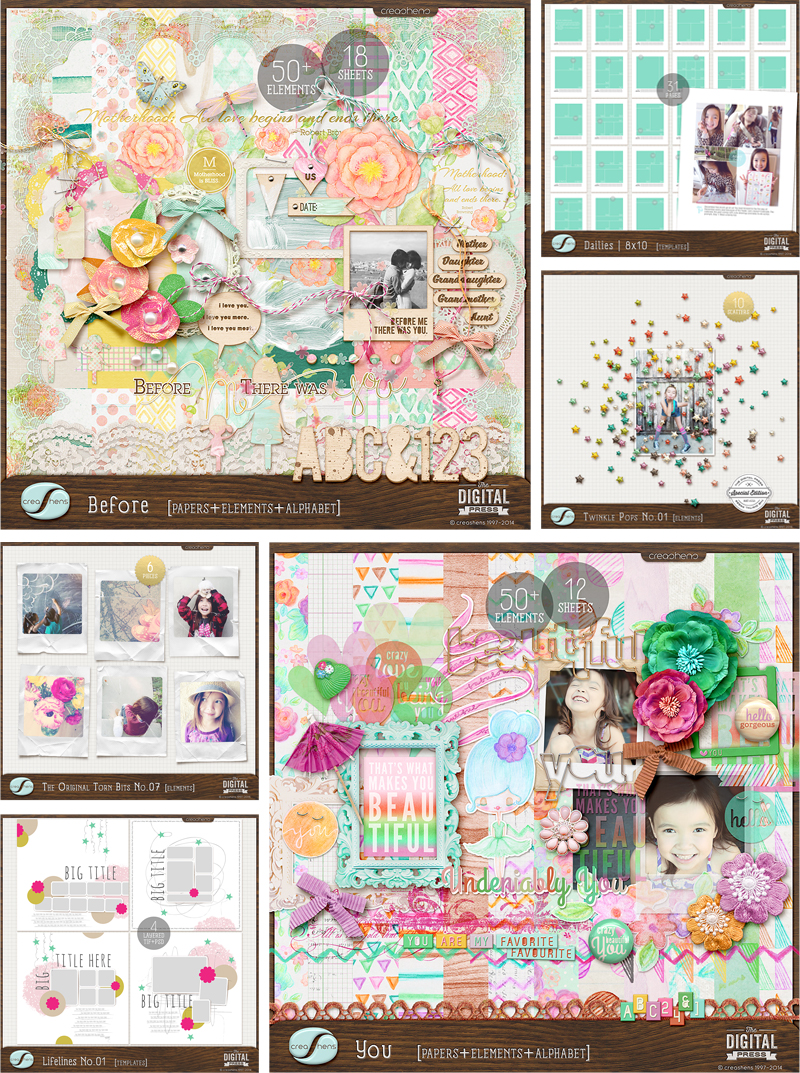 Do you see what I mean? So fun and playful! What is there not to love?!
There are so many gorgeous layouts in our gallery using Shen's fun products, but here are a few that really highlight her bright and airy, playful style…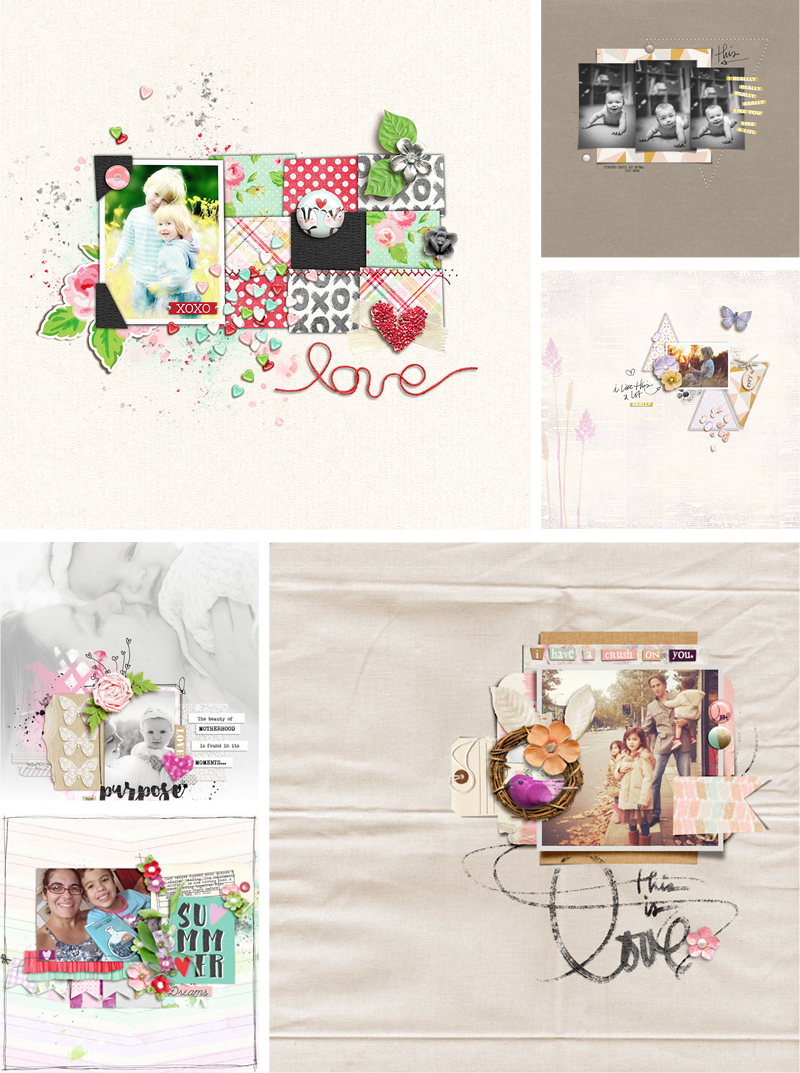 Swoon! OK, so my girl crush is revealed and out there now — but I really do just adore playing with Shen's products. They make the most beautiful pages. And I am so glad that I got to share her work with all of you this week!
One last thing before I forget… Shen has a special Free-with-Purchase offer for everyone this week! Don't miss out on this opportunity to stock up on your favorite products from creashens while they're marked down 30% OFF… and you can also snag her gorgeous "Midsummer Day" Kit at the same time, for FREE with any $10+ purchase in her shop — this week only! Don't miss out!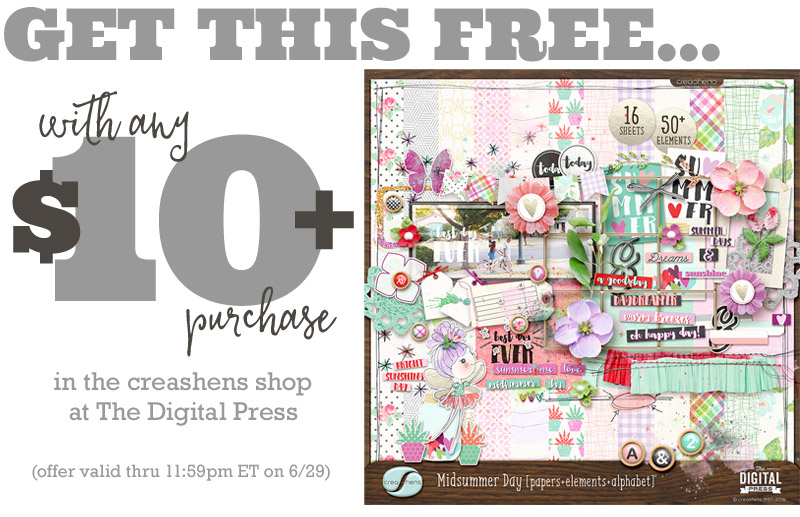 ---

Erin is an artsy crafty kind of girl who is currently dabbling in far too many things, but is working hard to enjoy every moment of it, while avoiding the rain, which is difficult due to living in the land of many rains. She is slowly learning to use her smart phone to capture all the fun little bits of life that would otherwise go unremembered in the busy craziness that is raising a family!