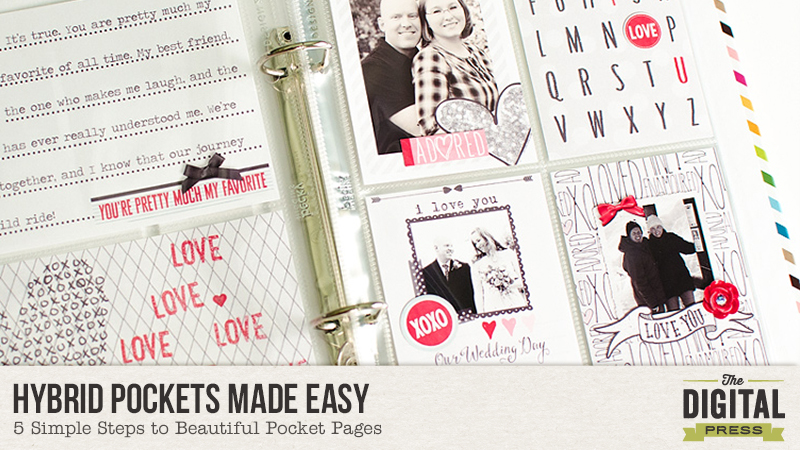 I never loved traditional paper scrapbooking. Mostly for all the same reasons you usually hear about why someone fell in love with digital; no mess, not spending an arm & a leg on supplies or tools, and the speed at which you can finish layouts! After several years of creating strictly digital pages I realized I had nothing to show for it. I had only printed a handful of layouts. I also found that I was only recording the big moments such as birthdays, holidays, and happy events. The snapshots, out-takes, and less than happy moments weren't included and that was a big problem for me because I wasn't being authentic in my memory keeping. I knew I had to make a change.
After taking a moment to assess where I was and where I wanted to be I decided that the best thing for me was to start printing at home. I also decided to jump on the pocket scrapbooking bandwagon because it felt like a great fit that would allow me to include pictures that I might not want to devote a whole 12×12 layout to, but were still important parts of my family's daily real life.
When I set out to create my first hybrid pocket page I spent way too much time trying to get going. I really wasn't sure where to start, but after a bit of trial & error over the course of several attempts I finally found a workflow that made hybrid easy for me. Today I'm sharing my process for making quick, but beautiful, hybrid pocket pages.
Step 1: Start With Your Layout
I find it's easiest to create a template which matches the pocket page layout you'll be using. For my example layout I'm creating for my 6×8" album and the pages are two 4×6" spots on the left and four 3×4" spots on the right. Create the appropriately sized boxes and arrange them in the correct places. These will be your clipping masks for creating your cards.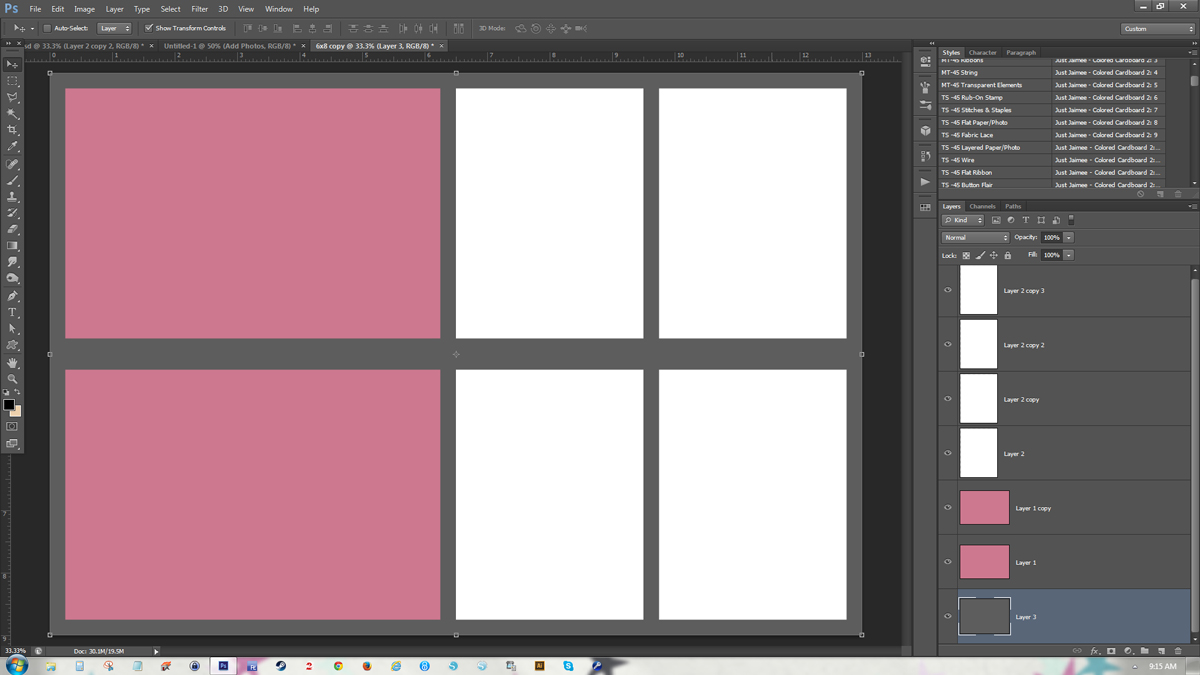 Step 2: Add pre-made cards or papers & embellish
I like to treat each card as a mini layout. I look through the cards that come with the digital kit I'm using and drag them onto my layout. Sometimes I'll also fill a space with a patterned paper. Then I look for frames in the kit that will work with the pictures I'm using. Once I've laid out where I'll be putting my pictures I work on embellishing each card with some of the kit's elements.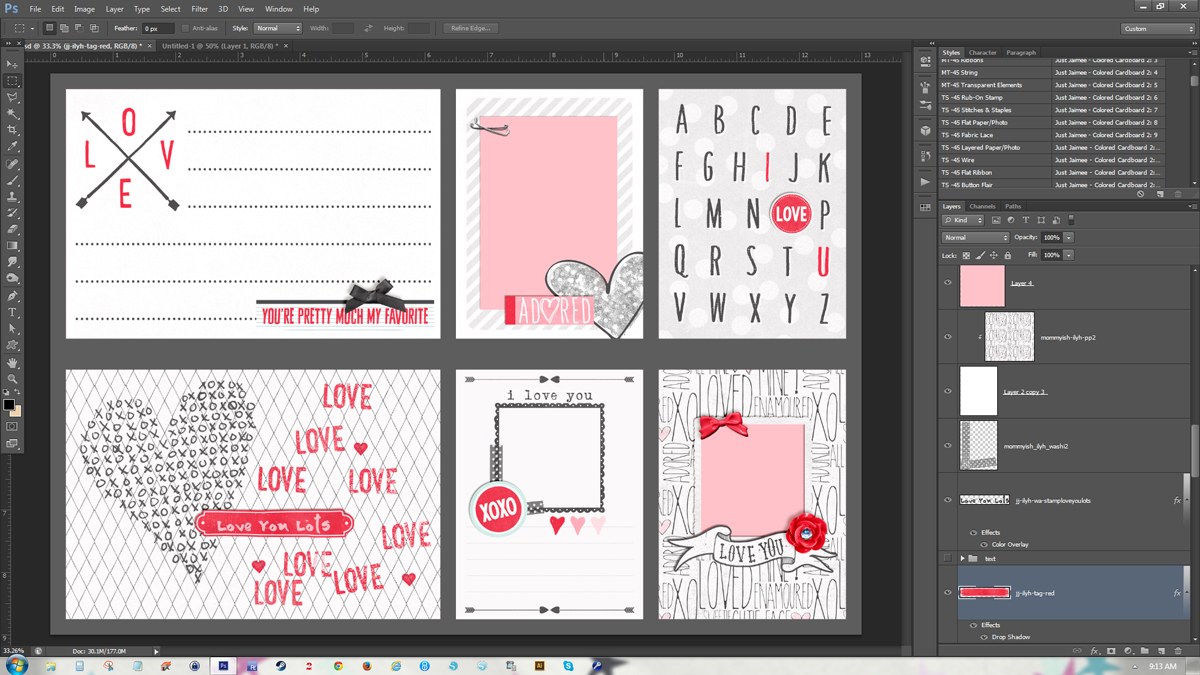 Step 3: Add Photos and Text
Now I edit & add my pictures to the cards. Finish things off with some text and I'm almost ready to print.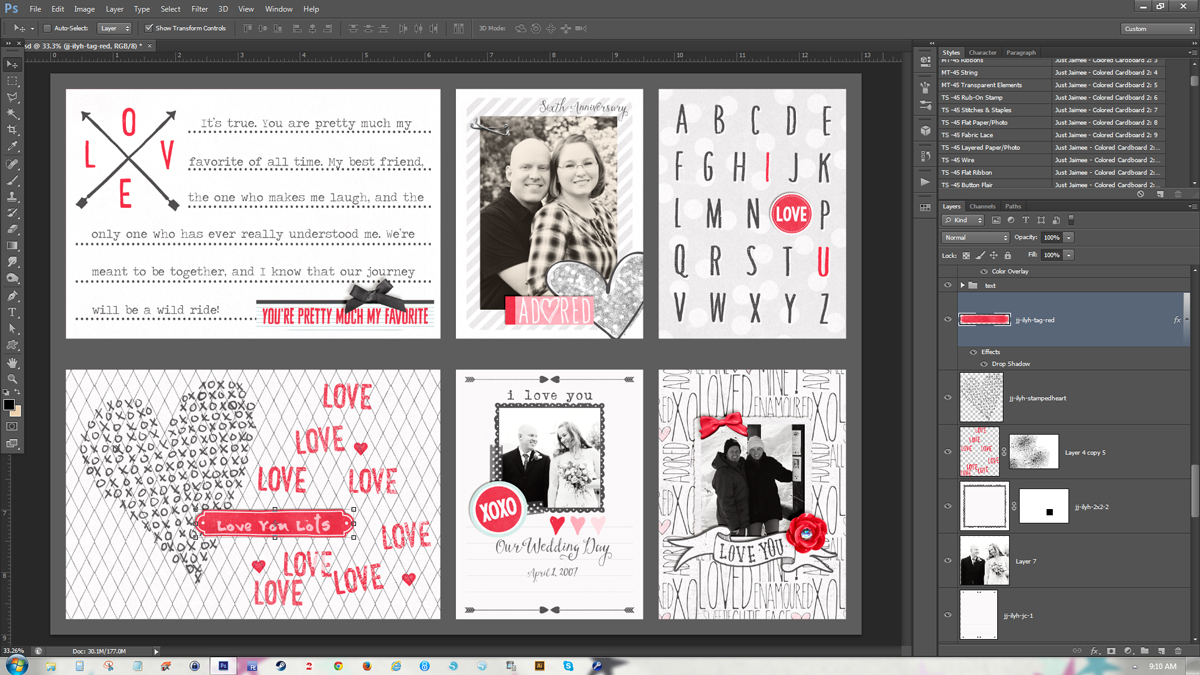 Step 4: Merge & Print
Once all the individual cards are ready it's time to merge the layers. I hold down CTRL while clicking on each layer that I used for one of my cards. When they are all selected I hit CTRL+E to merge the selected layers. After I've merged all the cards I then create a new document sized to the print dimensions. I almost always print on 4×6" photo paper because it let's me get away with the least amount of cutting. At this point I select & drag each card into my new document. The 3×4" cards fit 2 to a page nicely. Set your printer settings and print. I go down the layers list hiding the cards as I print them.
Tip: You only need to do the printer settings on the first print job. After that you can choose File>Print One Copy to bypass the print dialogue box!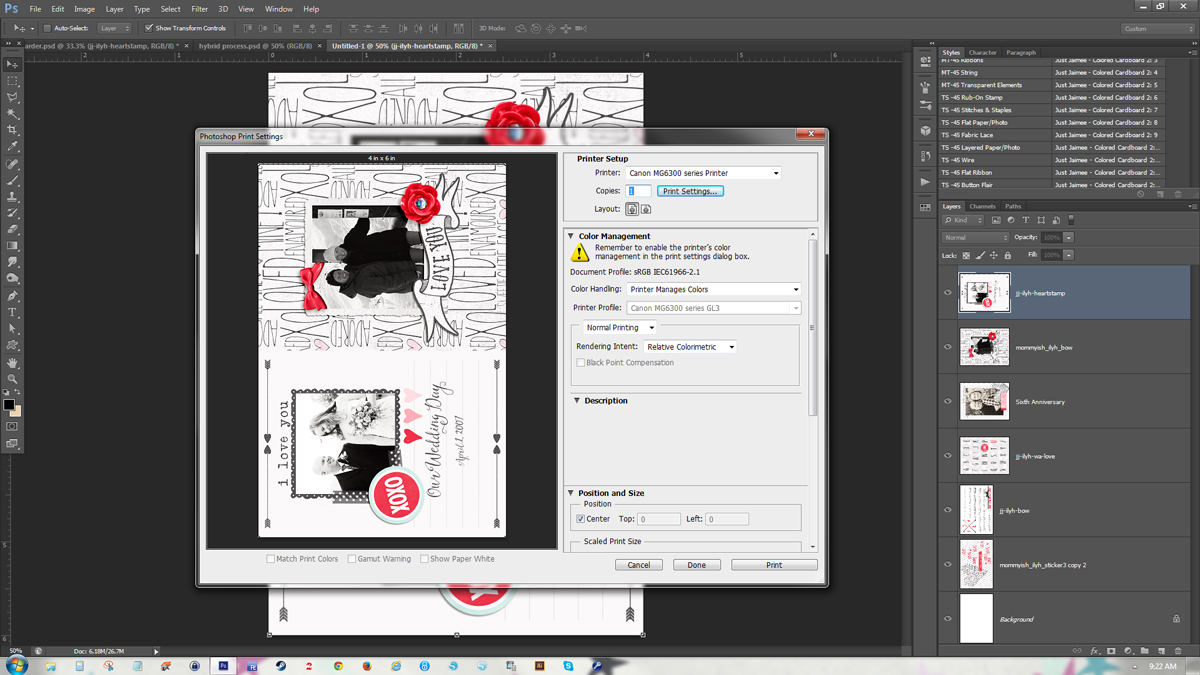 Step 5: Cut & Put Cards in Pockets
Cut your 2-Up 3×4" cards in half and pop it all into your pockets. All done!
Hybrid style scrapbooking can be overwhelming at the start, but the instant gratification of having something tangible in your hands right away makes it well worth the effort in my book! I hope I've inspired you to give hybrid and/or pocket scrapbooking a try. I'd love to help you overcome any hurdles to hybrid that you're facing. Leave a comment if you have a question or comment!
About the Author: Amber Funk enjoys a vast assortment of interests such as scrapbooking, photography, getting crafty with her Silhouette Cameo, reading, and playing video games. She is a Wife and Mother of 2 living in Northern California and blogs her crafty adventures at http://perfectly-fabulous.com/