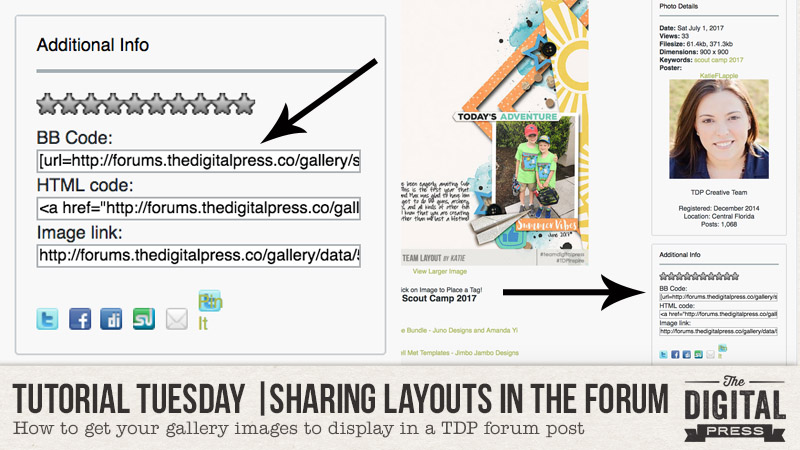 Hi Scrappers, and welcome to another edition of our Tutorial Tuesday series here on The Digital Press blog!
With Digital Scrapbooking Day (DSD) just around the corner, I am looking forward to seeing a lot of amazing layouts shared in our DSD forum posts! So, this seems like a perfect time to review how to share layouts — linking them up from the TDP gallery into posts within the forums. It's really very simple, once you do it a few times!
Follow these steps and you'll be a layout-sharing expert…
Locate the layout that you would like to share in the gallery.
Click on the layout.
To the lower-right (below your layout) and you will see a box that says "Additional Info" (see header image example, above).
In that "Additional Info" box, locate the BB Code and copy it (on a PC… click-highlight + Ctrl-C; on a Mac it will be Command-C).
Go to the forum and find the entry box where you would like to add the layout.
Add any text that you would like to appear before the layout in your post.
Paste in the BB Code.
Add any additional text that you would like to have appear below your layout
Click "Preview" to check your post to make sure it looks just right.
Click "Post Reply" once you are happy with your post.
Admire the amazing job you just did sharing your layout in the forums! 🙂
See? I told you it was simple! That's seriously all there is to it.
I hope that this quick tutorial will inspire you to share a lot of layouts in the forum (it comes in especially handy to participate in our monthly challenge system, etc.)!
Now — we invite you to come get more involved in The Digital Press's forum! A great place to start is in our RAVE REVIEWS thread; each month, we have a thread in which we share layouts that inspire us. Anyone is welcome to post on that thread, so head over there now to practice sharing a layout in the forums! You can find the RAVE REVIEWS thread in the ADVICE COLUMNS section of our forum.
---

About the Author  Katie is a member of the creative team here at The Digital Press. She lives in Central Florida with her husband and their four sweet but crazy boys. When she's not dodging Nerf bullets or trying to dig out from under the never-ending pile of laundry, she enjoys photography, cooking, going to Disney World with her family, and, of course, digital scrapbooking.