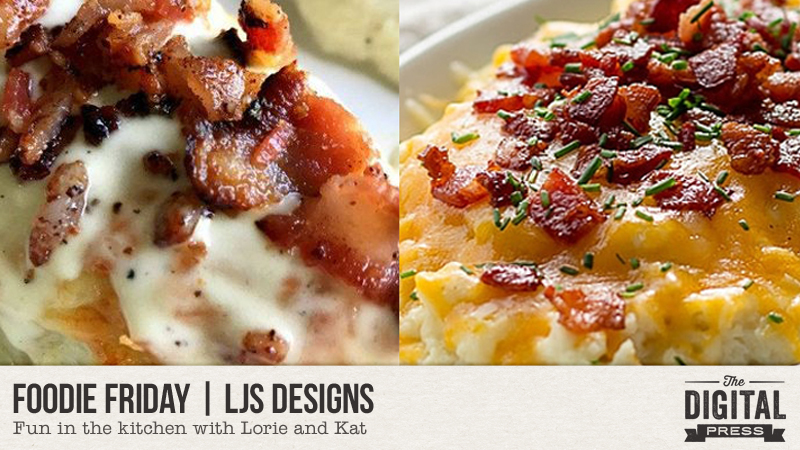 Welcome to another edition of Foodie Friday here on The Digital Press blog!
Continuing with our new series on "what's cooking on the homes of our design team and creative team members"…I had fun chatting with Lorie Starcher of LJS Designs to see what she has going on in her kitchen! Lorie is currently on a journey to better health and is following the ketogenic (or keto) food program, so we thought it might be fun to show you some of her favorite recipes. If you're not sure what keto is… basically, you eliminate all sugars and you really (and I mean really!) reduce carbohydrates. If you like bacon and cheese, however, you're definitely in for a treat!
Check out the following photos. Doesn't this all look yummy? I think even if I made this and it didn't look quite as pretty as the photo… well …did I say bacon and cheese?!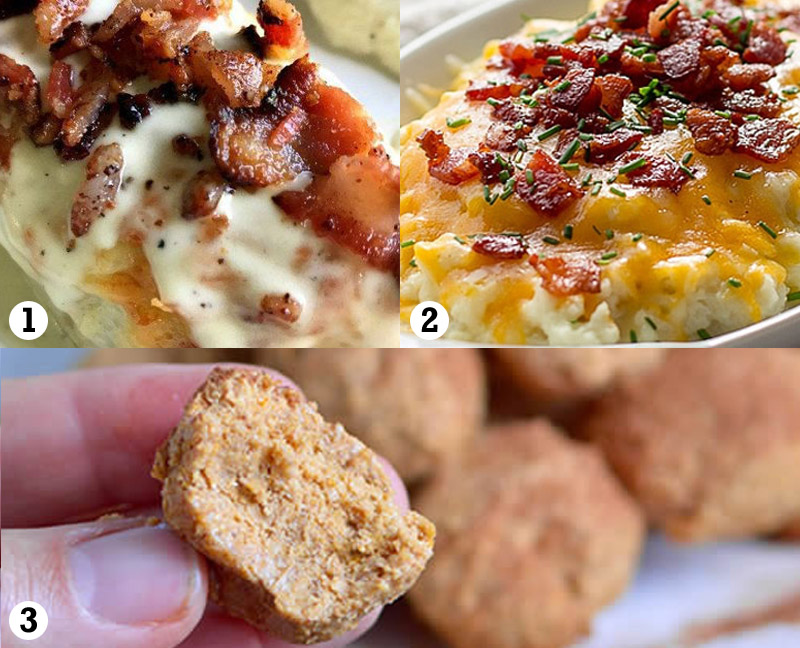 photo credits: [1] Pinterest, [2] Pinterest, [3] The Grass Fed Girl
So, what is all of this deliciousness you see above?
Parmesan Crusted Chicken with Bacon Cream Sauce
Loaded Cauliflower
Pumpkin Spice Keto Fat Bombs
---
Parmesan Crusted Chicken with Bacon Cream Sauce
Says Lorie: "Crispy bacon, creamy sauce, and juicy chicken will make you sing keto praises!" I'm thinking to myself, cheese, bacon and cream …how could this possibly be "diet" food?! There are a few versions of this recipe, and a lot of keto recipes on the internet (just do a Google search, or head over to Pinterest — but do so on a full stomach, otherwise you'll end up hungry!), but this is the version that Lorie loves…
INGREDIENTS NEEDED
—1 lb chicken breasts
—1 tablespoon avocado oil mayonnaise
—4 tablespoons shredded parmesan cheese
—3 slices of bacon (cooked and crumbled; reserve the fat)
—1/2 cup of heavy whipping cream
—1 tablespoon cream cheese
—1/2 teaspoon garlic powder
—salt and pepper to taste
INSTRUCTIONS
—Preheat oven to 400 degrees. Rinse and pat dry the chicken. Using a basting brush, coat the top of each chicken breast with the mayonnaise. Top the chicken with 3 tablespoons of the parmesan cheese (reserve 1 tablespoon – you'll need it later).
—Bake uncovered for 40-50 minutes. Using a meat thermometer, you'll be looking for an internal temperature of 160 degrees, and the juices should run clear.
—When the chicken has about 10-15 minutes to go, start making your sauce.
—In a skillet, warm up the reserved bacon fat, but be careful to not overheat – the fat should not be sizzling or bubbling. Whisk in the heavy cream until well combined, and continue whisking until it starts to foam up on the edges of the skillet.
—Add the cream cheese and whisk until smooth. Add the remaining parmesan cheese and garlic powder. Whisk. Add some bacon crumbles, but reserve some for garnishing.
—To plate, drizzle the cream cheese sauce over the chicken, and top with bacon crumbles.
---
Loaded Cauliflower
Says Lorie: "I usually pair this with a cheeseburger patty with relish and mayo. Made with butter, sour cream, chives, cheddar cheese and bacon, it's the ultimate in low-carb comfort food."
INGREDIENTS NEEDED
—1 lb cauliflower florettes
—4 oz sour cream
—1 cup grated cheddar cheese
—2 slices cooked bacon, crumbled
—2 tablespoons snipped chives
—3 tablespoons butter
—1/4 teaspoon garlic powder
—salt and pepper to taste
INSTRUCTIONS
—Cut the cauliflower into bite-sized pieces and add them to a microwave safe bowl. Add 2 tablespoons of water, cover and microwave for 5-8 minutes until completely tender. Drain the excess water and let sit uncovered for a minute or two.
—Add the cauliflower to a food processor and process until fluffy. Add the butter, garlic powder, and sour cream and process until it resembles the consistency of mashed potatoes. Remove the mashed cauliflower to a bowl and add most of the chives, saving some to add to the top later. Add half of the cheddar cheese and mix by hand. Season with salt and pepper.
—Top the loaded cauliflower with the remaining cheese, remaining chives and bacon. Put back into the microwave to melt the cheese or place the cauliflower under the broiler for a few minutes.
---
Now, after your fill of cheese and bacon, you may ask "What's for dessert?" Many times, we'll reach for something sweet — but how do you do that on a keto program when you've eliminated all sugars and processed foods? You have a "fat bomb." I know! I thought the same thing! How is that a dessert?! (that name scares me!) Although sugar is a no-no, snacks or treats that are high in good fats are allowed; they help fuel your body. Lorie hasn't tried any fat bombs yet, but we both love pumpkin… so I went in search of a pumpkin recipe, which we both thought would be appropriate as we head into the fall season. These look so easy to make…
Pumpkin Spice Keto Fat Bombs
INGREDIENTS NEEDED
—1/2 cup coconut oil
—3/4 cup pumpkin puree
—1/3 cup golden flax
—1 teaspoon cinnamon
—1/2 teaspoon nutmeg (optional)
—1/4 teaspoon sea salt
—1/3 teaspoon Stevia
INSTRUCTIONS
—Mix all ingredients in a bowl and place in the freezer for about 30 minutes.
—Roll into balls and place in the refrigerator for about 1 hour before eating.
---
I'd love to hear what you think of the pumpkin spice fat bombs! 🙂 If you make them, leave a comment here and let us know what you think!
Meanwhile, it wouldn't be a designer feature week without a fantastic sale and a special Free-with-Purchase offer… so you'll be excited to see what Lorie of LJS Designs has in store for you! Not only is her entire shop marked down 30% OFF throughout her entire feature week (sale prices will be valid through 11:59pm ET on Thurs 9/28)… but she also has this awesome deal in her shop all week long, as well! Spend $10+ in the LJS Designs shop, and get the following brand-new product that just landed in the shop today — completely FREE!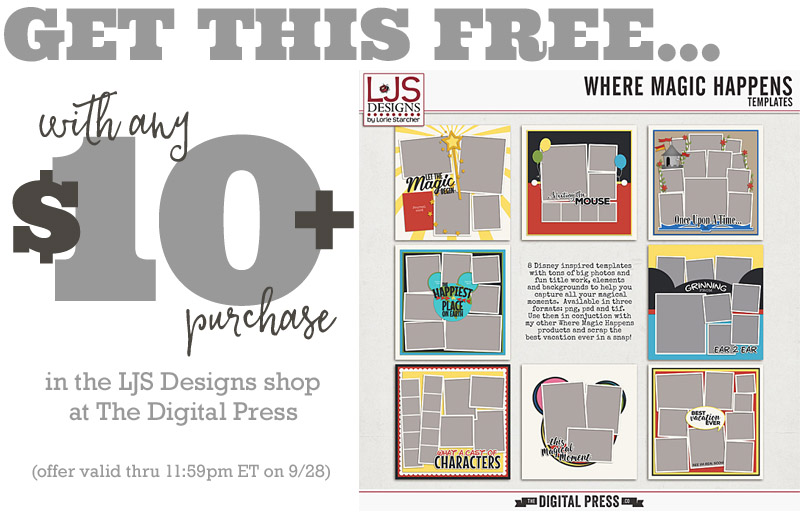 ---

About the Author Kat Hansen is a creative team member here at The Digital Press. A Director of Human Resources by day, she loves the opportunity to spend a few hours each evening being creative. Vacation memories feature pretty heavily in Kat's scrapbooking pages, as do her son and "daughter" (of the four-legged furry kind). Kat has quite the sense of humor (she "blames" her father for this), which she incorporates into her journaling and memory-keeping.