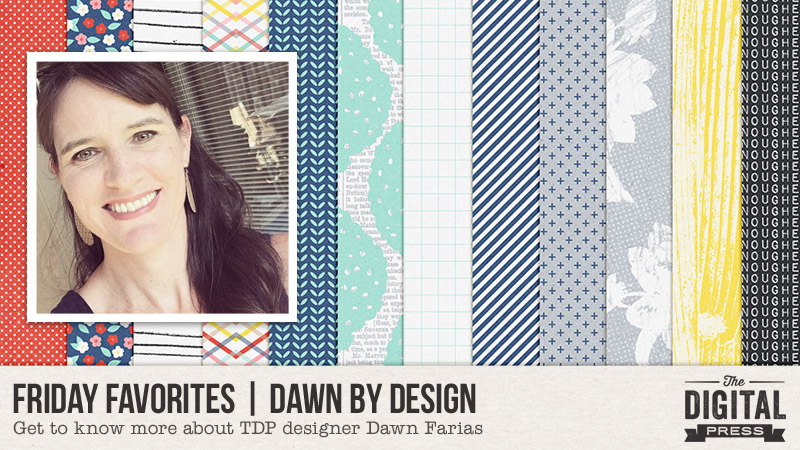 Hello everyone, and welcome to another edition of our designer feature series here on The Digital Press blog in 2019 — Friday Favorites! This year, we are learning a bit more about each of our fantastic designers by having them share some of their favorite things with us each week (so much fun!).
This week, the spotlight is on the super talented Dawn Farias of Dawn by Design! This is actually Dawn's 3rd feature here on the blog (you can find her most recent feature article from March 2018 HERE… and/or her Foodie Friday article from September 2017 HERE w/ yummy food ideas/recipes).
This time around, in order to learn even more about Dawn, we asked her to share one (or more) of her favorite things with us… and this is what she had to say…
---
"I've always had straight hair, but wished for curly. In the 80s that meant perms, but thankfully that time has passed and we don't really talk about it anymore. Nowadays, it means that I rely on my wand curling iron to get the job done.
About a year ago, I came across a tip for doing this really quickly. You simply put your hair in a high ponytail, curl it in sections, and then let it down. It takes me less than five minutes to curl, shake out, do a random re-curl here and there, and spray my hair. Considering I work outside the home and have a family to get up and out of the house each morning, this hair hack makes me very happy! It's also easier on my arms.
Here, you'll see my entire hair/make-up routine from start to finish (and I timed it! — less than 10 minutes! — see lower-right image)… "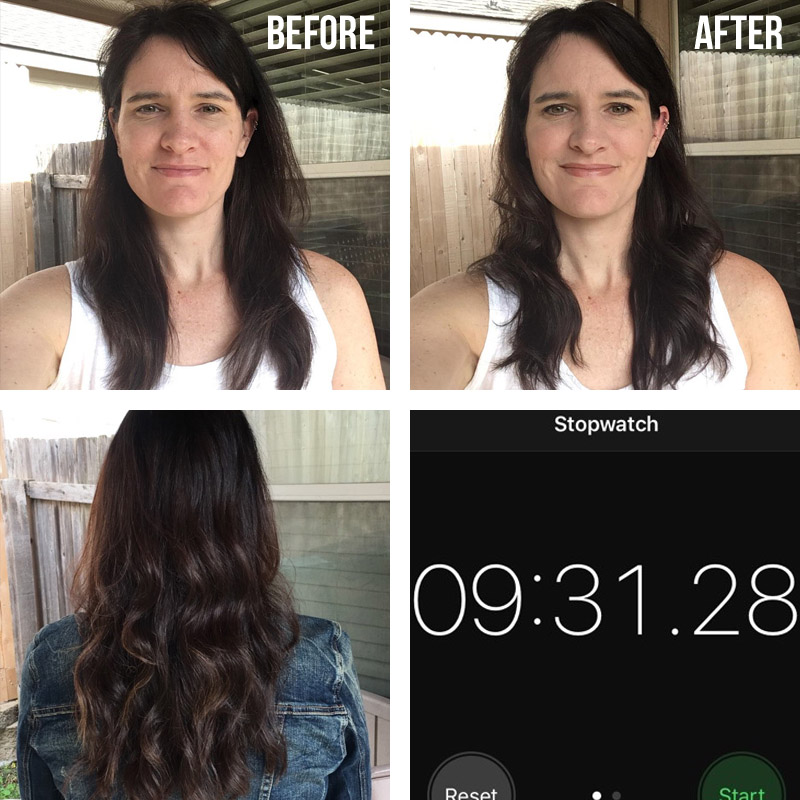 ---
For those of you who aren't already familiar with Dawn's design work, she creates an awesome collection of kits, templates, pocket cards and stand-alone element sets. I love the color schemes she uses in her kits and how she includes a nice mix of dimensional and artsy elements so her kits will work well with any style layout you're creating. And, if you haven't checked out her office style date stamps, you really should; they're super fun! And if you're into alphas … you'll find a bunch of fun options in her shop as well!
Here is a sampling of some of the items you'll find in Dawn's shop here at The Digital Press…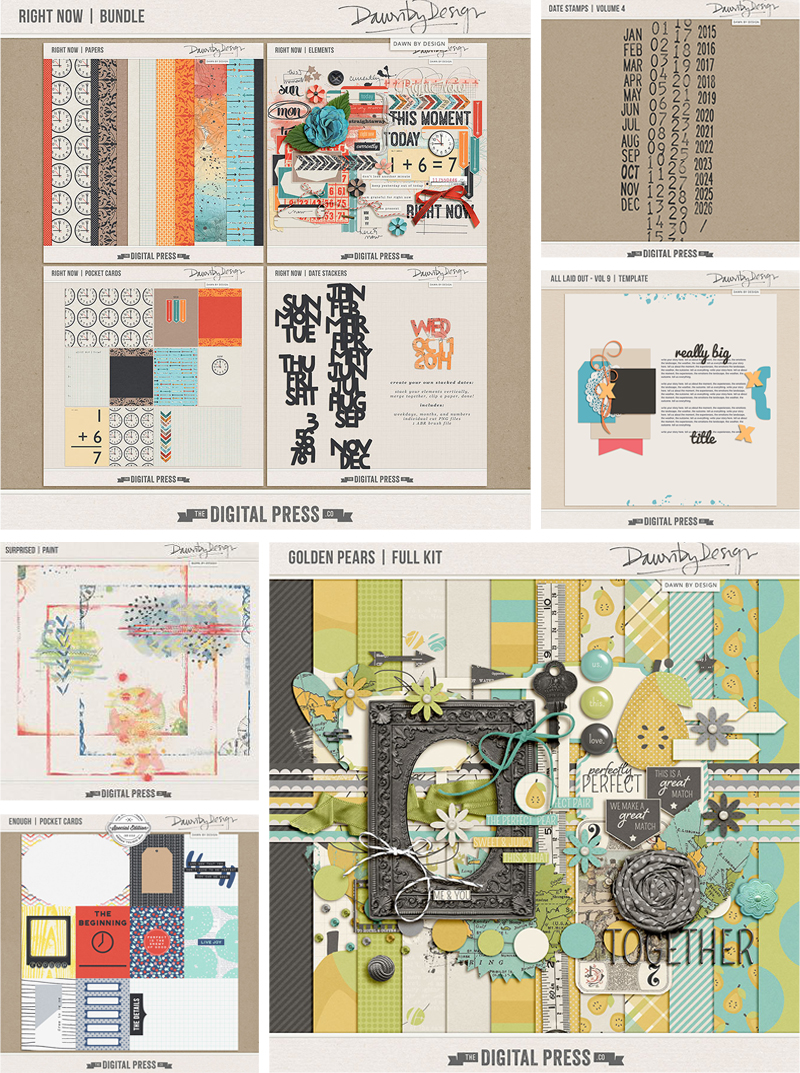 And to give you just a glimpse of how versatile her products are, and show you many of the fun ways they can be used… here's a look at just a few of my favorite projects from the gallery at TDP, which is always full of beauties from Dawn's shop…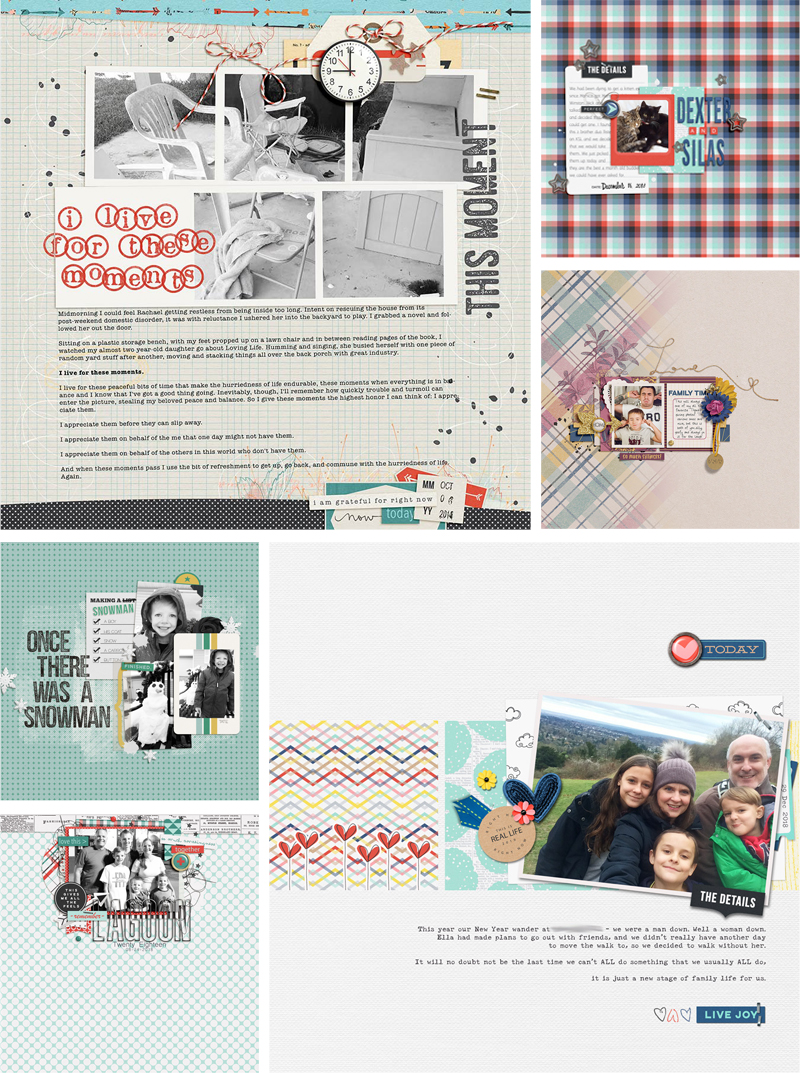 Aren't those layouts super inspiring?!
Hopefully, today's Friday Favorites article has given you even more insight into Dawn's persona and creative style (and again, if you want to know even more about her — scroll up and use the links to her previous features here on TDP's blog, where's there's lots of good stuff!).
And the best news of all?! …during Dawn's upcoming feature week here at The Digital Press, you can enjoy the chance to score an amazing deal in her shop if you use the following coupon code when purchasing her digital goodies (this code/sale will be valid through 11:59pm ET on Thurs 3/21). Don't miss it!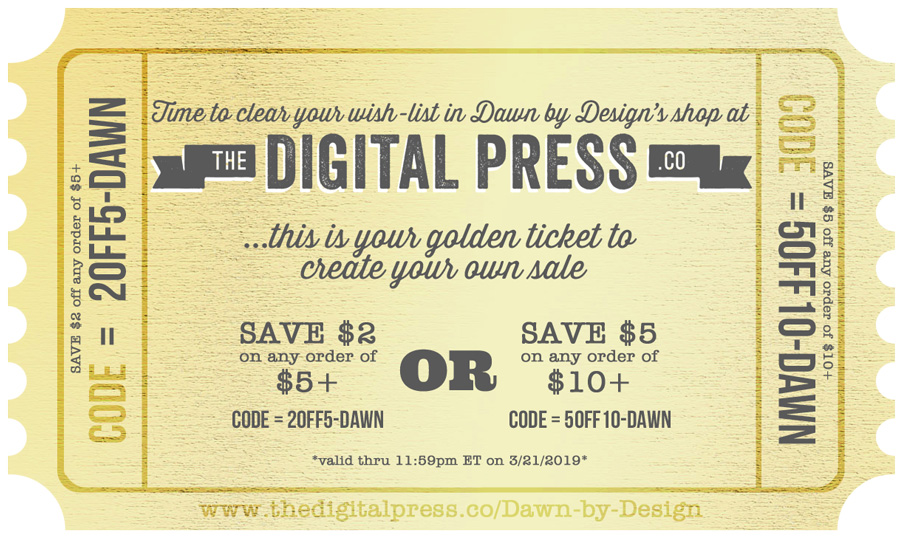 [ if you have trouble seeing the coupon image, above, the codes are as follows: "save $2 off any purchase of $5+" by using code = 2OFF5-DAWN . . . or "save $5 off any purchase of $10+" by using code = 5OFF10-DAWN ]
---

About the Author  Barbara is a member of the creative team here at The Digital Press. She lives in Minnesota, is married (coming up on 25 years!) and has two awesome kids (a 22 year old son and a 19 year old daughter) as well as an adorable 12 year old Soft Coated Wheaton Terrier. In her free time she loves to play in Photoshop (you can learn a little something new every time you use PS right?!), take photos, and try out new recipes for healthy dishes. Life is good!