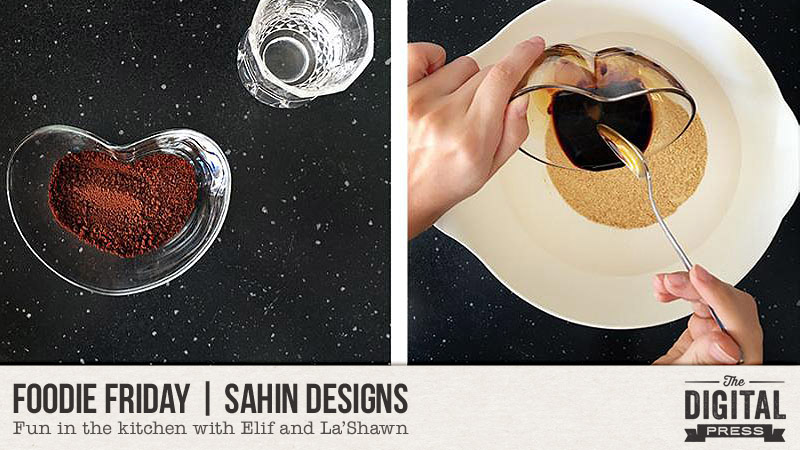 Happy Friday, everyone… and welcome to the second edition of Foodie Friday here on The Digital Press blog!
As you likely read last week — this is a new series that is based on the amazing response we had to our "Mess Hall" activities during TDP's Summer Camp back in July (everyone loves food! haha). As such, each Friday for the rest of the year we'll be combining our weekly designer features with some fun in the kitchen! Every week, you'll get the chance to peek into the lives (and kitchens!) of your favorite TDP designers and creative team members.
This week, we are featuring a few yummy recipes from the kitchen of both Elif Sahin of Sahin Designs and TDP creative team member La'Shawn (that's me!). This is Elif's third feature on The Digital Press blog (you can find her first feature article from July 2016 HERE, and her second feature from March 2017 HERE, if you want to learn even more about her).
Today, we have three delicious recipes for you: we will start with a easy main dish that will taste like you spent hours in the kitchen, and then we will end with a nice cold coffee drink and a sweet dessert. You wont be disappointed!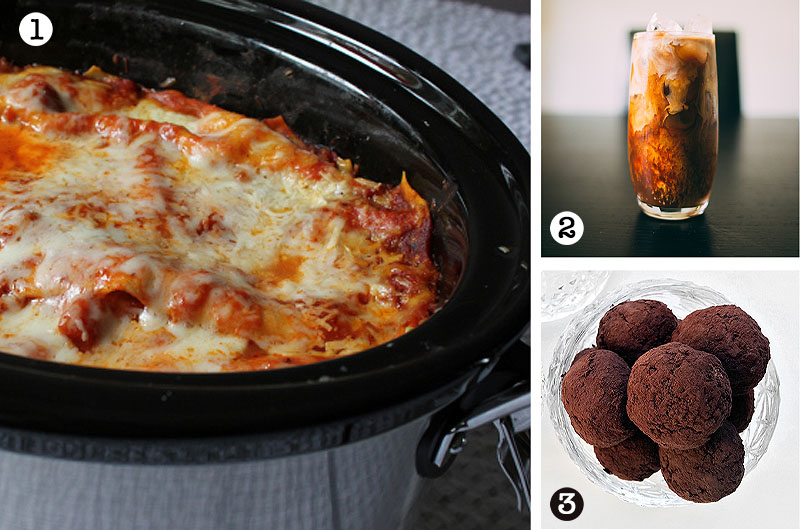 photo credits to [1] freerecipebox [2] TDP creative team member La'Shawn Castings [3] TDP designer Elif Sahin
So, what are these delicious things you see pictured above?
Crock Pot Lasagna
Homemade Iced Coffee
Tiramisu Truffles
---
Crock Pot Lasagna
INGREDIENTS NEEDED
—1 lb lean ground beef
—1 onion, chopped
—2 garlic cloves, smashed
—1 (28 ounce) can of tomato sauce
—1 (6 ounce) can of tomato paste
—1-1/2 tsp salt
—1 tsp dried oregano
—12 ounces cottage cheese
—1/2 cup grated parmesan cheese or 1/2 cup asiago cheese
—12 ounces lasagna noodles, uncooked
—16 ounces shredded mozzarella cheese
INSTRUCTIONS
—Brown the ground beef, onion, and garlic in a frying pan
—Add tomato sauce, tomato paste, salt and oregano
—Cook long enough to get it warm
—Spoon a layer of meat sauce onto the bottom of the slow cooker
—Add a double layer of uncooked lasagna noodles (break to fit) and top with cheeses
—Repeat with sauce, noodles and cheeses until all are used up
—Cover and cook on low for 4 to 5 hours
*Note* You can replace the hamburger meat with italian sausage or a mixture of both. I also mix half ricotta and cottage cheese. This recipe is so easy to make. It will taste like you spent 4 to 5 hours slaving over the stove and oven, instead of it cooking away in the slow cooker. My husband is not a pasta eater… but he loves and requests this often.
---
Homemade Iced Coffee
INGREDIENTS NEEDED
—1 pound ground coffee (good-quality rich roast)
—8 quarts cold water
—fine mesh strainer
—cheesecloth
INSTRUCTIONS
—In a large container (tea pitcher will work) mix the ground coffee with the water
—Cover and sit at room temperature for 8 hours (I let it sit overnight)
—Line a fine mesh strainer with cheesecloth (you can use coffee filters, but I find the cheesecloth works best)
—Pour the coffee and water mixture through the strainer & allow all the liquid to run through (it can take some time)
—Discard the grounds
—Place the coffee in the fridge to cool
—Add your favorite dairy/sweetener
—Pour over ice; drink and enjoy!
---
Tiramisu Truffles
INGREDIENTS NEEDED
—200gr ladyfingers
—200gr labneh cheese
—2 table spoon powdered sugar
—5gr powdered vanilla
—3 desert spoons of granule coffee
—5 table spoon hot water
—Cocoa powder and/or ground pistachio
INSTRUCTIONS
—Crush the ladyfingers into fine crumbs with blender
—Mix labneh cheese with powdered sugar and vanilla in a bowl
—Dissolve coffee in hot water
—Mix it well with crushed ladyfingers until you have homogeneous mix
—Let both mixes cool in the fridge for 10 minutes
—Mix together labneh and ladyfinger mixes together
—Make small balls from this paste
—Roll the balls in cocoa or pistachio to serve
---
We're betting that you're hungry just reading through these recipes, and that you can't wait to try them out!
Well, if you're up for a challenge… come to the forum and check out our Recipe Book challenge, which launched this month and is designed to help you create a quick-&-simple book of your favorite recipes — get this — in time to print it up and give it to friends and family members as a holiday gift later this year (!). Sound like fun? Come check it out HERE.
Meanwhile, it wouldn't be a designer feature week without a fantastic sale and a special Free-with-Purchase offer… so you'll be excited to see what Elif of Sahin Designs has in store for you! Not only is her entire shop marked down 30% OFF throughout her entire feature week (sale prices will be valid through 11:59pm ET on Thurs 9/14)… but she also has this awesome deal in her shop all week long, as well! Spend $10+ in the Sahin Designs shop at The Digital Press, and get her full "Grace" Collection completely FREE!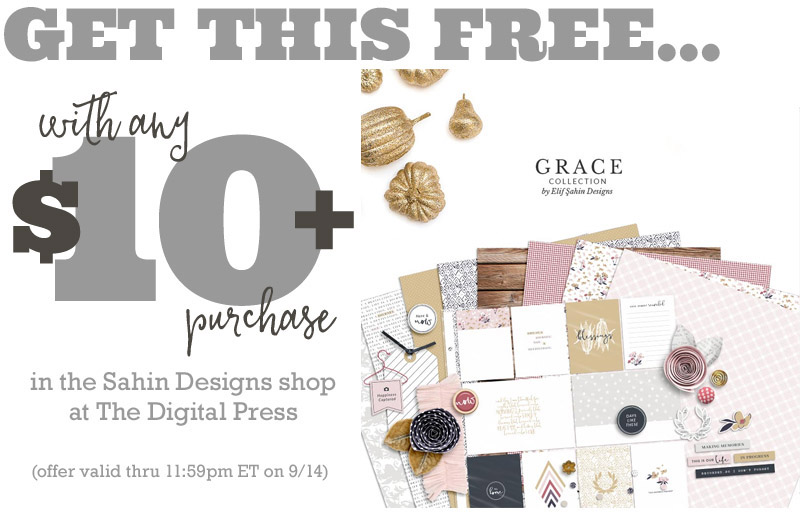 ---

About the Author  La'Shawn Castings is a creative team member here at The Digital Press. She is a 30-something, full-time working, nerdy, somewhat lazy, digi-scrapping, photo taking, college football loving, panda obsessed, yellow wearing, Harry Potter nerding, Doctor Who watching, historical fiction reading, southern wife & mom.