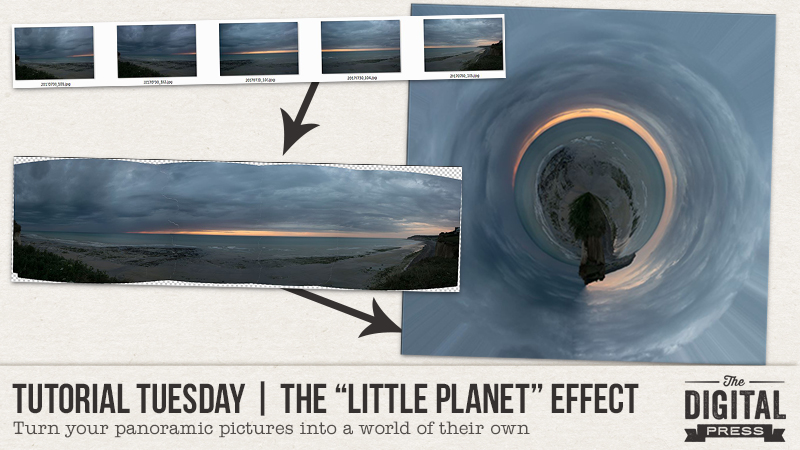 Hi everyone! I'm happy to present another edition of our Tutorial Tuesday series here on The Digital Press blog! This week, we will learn how to create a "little planet" with our pictures — also known as a "polar panorama."
I'll go through the process of doing this in Photoshop (PS), but there's probably a similar procedure in other photo editing software programs, as well.
The first step is to create or find a panorama, ideally one that is 360 degrees. If you take the pictures yourself, try to stay constant in all your pictures — or in other words, stay at the same spot, use the same settings and same focal length (don't zoom in or out), and stay level (have the horizon horizontal and about at the same place in your pictures). It's easier to do with a tripod, but not mandatory. My example pictures, below, were taken in a handheld fashion.
Here are the images I used to create my panorama…

To create the panorama in Photoshop, try using the "photomerge" feature — which can do it automatically. This feature is located in File > Automate > Photomerge. You can either browse through your files, or use images that are already open. Here's a look…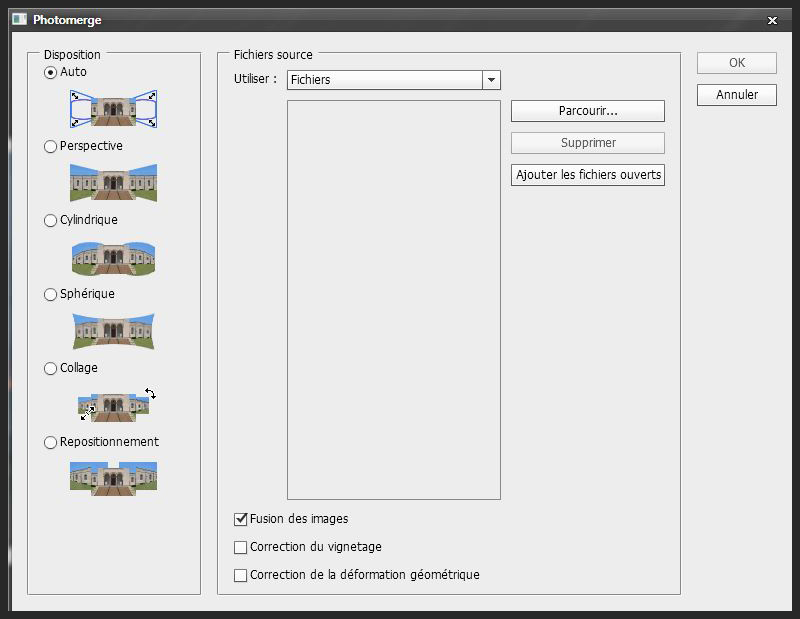 Here's the result of the photomerge process for my example photos. As you can see, it's pretty good as-is! I just had a little spot to correct (the water/sky line wasn't properly aligned), but it was easy to do because each picture is on its own layer with masks (i.e. independent from the others).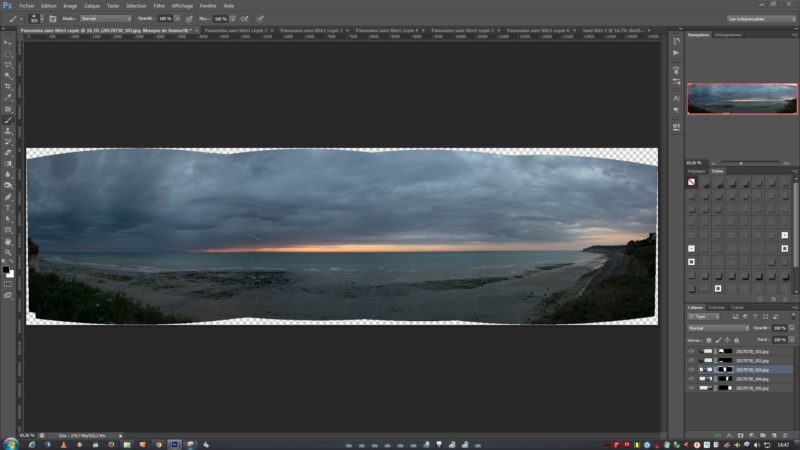 Next, I cropped the image to get a long rectangle. Because my photos were about 180 degrees and not a full 360 degree panorama, I made sure to try and align the left and right sides of the pictures. Those will get "connected" when we create the circle (below), so I wanted to make my job easier by making sure that the cliffs are cropped at about the same height…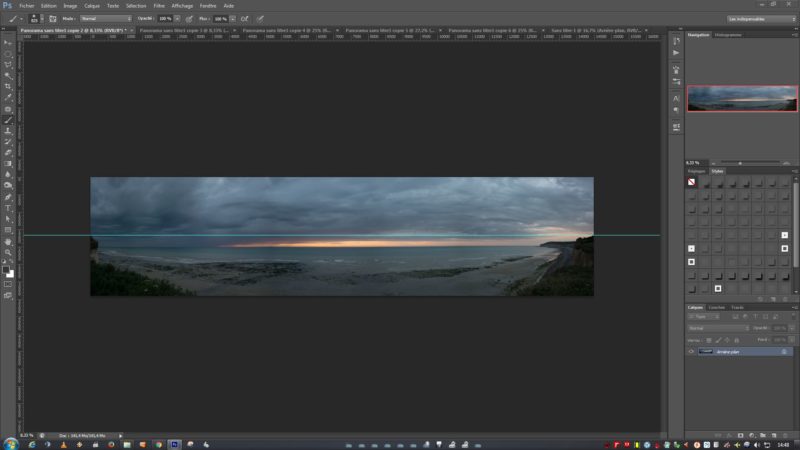 Now we finally start the real "little planet" effect. First, shrink the photo to create a square image. I know, I know, we should never distort an image… but this is actually a case in which you don't want to respect the original proportions. Use the Image > Image size from the menu… or else use the Alt+Ctrl+I  keystroke function. Unlock the proportions, and then type the same number in the width as in the height.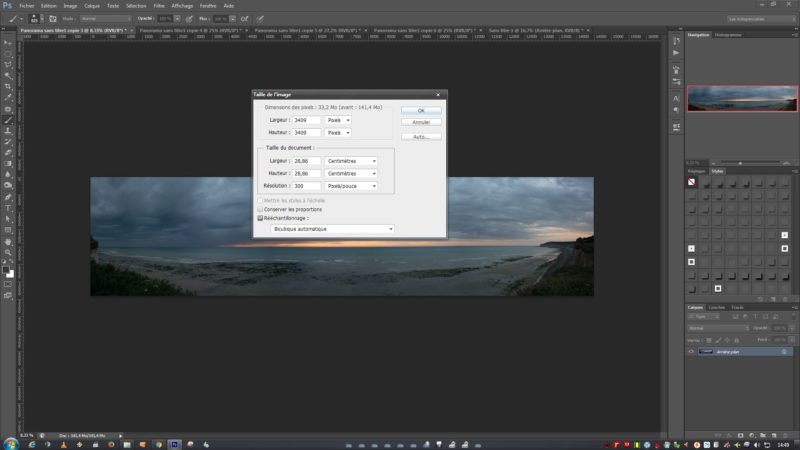 Here's the result of that last step (it looks super weird right now, but it'll get better, I promise!)…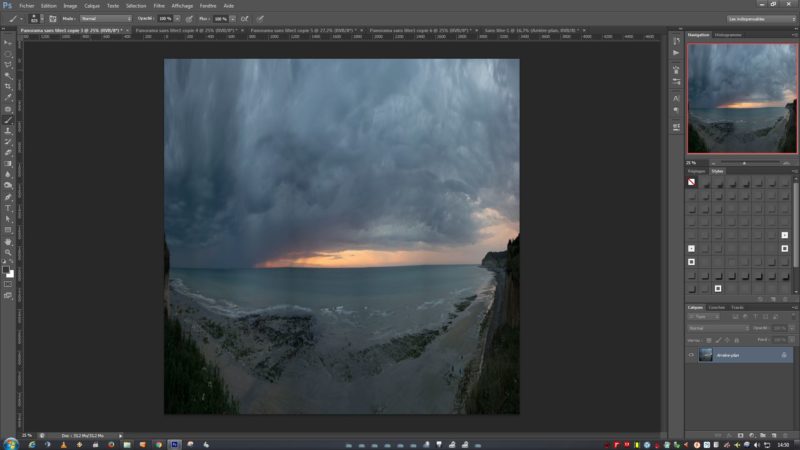 Next, turn the image upside down by using Image > Rotate > 180 degrees (and now it looks even weirder)…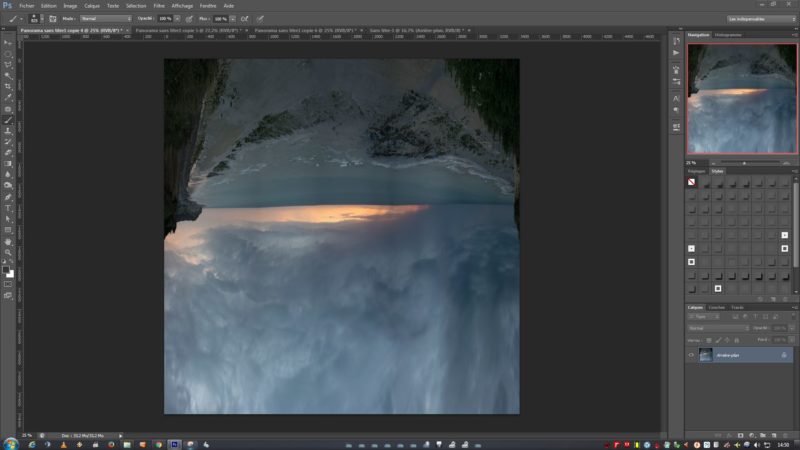 Next, you'll create your "little planet" by using Filter > Distort > Polar Coordinates. Make sure the "Rectangle to Polar" box is checked, and then click OK.
And… tada(!), your little planet is born!
You can now edit the junction and blend the two sides of the image together. This is why I cropped a few pixels away to help match the sides, I just had to use the "patch" tool and it was easily done. I also chose to turn the photo upside down again (with the Rotate > 180 degrees tool) because it made more sense to me, but it's optional.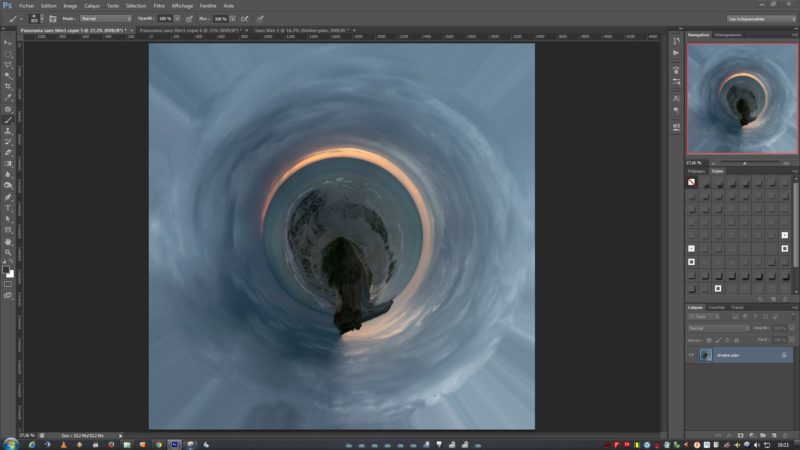 And you're done!
I think this special edit can produce really unique images, perfect to represent how your world revolves around someone, or how somewhere is the center of the world for you, etc.
With my example. I wanted to scrap about how little I feel in front of the sea… how magnificient this view is(!)… etc. I used Jaunt by Sahin Designs and the Lanky and Stamped alphabets by Dawn by Designs to create the following scrapbook page…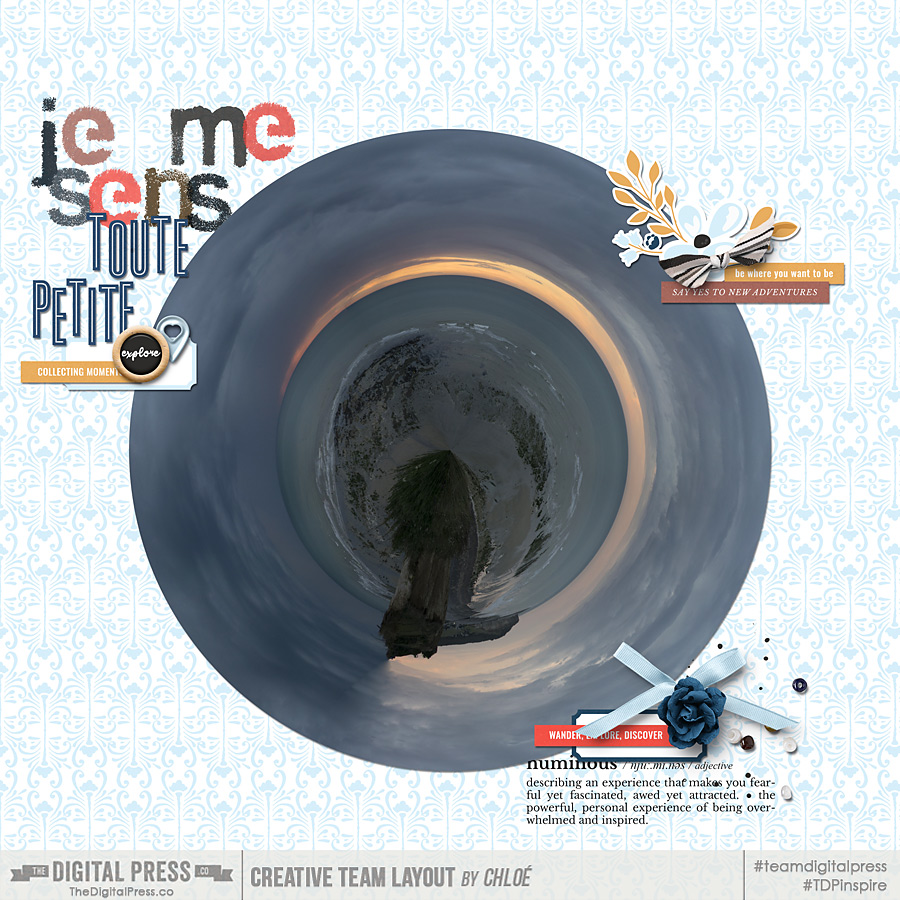 I hope you'll give this fun technique a try! You could also experiment with a person in the frame? I haven't done it yet, but it's on my photography "to-try" list. Don't hesitate to ask any questions you have (in the comments, below), and I'll do my best to help!
---

About the author  Chloé is in charge of PR and communication for her small town by day, is a digiscrapper "by night," and a photographer whenever the light is beautiful. She lives with her man and fur-babies in a small town of Alsace (in the northeast of France), where she loves to read, watch good TV shows (TWD being her absolute favorite), and just hang out with her friends — no matter if they are close by, online, or away in her Swiss hometown. She recently became quite obsessed with Bullet Journaling, FLyLady and Zero Waste.