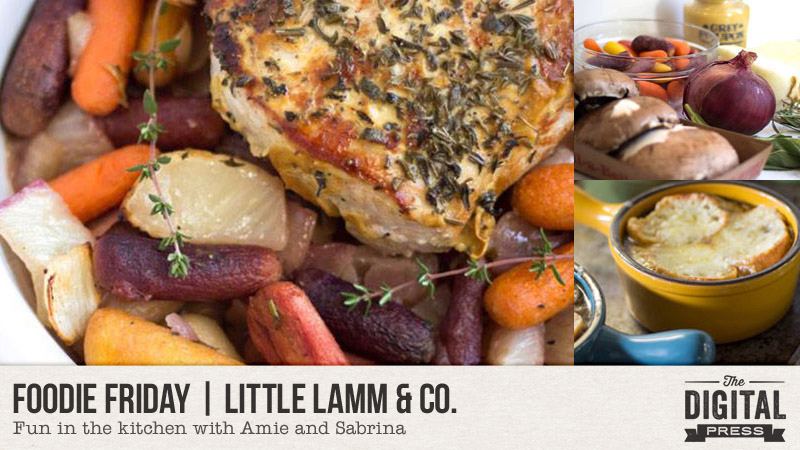 Hello everyone, and welcome to another edition of our Foodie Friday series here at The Digital Press!
Foodie Friday is our newest blog series, and is based on the amazing response we had to the "Mess Hall" activities during TDP's Summer Camp, back in July. As such, most every Friday throughout the rest of the year, we will be combining this fun feature with our weekly designer feature series — and having some fun in the kitchen! Every week you will get the chance to peek into the lives (and kitchens) of your favorite TDP designers and creative team members.
This week… we have the awesome Amie from Little Lamm & Co. joining me (Sabrina, from the creative team here at TDP)… and we're cooking up a few delicious autumn-inspired recipes from Amie's kitchen!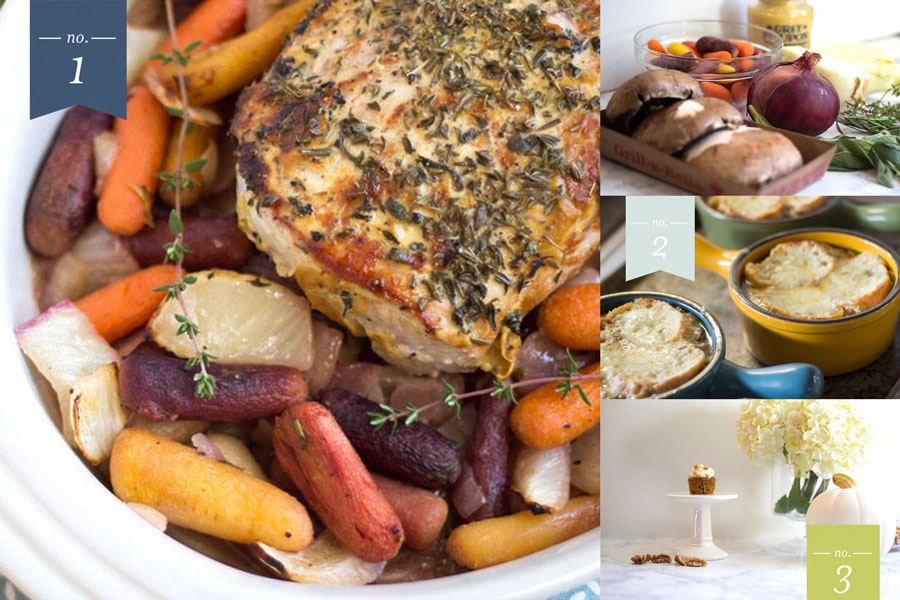 [all photo credits to Amie Lamm of Little Lamm & Co.]
Amie loves to cook and photograph her yummy food. She said that if she had more time on her hands, she would definitely be a food blogger. Amie is also a big fan of autumn… and had the followoing to say about her recipes: "I cannot wait for autumn each year — just for all the soups! I have a bucket list of soups and stews to make each season."
Here is the line up of delicious recipes Amie put together this week (shown above):
Sunday Night Roast Loin of Pork with Fall Vegetables
'Autumn is Here' French Onion Soup
Mini Carrot Cupcakes
---
Sunday Night Roast Loin of Pork with Fall Vegetables
Amie says: "There is something about how the mustard, wine and herbs in this dish meld together to make the most delicious sauce. If your sauce ends up a bit lacking, because roast times can lengthen depending on the size of your loin, you can add low sodium chicken broth to thin it out. I do make this dish on a week night occasionally, only because once you put it in the oven, there isn't anything to do until it's ready. I just have to be home at least two hours prior to dinner to start preparing."
INGREDIENTS NEEDED
—2 pounds boneless pork loin roast
—1 tablespoon olive oil
—1 tablespoon Dijon mustard
—1 tablespoon fresh sage (finely chopped)
—1-1/2 teaspoons fresh rosemary (finely chopped)
—1-1/2 teaspoons fresh thyme (finely chopped)
—1/2 teaspoon kosher or coarse sea salt + 1/2 tsp black pepper(for meat)
—4 medium carrots (washed and peeled, cut on the bias into slices 1/4-inch thick)
—2 medium yellow onions (large diced)
—1 fennel bulb, stems removed (rough cut into large pieces)
—2 tablespoons olive oil
—1/2 teaspoon kosher or coarse sea salt + 1/2 teaspoon black pepper (for vegetables)
—1 cup dry white wine
INSTRUCTIONS
—Preheat oven to 400 degrees F.
—In a small bowl, combine the finely chopped sage, rosemary, and thyme with salt and pepper and set aside.
—Heat a frying pan with 1 tablespoon olive oil over medium-high heat. Once the pan is hot, brown the pork on all sides until golden brown all over, about 2 minutes per side with a little extra time on the top layer. Set aside to cool for a couple of minutes.
—Brush the top of the roast with an even layer of Dijon mustard, and follow that with an even coating of the fresh herb mixture.
—In a separate frying pan, heat 2 tablespoons of olive oil over medium heat and then saute the carrots, onions and fennel until slightly brown, about 3 to 5 minutes. Add salt and pepper and toss to coat.
—Place the roast in the center of a roasting pan or baking dish and surround with the sautéed vegetables. Pour one cup of dry white wine over the vegetables and bake in a 400-degree oven for about 50 minutes, until golden brown with an internal temperature of 160 degrees.
—Let pork rest for 3 to 5 minutes (maximum), and then cut into half-inch thick slices and serve.
[serves 4 to 6]
---
'Autumn Is Here' French Onion Soup
About this soup recipe, Amie says: "This recipe today is by far my favorite. Probably because we don't make it super often (it's a tad labor intensive). My second favorite, though, is Zuppa Toscana. It's the only way I get my boys to eat kale!"
INGREDIENTS NEEDED
—3 tablespoons unsalted butter, cut into 3 pieces
—6 large yellow onions (about 4 pounds, halved and cut pole to pole into 1/4 inch-thick slices)
—table salt
—2 cups water (plus extra for de-glazing)
—1/2 cup dry sherry
—4 cups low sodium chicken broth
—2 cups beef broth
—6 sprigs fresh thyme (tied with kitchen twine)
—1 bay leaf
—ground black pepper
ADDITIONAL INGREDIENTS NEEDED FOR CROUTONS
—1 small baguette (cut into 1/2 inch slices)
—8 ounces shredded Gruyère cheese (about 2 1/2 cups)
INSTRUCTIONS
—Adjust oven rack to lower-middle position and heat oven to 400 degrees.
—Generously spray inside of heavy-bottomed large (at least 7-quart) Dutch oven with nonstick cooking spray.
—Place butter in pot and add onions and 1 teaspoon salt. Cook, covered, 1 hour (onions will be moist and slightly reduced in volume).
—Remove pot from oven and stir onions, scraping bottom and sides of pot.
—Return pot to oven with lid slightly ajar and continue to cook until onions are very soft and golden brown, 1-1/2 to 1-3/4 hours longer, stirring onions and scraping bottom and sides of pot after 1 hour.
—Carefully remove pot from oven and place over medium-high heat. Using oven mitts to handle pot, cook onions, stirring frequently and scraping bottom and sides of pot, until liquid evaporates and onions brown, 15 to 20 minutes, reducing heat to medium if onions are browning too quickly.
—Continue to cook, stirring frequently, until pot bottom is coated with dark crust, 6 to 8 minutes, adjusting heat as necessary (scrape any fond that collects on spoon back into onions).
—Stir in 1/4 cup water, scraping pot bottom to loosen crust, and cook until water evaporates and pot bottom has formed another dark crust, 6 to 8 minutes.
—Repeat process of de-glazing 2 or 3 more times, until onions are very dark brown.
—Stir in sherry and cook, stirring frequently, until sherry evaporates (about 5 minutes)
—Stir in broths, 2 cups water, thyme, bay leaf, and 1/2 teaspoon salt, scraping up any final bits of browned crust on bottom and sides of pot.
—Increase heat to high and bring to simmer. Then reduce heat to low, cover, and simmer 30 minutes.
—Remove and discard herbs, then season with salt and pepper.
—For the croutons: while soup simmers, arrange baguette slices in single layer on baking sheet and bake in 400-degree oven until bread is dry, crisp, and golden at edges, about 10 minutes. Set aside.
—To serve: adjust oven rack 6 inches from broiler element and heat broiler. Set individual broiler-safe crocks on baking sheet and fill each with about 1-3/4 cups soup. Top each bowl with 1 or 2 baguette slices (do not overlap slices) and sprinkle evenly with Gruyère. Broil until cheese is melted and bubbly around edges, 3 to 5 minutes. Let cool 5 minutes before serving.
[serves 6]
---
Mini Carrot Cupcakes
About this recipe, Amie says, "I am all about vegetables in my desserts. I love pumpkin everything! But because you might be sick of PSLs by now, here is my favorite carrot cake recipe. And I always try to do dessert in miniature. It makes portion control so much easier! Until you eat 6 at a time."
INGREDIENTS NEEDED
—1 1/4 cups all-purpose flour
—1/2 cup chopped walnuts
—1 teaspoon baking powder
—1/2 teaspoon baking soda
—1/2 teaspoon salt
—1/2 teaspoon ground cinnamon
—1/2 teaspoon ground nutmeg
—1/2 teaspoon ground ginger
—1/4 teaspoon ground allspice
—1 1/2 cups grated carrots
—2/3 cup vegetable oil
—1 cup granulated sugar
—3 large eggs
—1 teaspoon vanilla extract
ADDITIONAL INGREDIENTS NEEDED FOR FROSTING
—2 1/2 cups confectioner's sugar
—8 ounces cream cheese, softened
—2 tablespoons unsalted butter, softened
—1 teaspoon lemon juice
—1/4 teaspoon almond extract
—1/4 cup toasted chopped walnuts
INSTRUCTIONS
—Preheat oven to 350 degrees F.
—Line two 24-cup mini-muffin pans with paper liners.
—Put the flour, walnuts, baking powder, baking soda, salt, and spices in the food processor and pulse until the nuts are finely ground.
—Whisk the grated carrots, vegetable oil, granulated sugar, eggs and vanilla in a large bowl until combined.
—Stir in the flour mixture until just combined.
—Divide amoung the muffin cups, filling each three-quarters of the way.
—Bake until a toothpick comes out clean, 10-15 minutes.
—Transfer to a rack and let cool 5 minutes, then remove cupcakes from pans to cool completely.
—Meanwhile, for the frosting: beat the confectioner's sugar, cream cheese, unsalted butter with a mixer until fluffy. Beat in the lemon juice and almond extract.
—Pipe or spread the frosting onto the cupcakes and sprinkle with chopped walnuts.
[makes 48 mini cupcakes]
---
Does't that all look delicious?!
If you're up for a challenge… come to the forum and check out the latest edition of our Recipe Book challenge, which launched this month and is designed to help you create a quick-&-simple book of your favorite recipes — get this — in time to print it up and give it to friends and family members as a holiday gift later this year(!). Sound like fun? Come check it out HERE.
Meanwhile, it wouldn't be a designer feature week without a fantastic sale and a special Free-with-Purchase offer… so you'll be excited to see what Amie has in store for you! Not only is her entire shop marked down 30% OFF throughout her entire feature week (sale prices will be valid through 11:59pm ET on Thurs 10/19)… but she also has this awesome deal in her shop all week long, as well! Spend $10+ in the Little Lamm & Co. shop, and get the following BRAND NEW KIT that just launched in her shop today — completely FREE!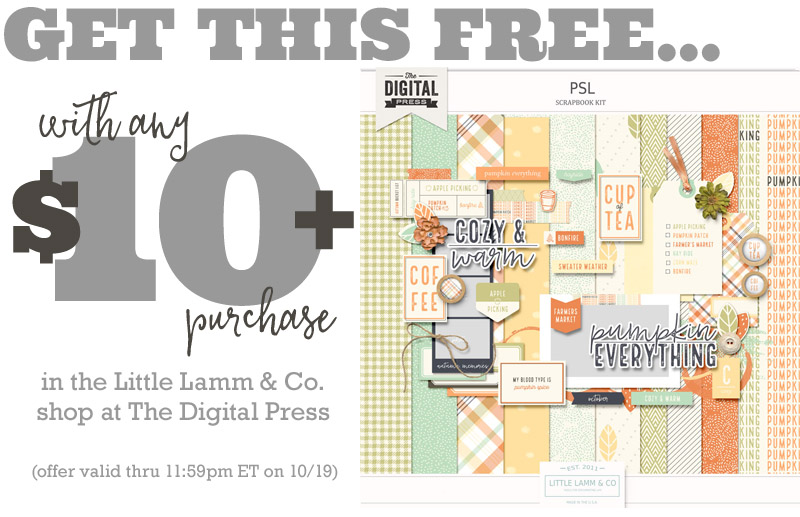 ---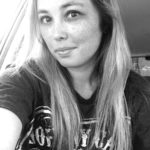 About the Author  Sabrina is married to a hard-working man and has two rambunctious kids, nicknamed Captain and Sunshine. She spends every free minute creating at her crafty space. Digital layouts, hybrid layouts, project life and just anything memory keeping. She also loves to read, kickbox and go a bike ride.