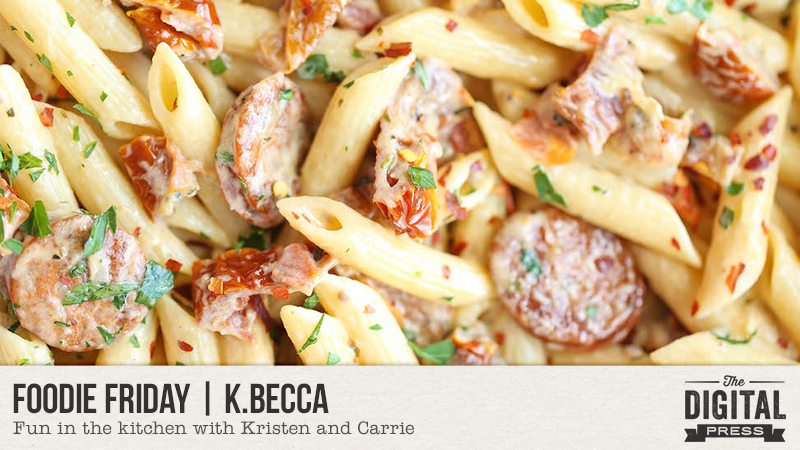 Hello, and welcome to our very first Foodie Friday blog post!
Based on the amazing response we had to our "Mess Hall" activities during TDP's Summer Camp back in July, each Friday for the rest of the year we'll be combining our weekly designer features with some fun in the kitchen! Every week, you'll get the chance to peek into the lives (and kitchens!) of your favorite TDP designers and creative team members.
Not only will we be featuring one of our fantastic designers at The Digital Press each Friday, but you'll also get to head into the kitchen with her and one of our talented creative team members (and you'll get a few delicious recipes to add to your rotation!).
This week we will be featuring the talented Kristen Magee of k.becca, and peeking into her kitchen to learn a few of her favorite recipes… as well as a smattering of extra tips provided by me, TDP Creative Team member Carrie (caliten). This is Kristen's second feature on The Digital Press blog (you can find her first feature article from April 2017 HERE, if you want to learn more about her).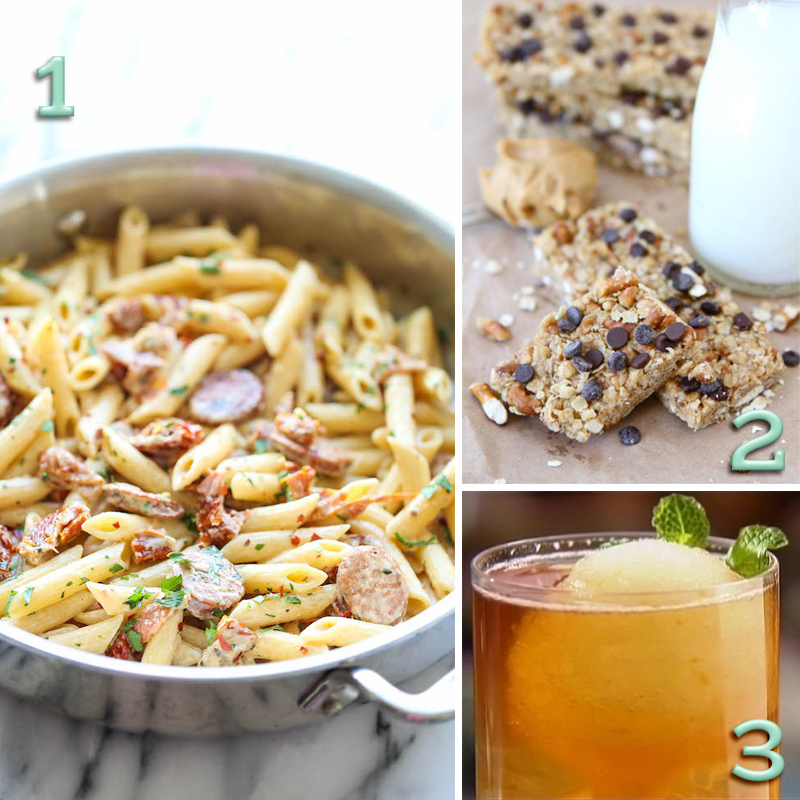 photo credits for [1] [2] and [3] to TDP designer Kristen Magee (k.becca)
So, what are these delicious things you see pictured above?
Pasta with Sun-Dried Tomato Cream Sauce
No-Bake Sweet & Salty Granola Bars
Arnold Palmer
---
PASTA WITH SUN-DRIED TOMATO CREAM SAUCE
Kristen says, "this is one of my go-to weeknight meals because it's quick, easy to make, and delicious. The sausage and sun-dried tomatoes give the dish so much flavor and balance out the richness of the cream."
Carrie says, "if Andouille isn't your thing, or it's hard to find, another type of pre-cooked sausage or even a shredded rotisserie chicken breast could be substituted."
INGREDIENTS NEEDED
—8 oz. penne pasta
—1 tablespoon olive oil (omit if using a non-stick pan)
—2 smoked Andouille sausage links (12-16 oz.), thinly sliced
—2 tablespoons chopped fresh parsley leaves (optional)
FOR THE CREAM SAUCE
—2 tablespoons unsalted butter
—3 cloves garlic, minced
—2 tablespoons all-purpose flour
—1 cup chicken broth
—1/2 cup heavy cream
—1/3 cup julienned sun dried-tomatoes in olive oil, drained
—1/4 cup freshly grated Parmesan
—1/4 teaspoon dried oregano
—1/4 teaspoon dried basil
—1/4 teaspoon red pepper flakes, or more, to taste
—Kosher salt and freshly ground black pepper
INSTRUCTIONS
—Bring a pot of salted water to a boil and cook pasta according to the package directions. Drain well.
—While the pasta is cooking, heat olive oil in a large skillet over medium high heat. Add sausage and cook, stirring frequently, until sausage is lightly browned on both sides, approximately 2-3 minutes per side. Remove from pan and place in a bowl.  Set aside.
—To make the cream sauce, melt butter in a large skillet over low heat. Add garlic and cook, stirring frequently, about 1-2 minutes. Whisk in flour until lightly browned (about 1 minute). Gradually whisk in chicken broth and cook, whisking constantly, until incorporated (about 1-2 minutes).
—Stir in heavy cream, sun dried tomatoes, Parmesan cheese, oregano, basil, and red pepper flakes until the sauce is slightly thickened. Season with salt and pepper to taste.
—Stir in pasta and sausage until well combined.
—Garnish with parsley (optional) and serve immediately.
*NOTE* To make this recipe gluten free, use gluten free pasta and replace the all-purpose flour with 1 tablespoon of cornstarch. Stir the cornstarch into the chicken broth before adding it to the pan. Adding about 8 ounces of steamed broccoli when stirring in the pasta and sausage before serving adds a great crunch.
---
NO-BAKE SWEET AND SALTY GRANOLA BARS
Kristen says, "I love the mix of sweet and salty in these granola bars, which are perfect for snacks or breakfast. Just looking at this recipe makes me want to whip up a batch!"
Carrie says, "This looks awesome!"
INGREDIENTS NEEDED
—1/4 cup unsalted butter
—1/4 cup brown sugar
—1/4 cup honey
—1/4 cup creamy peanut butter
—1 teaspoon vanilla extract
—2 cups quick oats
—1/2 cup crispy rice cereal
—3/4 cup chopped pretzels
—1/4 cup mini chocolate chips
INSTRUCTIONS
—Cut out an 8 x 8 inch square of parchment paper. Place the parchment paper into an 8 x 8 inch baking pan. If you don't have parchment paper, a piece of foil lightly sprayed with non-stick cooking spray works can be substituted.
—In a large sauce pan, add butter, brown sugar, honey, and peanut butter. Heat over medium-low heat, stirring occasionally until the mixture starts to bubble. Once it starts bubbling, cook for 2 minutes while stirring constantly. Remove from heat and stir in the vanilla extract.
—Stir in the oats, crispy rice cereal, and pretzels. Keep stirring until everything is well coated with the butter and brown sugar mixture. Pour the mixture into the prepared pan and press evenly into the pan. Sprinkle the mini chocolate chips over the top and gently press into the granola bars with your hands.
—Place the bars in the refrigerator and let cool for at least 30 minutes before cutting. Cut into bars and serve.
*NOTE* Store the bars in an air tight container in the refrigerator. The original recipe says that they'll keep up to a week or more this way, but they've never lasted that long in Kristen's house! For gluten free granola bars, use gluten free oats and pretzels.
---
ARNOLD PALMER
Kristen says, "most of the time, I only drink water… but every once and a while, I like to treat myself to a sweet beverage. The Arnold Palmer is one of my favorites, especially during the summer months. I like this version of the recipe because the lemonade is made into a slush that both flavors and chills the drink."
Carrie says, "the zest off all those extra lemons would be perfect for some candied lemon peel or even homemade limoncello!"
INGREDIENTS NEEDED
—4 English breakfast tea bags
—1 tea kettle filled with boiling water (approx. 6-8 cups of water)
—1 cup Simple Syrup, recipe below
—1 cup lemon juice (approx. 6-8 lemons)
—zest of 1 lemon
—2 cups ice cubes
FOR THE SIMPLE SYRUP
—1 cup sugar
—1 cup water
INSTRUCTIONS
—For the simple syrup : Add the sugar and water to a medium saucepan. Bring to a boil and allow to simmer until the sugar has dissolved. Remove from the heat and set aside to cool completely.
—For the tea : Tie the tea bags together and place into a large pitcher. Pour the hot water over the tea bags and into the pitcher. Set the tea aside to steep for 5 minutes.
—For the lemonade : To a blender, add the simple syrup, lemon juice, lemon zest, and ice cubes and pulse to puree. Place the mixture into the freezer until the tea has finished steeping. Add ice cubes to a large glass and top with the tea. Using an ice cream scoop or large spoon, scoop the "lemonade" into the glass.
---
We're betting that you're hungry just reading through these recipes, and that you can't wait to try them out!
Well, if you're up for a challenge… come to the forum and check out our new Recipe Book challenge, which is launching this month and is designed to help you create a quick-&-simple book of your favorite recipes — get this — in time to print it up and give it to friends and family members as a holiday gift later this year (!). Sound like fun? Come check it out HERE.
Meanwhile, it wouldn't be a designer feature week without a fantastic sale and a special Free-with-Purchase offer… so you'll be excited to see what Kristen has in store for you! Not only is her entire shop marked down 30% OFF throughout her entire feature week (sale prices will be valid through 11:59pm ET on Thurs 9/7)… but she also has this awesome deal in her shop all week long, as well! Spend $10+ in the k.becca shop at The Digital Press, and get her "Homebody" Kit completely FREE!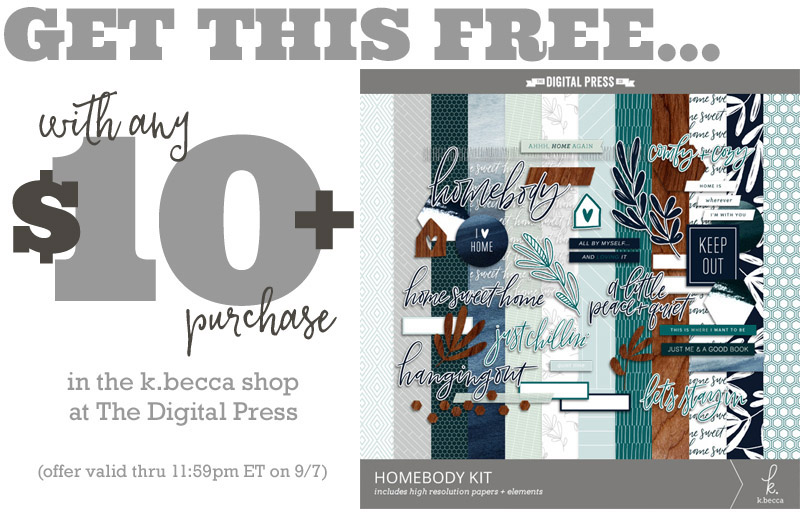 ---

About the Author  Carrie is a creative team member here at The Digital Press. She and her family enjoy spending time outdoors, year-round, near their home in Colorado. In addition to scrapbooking and the occasional hybrid home decor project, Carrie also reads voraciously, accumulates fabric, makes soap, brews beer, grows hops, and tries to keep indoor plants alive.