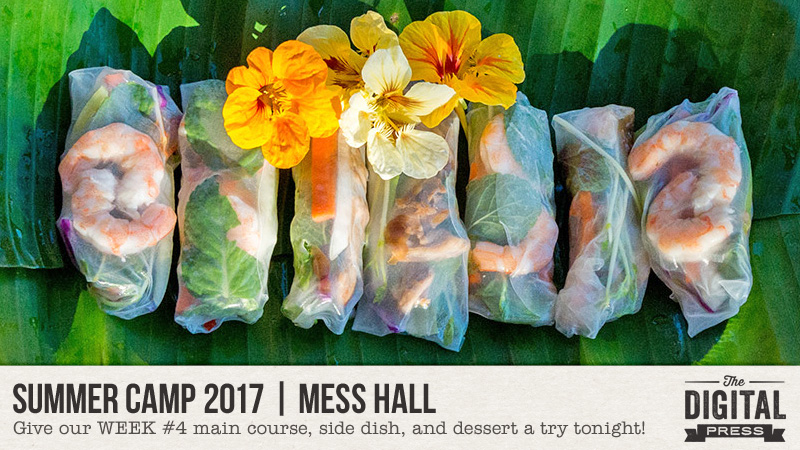 Hello, and welcome to the fourth and final edition of our weekly "Mess Hall" feature during The Digital Press's big SUMMER CAMP 2017 event that has been taking place throughout July!
If you haven't already checked out the other "Mess Hall" meals that have been a part of SUMMER CAMP 2017 (and/or any of the other fun activities)… definitely swing through the forum, grab yourself a badge tracking card, and join the fun! We've got one week left in this month-long event, and there's actually still plenty of time to jump in and earn a chance at some prizes! We've got events, challenges, tutorials, and more lined up throughout the final week of July! 🙂
As for today's "Mess Hall" …as you know, throughout the month of July the members of our team have been here on the blog sharing a weekly meal with you — a main course, side dish, and dessert (or cocktail!) that are each tried-and-true (tested personally by members of our team!). Give any of this week's meal items a try, and you could earn a SUMMER CAMP 2017 badge! Get the full details HERE.
So… let's jump right into this week's meal!
The WEEK #4 meal comes to you from TDP creative team member Carolyn, who hails from the Sunshine Coast of Australia… and you can definitely tell where she's from by the tropical/beachy vibe you get from the meal she's whipped up for us! Whereas our first week's meal (WEEK #1, found HERE) was Italian-inspired… and the second week's meal (WEEK #2, found HERE) was Mexican-inspired… and last week's meal (WEEK #3, found HERE) was very comfort-food-inspired… this final meal is very island-inspired! And can we just say? …we think you're going to love it. YUM!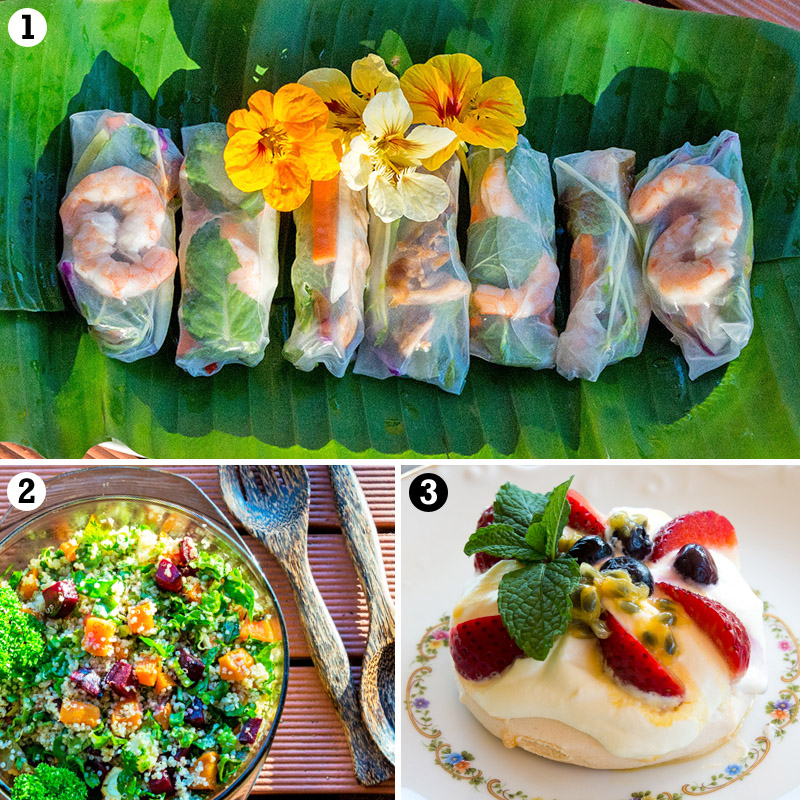 photo credits for [1] [2] and [3] to TDP creative team member Carolyn
What is that up there, you ask?
Rice Paper Wraps with Chicken or Prawns
Quinoa Salad with Roasted Vegetables
Mini Pavlovas
We keep saying it every week, and even though we might sound like a broken record… we'll say it again — YUM! You truly won't be disappointed if you give any of these recipes a try.
---
RICE PAPER WRAPS WITH CHICKEN OR PRAWNS
Carolyn had the following to say about this recipe: "We try to eat as healthy as possible and always cook from scratch. This, however, does not mean that we spend hours in the kitchen everyday… as no one has time for this. This recipe is wonderful to serve on a hot summer's day and can either be prepped ahead of time*, or made at the table with your family. We find that it is a fun family dinner, as children just love rolling up their own wrappers. You can use a variety of fillings so just select ingredients that are familiar to your family.."
INGREDIENTS NEEDED
—1 packet of Vietnamese rice paper wraps (see prep photo HERE)
—1 cup shredded barbecued chicken
—1 cup of peeled and de-veined prawns
—1 carrot (cut into short thin strips or shredded)
—1 small cucumber (cut into thin strips)
—1 cup bean shoots or sprouts
—1/2 cup fresh mint (or other herbs as desired)
—a few cabbage leaves (sliced finely)
—sweet chili sauce
INSTRUCTIONS
*these wraps should be made as close as possible to the time they are to be eaten; if preparing ahead of time, however, store on plastic wrap in fridge.
—Prepare all of the filling ingredients first (as noted above) by arranging each individually on separate plates or one very large plate.
—Fill a large bowl with hot water.
—Take one of the rice paper wrappers and dunk it into the water for a few seconds (just enough to soften it; do not soak the wrappers).
—Select desired filling ingredients and place in center of wet softened wrap (do not overfill).
—Add approximately 1 teaspoon of chili sauce over ingredients.
—Fold up the base of wrapper over ingredients; fold in both sides; and then roll it up (see prep photo HERE). Serve.
*TIP* I will often use a wet tea towel as my plate to do the wrapping, as I have found that it is easier to roll the wraps on the wet towel.
---
QUINOA SALAD WITH ROASTED VEGETABLES
Carolyn had the following to say about this recipe: "This is one of our favourite recipes, which we are lucky to make largely from fresh ingredients straight out of our garden. This salad is so easy, and a great way to use leftover vegetables and salad greens. It is perfect for summer, as you can prepare it a day ahead and keep it in the fridge. It is also gluten-free and vegan."
INGREDIENTS NEEDED
—1 cup quinoa (dark or white)
—2 cups water
—mixed vegetables for roasting (I used 1 beetroot, 1 large sweet potato, and 1 parsnip [see prep photo HERE]… but you can use just about any vegetable you have available)
—olive oil
—1 colander of mixed salad greens (I used rocket, parsley and lettuce)
—DRESSING: 1/4 cup olive oil, 1/4 cup apple cider vinegar, salt, and pepper (I also usually add grated lemon rind; a.k.a. lemon zest)
INSTRUCTIONS
—Combine quinoa with water in a saucepan on stove and bring to boil; once boiling, put lid on saucepan and reduce heat to low; simmer for 10 minutes.
—Remove saucepan from heat, and leave lid on for approximately 30 minutes for quinoa to finish steaming; then, fluff up quinoa with a fork.
—Prepare vegetables for roasting by peeling and dicing into small pieces. You will need approximately 2 trays for roasting. Drizzle veggies with olive oil. You can add herbs if you like (I also added some fresh thyme and oregano; see prep photo HERE).
—Bake vegetables at 190 degrees C (375 F) for about 25 minutes.
—Meanwhile, prepare the salad greens by cutting into strips.
—Prepare salad dressing by whisking together all of the "DRESSING" ingredients (listed above).
—Place the cooked quinoa into large salad bowl, add prepared greens, and mix in the dressing. Add roasted vegetables as the last ingredient. Serve.
---
MINI PAVLOVAS
Carolyn had the following to say about this recipe: "I had to include this recipe, as it is a traditional Australian recipe — although it is usually served as a large Pavlova, rather than as minis. You can use whatever fruit is in season. This recipe should make 6-8 minis."
INGREDIENTS NEEDED
—4 egg whites (at room temperature)
—1 cup caster sugar (very fine granular sugar; otherwise you can use standard granular sugar but it will just take a little longer)
—fresh cream (approximately 1/2 cup)
—mixed fresh fruit, sliced (I used a combination of blueberries, strawberries and passionfruit; see photo, above, of the final product)
INSTRUCTIONS
—Cover oven tray with baking paper (a.k.a. parchment paper).
—If using whole eggs, separate the whites from yolk and beat egg whites in a bowl at medium speed with electric mixer until soft peaks form (see prep photo HERE).
—Gradually add sugar, 1 Tbsp at a time, beating until dissolved between additions. Once the last of the sugar is dissolved, your mixture should be glossy and thick.
—To make the minis, you can use a cookie cutter as a shape guide. Add approximately 2 Tbsp of meringue mixture to inside of shape mounding more on the outer edges. Lift cutter for next shape.
—Bake at 150 degrees C (300 F) for 30 minutes. Then, turn off oven and leave in oven to dry and cool.
—Whip the fresh cream (I do not feel sugar is needed… but add if you prefer; I usually flavour the cream with rose water).
—Once cool, decorate the minis with whipped cream and fresh fruit. Serve.
* Per Carolyn: you will see in my photos that these mini pavlovas were a little flat; this can occur if you beat the egg whites too quickly / at too high a speed. They still tasted fantastic!
.
Want to give one of these recipes a try and earn your WEEK #4 MESS HALL BADGE for TDP's SUMMER CAMP 2017? Come get the details in the forum —> HERE.
.
---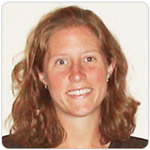 About the Author  Laura Passage is the owner of The Digital Press, and also the designer behind Wishing Well Creations by Laura Passage (WWC). She works now as a graphic designer in both the digital and paper scrapbooking industries, but previously spent over a decade working as a college soccer coach. She lives in the Pacific Northwest with her husband and two young sons (affectionately referred to as The Tiny Terrorists), and will rationalize eating coffee ice cream for breakfast to anyone who questions it.