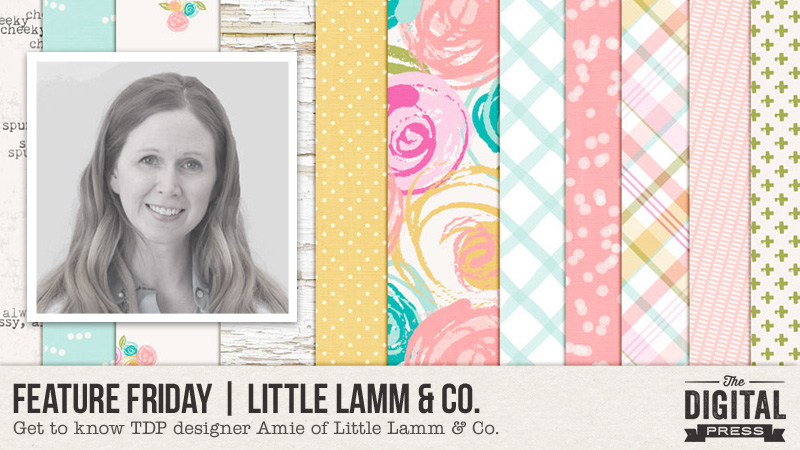 Today, I am excited to kick off a brand new blog series here at TDP! Each Friday, we will be featuring one of our awesomely-talented designers… helping you get to know each of them a little bit better… and also giving you a chance to enjoy a 1-week-only sale in each of their shops!
This week, we'll be featuring the designs of Amie of Little Lamm & Co.  Amie creates digital products that have a distinct pocket-scrapping style and feel. She creates custom designs that you can print yourself at home, if you're interested in "going hybrid" and ending up with physical cards and other products. You'll find lots of flat stickers and brushes/stamps in her kits, mixed with digital versions of the types of dimensional items you tend to find used on traditional paper scrapbook layouts. Additionally, she creates some great photo templates for not useful to pocket scrappers, but for the everyday "traditional" scrapbooker, as well.
It was tough to narrow down, but here are just a few of my favorite products by Amie…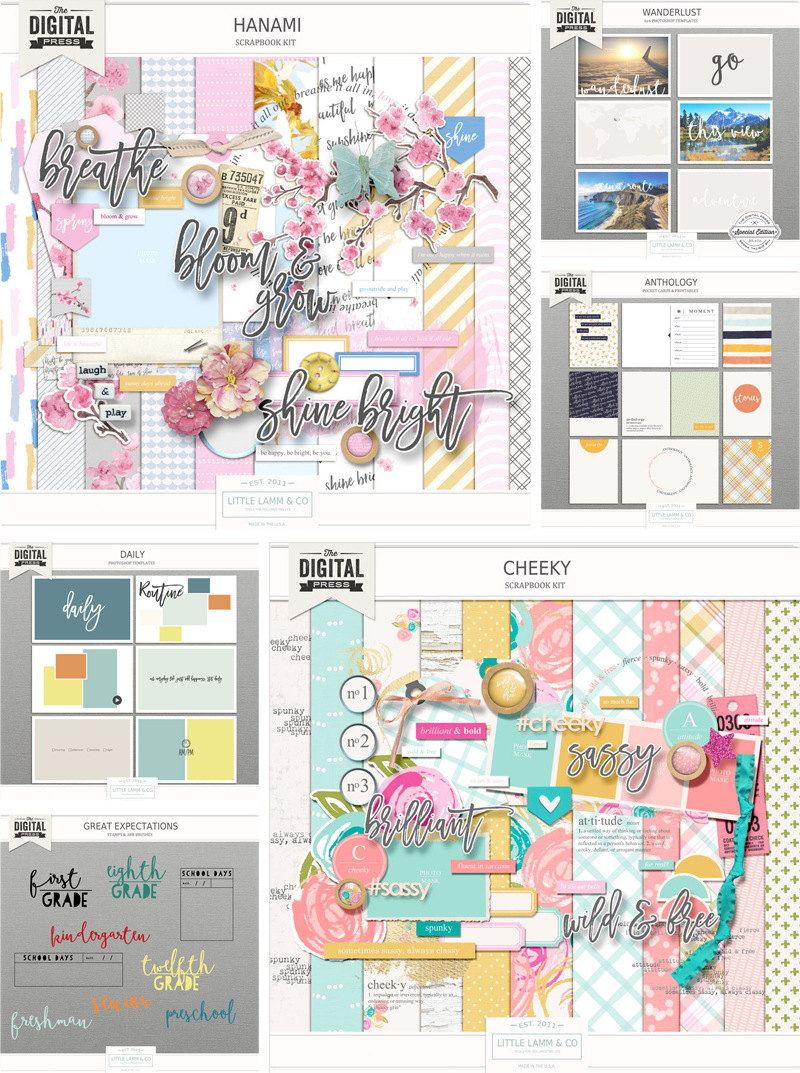 Meanwhile, let's get to know Amie a little better! We asked her to answer a few questions so we could learn more about her…
Where do you live?
Fargo, ND and Vergas, MN
When you're not designing, what do you do with your time?
Trying to keep up with a 4 year old, reading, cooking, and cleaning up after my 2 cats and hubby.
What are 5 tidbits of trivia we might not know about you?
— no bag of dill pickle potato chips is safe around me
— I once won a log throwing competition
— I have psoriatic arthrits and in 2008, I was bedridden and couldn't even go to the bathroom by myself most days
— Justin Timberlake once complimented me on my singing and I had no idea who he was
— I went to Woodstock '99. The one with the riots. I did not participate. LOL
Which of your products is your favorite?
It's a hard choice, but I love Blink…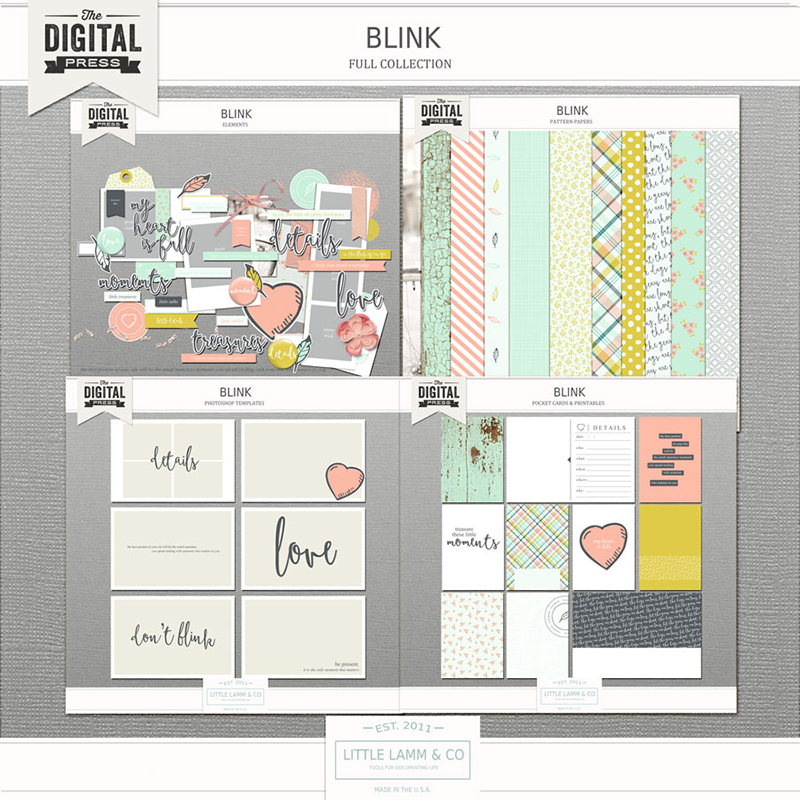 I love creating with Amie's designs! Here's a sampling of some of my favorite layouts that I've made with her lovely goodies…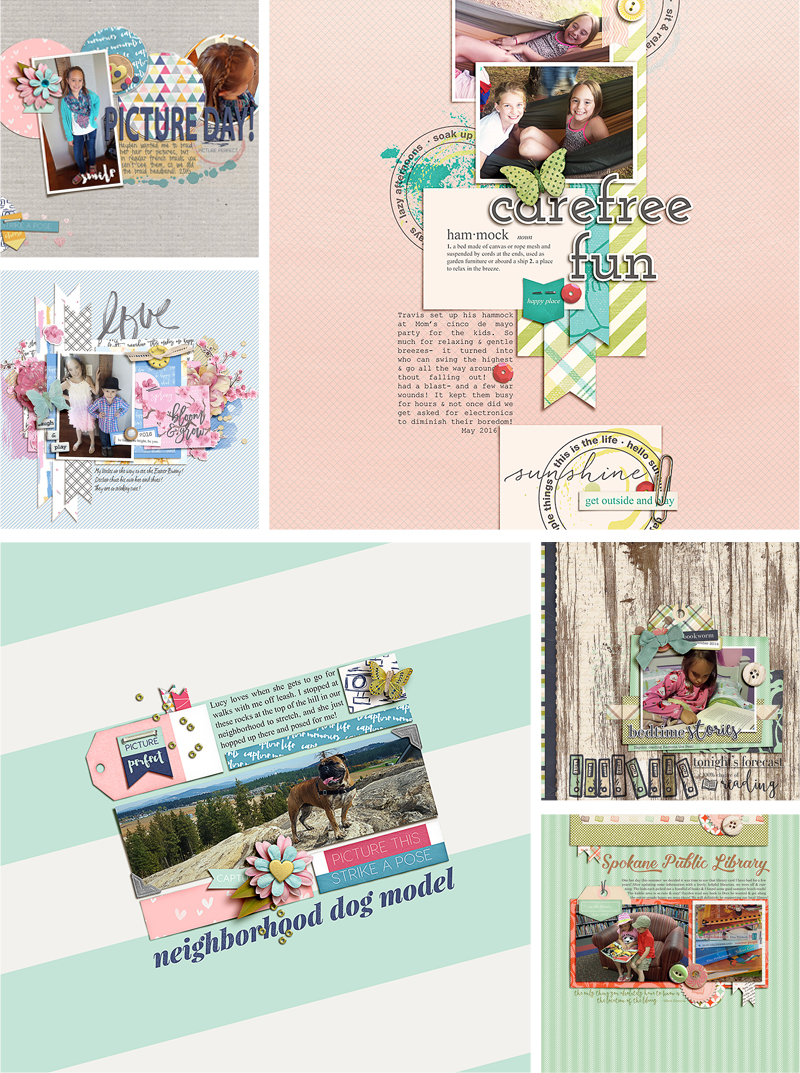 If you haven't already browsed the gorgeousness in Amie's shop here at The Digital Press… definitely check it out HERE! It's a great time to go take a look, because her entire shop will be 30% OFF throughout this entire week (sale will end at 11:59pm ET on Thurs 6/9)! Also — don't forget to check out her lovely new releases this week, which coordinate perfectly with the June Special Edition.
---

About the Author  Amie is a craft-loving dental hygienist who lives in Washington state. She loves her husband, her two kids (ages 8 & 5), and her English Bulldog… as well as coffee, baking cupcakes, daffodils, glitter & sprinkles, reading a good book, and lip gloss — not necessarily in that order.