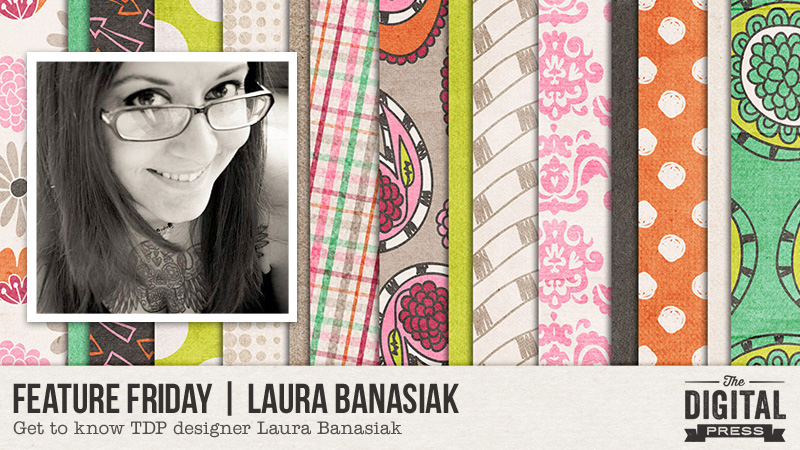 Once again, it's Feature Friday… and this week, we are featuring the designs of the lovely Laura Banasiak!
Laura's kits are full of colorful and funky elements, loads of doodles, and various hand-crafted artsy elements. In addition to digital kits, she also creates awesome fonts, alphas and word art setc… all of which have a very special style that is all her own, and you can recognize her products without even seeing her name on the packaging. I love working with her products, because Laura creates all kind of goodies for cool boys and sweet girls, alike!
I picked some of my favorite products to share with you from Laura's store (which was not easy, as I love all of  her work!)…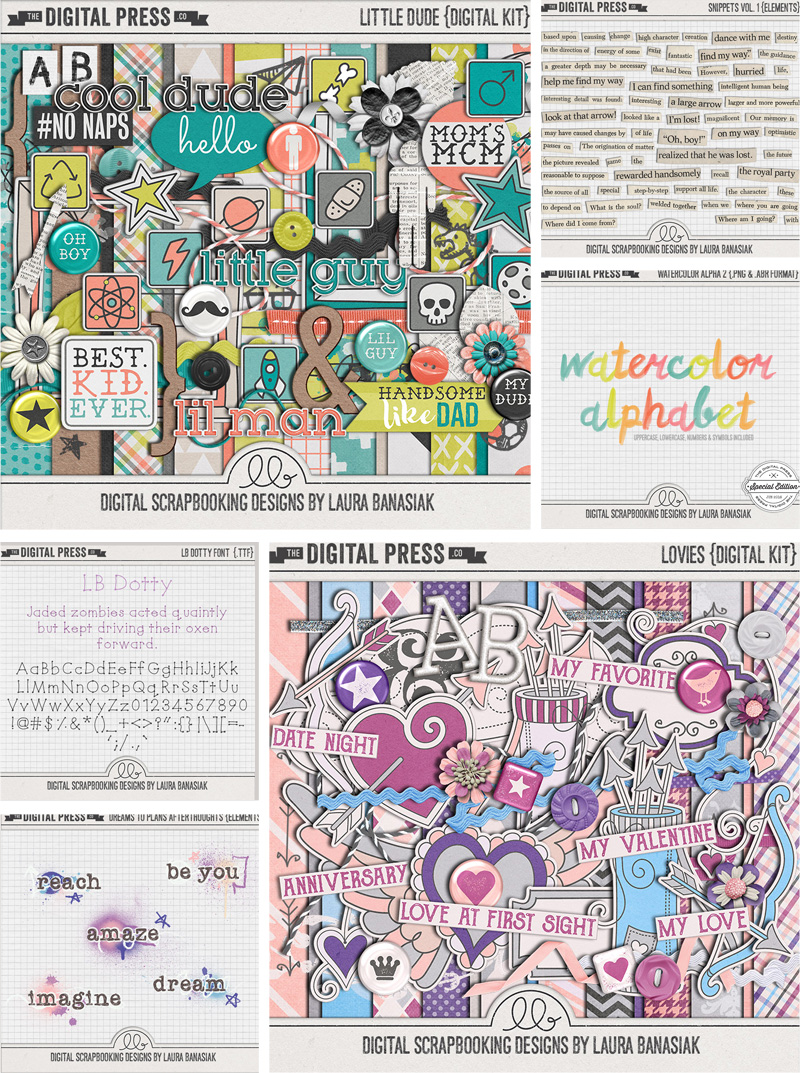 And now, let's get to know Laura a little better! We asked her to answer a few questions so we could learn more about her…
Where do you live?
About an hour from Chicago, Illinois.
When you're not designing, what do you do with your time?
As of right now, I am keeping pretty busy nursing a newborn (come check out her baby announcement in The Digital Press forum! cute baby pics! yay!), changing diapers, and passing him from one excited sibling to the next. 😉
What are 5 tidbits of trivia we might not know about you?
— I have about 15 tattoos
— My boyfriend is a police officer
— My stepmom and I share the same first name
— I was once a librarian
— I'm a cat lady… but am allergic to cats
Which of your products is your favorite?
This always changes. I love all of my Scouting-themed products, but there's also a special place for my Walking Dead inspired kit, Apocalypse…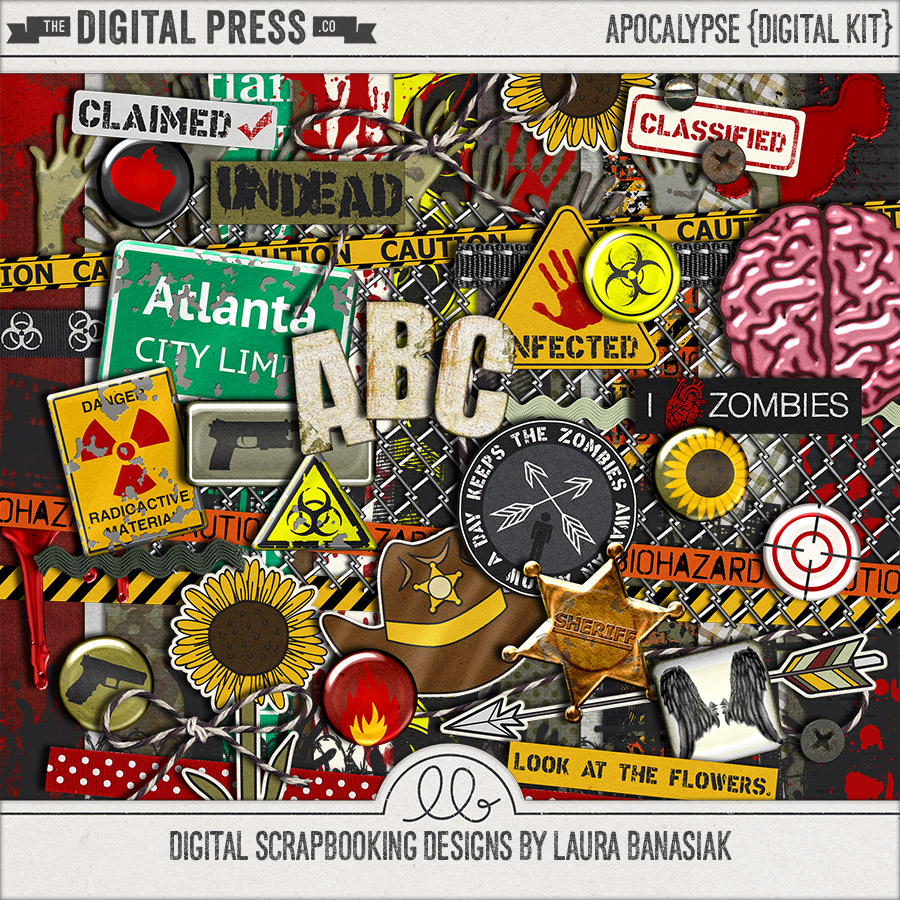 Laura Banasiak's products are super versatile and easy to use for all kinds of projects. Here is a sampling of some of my favorite projects using Laura's designs…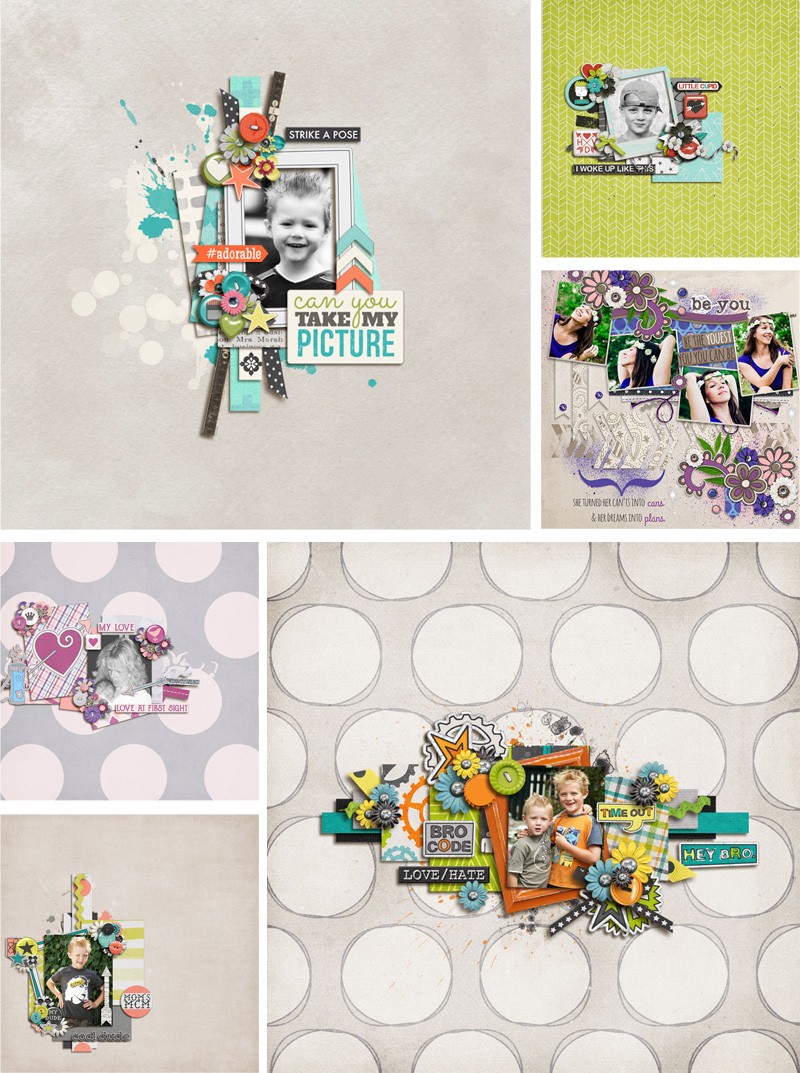 If you haven't already browsed through Laura's shop here at The Digital Press… definitely check it out HERE! You will definitely want to take a peek this week, because her entire shop will be 30% OFF through the end of next Thursday (sale will end at 11:59pm ET on Thurs 6/16)!
---

About the Author  Miranda is mom of two teenage boys, aged 13 and 15 years old, and is also a fur-mummy for her 3 Bernese Mountain Dogs. She lives in the South of the Netherlands, close to the beach where she loves to walk with her dogs. In real life she is HSE-responsible for few companies in the construction industry. She loves to read Danielle Steel novels, long walks at the beach and she loves Italy; and has been digiscrap-addicted since 2007.