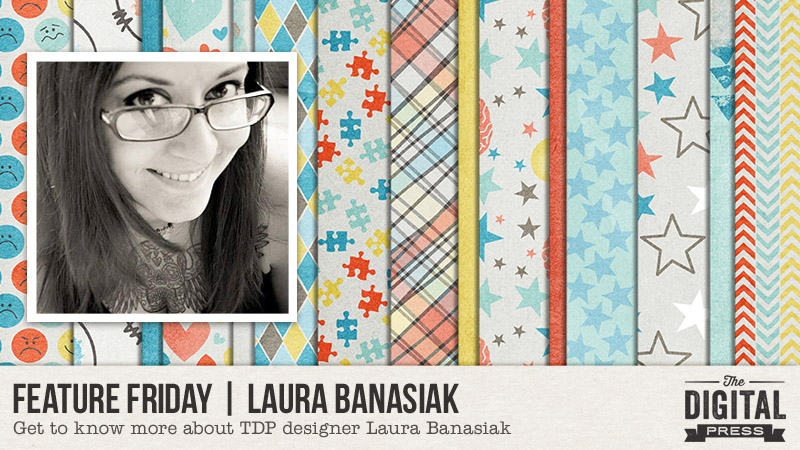 It's time for another edition of our Feature Friday series here at The Digital Press… and this week, I am excited to feature Laura Banasiak here on the blog! This is Laura's second feature here on the blog (you can find her first feature from June 2016 HERE), and whereas last year we used our feature series to help you get to know some fun trivia about your favorite designers… this year, we're using our designer feature series to give you a little peek into our designers' creative spaces, as well as more insight into their creative processes.
With that in mind, we asked Laura to give us a peek into her creative space (a.k.a. "where the magic happens"!)… but she did even better than that! Just wait until you see this! 🙂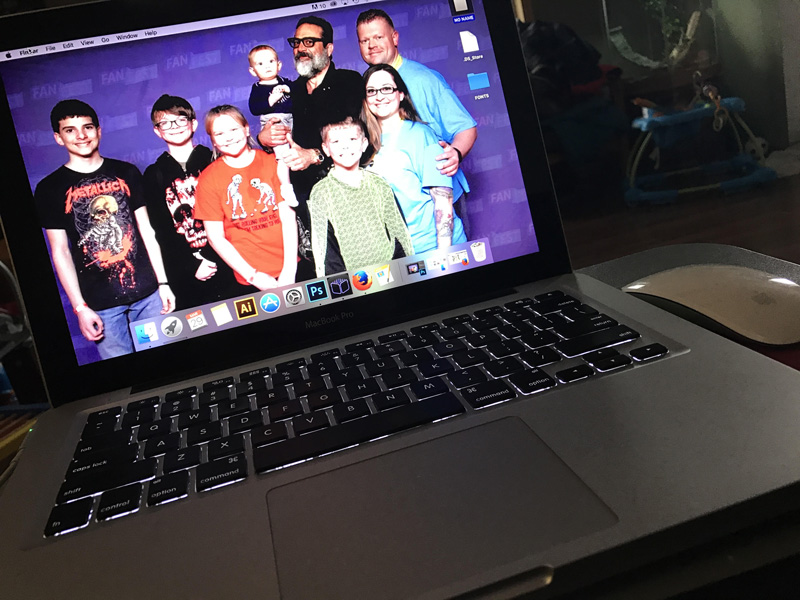 According to Laura, "My work space is really wherever I can manage to hide away from my kids for a few minutes with my laptop. Someday maybe I'll work at a desk again… but in the meantime… my computer's desktop background (above) is a photo from this past weekend's "Heroes and Villains Fan Fest" in Chicago. My boyfriend and I have been working disability services at the conventions for the last three years… although last year's convention didn't go as planned, as we ended up missing out on it after my water broke at the venue and our little guy Ryker (in photo, above, held by actor Jeffrey Dean Morgan of The Walking Dead) was born that day. We like to keep things interesting! Ryker is now the unofficial adorable Chicago convention mascot!"
Here are a few other photos Laura shared with us from the most recent convention she just attended… how fun is this?!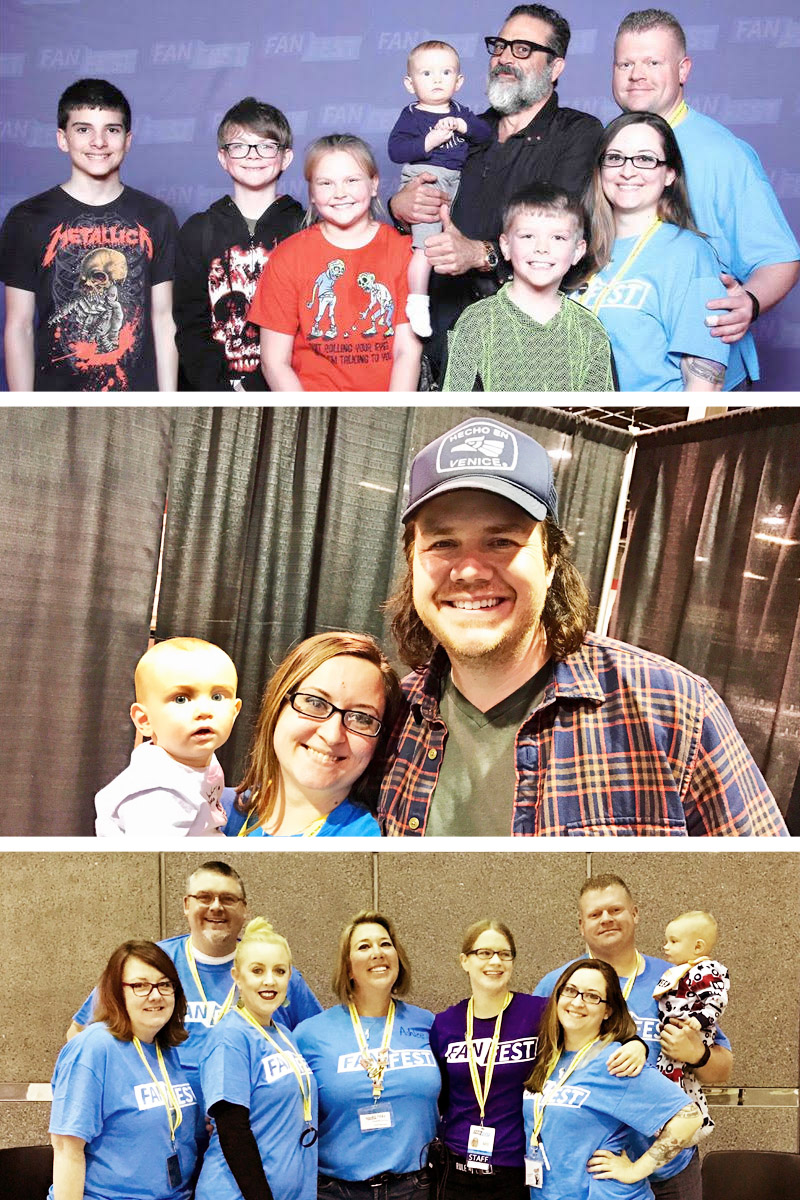 We also asked Laura to give us a "Top 5" list that is representative of her at this point in life, and this was what she came up with… Laura's Top 5 Bands!
Walk Off the Earth
Deftones
Incubus
Avanged Sevenfold
10 Years
As for Laura's designs… her kits are always full of colorful and funky elements, loads of hand-drawn doodles, and various hand-crafted artsy elements. In addition to digital kits, she also creates awesome fonts, alphas, and word art sets… all of which have a very special style that is all her own, and you can usually recognize her products without even seeing her name on the packaging. I love working with her products, because Laura creates all kinds of goodies!
I picked some of my favorite products to share with you from Laura Banasiak's store here at The Digital Press…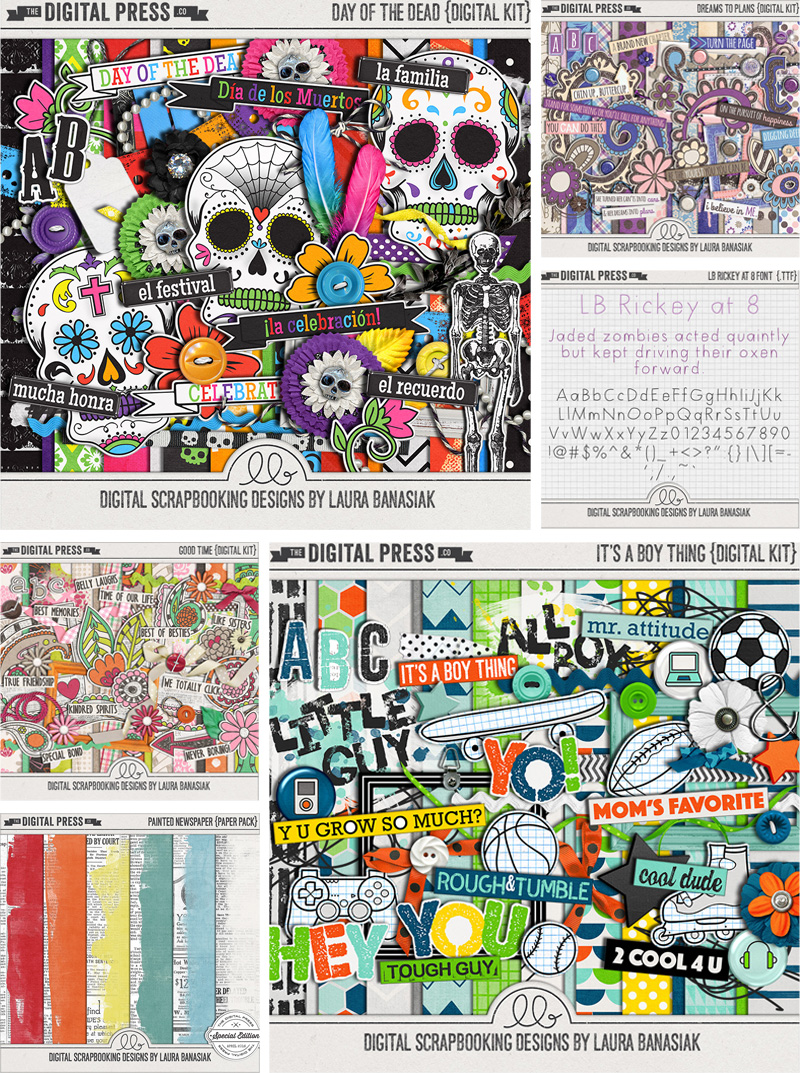 Her products are super versatile and easy to use for all kinds of projects. Aren't they fun?
I also pulled together a sampling of some really fantastic, creative projects that use Laura's products…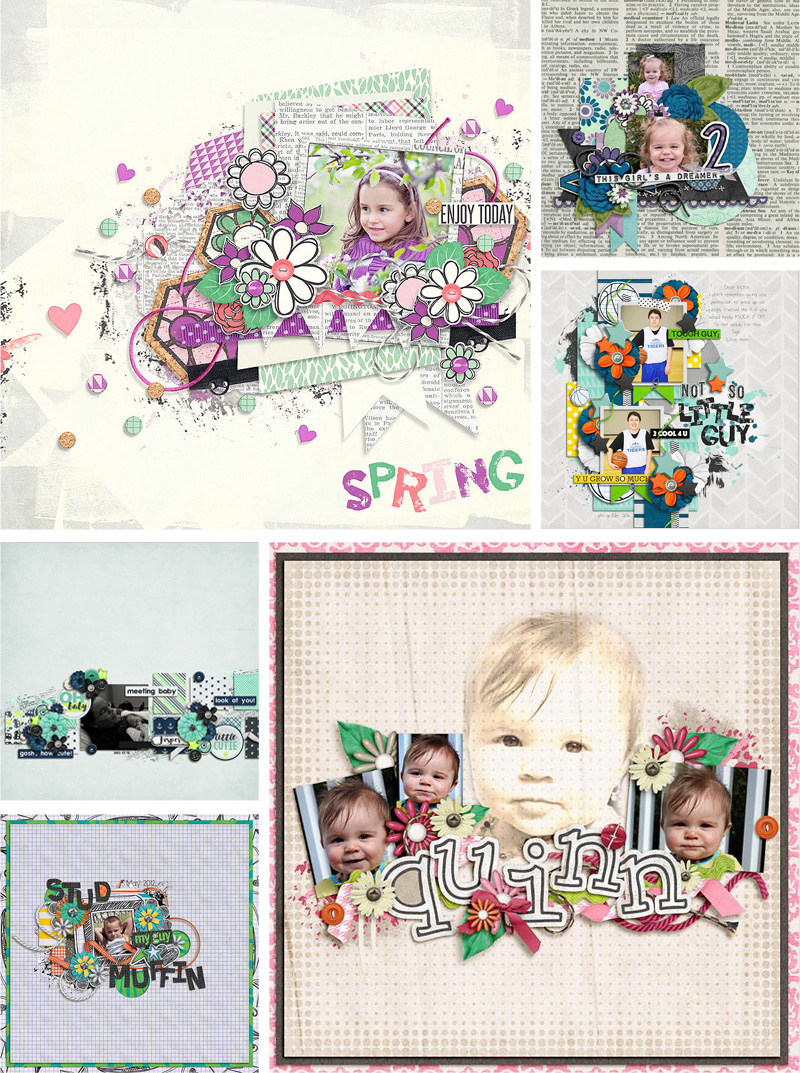 I hope you've enjoyed learning more about Laura Banasiak and getting a peek into her creative space! To celebrate her week as our Featured Designer here at The Digital Press, her entire store will be 30% OFF all week long (the sale will end at 11:59 ET on Thursday 4/6).
Additionally, this week only — you can snag Laura's brand-new, just-released "Little Crab" Mini Kit for FREE with any $10+ purchase in the Laura Banasiak shop at The Digital Press (this offer also ends at 11:59pm ET on Thurs 4/6)…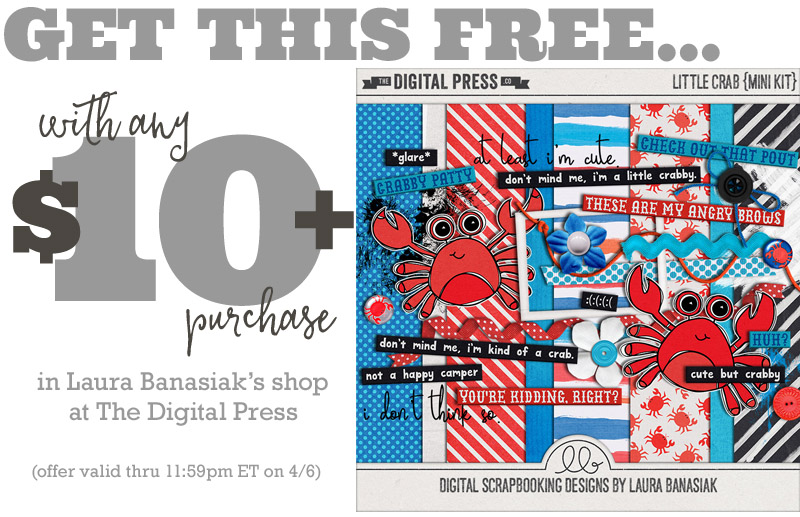 ---

About the Author  Miranda is mom of two teenage boys, aged 14 and 16 years old, and is also a fur-mummy for her 3 Bernese Mountain Dogs. She lives in the South of the Netherlands, close to the beach where she loves to walk with her dogs. In real life she is HSE-responsible for few companies in the construction industry. She loves to read Danielle Steel novels, long walks at the beach and she loves Italy; and has been digiscrap-addicted since 2007.